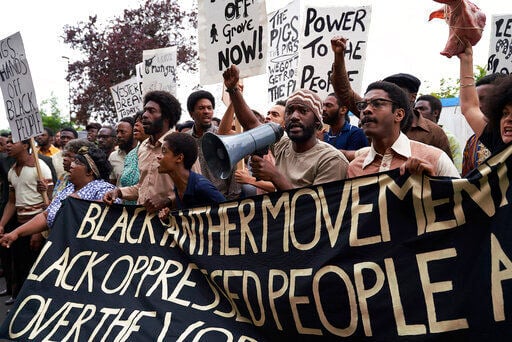 Growing up as the son of West Indian immigrants in London, director Steve McQueen never saw communities like his own on British television.
So take "Small Axe," an ambitious new project from the Oscar-winning director of "12 Years a Slave" and "Widows," as an act of correction. "Small Axe" is a series of five movie-length episodes, all directed and co-written by McQueen, that focus on London's West Indian community in the 1960s through 1980s.
They'll be released on Amazon Prime and BBC One, so it's unclear whether it should be referred to as an anthology TV show or a series of five movies. But whatever you call it, "Small Axe" is essential viewing.
Amazon will release a new movie/episode each Friday, starting with the fact-based "Mangrove" on Friday. "Mangrove" tells the story of Frank Crichlow (Shaun Parkes), an immigrant restaurateur who opens a new spot called The Mangrove in London's Notting Hill neighborhood. If you only know Notting Hill as the white upper-middle-class paradise of the 1999 Hugh Grant-Julia Roberts romcom of the same name, it's bracing to see the neighborhood as a working-class, multicultural community. In the background of many shots, McQueen places half-finished high-rises and construction cranes, perhaps a harbinger of the gentrified community of the future that will displace the immigrants.
The Mangrove quickly becomes not just a popular restaurant space, but a community gathering place where West Indian immigrants can gather over dishes from their home countries, talk, dance and support each other. There's a glorious nighttime scene where the clientele from the restaurant spill into the street for an impromptu dance party, propelled by the sound of a steel drum.
But then McQueen shifts perspective to a white man in a car, watching the festivities with a look of absolute hatred. He's Police Constable Pulley (Sam Spruell), a racist bully who can't stand the thought of immigrants organizing their collective power on his beat. The local police lead a series of raids on The Mangrove on the flimsiest of pretenses, smashing dishes with their billy clubs and scaring away customers. Pulley even sees the spiciness of the Mangrove's dishes as an affront, and demands that Crichlow put more bland British entrees on the menu.
Eventually, Crichlow and his supporters, including members of the local Black Panther chapter, mount a peaceful demonstration in the streets, where they are confronted and assaulted by a phalanx of police officers. The second half of "Mangrove" is a courtroom drama, where Frank and eight other Black defendants (known as "The Mangrove Nine") face charges of inciting a riot.
McQueen and co-writer Alistair Siddons make the courtroom scenes appropriately charged and theatrical, as the Black defendants face an uphill climb against an imperious judge (Alex Jennings) and a justice system that favors law enforcement. The arguments on both sides of the case seem sadly familiar to those who paid attention to this summer's Black Lives Matter protests, more than 50 years after The Mangrove Nine.
Not all of the five "Small Axe" films will be so overtly political (next week's film, "Lovers Rock," is a joyful romance set at a house party). But "Mangrove" proves to be the right starting point to show exactly where the lines were drawn in the community McQueen grew up in, and why it was important for him to rectify the underrepresentation of that community on his television screen.
Also on streaming: The Animaniacs are back! The zany and slyly smart animated comic satire that many grew up on in the 1990s is back with new episodes on Hulu. The original voice cast is back as is the original show's anarchic spirit, a throwback to the old Warner Bros. cartoons of the 1940s and 1950s.