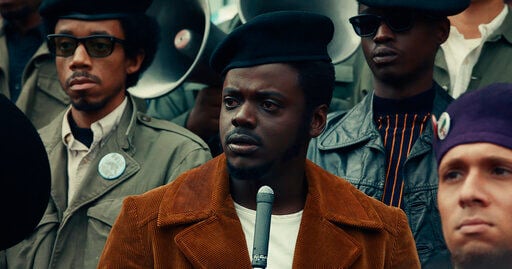 It would be enough if Shaka King's "Judas and the Black Messiah" was a straightforward biopic about Fred Hampton, the Black Panther Party leader who was killed at the age of 21 by Chicago police as he slept.
The film makes clear that the magnetic, strategic Hampton could have been the next link in the chain of civil rights leaders following Martin Luther King Jr. and Malcolm X, and Daniel Kaluuya delivers an extraordinary performance that captures both Hampton's power as a public figure and his self-doubt as a human being.
But there's a reason that "Judas" comes before "Black Messiah" in the title, which opens Friday in both theaters and on HBO MAX. The center of the film is not Hampton but William O'Neal (LaKeith Stanfield), who served as both the Panthers' head of security and an FBI informant. When the police raided Hampton's apartment and killed him, they were using a map that O'Neal drew to guide them. 
That shift in focus wraps layers of ambiguity and unease around Hampton's story, and "Judas and the Black Messiah" is as much a paranoid thriller as it is a biopic. It's an enormously accomplished film that leaves the viewer shaken, sorrowful and angry.
O'Neal is arrested after stealing a car, ironically by using a phony FBI badge to "impound" it from its rightful owner. When a real FBI agent, Roy Mitchell (Jesse Plemons), asks him why he went to so much trouble to impersonate an agent rather than use a weapon, O'Neal responds that to a Black man, "a badge is scarier than a gun." It's one of many moments in the film that collapses the space between 1969 and 2021, reminding us that those marching in the streets last summer were protesting old and enduring evils in America.
Facing years of prison time for impersonating an agent, O'Neal reluctantly agrees to Mitchell's plan to infiltrate the Panther organization and report on Hampton and its movements. King and co-writer Will Berson build tension as O'Neal works his way inside the organization, a double agent deceiving both sides.
Stanfield vibrates with nervous energy as O'Neal, as his growing affinity for Hampton and what the Black Panthers stand for collides with his desire to please Mitchell and stay out of prison. He's a man who is always pretending who he is. Hampton, by contrast, is a man who always knows who he is, and Kaluuya, bulked up with a boxer's build for the role, exudes strength and humanity.
His Hampton is just as at ease with his fist raised inspiring an audience with thunderous oration as he is tenderly talking about the future with his pregnant girlfriend Deborah Johnson (Dominique Fishback). You understand why FBI head J. Edgar Hoover (Martin Sheen) was so afraid of Hampton rising to national prominence, especially when he's able to rally working-class whites and Puerto Rican activists to join the cause as a Rainbow Coalition against police brutality.
With Cleveland standing in for Chicago, King's camera captures the chilly vibrancy of a Midwestern city, and even something as ordinary as a wall choked with dead ivy becomes beautiful under director of photography Sean Bobbitt's eye. Action scenes, such as a standoff between police and armed Black Panthers, are shot with a gritty immediacy reminiscent of Michael Mann.
"Judas and the Black Messiah" is bookended with footage from an interview that O'Neal gave for the acclaimed 1989 civil rights documentary series "Eyes on the Prize 2." We see Stanfield playing O'Neal in the opening footage, and footage of the real O'Neal appears at the end of the film, looking nervous and ashamed even as he dissembles about his role in the movement.
O'Neal's ultimate fate isn't revealed until the film's onscreen epilogue, the last in a series of gut punches that this harrowing, powerful film delivers.
Also on streaming: A pair of young adult romances hits streaming on Friday. "To All The Boys: Always and Forever" is the third and final installment in the massive popular adaptations of Jenny Han's novels, premiering on Netflix. And "The Map of Tiny Perfect Things," premiering Friday on Amazon Prime, is sort of a teenage version of "Palm Springs," as two teens (Kyle Allen and Kathryn Newton) are trapped living the same day at high school over and over.
Comedian Chris Gethard brings his podcast "Beautiful/Anonymous" to television with a new show that's streaming on Topic beginning Thursday. The conceit of the show is that Gethard tweets out a phone number and then records a half-hour conversation with the first person to dial. The conversations have been hilarious, fascinating and poignant.