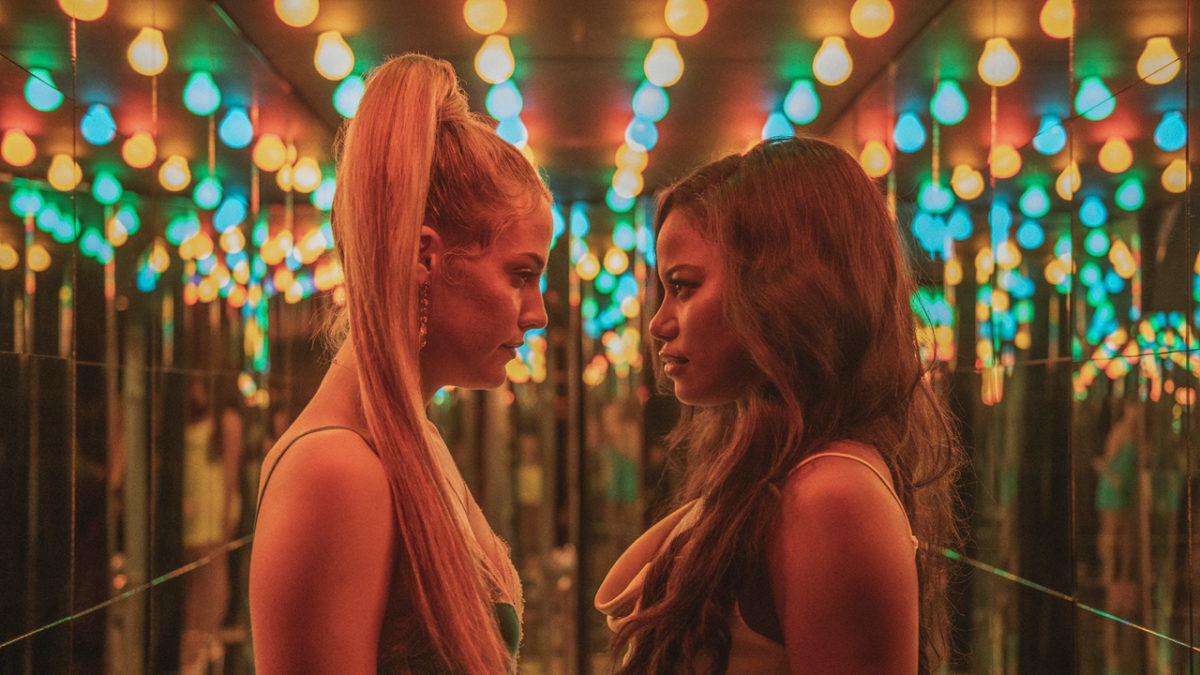 "Y'all wanna hear a story about why me & this b---- here fell out???????? It's kind of long but full of suspense," tweeted Detroit waitress and dancer A'Ziah "Zola" King on October 27, 2015.
It was the first in a staggering 148-tweet viral thread that recounted King's wild weekend trip to Tampa, weaving an arresting tale of deceit, sex work, murder, and absolute mess.
In this mostly-true adaptation based on King's tweet and a Rolling Stone article by David Kushner, director Janicza Bravo crafts a digital-age fairy tale that's dreamy, hilarious, and rich in character. However, as much as "Zola" entertains as it dives down a neon-drenched rabbit hole (and boy, DOES it), the ending doesn't quite stick the landing.
Zola (Taylour Paige) is waitressing at a Hooters when she first meets the brassy and outlandish Stefani (Riley Keough). If camp had a sugar daddy and a put-upon blaccent (think James Franco's Alien from "Spring Breakers"), it'd be Stefani, invoking a balance of absurdity and naivete.
The girls hit it off and not long after (literally 24 hours), Stefani invites Zola to come with her to Tampa to pole-dance for some quick cash. Stefani's making the trip with her aloof boyfriend Derrek (a hilarious Nicholas Braun) and her roommate X (a terrifying Colman Domingo). But just as quickly as Zola accepts the invitation, she learns that X isn't actually Stefani's roommate — he's her pimp. And X has marketed both Zola and Stefani online as sex workers.
Told with sardonic wit and biting precision, Zola narrates the rest of her tale with fourth-wall breaking quips and sharp freeze frames. But the real storytelling lies in Paige's eyes, which glimmer, feign interest, and display palpable fear when necessary. Bravo uses close-ups to communicate these subtleties, and Paige delivers with aplomb. The film's script, penned by Bravo and Jeremy O. Harris, brings an earnest authenticity and heightened sense of imagination to the viral Twitter saga.
The cast is electric. Domingo plays the menacing pimp X, a welcome dark change from his other recent roles. Braun's role as Derrek, Stefani's pathetic boyfriend, feels like a cousin twice-removed from his portrayal of sniveling Greg Hirsch in HBO's "Sucession." LGBTQ personality Ts Madison brings the Tampa club to church in a hilarious cameo where she monologues God to shower the club's performers with well-endowed men bearing lots of coin.
Embedded within the soundscape are a litany of notification dings, beeps and clicks. It's a film that intrinsically recognizes how integral social media is to its story. From the iPhone-typography timestamps that flash on screen as characters check their phone to the almost-droning way characters will read their text messages aloud, Bravo understands how to bring the viral thread's digital identity to the screen.
What Bravo has trouble translating though, is a proper ending to Zola's high-stakes romp through Florida. Without diving into the film's many twists and turns, the film manages to create a palpable tension that immediately fizzles as soon as it hits its climax. Perhaps a bit more time could have been spent constructing a satisfying ending that fittingly lives up to the bombastic nature of King's legendary tweetstorm.
Share your opinion on this topic by sending a letter to the editor to tctvoice@madison.com. Include your full name, hometown and phone number. Your name and town will be published. The phone number is for verification purposes only. Please keep your letter to 250 words or less.