William Shatner just won't slow down.
In Wisconsin, he can still be seen doing television ads for the Milwaukee-based law firm of Hupy and Abraham, for whom he's done commercials since 2007. "You just get a big credibility factor when you use someone like him as your representative," managing partner Jason Abraham told the Quad-City Times in 2013. "That's something we take very seriously."
And he keeps touring and meeting fans. His appearance at Wizard World Madison this Sunday is his second stop in Madison this year. He packed the Orpheum Theater in September with a screening of 1982's "Star Trek II: The Wrath of Khan." (Hupy and Abraham set up a booth in the lobby across from the merch table.)
At the Orpheum, he displayed a gift for a quick ad-lib and a long, winding anecdote, whether he was talking about "Star Trek" or his beloved new Doberman Pinscher puppy, Macchiato. Shatner talked with the Cap Times about Wizard World Madison, making a Christmas album, and his memories of shooting the classic "Twilight Zone" episode "Nightmare at 20,000 Feet," which is about to be rebooted by Jordan Peele:
How did the Christmas album come about?
I had done a couple of albums for a label called Cleopatra, and they said, "What about a Christmas album?" and I said "Why not?" I got as many of the traditional songs together as I could, and bent them a little my way. Like "Jingle Bells" (a punk rock version with Henry Rollins), I envisioned the horses running off. Most of the songs follow a similar pattern, or else I take the original intent and enhance it in my own way.
I got a letter from a veteran who had been writing poetry, wonderful guy, Blade Anthony is his name. He was disturbed by battle, and all he could write about, with great poetry, was how horrible it was in battle in Afghanistan and Iraq. I said, "Can you write a Christmas poem?" So he wrote a Christmas poem in his own way. It's called "One for You, One for Me," and it's a great piece of poetry, to which we put music. And now it's an epic Christmas song.
When you're here in Madison for Wizard World, Nichelle Nichols is also appearing. What are your memories of working with her on "Star Trek"?
She was this beautiful girl who was so talented. She could sing and dance and was a wonderful actress. She was a kick to be on set with. She's a lovely woman. I think she's having some health problems, but I hope she turns up and is in good health.
Tell me about your latest memoir "Live Long And . . .", which sounds a little more philosophical than your other books.
What I'm looking at is trying to tell my kids and my grandkids what I was about. I'm mostly doing these things for my kids. Like on the album, "Twas the Night Before Christmas," there was always a tradition that I would recite that every year at a Christmas party that the family was at. So here we put it to music, as my ultimate gift to them. That's what I did.
So you're thinking about your legacy.
It sounds like the doom of death over my shoulder. I don't quite feel that, but at my age, you never know. I might just fall over talking to you.
You sure don't act like it.
Is that where your work ethic comes from, or have you always had that drive?
It was fear of starving. When I was a young actor out of university, I wasn't making much money. I'd have to forgo a meal if I wanted to do anything else.
Animals have always been really important to you, both horses and dogs. You were talking about your new puppy at the "Wrath of Khan" show a few months ago. Do you know where that comes from?
I don't know. I've done a little work in genetic memory, the way we behave because it's part of our genetic makeup. Where my obsession with horses and dogs comes from, I don't know. But they bring me great comfort, great joy, great love.
This puppy, Macchiato, has grown into this six-month old monster. He puts everything into his mouth, including my head. He's a 60-pound Doberman puppy. We're just trying to control him now.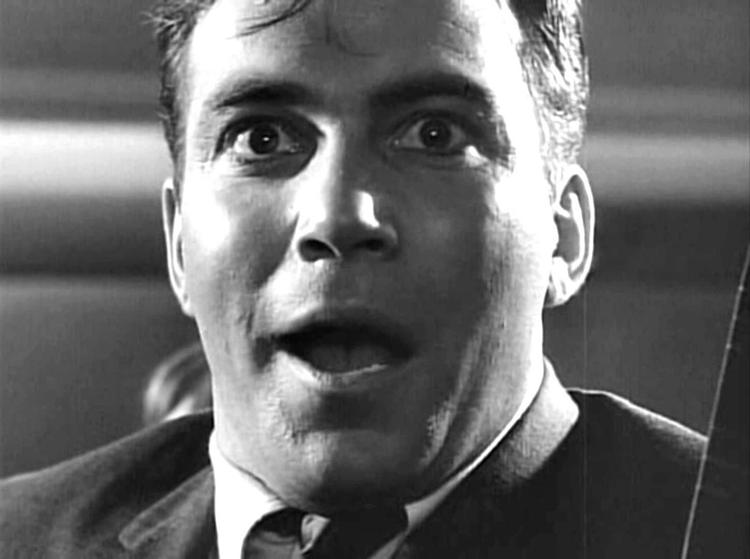 A new version of your "Twilight Zone" episode, "Nightmare at 20,000 Feet," is going to be rebooted. What do you remember about that episode?
First thing I remember is my kids traveling on airplanes with me, and they'd tell me, "Daddy, do the look." So we'd call the flight attendant over and I'd be looking out the window, and I'd turn around, and my kids would fall dead with laughter.
(While making the episode), I do remember thinking, "This is a little bizarre, and I think this will be the end of my career." With this Czechoslovakian acrobat in a fuzzy suit (playing the gremlin) standing on a wing. And it turns out to be a classic and a perennial.
What do you enjoy about doing conventions like Wizard World Madison?
I enjoy the conventions. The most enjoyable part is being in front of the audience and ad-libbing, answering questions as spontaneously as possible. I'll tell the odd story, but the most fun is just interacting with them.