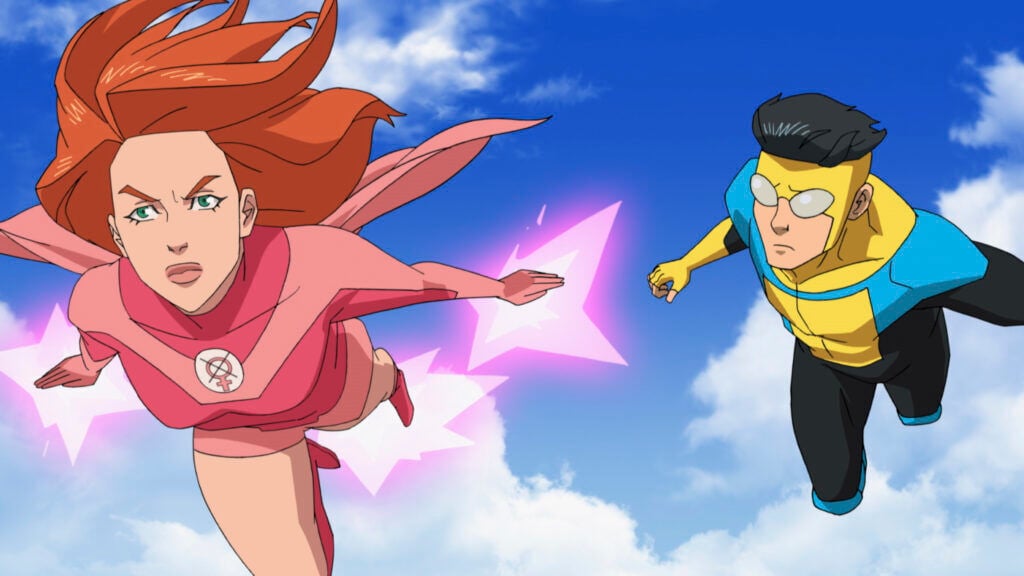 For 37 minutes, you wait. You're watching the first episode of "Invincible," a new animated superhero series on Amazon Prime. At first it seems like a typical '90s kids' cartoon, something that would have aired after school between "Captain Planet" and "Thundercats."
But "Invincible" is based on a comic book series by "Walking Dead" creator Robert Kirkman, who has been heavily involved in its adaptation into a series. This simply can't be an ordinary superhero show.
And then it happens. I won't say what, but it becomes immediately clear that "Invincible" is definitely not for kids. The first three episodes premiere Friday, with a new episode in the eight-episode run coming every week after that.
Mark Grayson (voiced by Steven Yeun) is a fairly normal American teenager, with one exception: his father is Omni-Man (J.K. Simmons) a Superman-like, all-powerful superhero who keeps the Earth safe. While he flies solo, Omni-Man often fights evil alongside the Justice League-like Guardians of the Globe, which include a Flash-like hero called Red Rush, a Batman-like hero named Dark Wing, and so on.
Mark discovers that, as Omni-Man's son, he's developing superpowers as well, and is eager to join the family "business" of leaping tall buildings in a single bound. He takes the name Invincible, but finds that becoming a superhero is about more than just having superpowers, especially when having a demanding father as your mentor.
"Invincible" turns out to be a much darker and more violent show than expected, as Mark and the viewer learn about the more unsavory aspects of this comic book world. But the show's disturbing subject matter is at odds with its attempts to imitate a cheerfully average, brightly colored, old-school animated series.
It can be (and often is) more shocking than something we'd watch after school. But it doesn't go any deeper than shock. For example, there's a lot of potential in the Omni-Man/Mark relationship — how can you live up to your dad's standards when your dad is Superman? But that theme is not given much time to be explored, and does so without much tension or nuance. 
The show has a massive voice acting cast, including not just Simmons and Yeun but Sandra Oh, Walton Goggins, Zazie Beetz, Gillian Jacobs, Andrew Rannells, Mark Hamill and many more. But they're all asked to give the sort of one-note performances you'd see in an old cartoon. Comedian Jason Mantzoukas is highly entertaining as the cocky superhero with the great name of Rex Splode, because at least the one note he keeps hitting is funny.
There are other flashes at humor that send up superhero culture, but honestly "The Tick" was making better versions of the same jokes 25 years ago. Once the initial face-punch of that first episode wears off, there's not enough powering (or superpowering) "Invincible."
Also on streaming: 1980s nostalgia worked in the classroom and in the dojo, so why not on the hockey rink? Following the success of Peacock's "Saved by the Bell" and Netflix's "Cobra Kai" is Disney+'s new reboot of "The Mighty Ducks," whose first episode airs Friday.
In this update, the plucky Ducks have now become the arrogant, dominant team in the league, and now a new ragtag group of underdogs challenge them for the title. Emilio Estevez returns, but former hockey coach Gordon Bombay is now the crabby owner of a rundown skating rink once again in need of redemption.
While restaurants are at limited capacity and many people aren't ready to enter them yet, there are no such qualms around re-entering "The Restaurant," the hit Swedish drama on SundanceNow. Premiering Thursday are all four episodes of the new "The Restaurant: 1951," continuing the exploits of a family running a restaurant in post-World War II Stockholm.