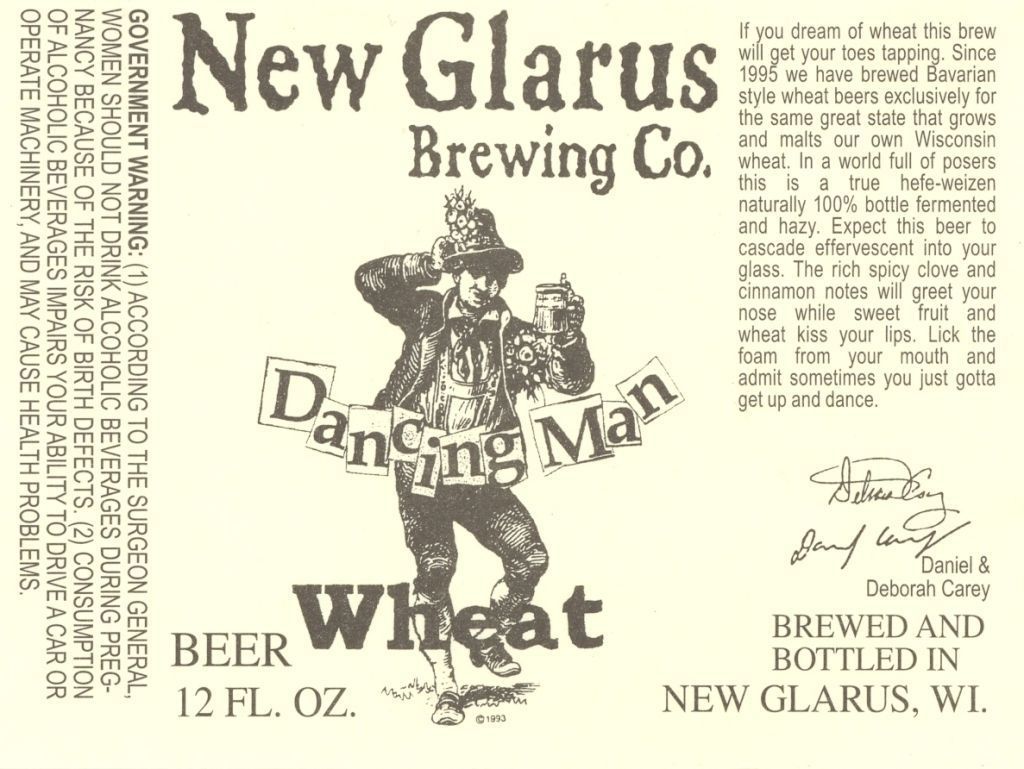 Flashy, creative beer labels are arguably a pretty big part of craft beer's identity.
In addition to introducing more adventurous, experimental and bold flavors to beer drinkers, craft brewers have eschewed the plain, text-heavy labels of your grandpa's Bud bottle and thrown fun, provocative and interesting images on their products.
"All of our logos have to pass the tattoo test," said Otto Dilba, co-founder of Ale Asylum. "Whether or not somebody likes the image or not is a different thing, but all of our logos have to be something that would look good as a tattoo."
Dilba, who has designed all of Ale Asylum's beer logos, says he tries to incorporate hard lines ("I'll joke if it's not a right angle, it's a wrong angle") to convey intensity. He's a pretty intense guy, he says, as is his co-founder and the brewery's brewmaster, Dean Coffey.
"Our approach visually and verbally, with the naming of everything, had to represent that. It had to be strong. We had to go big," Dilba said.
Dilba said it takes him about two weeks, on average, to design a beer label logo. And sometimes, even if the beer is ready, it's not going out the door because the label hasn't been perfected to a sharp-edged, multi-layered statement. (Putting layers of imagery in the logos is another thing Dilba likes to do — check out the scythes in the moth's antenna on the Unshadowed label, or the Rorschach test levels of imagery on Kink.)
"If we're not going to send a beer out before it's ready, I'm sure as … not going to send out a logo before it's ready," he said.
Deb Carey, co-founder of New Glarus Brewing, has also run up against harsh "beer versus design" deadlines when designing their labels.
(Yep, Carey, who was the first woman to found and operate a brewery in the United States, designs every single New Glarus beer label herself. She draws them by hand, with marker, then uses a transparency sheet to do color separation and tapes it all together with scotch tape. "Then I show them to everybody and they laugh," she said.)
Carey was an artist before she worked in brewing. When she met Dan Carey, New Glarus' brewmaster, they were both 23 and she was working on the business side of things at a Montana brewery, haranguing the owners to let her do some label redesigns.
"I'm an artist. That's what I am," she said.
When she and Dan launched New Glarus in 1993, it made sense for Deb to create the labels — especially financially. In the early days of the brewery, she and Dan were only pulling in about $16,000 a year combined, she said.
(Tight finances are also why New Glarus six pack packaging is "inside out" brown cardboard — in the early days, Deb had to "fistfight" the print shop to make them that way. She wanted them inside out because it gave the pack two colors — brown from the cardboard and whatever color the logo was — when they could only afford single-color printing.)
Carey says the week she spends designing any given label is her favorite time, her favorite part of the job. And she has a primary goal: to fully embody the New Glarus brand every time.
That brand? "Straightforward, upbeat and technically correct," she said.
"The worst and most offensive thing to me is [people] trying to pretend to be something they're not," she said. "I think that people are looking for some integrity and transparency in all things. Those labels reflect who we are."
Reflecting brand identity can be taken down to a much more micro level, too: defining "who" an individual beer is.
"All these images that we kept talking about for Fantasy Factory were these weird things, whether it was fruits or crazy scenes or bright [colors]," said Ryan Koga, co-founder of the brewery. "Fantasy Factory was more of this feeling that we kept trying to describe."
Koga and his brother, Zak, and their partner, Alex Evans, describe that feeling as "organized schizophrenia" or "schizophrenic fantasticism."
The guys were in the process of designing a label for Fantasy Factory — about 90 percent finished, they said — when they stumbled across a piece of artwork online that lit their Fantasy Factory fantasicism aflame.
"Once we saw that image, we all had that electric feeling," Ryan said. "It just brought it to life."
None of the Karben4 guys knew Heuser personally, but they had to have "Welcome to the Internet" for Fantasy Factory. So, internet stalking ensued and, later, a cross-country trip to San Francisco to set up the details of working together on the label and others.
Heuser is currently working on labels for Karben4's Block Party amber ale and Lady Luck, their Irish red. Both are expected to be done soon.
The guys agree they "gel with whatever is coming out of [Heuser's] brain."
Aligning the brainwaves of a brewer and a label designer is something the designers for MobCraft, Samantha Mack and Dillon Nelson, have to do a lot. They're charged not only with making labels for MobCraft's flagship beers, like Batshit Crazy,  but the monthly brews submitted and voted on by the world.
That means a new label every month, in perpetuity. Which means working pretty fast.
"Sometimes we'll wait a day or so to see if [the beer submitter has] a story or ideas," said Mack. But she always tries to get the label done "in a matter of days."  
Mack says sometimes the submitter will have a lot of thoughts about the design — the November 2014 winner, Don Durio's Filthy Mustachio, a durian and cashew pilsner, came with a character and full origin story from the guy who submitted the idea.
More often than not, though, Mack is flying blind on crazy concepts like carrot cake ale or black vanilla IPA. (Mack creates images for the labels, Nelson handles the text design.)
"There's been a lot that I don't even know what to do with because of the name," she said.
For one of those, a raspberry chocolate porter, Mack dreamed up a raspberry on a motorcycle. When the name was changed at the last minute to Beelzebub's Run, she added green horns to the raspberry and a quirky, eye-catching label – one of her favorites, she says – was born.
Mack says Henry Schwartz, one of the founders of MobCraft, is "really good at pushing me and making sure I come up with something good and creative" every time.
"It's fun to have the opportunity to go buck wild on stuff," Nelson said. "And have a company like MobCraft, that's wanting to put something fun and creative out there."
Making something "fun and creative" seems to be a guiding principle of craft brewers. They're brewing raspberry framboises and chocolate peanut butter coffee porters and, on the other side of the office, in front of a computer or sketchpad, somebody is trying to figure out what face that beer will have, out in the world.
Those faces, the images beers carry with them, are the finishing touch on a creative product.
It's all art. From the inside out.
Share your opinion on this topic by sending a letter to the editor to tctvoice@madison.com. Include your full name, hometown and phone number. Your name and town will be published. The phone number is for verification purposes only. Please keep your letter to 250 words or less.