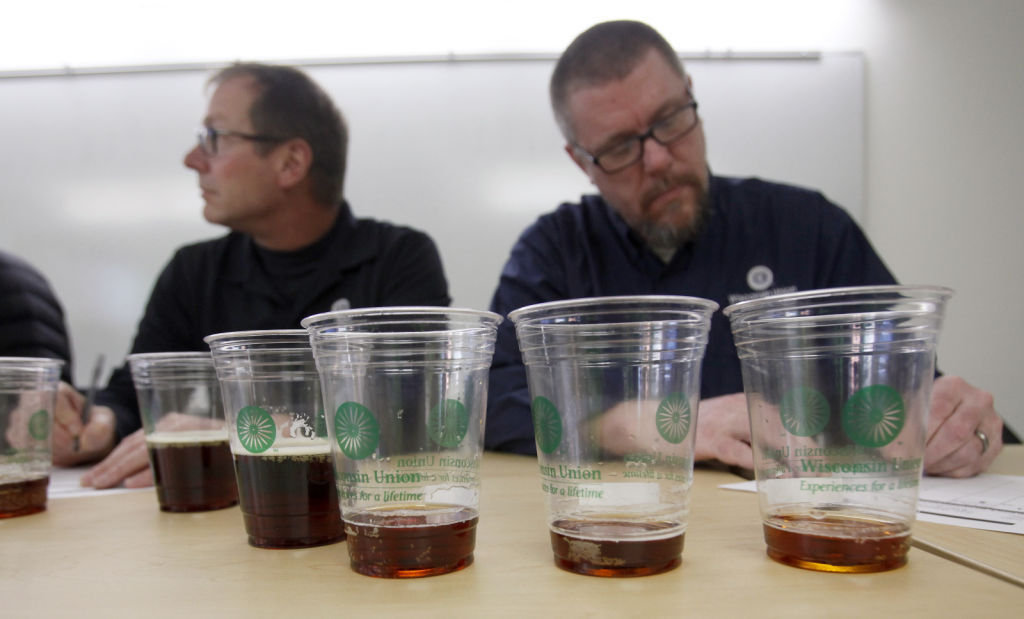 The UW student brewers were understandably fidgety, tapping their fingers and spinning their chairs. Sitting across a long table from a panel of judges representing MillerCoors, Wisconsin Brewing Company, the Great Dane Pub & Brewing Company and the Memorial Union, they waited in silence Thursday as the judges swirled, sniffed and examined six amber lagers brewed in the UW College of Agriculture and Life Sciences.
The chosen beer would be christened Inaugural Red, the first production of a new partnership between the university and Wisconsin Brewing Company in Verona. Inaugural Red will debut at the Memorial Union during Madison Craft Beer Week in May.
After brief beer introductions, the only sound in the room was the shuffling of winter boots on the tile floor.
"It's very intimating to speak to you guys," said Jacob Perlson, a senior in the program, as he described his team's beer. "That's why we're happy that we have a beer that I think speaks for itself."
Jacob's team didn't end up winning, though the judges said it was very close. The winning brew, a red-tinged amber lager with "nice, middle-of-the-road malts," came from the team of Andrew Lefeber, Sean Hinds and Paige Wolff.
"I am ecstatic. My heart was pattering like a drum roll when they were about to call it," said Lefeber. "As an undergrad, getting my team's beer produced is pretty amazing."
Before declaring the winner, Kirby Nelson, the brewmaster at Wisconsin Brewing Company, said the winning beer needed to be "very pleasant."
"When we're tasting this beer today, the whole approach is hedonistic. It's about pleasure," Nelson said. "When you're tasting this beer, you're picturing yourself out there on the Union Terrace on a beautiful late spring, summer day."
But the burgeoning collaboration between Wisconsin Brewing Company and the university isn't all about creating a single "pleasant," drinkable beer.
Carl Nolen, president and CEO of the brewery, says he put a lot of effort into making the collaboration work, jumping through legal hoops and negotiations, because he thinks having highly educated brewing professionals in the area will be good for business.  
Maybe some of the UW's young brewers will find themselves wearing the black, red and white of Wisconsin Brewing Company someday down the line. Nolen's brewery, just over a year old, is continuing to grow. He says he hopes to reach about 100 employees someday. The brewery currently has nine employees working full time.
Lefeber called professional brewing "a dream job."
"It's competitive," he said. "But I'm definitely very passionate about it."
Preparing more students like Lefeber for the growing craft beer industry in Wisconsin is the goal of the UW's burgeoning fermentation coursework.
"The dream that we have for UW-Madison is to make UW-Madison the top school when it comes to fermentation sciences," said David Ryder, vice president of brewing and research at MillerCoors and adjunct professor in the Department of Food Science.
The seeds for the Wisconsin Brewing Company-UW collaboration were first sown during Madison Craft Beer Week last year, when WBC brewmaster Kirby Nelson stopped by Babcock Hall to take a look at the small brewing system MillerCoors donated to the university in 2008.
As Nelson sipped a milk stout brewed by UW students on the pilot system, he had a stroke of inspiration.
"I am sipping on this glass, walking down from the classroom and, you know, once in a while things happen in your head that work," he said. First off, Nelson wanted to name the beer "Babcockian Nitro Milk." Secondly, he wanted to put it into full production on the Wisconsin Brewing Company system and put it out for sale.
That project fizzled due to university complications, but the seed was planted.
Nolen took up the cause and, a little less than a year later, the freshly chosen Inaugural Red is getting ready to hit the WBC tanks.
The winning brew will go into production next week.
"This doesn't happen in academic setting. What we get to do next is what every food scientist dreams of being able to do," said Jim Steele, a professor in the Department of Food Science.
Other UW students have been involved in the project as well. Nolen has had weekly meetings with students from the School of Business, addressing Inaugural Red marketing and label design.
So there's plenty of beer-related education flowing.
And, in a surprise bonus for the student brewers, a runner-up beer from the Inaugural Red competition will be produced by the Great Dane in Madison.
"Something about it caught me," said Rob LoBreglio, co-owner and brewmaster at the Great Dane.
LoBreglio said he's not sure when production on that beer will begin. Perhaps it'll come out when Inaugural Red does, he said.
Inaugural Red will be sold exclusively at the Memorial Union during Madison Craft Beer Week, from May 1-10, and then will be available for sale elsewhere.
Both Wisconsin Brewing Company and the UW have high hopes for the partnership.
"Hopefully we do this for years and years," said Rob Gretzlock, manager at the Memorial Union. "So twenty years from now, you (student brewers) can go down to the Union, point at the student beer on the menu and say, 'I was part of the program the first time we did this.'"
"The idea is, this goes on forever," Nolen said. "Until either party decides it's no longer fun."
Judging by the smiling faces and excited tones in Babcock Hall, that could be quite a while.
Share your opinion on this topic by sending a letter to the editor to tctvoice@madison.com. Include your full name, hometown and phone number. Your name and town will be published. The phone number is for verification purposes only. Please keep your letter to 250 words or less.