After spending 22 years in the food industry doing research and development, Susan Kay was ready to make a change. Her dream had always been to open a bakery of her own, and in 2018, the time was right to take the plunge. After working on a few different ideas, she decided to pare down and specialize in one really delicious baked good: babka.
"When people sample it, it pretty much sells itself," Kay said. "Especially on a warm summer day when a little slice is warm and perfectly heated because of the heat from outside. Then the fillings are a little chewy and gooey."
For the uninitiated, babka is a celebration bread from Eastern Europe with Ashkenazi Jewish roots. It is made with yeast-leavened brioche dough that is rolled, filled and twisted into loaves.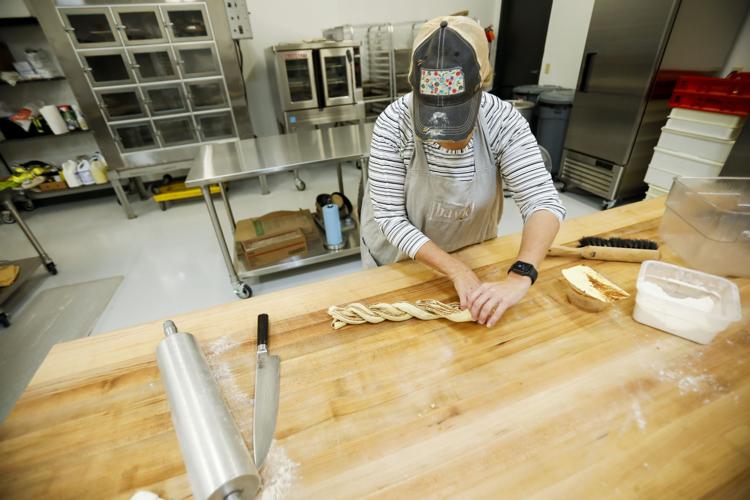 The result is a dense, marbled bread that is versatile enough to be dessert or breakfast all on its own. Babka dough originally came from challah bread, and babka is related to other filled and rolled treats like rugelach. But no other baked good can claim a "Seinfeld" episode praising its virtues. The word means "grandmother" in Polish.
Kay first learned to make the bread years ago from a friend whose family owned a multi-generational bakery, and then she added her own signature to the process.
"A lot of bakers shy away from babka because it's laborious, and the ingredients are expensive," Kay said.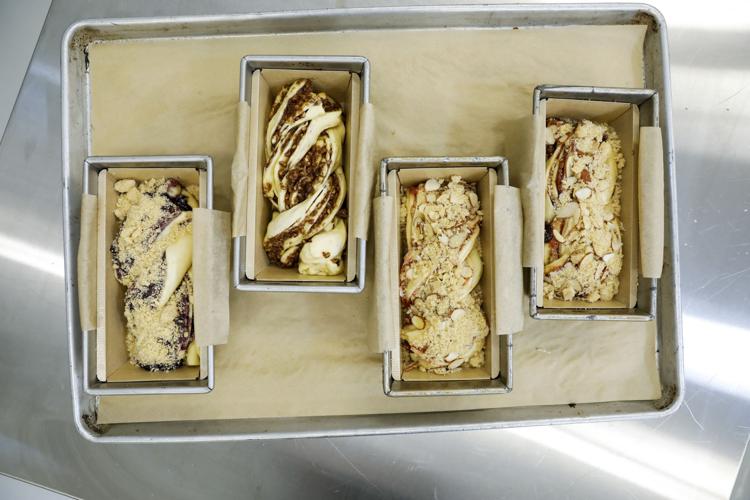 It takes Kay a full 24 hours to create a batch of babka. She begins by making the dough and refrigerating it for 18 hours. She then divides and sheets it into rectangles, adding one or more layers of filling.
The dough is then rolled up like a cinnamon roll into a cylinder, cut it in half and twisted. She then cuts it in half again and twists it a second time — doing the process twice produces multiple internal layers of dough and filling.
Each loaf is then proofed and baked, a complicated process that involves turning the oven on and off several times and rotating the pans. It is a meticulous artisanal procedure, and she makes 125-150 loaves per week.
In the earliest days of Bayk Madison, Kay made the babka out of her kitchen and sold them at the Monroe Street Farmers' Market. As demand grew, she knew she needed a commercial space. After a long search, she found her spot on East Main Street, and she was scheduled to hold the grand opening on April 7. When the COVID pandemic happened, she knew she had to immediately make her website more robust for online sales.
These days, in addition to setting up shop at the Monroe Street Farmers' Market every Sunday, she now offers curbside pickup, as well as delivery by hand and via mail. Sales that are shipped now comprise about 30% of her sales, and the rest is mostly direct with a few small wholesale accounts.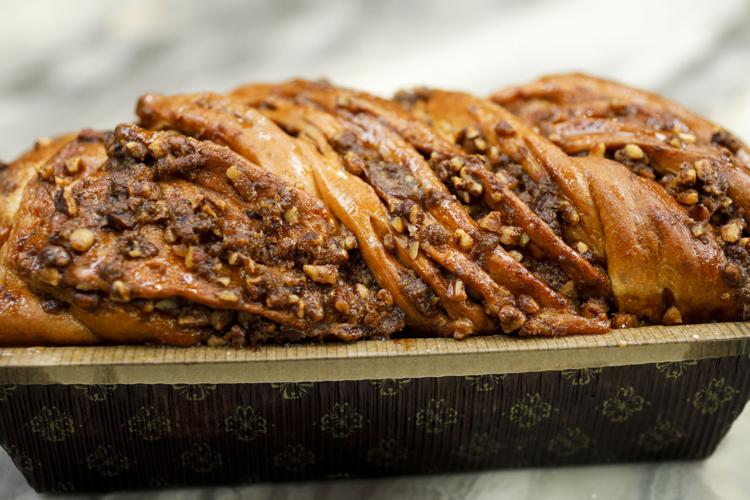 Kay's food industry background prepared her for innovation in terms of babka flavors. The two most traditional that she offers are cinnamon and chocolate (though Kay makes it a chocolate hazelnut). More unusual are flavors like blueberry lemon crumble, pesto, and sticky pecan caramel.
"The dough lends itself well to multiple types of fillings, sweet or savory,"  Kay said.
But deciding on flavor combinations also means considering the filling-to-dough relationship.
"It becomes a matter of making sure that the moisture in the filling is not too much and not too little. Because you don't want too much moisture, where it remains wet and sticky in the middle. But yet you don't want it too dry, where the filling is pulling moisture out of the dough. There is a balance there," she said.
Babka is special enough to slice and eat on its own, but it's also a versatile ingredient for other recipes. Kay had lots of ideas, including French toast and bread pudding. She advises using slices of pesto babka for a good BLT or grilled cheese sandwich. The bread can also be made into croutons for panzanella salad or soup.
And for a real summer treat, she recommends taking two slices of a sweet flavor, like chocolate hazelnut, and placing a scoop of ice cream in-between, wrapping it up and putting in the freezer for a homemade ice cream sandwich.
Share your opinion on this topic by sending a letter to the editor to tctvoice@madison.com. Include your full name, hometown and phone number. Your name and town will be published. The phone number is for verification purposes only. Please keep your letter to 250 words or less.