You'd think after six years of doing the "Yeah, I Ate That" column, one of two things would happen. 1. I would be dead, or 2. I would run out of weird foods to write about.
Well, I'm still alive and kicking. And although I've gotten a little more selective in what food rates inclusion in the column (Green pancakes? IHOP, I had a green CHEESEBURGER), there were still plenty of ill-advised, ill-conceived or secretly brilliant concoctions to make 2018 a banner year.
Here are some of my favorite Yeah, I Ate That food items of last year. In this case, "favorite" could mean either food that I really enjoyed eating, or food that was so bad I found myself with a renewed zest for life after surviving it: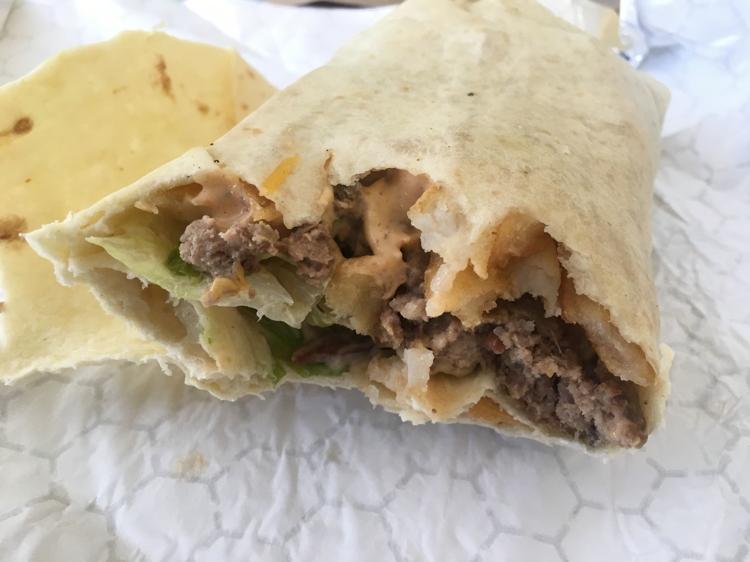 Burgrito, you were just too perfect for this world. At least for Madison. The Brooklyn chain that innovated the burger-burrito hybrid opened for just a few months on Monroe Street in 2018. While I had some well-deserved trepidation at the concept, the execution made me a believer:
"The toppings (filling?) include crispy bacon, lettuce, onion and tomato. A spicy orange chipotle sauce (which aesthetically reminded me of Big Mac sauce, but with substantially more kick) was a welcome addition. And then there was the most controversial of the ingredients — french fries. I suppose the fries are somehow meant to substitute for the rice in a typical burrito.
"Yet the fries were a little too soft and starchy to really add much to the mixture. And, worse, while burritos are one of the best things on earth to reheat the next day, fries almost uniformly never work as leftovers. So I ate the whole thing, because that was the smart thing to do."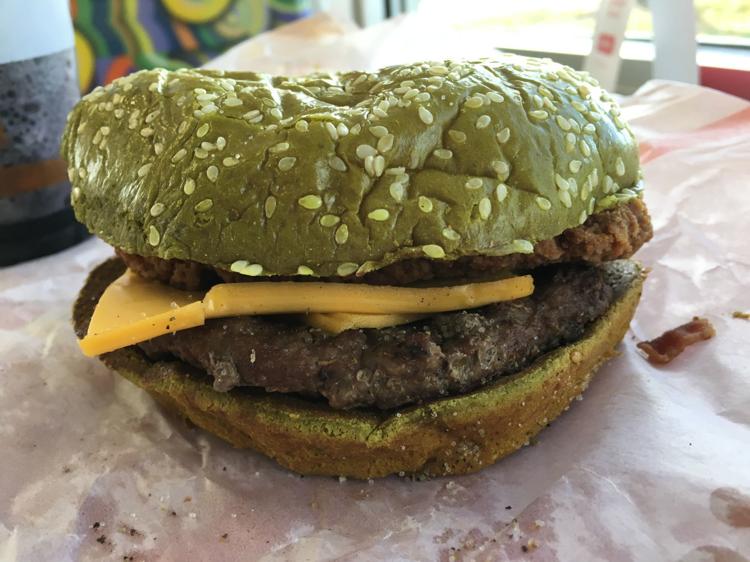 The Burger King Nightmare King
Burger King followed up its black-bun Halloween Whopper and its red-bun Angry Whopper with the Nightmare King, a mercifully limited-time-only Halloween-themed hamburger whose bun was a grotesque shade of green:
"The actual Nightmare King burger bun is a truly nauseating shade of green, somewhere between olive and snot. It's the shade of green that Mother Nature has given to toads and lizards to protect them from being eaten by predators. If Burger King was hoping to install genuine revulsion and terror in its diners, then my crown is off to them.
"The burger itself is a protein-heavy bomb that includes a quarter-pound beef patty and a crispy chicken fillet, along with cheese and bacon. There's no lettuce, tomato or ketchup — just mayonnaise and onions, which is a truly off-putting combination of flavors."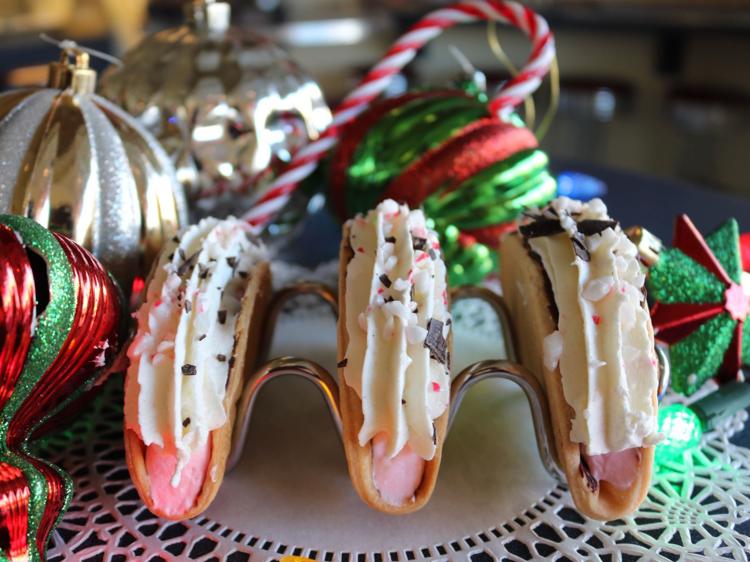 Pie tacos at Hubbard Avenue Diner
Speaking of mash-ups, I had the hardest time convincing people that this combination of two great things, tacos and pies, is such a treat. Hubbard has been offering these handheld delights since last spring, but really hit their stride with the seasonal pumpkin pie and candy cane pie tacos:
"The pumpkin pie was a fairly standard pie with filling, whipped cream and a little dusting of spices. I suppose you could eat it with a fork, but I embraced the experience and ate it like a taco. The pastry shell held together remarkably well with every bite, not crumbly and flaky as I expected.
"The Candy Cane Pie Taco was the real standout, featuring a mint cream filling, crushed candy canes, chocolate ganache and whipped cream. It was delicious — the minty taste wasn't overpowering, mixing well with the chocolate to make a very satisfying pie. And again, it held together well as a taco."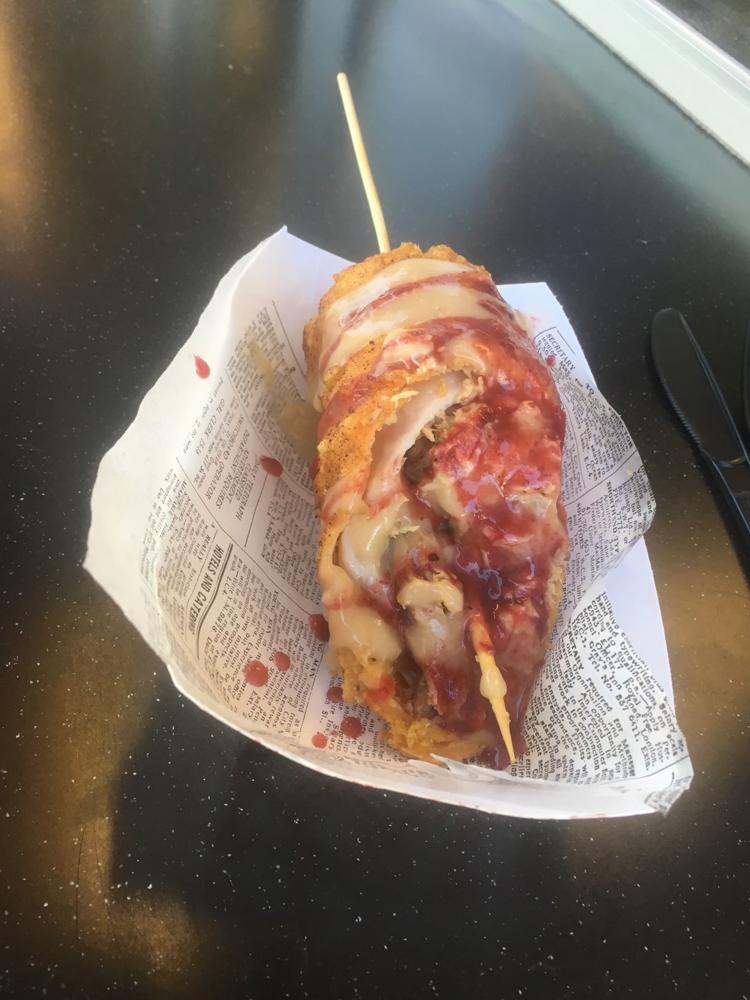 The Deep-Fried Turducken on a Stick at Summerfest and the Wisconsin State Fair
Food-on-a-stick is something that Wisconsin prides itself on in the summer, especially at the two big summer gatherings in the Milwaukee area. While Turducken seemed a little out of season in the heat of July and August, I was game to give it a try:
"Trinity tightly packs together roast chicken, herb roasted turkey and duck confit along with some stuffing and gravy for good measure. It's all put together into a tight cylinder that's battered and deep fried, then drizzled with cranberry glaze. Too bad they couldn't encompass the full Thanksgiving meal and also pack in sweet potatoes, marshmallow salad and Uncle Ted's off-color ramblings."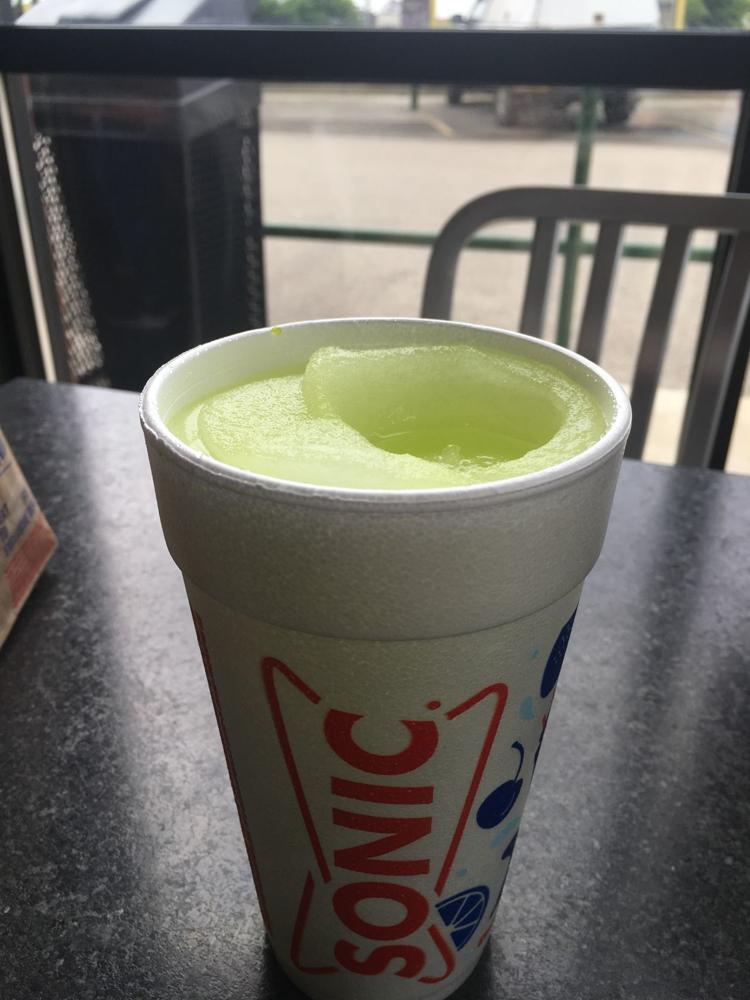 Speaking of summer treats, Sonic released several out-of-the-box flavors of its slushes over the summer. This one was the most outrageous, guaranteed to inflict simultaneous brain freeze and sourpuss face in the sipper:
"The slush is a bright fluorescent green, which makes it look a lot like a lime slushie. Which, as we later found out at home, makes it a very prank-friendly beverage to play on a sibling.
"I took a big sip, and had two immediate reactions one right after the other: 1.) This is uncomfortably cold and 2.) This is unbearably sour. I have heard other food writers claim that the Pickle Juice Slush is actually too sweet for pickle lovers. This did not strike me as an issue as my face gradually unlocked from its pucker."