When Arcade Fire sang about wanting "Everything Now" at Summerfest on Sunday night, did "everything" include a deep-fried turducken on a stick?
I like to think so. "Everything Now" grapples with a world in which we have instant access to anything we can possibly imagine, always. Surely that includes an entire Thanksgiving meal shoved into an egg roll, right?
Summerfest is primarily known for music, sun, and people-watching both men and women who could stand to go a size up in the shorts department. But in recent years, Milwaukee's 11-day festival has put more of a focus on its food options as well.
Sure, you can get cheese curds, pizza and lots of beer. But some of the favorite eating spots at Henry J. Maier Festival Park debuts innovative dishes-on-a-stick every year. Trinity Three Irish Pubs' Deep-Fried Old-Fashioned has become a cherished Summerfest memory for me.
This year, Trinity came up with the Deep-Fried Turducken on a Stick ($8). Popularized by Cajun chef Paul Prudhomme, turducken features a deboned chicken stuffed inside a deboned duck, which is then stuffed inside a deboned turkey.
Obviously, big is the order of the day here, so how to distill the essence of the turducken into a handheld street snack? Trinity tightly packs together roast chicken, herb roasted turkey and duck confit along with some stuffing and gravy for good measure. It's all put together into a tight cylinder that's battered and deep fried, then drizzled with cranberry glaze. Too bad they couldn't encompass the full Thanksgiving meal and also pack in sweet potatoes, marshmallow salad and Uncle Ted's off-color ramblings.
It's a lot to get through, and I felt like I was gnawing on a big turkey leg trying to eat all that bird meat. I couldn't really distinguish one fowl from another — thank goodness the stuffing and cranberry glaze offered a little variety. It wasn't bad, exactly, but it will slow you down as you're hustling from the Miller Lite Oasis to the Briggs & Stratton Big Backyard to catch a Joan Jett cover band.
Unfortunately, Summerfest has just concluded, but Water Street Brewery is offering its own take on the deep-fried turducken on a stick at the Wisconsin State Fair beginning Aug. 2.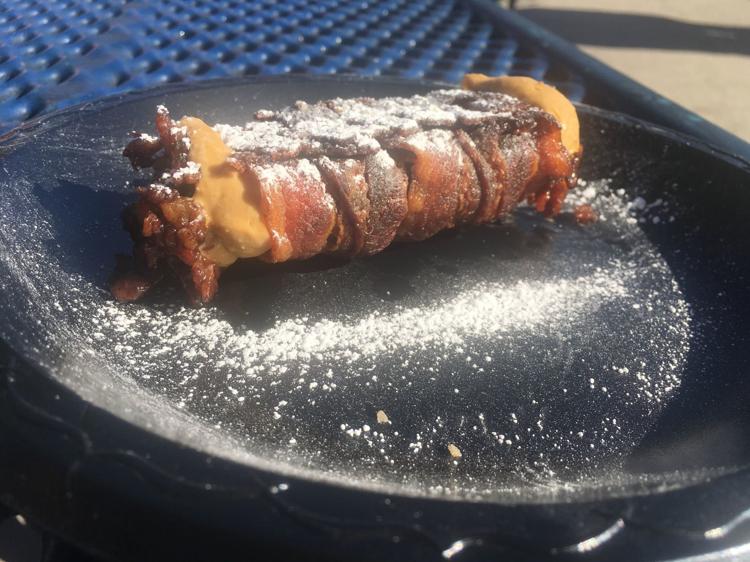 Looking for a little dessert, I happened upon the Bacon Cannoli at SoLo Pizza, which also seemed like an affront to nature. I'm still unclear how the restaurant pulled this off. Several slices of candied bacon are fashioned into a tube, then filled with a peanut butter/cream cheese filling and then dusted with powdered sugar.
I guess because bacon is involved, I assumed this would be a hot dessert. But the Bacon Cannoli ($6) is refrigerated, so it's a refreshingly cool dessert on a hot summer day. The peanut butter filling is delicious, its savory/sweet balance pairing well with the savory/sweet candied bacon. And it's a pretty decent size, filling but not paralyzing.
While SoLo's version is gone, another restaurant has picked up the idea for the Wisconsin State Fair. Brew City Pizza will offer "Pig Candy Cannoli" this year.