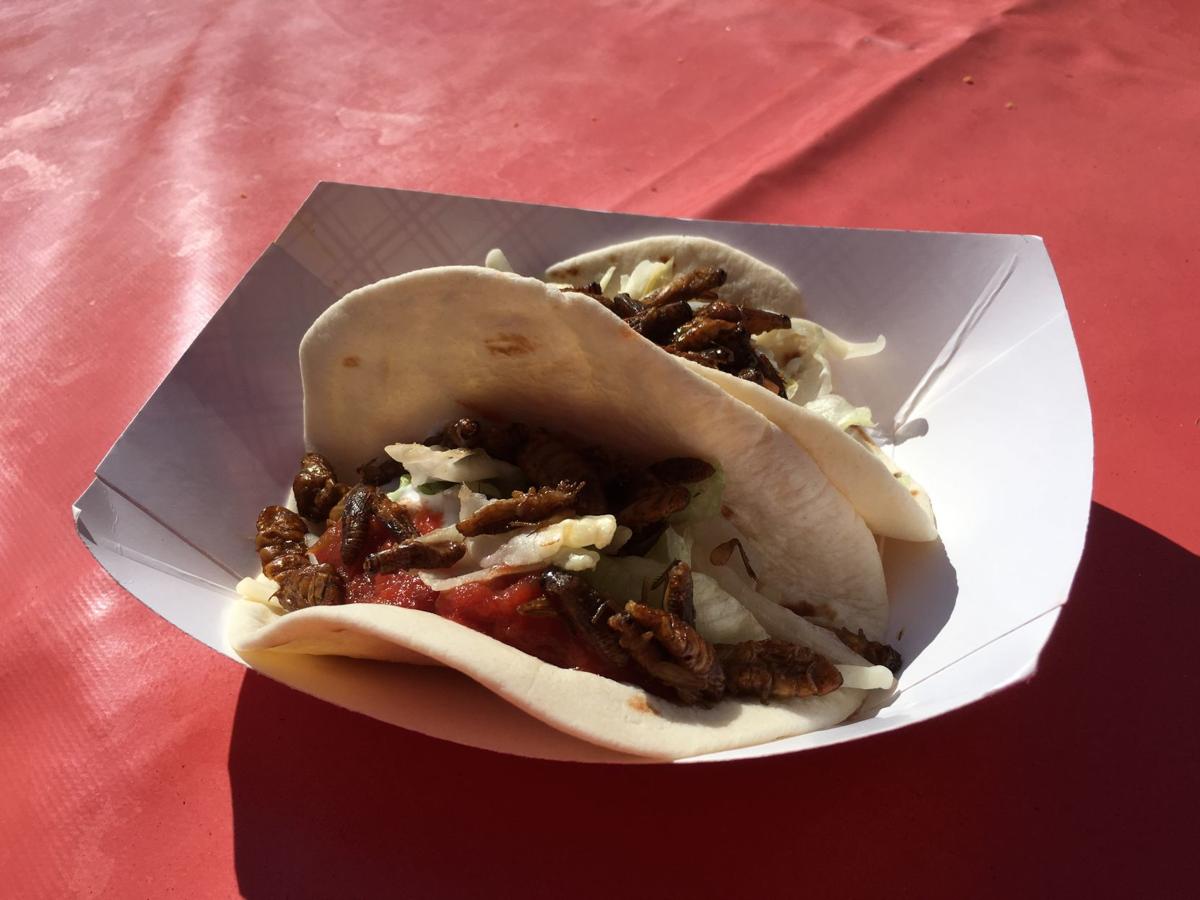 For some visitors to the Wisconsin State Fair, the sight of a golden spork is like a lighthouse, warning them away from danger.
For me and a few other hardy diners, it's a beacon.
The "Sporkies" is the fair's annual contest for the wildest and weirdest new menu items at the fair, which opened its gates on Thursday in West Allis and runs through next Sunday, Aug. 11. If you see a gold spork symbol outside a restaurant or food stand at the fair, it means one of the menu items is a Sporkies finalist.
Which lets you know you're in for a wild ride.
The effect that the Sporkies has had on fair food is evident, driving restaurants to innovate and turn up the competition with their rivals. So on a trip to opening day at the Wisconsin State Fair, I sampled a few of the more intriguing new foodstuffs. And lived to tell about it.
Bug Tacos at Exotic Meat Grill
When I arrived at the fairgrounds at about 9 a.m., I certainly wasn't planning on starting my day by shoving mealworms and crickets in my mouth.
But as I passed the Exotic Meat Grill, which also sells python rolls, rattlesnake soup and other cuisine, I knew I'd have to try the bug tacos ($10) sooner or later. Might as well get it over with.
As it happens, I think I was the very first person to try the bug tacos at the 2019 Wisconsin State Fair. The two friendly guys in the food truck were still new to building the tacos. As one was heaping spoonfuls of taco-flavored fried mealworms and crickets onto a tortilla, he remarked, "Slippery little guys."
This prompted me to ask a question that I was embarrassed to ask, but felt I had to clear the air about: "They're dead, right?"
Indeed they were, and there were plenty of them. Exotic Meat Grill doesn't skimp on the filling, heaping tortillas with orange-brown insects, cheese and lettuce. You can also get sour cream and salsa, which I did.
This may be exotic cuisine in Wisconsin, but consuming grasshoppers, beetles and mealworms is common throughout the world. The 2016 documentary "Bugs!" suggested that insects are such a nutritious and sustainable source of protein that it might be better for the world if more people ate bugs.
I stared off into the distance as I took my first big bite, feeling virtuous, thinking about the future of our planet while not wanting to look directly at the bugs I was putting into my mouth. They tasted fine, actually, with the chewy-crunchy texture of bacon bits.
But it never didn't feel weird to be eating bugs. I could get used to it. I won't, but I could. The worst part was minutes later feeling an antennae caught between my teeth, or a piece of carapace stuck to the back of my throat like a popcorn husk. Good thing I brought floss.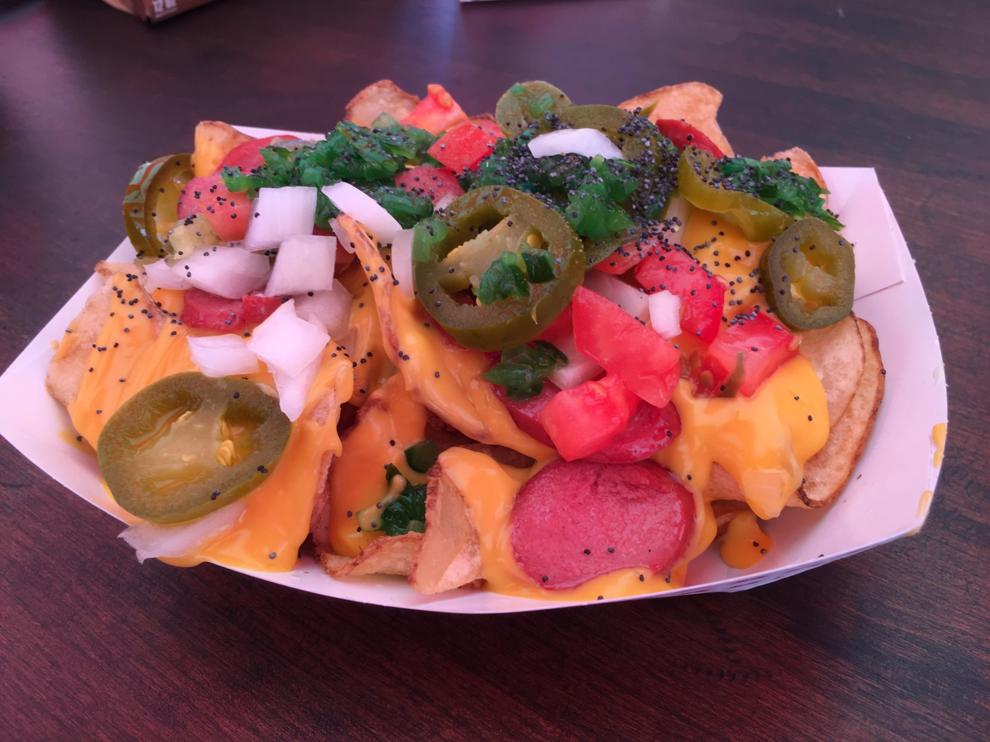 Chicago Dog Nachos at Slim's PBR Park
I had high hopes for this one, a summit meeting between two of my favorite fast foods, Chicago dogs and nachos. What could go wrong?
The best part of the Chicago Dog Nachos ($8.25) was that the base isn't tortilla chips, but Slim's delicious homemade potato chips. In addition to being tasty, they're surprisingly sturdy when holding up the nachos' toppings, which includes hot dog slices, diced tomatoes, onions, dill pickles and jalapenos, along with green relish and nacho cheese sauce.
As you read that long list of ingredients, you see the problem. The Chicago Dog Nachos have too much going on. Instead of picking a lane (hot dog toppings or nacho toppings) and sticking with it, Slim's piles on all of them. And they do not get along well.
What kind of monster would drizzle cheese sauce on a Chicago dog? I mean, putting ketchup on a Chicago dog is so blasphemous that you'll be escorted out of Cook County for even reaching for the ketchup bottle. Nacho cheese?
Similarly, who puts dill pickles and relish on nachos? These things do not play well together at all. I found myself picking around the plate for potato chips that had little to no toppings on them.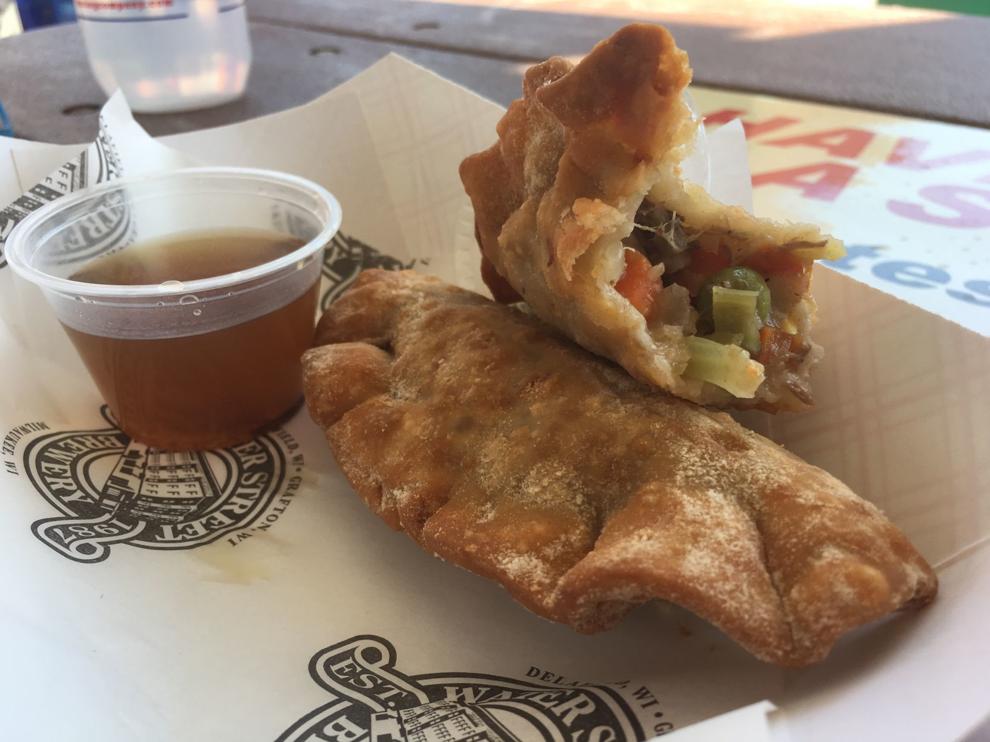 Deep Fried Booyah at Water Street Brewery
It's a little sad that this is the way that I've tried booyah for the first time. The hearty Belgian stew is a hallowed tradition in parts of northeastern Wisconsin, especially in and around Green Bay. The ideal atmosphere to eat booyah is sitting out in the cold watching a Packers game, letting the mix of chicken, beef and vegetables warm your belly and your heart.
But Water Street Brewery has had a solid track record with me. I went head over heels for the Deep Fried Old Fashioned in 2016, and the Deep Fried Turducken in 2018 was also a winner. I had to give this version of booyah a shot.
For $8.49, Water Street provides two deep fried pockets that look a lot like empanadas. Inside the puff pastry is a hearty mix of potatoes, corn, chicken, beef and pork. The meat is simmered in stock with amber ale, with the reserve put in a small tub as a dipping sauce.
Perhaps because so much state fair food is carnival food — corn dogs, nachos, elephant ears and the like — I really enjoyed the Deep Fried Booyah as an old-fashioned comfort food, like a pot pie that you don't feel bad about walking around eating with your hands. I would love these even more in winter, as something you could warm up with after shoveling the walk or going out ice skating. Water Street, you've done it again.
Surprisingly, the Deep Fried Booyah did not make the cut for the eight finalists for the Sporkies this year. Instead, in the running is Water Street's Deep Fried Italian Stallion, which is basically an Italian beef sandwich wrapped in a wonton and deep fried.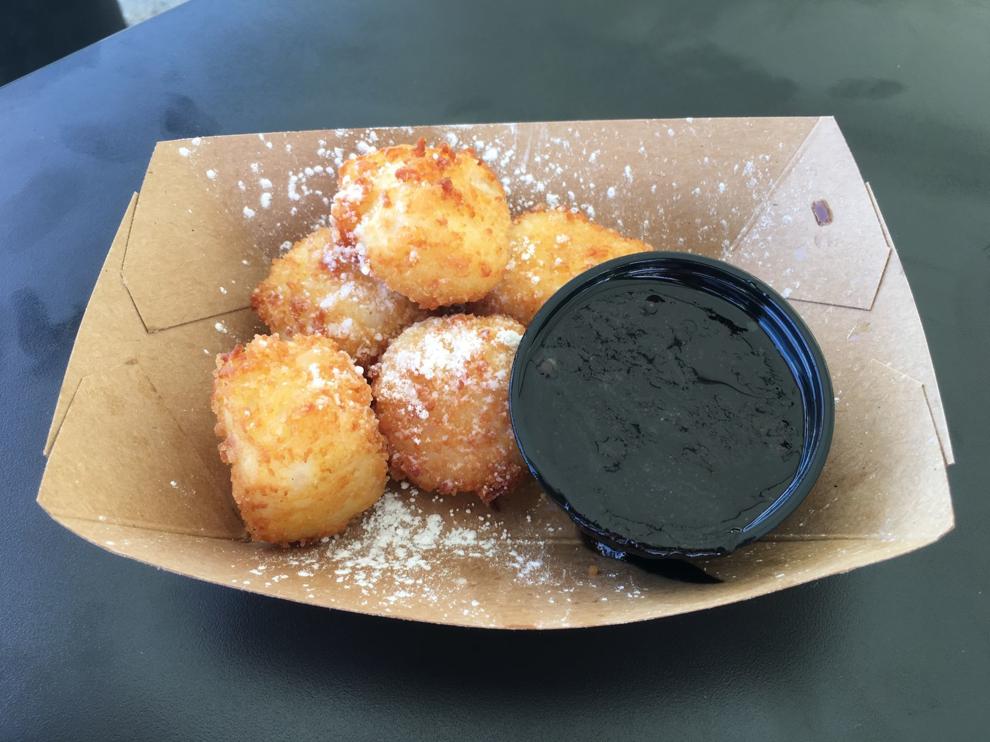 Deep Fried Milk with Cookie Dip at Slim's Lakefront
For dessert, I sought out this clever flip-flop on a traditional snack. Instead of dipping the cookies in milk, you dip the milk in cookies!
In this case, the "milk" is five deep-fried cubes of milk pudding (basically flavorless pudding), breaded and fried and dusted with powdered sugar. The "cookies" is a little tub of Oreo cookie dip. It goes for $7.75.
In theory, this is a great idea. In execution, this one needs a little work. The milk pudding filling was really hot and pretty tasteless. I know it would have violated the premise of "milk and cookies" to add vanilla flavoring, but it would have made for a much tastier result.
More problematic was the dip. Instead of just being chocolate sauce, the Oreo cookie dip has the consistency of pudding itself. It was impossible to dip the milk cubes in the cookie dip — dip too lightly and none of the dip would come off on the milk. Dip too forcefully and the milk cube would crumble in your hands. That's the way the milk crumbles, I guess.
If you head to the fair, let me know on social media at @robt77 what foods you try.