Where once was a pile of north Middleton dirt now stands a gleaming oven, its dome tiled in luminous, fiery red glass.
The oven, which bears the name "PIZZA BRUTTA" at its crown, looks like an enormous tomato, and it anchors Brutta's new fast casual pizzeria. Husband and wife owners Derek and Darcy Lee plan to open their doors to the public for the first time on Wednesday, at dinner.
"I can't tell you how excited people have been, talking about it," said Derek Lee, who opened the first Pizza Brutta on Monroe Street eight years ago.
Brutta makes wood-fired, Neapolitan style thin crust pizza, and it's not the first to do so in Madison's near west suburb. Novanta, a sister restaurant to Café Porta Alba, opened on Old Sauk Road in 2013.
"The old way actually fits the new way," Derek Lee said, remarking on the rise of wood-fired pizzerias. "Using wood and cooking in a hearth oven is faster than any of these deck ovens they can build today."
The floor of what's now PB Middleton, as the Lees are calling it, was "literally dirt" when the Lees signed a lease in the new Middleton Hills development.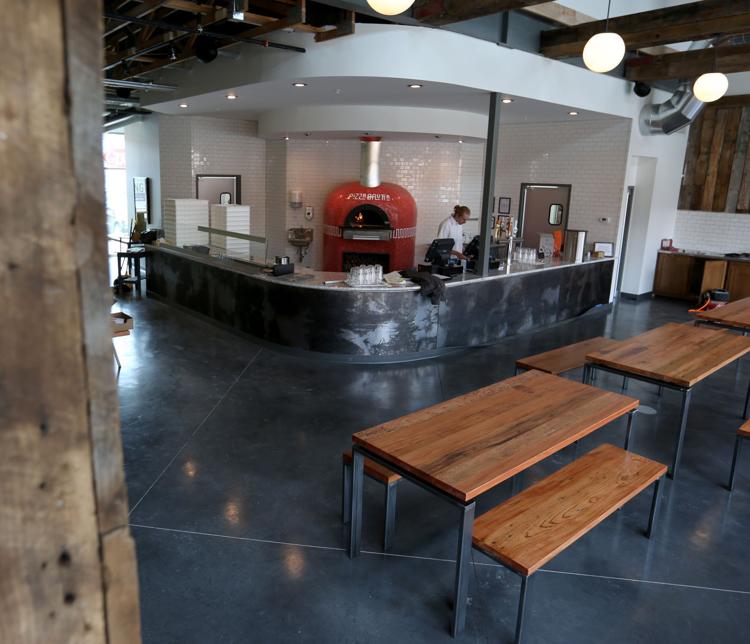 Building from the ground up "gave us the opportunity to have a lot of say in what the space is going to look like," Lee said. "We could essentially design it without any inhibitions … (or) inheriting someone else's decisions about where the bathrooms went."
Because of the new construction, Brutta's owners added character, working with artists Travis Cain and Emily Balsley on the oven's mosaic design, building walls and tables out of reclaimed Wisconsin barn wood, and taking inspiration from Norwegian wood stacking for a wall of firewood inside the restaurant.
The oven, which was given pride of place in the design, was made in Italy. It's larger than Brutta's Monroe Street oven, and the dome is lower. Lee estimated that the interior can get up to 800-900 degrees Farenheit.
"What's great about this oven is the Italian heritage and the physics," he said. "With the lower dome, the flame kind of billows. The bottom is baking and the top is broiled.
"The flame rolls over the pizza."
What's "really going to rock everyone," he added, are the Italian glass tiles on the outside, which he said share provenance with the glass tiles in the lobby of the Bellagio and Las Vegas.
"This oven is so neat, I'm so excited," Lee said. "I saved all my pennies and poured them into this."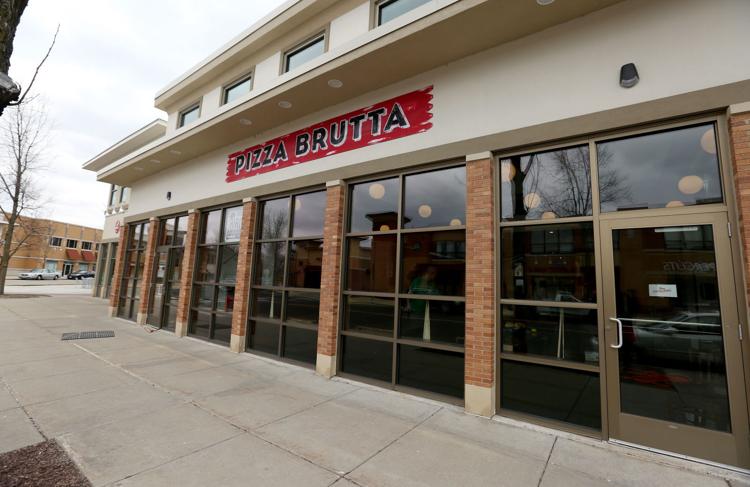 Pizza Brutta in Middleton is 2,700 square feet, seating about 76 people inside and 30 on a seasonal patio. Diners pick up a menu when they come in, walk past the dough and topping stations and toward the cashier, where they place their order.
The menu will be much the same as on Monroe Street, with costs adjusted down, at least to start, to account for surrounding chain pressure.
Pizzas, from the simple margherita and caprese to the more elaborate rossoverde (basil, prosciutto and arugula) and carbonara (Nueske's bacon, red onion, parmesan and pepper flakes) will range in price from $6.50-$12.
It's important to the Lees that families with young children, like their own, can find a dinner that's affordable but wholesome.
"Fast casual, what I like about it, is it gives you a chance to be approachable to a group of people who have maybe never tasted a (pizza) crust with four ingredients in it — water, flour, salt and yeast," Derek Lee said. "You can come into Pizza Brutta and get a locally-sourced organic salad and pizza and feed your family and walk out of there for under $40."
Wood-fired, brick oven pizza is a growing trend in the fast casual, top-it-yourself "Chiptole-style" market. Lotsa Mozza, coming to State Street in spring, boasts the tagline "dough to done in five minutes." Lee mentioned franchises like 800 Degrees and Blaze, noting that while he hopes to expand even further, he's taking it slow.
They chose Dan Erdman's Middleton Hills development after looking on the Capitol Square, where Lucille is set to open this spring, and the east side, where buzzy Grampa's Pizzeria and farm-to-pie Salvatore's Tomato Pies have a foothold.
"Going out into the 'burbs … (is) definitely more accessible, in terms of business," Lee said. "Will we do as well as down on Monroe? I think we will. There isn't as much as down on Monroe, and people out here are looking for something that is independent."