Members of the Midwest Clay Project spent months making a few dozen ceramic wind chimes to hang in baby oak trees on Tenney Park Island last Sunday.
They couldn't have predicted no wind at all to make them move.
As heat shimmered among pop-up restaurant tents and rainbow-colored installation art, Clay Project volunteers watched as festivalgoers wandered under the trees, reaching up to make each piece chime.
"I've been sneaking pictures of people looking at mine," said Madeleine Parker, a Midwest Clay Project artist and volunteer. "It feels so good."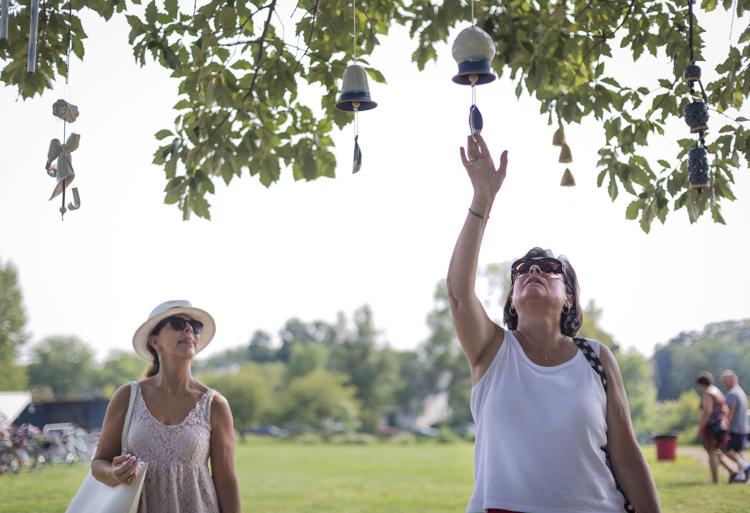 Floating umbrellas and balloon sculptures joined blueberries and black vinegar for the second annual Makeshift Festival last weekend. A celebration of local art and regional food, Makeshift moves to a different Madison park each year. Proceeds from food and art sales benefit the Madison Parks Foundation.
Bob Hemauer, a parks board member, event planner/ curator Bethany Jurewicz from VEA Events, Emily Julka of Chroma Press and Jonny Hunter of Underground Food Collective produced the event, which was free and attracted about 6,500 people to Tenney Park.
The event debuted at Olbrich Park in August 2017. 
"I love that they're going to move year to year," said Claire Myers, another Midwest Clay Project artist. "There's already improvements in the second year. It's more accessible."
Brent Pauba, a fellow ceramicist, agreed.
"There's more seating," Pauba said. "We're really excited about how it's iterative. What did we learn from this year, and what's going to be next?"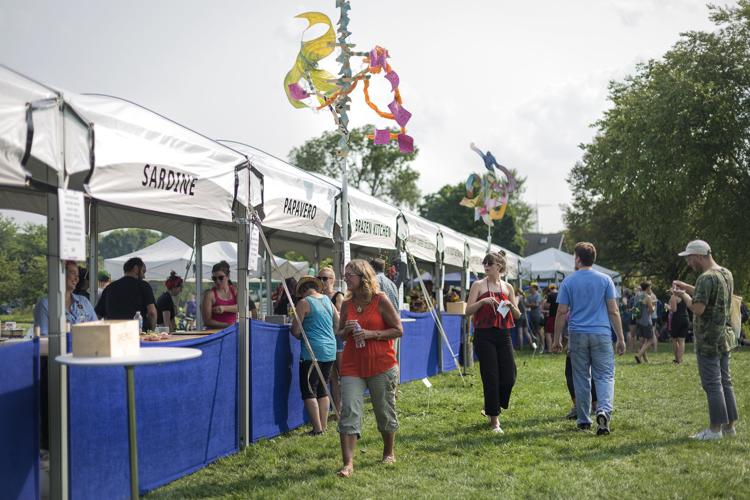 Among some 20 food and drinks vendors were folks from Madison, from Saints Juice Company and Chrysalis Pops to Osteria Papavero (sausage, flatbread, salsa rossa), Casetta Kitchen and Counter (chive pancake with shrimp, cucumber and black vinegar).
It's Good For You, a mobile pizza oven, turned out simple basil/ mozzarella/ tomato pizzas, while the Native Food Market made wild rice salads with fruit, corn and hominy. Spirited Women, a collective of local bartenders, ladled sangria bobbing with cherries and berries and a KinKin cold brew cocktail with Carpano Bianco vermouth.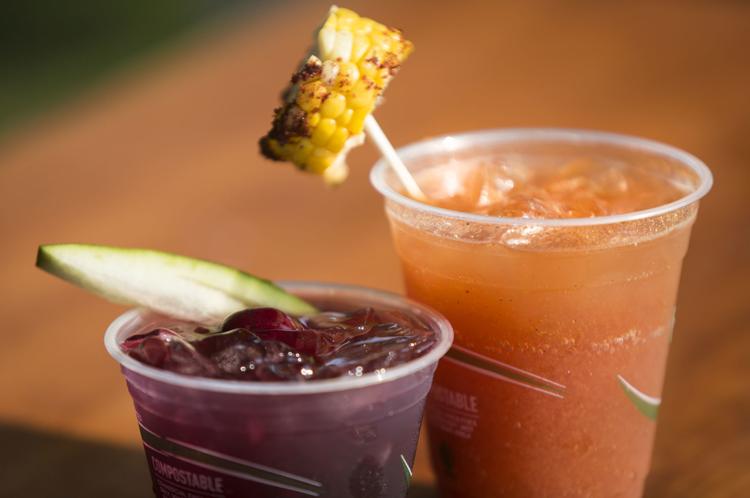 Members of the Culinary Ladies Collective made two kinds of pierogi on a Tuesday night, prepping hundreds of them with curried potatoes or sweet cheese and blueberries. Molly Maciejewski, chef at Madison Sourdough, said that's a project much better done as a group.
"Dumplings seem to always go over well at food festivals," Maciejewski said. "We had one gentleman tell us it was the best thing here. So, opinion of one guy: Best thing here!"
Justin Aprahamian, chef at Sanford in Milwaukee and a James Beard Award winner for Best Chef: Midwest in 2014, returned to Makeshift for a second year after enjoying it the year before. 
"I don't normally get interaction with people," said Aprahamian. "I joke sometimes that when I get out to the dining room I'm pretty tactless. It's nice to have dialogue and be able to answer questions and talk about the food."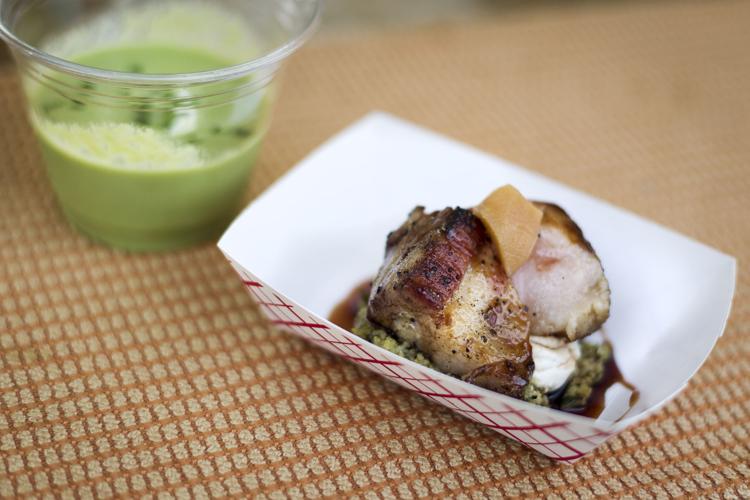 Sanford's team prepped a refreshingly cold Kermit the Frog-colored sorrel soup with cucumber and a little paper boat of pork belly cured with coffee, layered on top of bulgur and pickled quince. The restaurant picked 300 pounds of quince this year.
Aprahamian made the trip with his wife, Sanford co-owner and general manager Sarah Mudrock-Aprahamian, as well as their nearly 4-year-old son Sebastian and 18-month-old daughter Aurelia. Behind the counter, Sebastian ran up with a cube of ice, insisting that dad put it down his shirt.  
Sebastian had a point. It was a very hot day.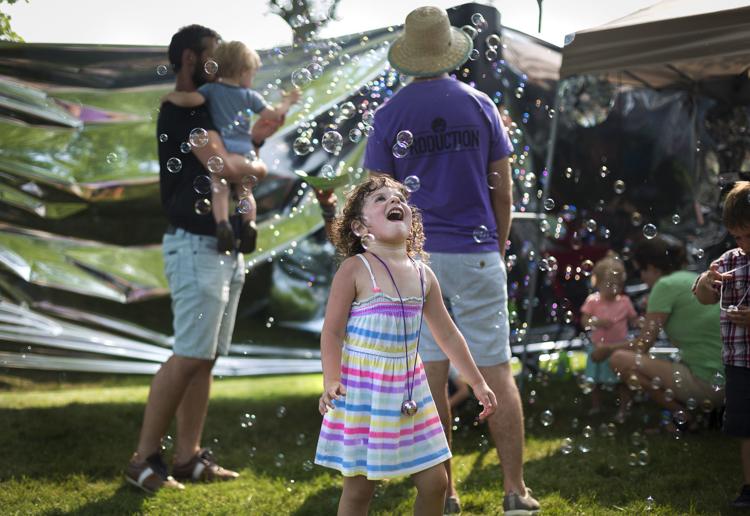 "It's good for them to run around and see it and it's entertaining," Aprahamian said. Makeshift is "more than a food event. People have more to do, more to walk around and see.
"It keeps people engaged and here, it's not just about coming and snacking. They can hang out, be inspired, bounce between things."
In a shady clearing, Madison Circus Space had set up juggling clubs, hula hoops and trapeze stands for swinging. Mackenzie Dunn, co-owner of Swing State Aerial, welcomed future aerialists of all ages at her portable rig.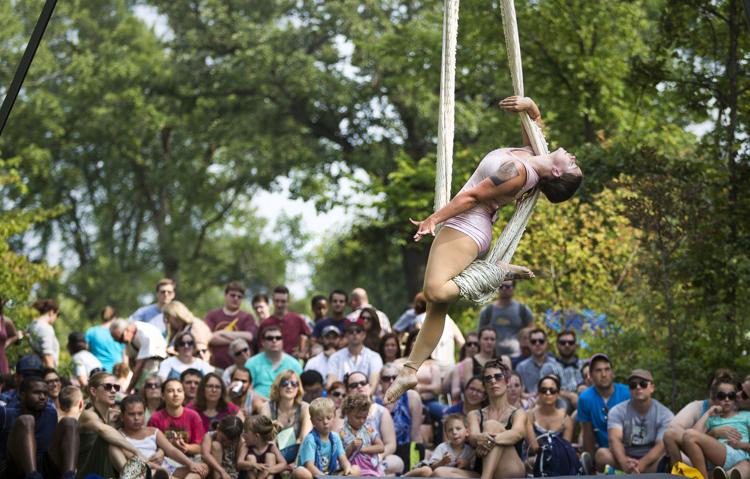 Makeshift "is a lot more playful," Dunn said, than the farmers' markets and festivals where she often does demos. As she spoke, a little girl stepped onto a fat knot tied in a couple of silks, helped by one of Dunn's cohorts.
"Ah, nice!" Dunn said, encouraging the girl. "Kids — I don't know if they're fearless, but they definitely have a little less preservation instinct. They're a little more unpredictable. Good thing they're also lighter, so you can catch them."
In the year since organizers separated from Yum Yum Fest, the Madison Area Chefs Network event coming up on Sunday at Breese Stevens Field, Makeshift has distinguished itself with large-scale installation art projects as well as with food vendors. There will be very little overlap between the two this year (get a sneak peak of that menu here.)  
Makeshift welcomed Old Reliable from Wausau (pickled-brined fried chicken), Martha's Daughter from Minneapolis (pork taco, stone fruit, mushrooms) and 3-year-old Brazen from Dubuque.
Brazen chef/owner Kevin Scharpf brought his team up "to represent Iowa" and said they had a blast showing off their technique-driven food to a Madison crowd. He brought sweet corn curry potstickers ("crowdpleasers") and dan dan noodles, inspired by a recent trip abroad.
"Madison isn't far from Dubuque so it's nice to reach out," Scharpf said. "We're super close. It's cool for us to come up here and represent the restaurant."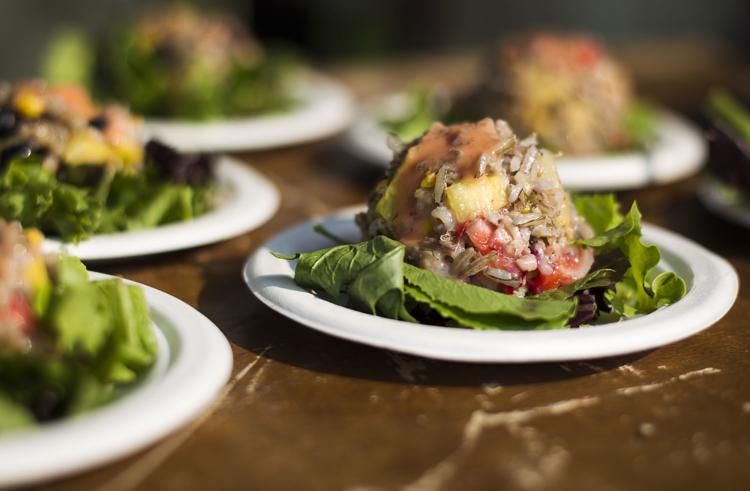 For some, festivals like Makeshift are a chance to highlight an entirely new concept. Union Kitchen, a 2-year-old project owned by chef Yia Vang, has been doing pop-ups in the Twin Cities to introduce Hmong food to a larger audience.
"We wanted to do food that was representing our people, remembering the voices of our parents," said Vang, who is Hmong and grew up near Stevens Point. "We always say Hmong food isn't a type of food, it's a philosophy, a way of thinking about food.
"You can't talk about our food without talking about our history and you can't talk about our history without talking about our food. It's interconnected."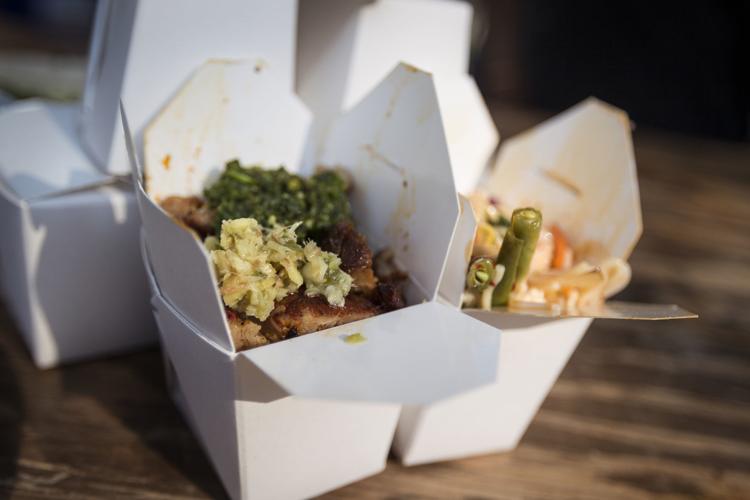 For Makeshift, Union Kitchen worked with Lowry Hill Meats' pork (the Lowry Hill booth was next door) and layered it over fun fun noodles, a nickname for stir-fried noodles that are "twice as fun." 
Vang was happy to break his food down for folks with questions.
"We just say, 'hey, it's Chinese barbecued pork,'" Vang said, comparing the noodles to a a vermicelli rice noodle. "When we talk about our tiger sauce, we say it's a Hmong version of a chimichurri, or a Hmong version of a salsa verde.
"We all speak the same language of food, but how do we translate that?"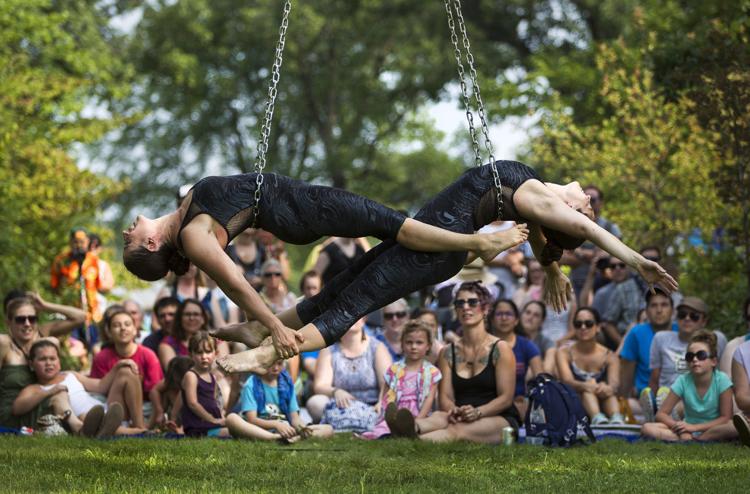 Tami and Tom Dettinger, a couple from just south of Madison, headed over on Sunday afternoon with the intention of watching some friends in Cycropia Aerial Dance perform The Clean Lakes Circus on an outside rig. Early on, they were distracted by Vang's noodles and chickpea cakes with olive/tomato tapenade from Sardine.
"We grow most of our own food, so buying food in the summer just seems decadent," said Tami Dettinger. "Tenney Park on Sunday afternoons was where all the German immigrants came to party and have a relaxing Sunday. How appropriate to be German/Norwegian and come to Tenney Park on a Sunday!"
Would they change anything about the festival? The Dettingers had only one suggestion. 
"I would ask for eight degrees cooler," Tom said. "And a five mile an hour wind."