A little cardboard box with a picture on the front doesn't tell a novice cook much about what dinner might taste like. 
So earlier this summer, the Willy Street Co-op decided to offer a little show and tell.
On "Masala Mondays," the east and west locations of the grocery store have been serving chana masala, a vegetarian chickpea-tomato dish made with spices from a local company called Flavor Temptations.
"It's a great product," said Katherine Kornely, deli manager at the Willy Street Co-op East. "We wanted to support the local business. It's an educational opportunity."
Flavor Temptations, founded in 2013 as Ethnic Spicery, sells packets of spices for about $6-$7 each. Each kit for dishes like curried potatoes, tikka masala or fragrant rice contains organic Indian spices, among them turmeric powder, cumin powder, mustard seeds, chili powder and coriander.
"My company works to provide great eating experiences of ethnic food," said Sara Parthasarathy, CEO of Flavor Temptations. "We want our customers to experience culture one meal at a time."
Husband and wife and co-owners of Flavor Temptations, Partha Sabniviss and Sara Parthasarathy came up with the idea to sell recipes and pre-portioned spices professionally after helping their son when he went to college.
He wanted to make some of the foods he was used to having at home. After several mishaps cooking on his own, Parthasarathy started writing recipes and pre-portioning spices for him, so that her son's meals would taste more like her own.
"Indian cooking is about being precise," Parthasarathy said. Using her spices and recipes "means not having wasted spices you may only use for one meal."
A recipe on every kit tells cooks exactly when to add each spice. A major part of Indian cooking is timing, and if the wrong thing is added at a certain time it could change the flavor of the dish.
Parthasarathy and Sabniviss already do demos at grocery stores, to show "how to cook the food and how the finished product should taste."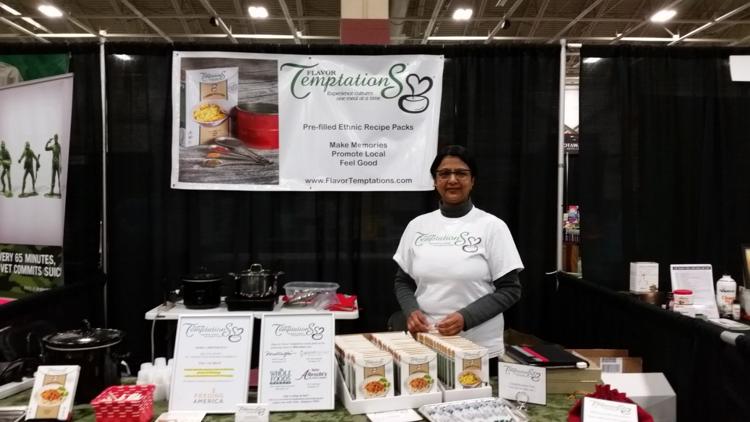 Getting their spices onto the hot bars at grocery stores where the packets are sold was another savvy way to market the business. Kornely said the co-op got "a good deal" on bulk quantities of the spices. 
"It's like you can try this, we make it here," Kornely said.
The packets themselves, with their careful instructions, "gives you a cooking experience you wouldn't get just tossing in a bunch of spices," she added. 
According to Parthasarathy, Festival Foods on East Washington Avenue may provide Flavor Temptations recipes prepared in their hot food section as well. The store has not set a release date.
Flavor Temptations' spice packets are sold online and in 25 stores in Wisconsin. The company plans to expand to Minnesota soon, and is working to create family size portioned kits and make production faster.
The company donates to charity, too. For every kit that is purchased, Parthasarathy said, a meal is donated to Feeding America. Last year the company donated 6,000 meals, and this year they have exceeded that amount.
"This is my dream," Parthasarathy said. "Sharing a meal helps people form bonds and build relationships.
"So if I can help that process by sharing my culture and helping make that meal taste delicious while giving back to the community, then my dreams are fulfilled."