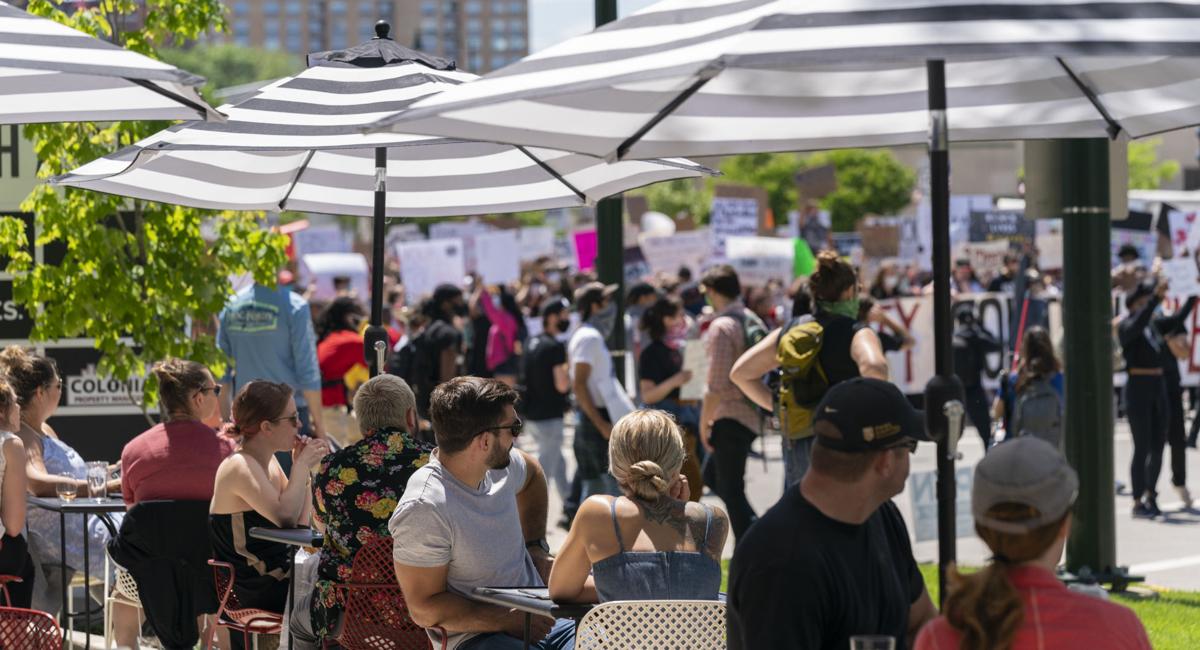 Protesters chanted, "No justice, no peace," "White silence is violence," and the names of those who'd died at the hands of police: "Breonna Taylor," "Tony Robinson" and "George Floyd." Patrons observed or carried on with their meals. 
As the summer continues, private eateries and public demonstrations have clashed across the city, forcing patrons and staff to rethink expectations of comfort when dining out. Nikki Hodgdon, a bartender at Vintage, recalled how guests responded that afternoon.
"A woman at the table said that she agreed with the message but doesn't understand why they have to be so loud about it and carry a bat," Hodgdon said. Some guests went further, making threats. Hodgdon said a group at one table insinuated that they were going to kill one of the protesters.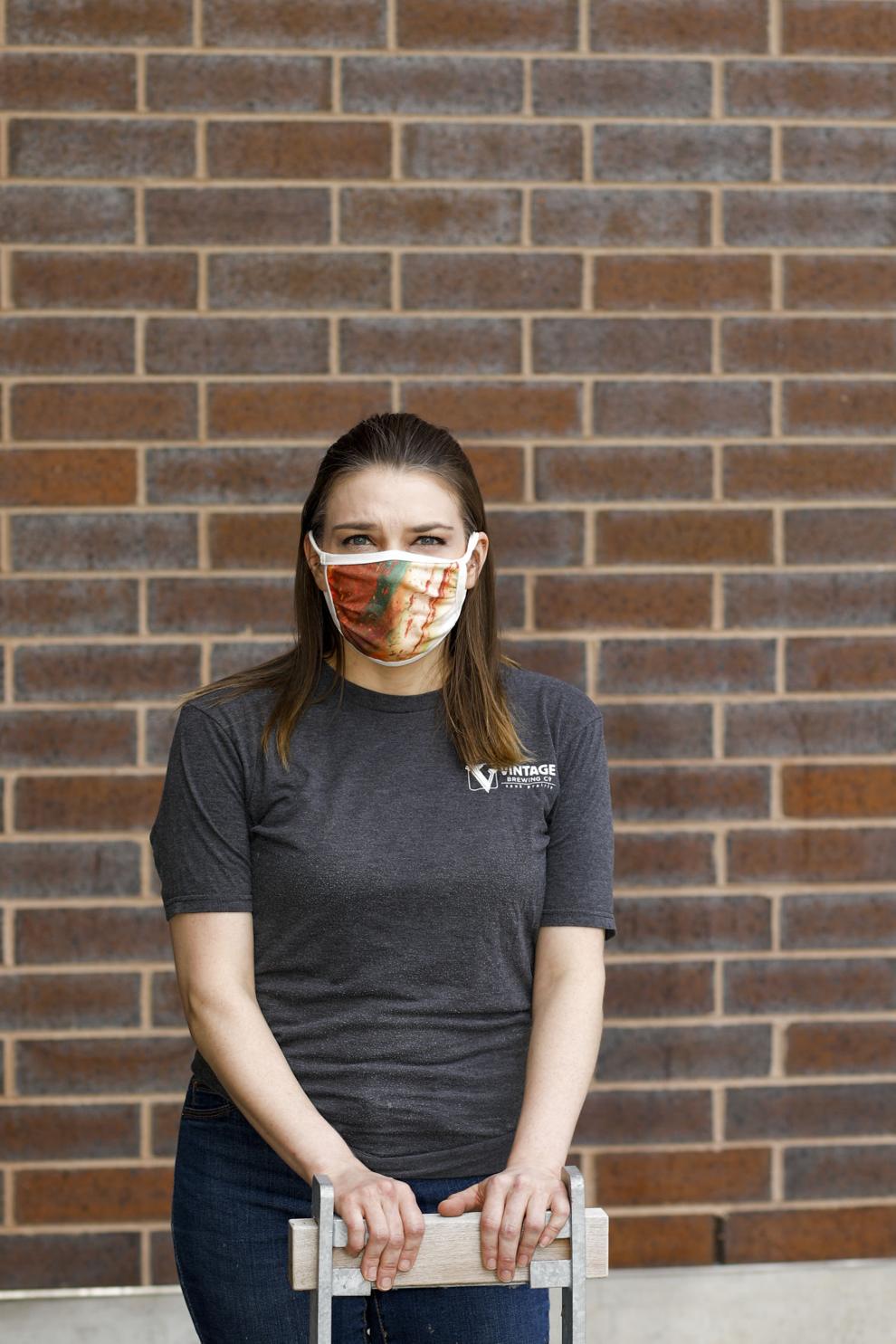 "My coworker jumped in and said that you cannot speak to him that way," Hodgdon said. Management got involved and tried to calm the angry customers, who had asked for Hodgdon's coworker to be fired. 
At that, the table "just walked out of their bill and had a full table of food," she said.
It's already been a challenging summer, as Madison restaurants navigate flip-flopping COVID-19 regulations as positive test cases rise in Dane County. As they reexamine the space customers and workers share, restaurant owners and staff are also examining their role in ongoing demonstrations against police brutality, as well as their own relationships with police. 
When asked if Vintage Brewing Company staff or management considered calling the police during heated moments with guests and protesters, Hodgdon gave a stern "no."
For weeks, restaurants have been juggling how to respond to disturbances on top of the added stress of sanitization to slow the spread of COVID-19. Now they're also thinking about their role in calling police, and their own plans for de-escalation.
The mostly empty interior and bustling patio of The Coopers Tavern became the scene for the arrest of activist Devonere Johnson, also known as Yeshua Musa, on June 23. Musa's protest at the Capitol Square gastropub was "disturbing to more than one person," according to police reports and video. (The Coopers Tavern and its parent company, Food Fight Restaurant Group, did not respond to requests for comment for this story but released a statement on their Facebook pages addressing the June 23 arrest.)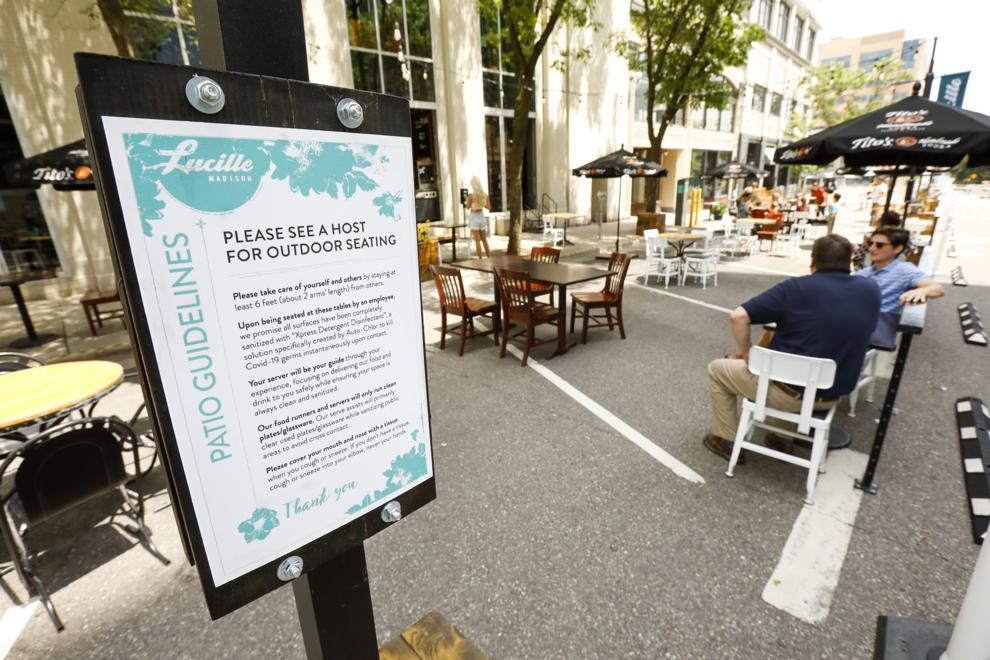 In the past, some downtown restaurants have embraced the disturbances that come with large protests.
"Lucille was right in the center of the action back in 2017," said Josh Berkson, president of Rule No. One Hospitality, the management company that owns Merchant and Lucille. 
"The place turned into a huge place of expression," Berkson said. "Posters everywhere, people chanting. It was kind of a beautiful thing." 
"For us, there's no such thing as disturbing the peace anymore. We want our restaurants to be where the conversations are happening," Berkson said. He sees the anger behind the protests and frankly agrees.
"We're mad too," Berkson said. "We see racism and we see oppression. We're not going to turn a blind eye to it."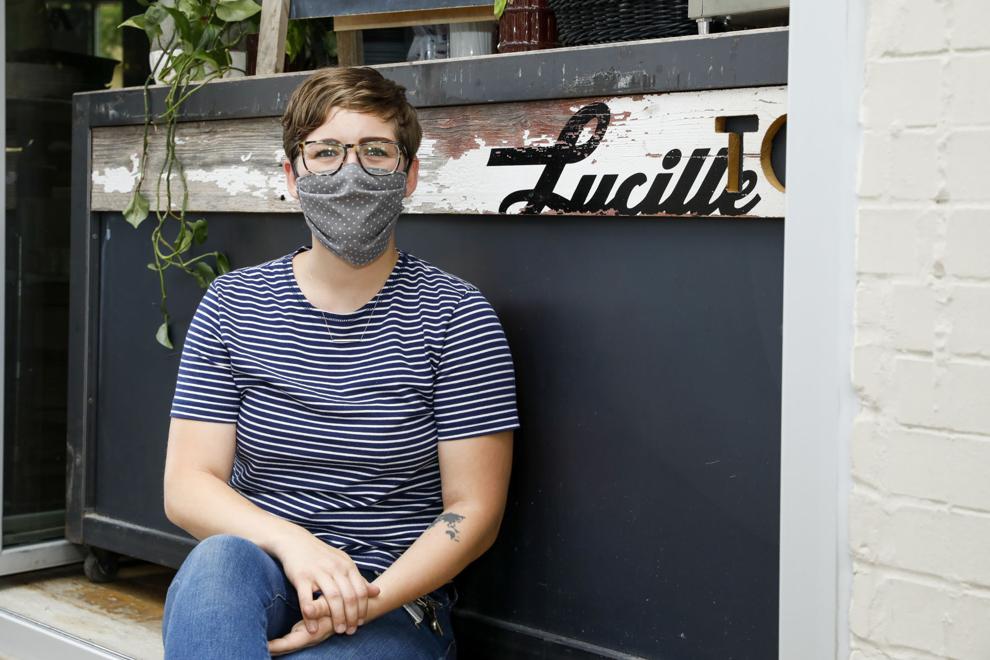 Lucille's general manager Tara Duffin is rolling out internal de-escalation training at the pizzeria. Based on the methods used by the Crisis Prevention Institution, widely used by law enforcement and behavioral health professionals, Duffin hopes to empower staff to handle stressful situations. 
"Instead of that fight or flight mode, it's more to say, 'I know what I'm doing, let me refer to my training.' They have that feeling of confidence," Duffin said. 
One of the ten tenets of this training is to pause and be silent during stressful events. Allowing for pause may seem counterintuitive, but " a person's stress rises when they feel rushed," Duffin said. "Allowing for a few moments of silence may seem like it takes forever, but it actually can prevent it from escalating into something bigger."
Both Duffin and Berkson emphasized that calling police is a last resort, according to the training.
"We'll do anything we can to not call the police right now for situations that are not threatening. And threatening doesn't mean causing a disturbance, it means true harm," Berkson said. "If someone is shouting on a megaphone, who cares? Listen to it, maybe there's something to learn."
Unconscious bias training
Front of house restaurant workers regularly handle stressful situations. Behind the smiles and friendliness is the hope of being properly tipped for their service, a needed addition for workers who may make as little as $2.33 before tips in the state of Wisconsin. But troublesome situations get more complicated when confronting ingrained unconscious bias.
Susan Quam, executive vice president of the Wisconsin Restaurant Association, said there are new certifications to understand these biases, a growing body of work in the industry.
"The ServSafe Workplace suite has a new program that was developed with the Multicultural FoodService and Hospitality Alliance on understanding our unconscious bias in restaurants," Quam said. ServSave is the National Restaurant Association's food and beverage safety training program. While the WRA is an independent organization, they partner with the National Restaurant Association for ServSafe training and education.
"That got put on hold when we had to shift to purely COVID-19 related activities in trying to help restaurant operators stay afloat," Quam said. 
Since the protest on the Vintage patio, four separate organizers have been arrested on various charges. Musa now faces federal extortion charges with a maximum 20-year sentence.
Vintage has since prepared for more confrontations. Hodgdon said management "bought bottled water and freezie pops to hand out" for any future protests. In a pre-shift meeting on June 25, staff were told to let protesters talk with customers on the patio, and let customers move to inside tables if they wish.
Hodgdon's background in health services helps her deal with stressful situations. As a bartender, she said, "you learn pretty quick how to deal with tense situations as they come up, since alcohol is involved." The moment with the angry group of guests, she said, was the "most tense part of the protest."
"We're pretty occupied with that," she said. The restaurant reopened July 3.
Share your opinion on this topic by sending a letter to the editor to tctvoice@madison.com. Include your full name, hometown and phone number. Your name and town will be published. The phone number is for verification purposes only. Please keep your letter to 250 words or less.