Erin Rasmussen believes that when it comes to making wine, the upper Midwest, Texas, Idaho and Iowa can do things the coastal regions can't. 
"The wines I'm releasing this spring are surprisingly round and soft and pretty," she said. "They're very commercially viable wines. But the other part is, they're flavors people have never come across in wine before. That's the exciting part and the scary part."
Rasmussen, 35, was raised in Madison. She graduated from Memorial High School in 2001 and the University of Wisconsin-Madison in 2005 with degrees in music performance and French.
She left to pursue an education in winemaking in 2008, earning a graduate degree in viticulture from Lincoln University in New Zealand, then moving to Napa Valley to work with winemakers. 
Her wine experience in California ranged from tiny DuMOL, a Russian River Valley producer of small-batch pinot noir and chardonnay that makes about 15,000 cases of wine per year, to E & J Gallo, the largest wine brand in the world. (One in four bottles of wine sold has been touched by Gallo in some way.)
"I had been out in California for several years making wine, and I wasn't seeing anything that hadn't been done before," Rasmussen said. "As far as new ways to look at cabernet or chardonnay, it comes down to farming and the grapes. Between that and wondering what kind of wine I could make in the Midwest, I ended up deciding to move back to Madison and finding cold climate grapes to make wine from."
Last year, Rasmussen returned to Wisconsin and began work on what she decided to call the American Wine Project. She found a temporary home at Drumlin Ridge, which gave her the support system she needed. Her parents, David and Mary Rasmussen, are helping with "the business side of things," she said, while Erin focuses on winemaking, marketing and sales.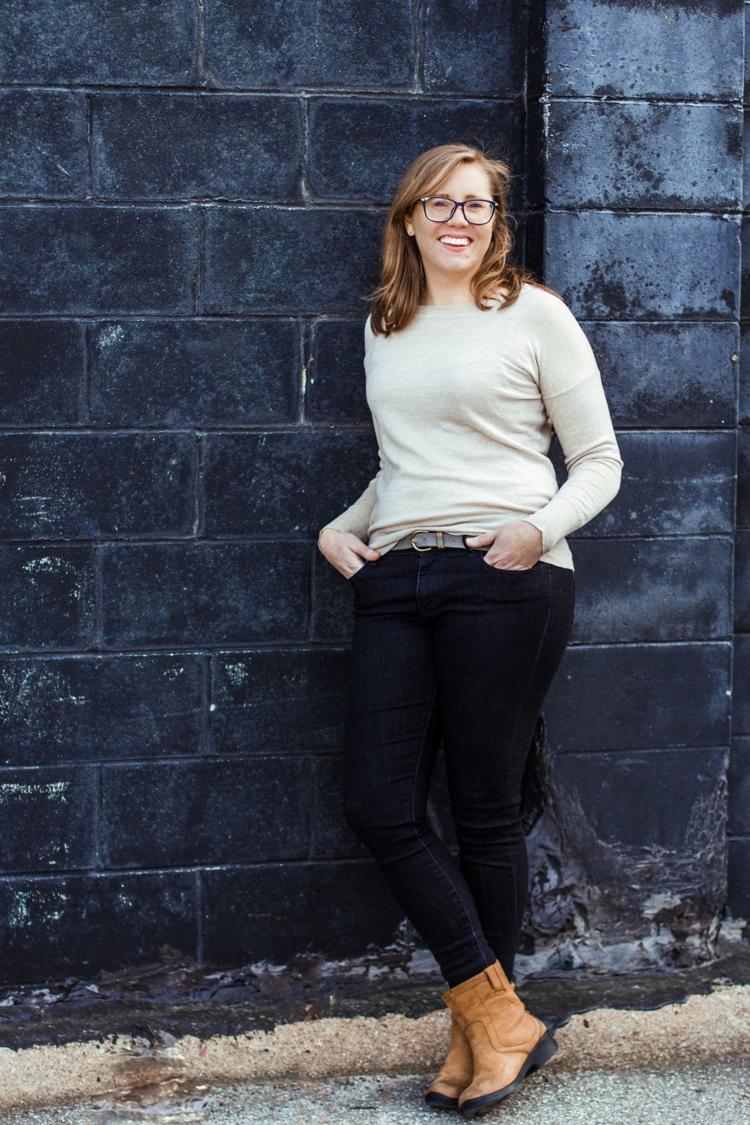 "There are so many grapes out there that people don't know anything about," she said. "You see on industry pie charts it's chardonnay, cabernet, pinot noir, merlot. But there are thousands of grapes."
American Wine Project aims to highlight lesser-known varietal wines from lower profile wine regions. For her first grape purchase she went to northern Iowa and the Upper Mississippi River Valley AVA, a viticultural area that covers parts of Illinois, Iowa, Minnesota and Wisconsin.
"The point is to find small growers doing incredible things in incredible places," Rasmussen said. "Idaho and Texas are miles more interesting than what people normally see on grocery store shelves."
For American Wine Project's first white wine, Rasmussen chose brianna, a muscat hybrid developed by noted "godfather of Midwest winemaking" Elmer Swenson. Brianna can have prominent tropical flavors, and Rasmussen described hers as round but dry, with no residual sugar. She named it the 2018 Summer Land, with floral aromas similar to gewürztraminer, malvasia and muscat, "big aromatic whites," she said.
"It went through a little malolactic fermentation, which helped to soften some of the acid," she said. "I left it on the lees" — leftover yeast, deployed in winemaking to impart depth and fullness — "between harvest and a couple weeks ago, and that helped build mouthfeel."
Because they don't always act like vinifera grapes, cold-hardy and hybrid grapes like frontenac and marquette can be challenging to work with. A recent WisContext story featuring University of Wisconsin-Madison enologist Nick Smith does a good job of explaining why, pointing to levels of tannin and acidity in Midwest-grown varieties. Rasmussen mentioned succinic acid, found in small quantities in hybrids, that can make the wines taste sour.
 "The way that pH works in wine can throw everything out of balance," she said. "You can have a really high pH, which should mean less acid. But your TA, your total acidity, is also really high. So your pH might be higher than usual but your wine still tastes sour.
"That is a huge challenge for winemaking here. These wines are not easy to make."
American Wine Project's first marquette, the 2018 Switch Theory, looks more like a rosé than a red, Rasmussen said. She left the juice from the grapes on the skins for 48 hours, where the wine picked up color. She turned that into a wine with 6 grams per liter of residual sugar, meaning it's technically dry but drinkers will perceive the sweetness. It should be served chilled.
A third wine, Wit & Wisdom, is a sparkling piquette, a rustic style made by adding water to pressed grapes and fermenting this a second time. The wine is a bit funky and tart, she said, with just 7 percent alcohol by volume and a little fizz, bottled with a crown cap. She called it "a sour wine," sort of like a lambic or a pét-nat. 
"It was really more of an experimental batch, but it turned out to be so lovely," Rasmussen said. "I did add a little sugar before I bottled it. I knew what fizz level I was going to hit and I knew where I was going to end up with the alcohol. It has more in common with brewing than winemaking as most of us know it."
Estimated retail prices will be $21.99 for the brianna, $17.99 for the marquette and $12.99 for the sparkling piquette, available in April at Steve's on University, Square Wine Company and Table Wine.
Rasmussen hopes to eventually open her own winery and tasting room in Madison. In the meantime, she's hoping to change a few minds and she's excited to be "making wine in a beer town."
"Rather than saying, 'good wine only comes from the coasts,' or 'Midwest wine is always sweet' ... I think these generalizations are going to start falling away faster and faster, kind of like they've done with beer," Rasmussen said. "I don't know that 15 years ago anybody would have said, 'Hey, let's make this beer taste like a Snickers bar.' And yet, here we are."