Processing 67,000 pounds of unwanted soup, salad, burritos and cookies in 2016 has given Chris Brockel a generous perspective on when something he plans to eat has gone "bad."
"If I open it and it doesn't bite me, then I'm eating it," Brockel said.
In late 2014, Brockel co-founded the nonprofit Healthy Food for All, a volunteer-powered group of vegetable pickers and prepared food repackers.
At least once each week, they repack things like hot and sour chicken soup, barbecued ribs and cookie bars originally made for Epic Systems employees into portions that can be easily managed by food pantries.
Food waste is a major issue both in terms of resources lost, environmental impact and the one in seven Americans who are food insecure. But when Brockel makes his pitch about food waste, he connects to something most people do every day.
"How do you feel when you're done with your dinner and you just scrape your plate into the garbage can?" Brockel said. "It never feels good, even if you have a perfectly good excuse for not eating it, like 'I just don't feel good tonight' or 'I put too much salt in it.'
"It feels icky to throw it away."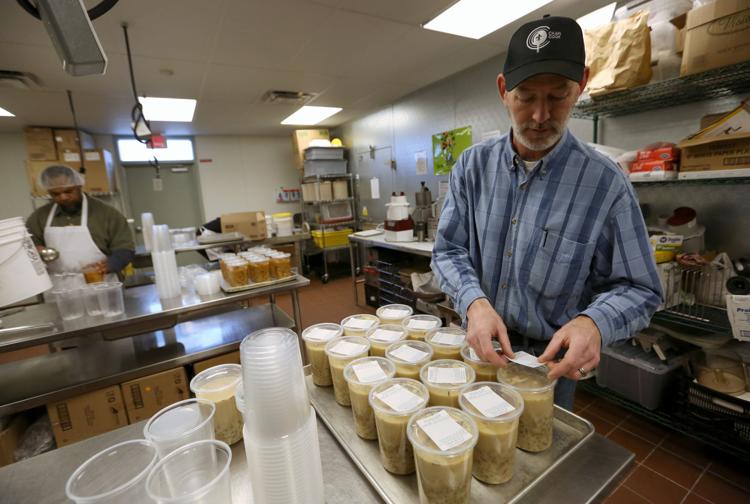 Healthy Food for All is one of individual, incremental efforts happening all over Madison to reduce the food waste — edible or not — that gets dumped into local landfills. A few months ago, the Dane County Board of Supervisors declared 2017 "the year of food waste prevention and recovery."
According to the National Resource Defense Council, Americans waste about 40 percent of the food we produce. And the moment a carrot comes out of the ground, that "edible" clock starts ticking.
Food waste prevention and recovery efforts in Dane County are wide-ranging if not usually coordinated. Volunteers glean produce from farms, picking up less-than-lovely squash and peppers to divert to food pantries and compost piles. Students at the University of Wisconsin-Madison, on bikes and on foot, head to campus food halls and local restaurants to do the same.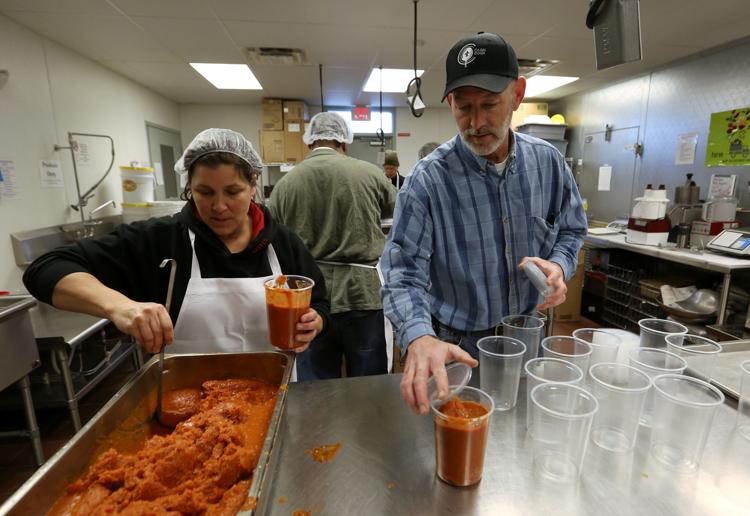 Grocery stores like Metcalfe's Market and Hy-Vee are discounting "ugly" produce and using a new app to track "sell by" dates on cereal, rice and more. During Madison's Chef Week in early March, five restaurant chefs turned scraps into salmon mousse and savory jam made from lettuce cores, all to draw attention to food waste.
There's been progress for food pantries, too. Goodman Community Center has ramped up its preservation program. Second Harvest, a southern Wisconsin food bank that redirects all but 4 percent of what it takes in, completed a 4,800 square foot freezer expansion in December 2016, increasing storage capacity by 35 percent.
Turning food scraps into compost and energy is growing slowly on the municipal level. The county and the city of Madison formed a joint task force on food waste in 2014 and recently held a "food recovery convocation" with representatives from local food pantries.
The city hoped to take its 2011 pilot composting program citywide by 2016, but lacking enough trucks, staff and a biodigester, the program has stalled at about 1,000 homes and businesses.
Small companies like Rooted Curbside Compost and Earth Stew Composting Services have taken up some of the slack. Those two serve about 100 clients between them.
"Food waste is wasted money for retailers," said George Reistad, Madison's food policy coordinator. "It's food that could have been recovered and eaten by somebody that goes into the landfill and takes up space, creates greenhouse gas emissions. It's all bad.
"There's no reason that we should be having more food waste than is needed. It should not be a thing, especially in a country ... in a world where people are going hungry.
"It makes no sense."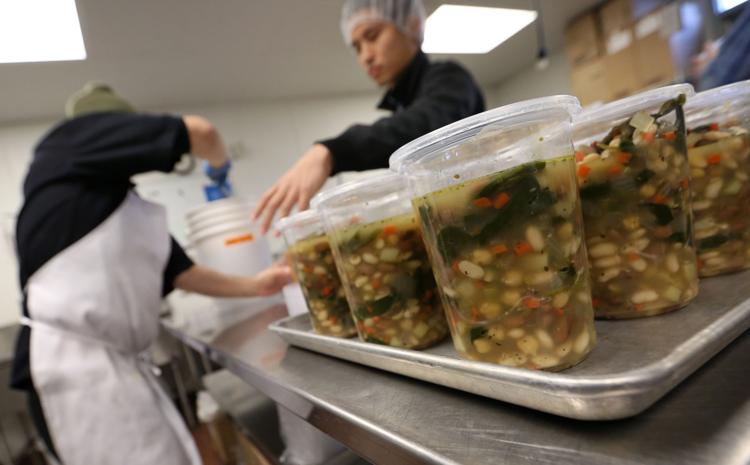 Digester dreams
The amount of food wasted in the United States is astonishing. According to ReFED (Rethink Food Waste Through Economics and Data), the U.S. wastes 62.5 million tons of food annually.
That's a loss of $218 billion a year spent on growing, processing, transporting and disposing food that never makes it to anyone's dinner table. The EPA has announced a goal of reducing food waste by half by 2030.
In Madison, city recycling coordinator Bryan Johnson estimated that in 2016, more than 14 tons of food waste went into landfills, roughly a third of what the city collected. That doesn't include condominium towers, apartment buildings or large businesses, where city trucks can't go.
"We're turning into a bit of a food hub, so handling this food waste is going to be something that's very prevalent for this community," Johnson said. "The only way to make a bigger landfill is to take over farmland to put stuff that we don't want anymore."
Once food goes into a landfill, it degrades anaerobically and produces methane gas, a major contributor to climate change. Composting, because it involves oxygen, produces carbon dioxide, which is less damaging to the atmosphere than methane.
There's also the benefit of keeping landfills from growing as quickly.
"By reclaiming that, we're doing obvious environmental good," Johnson said. "Not putting as much tonnage into the landfill keeps the landfill viable."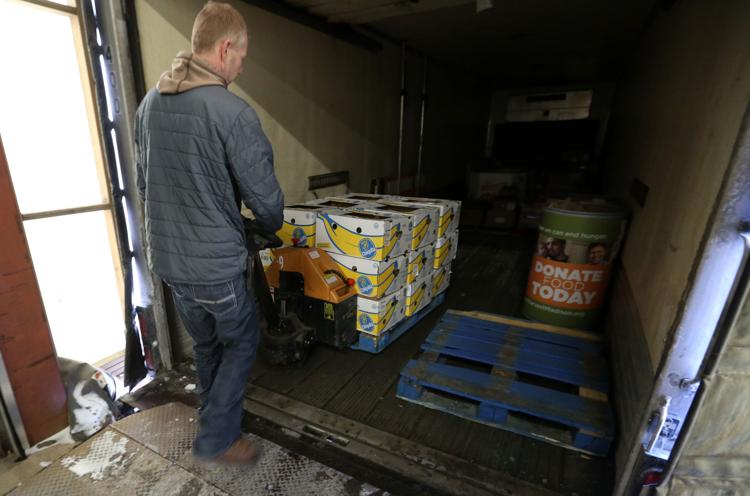 The best thing to do with food waste is to feed it to people, or failing that, feed it to animals like pigs. With the help of "brown waste" like leaves and the diligent work of worms, food waste can become compost.
Even better, biodigesters turn food waste into fuel. Anaerobic digesters use microorganisms to break down organic materials in the absence of oxygen, so there's no smell, and the result is methane fuel and fertilizer.
The Environmental Protection Agency cites the University of Wisconsin-Oshkosh as among its biodigester success stories. Its dry fermentation anaerobic digester uses, among other things, food waste generated on campus.
Increasingly, larger municipalities like San Francisco and New York City are looking to biodigesters to tap food waste as an energy source. A February story in the New York Times magazine profiled entrepreneur Charles Vigliotti of American Organic Energy, which is about to break ground on a $50 million digester in Long Island.
Madison has done some jostling with its compost collection, which started with about 500 households and small businesses. For a few years, the city trucked waste to a composting facility in Columbia County. When that closed in 2013, food scraps began going to the digester in Oshkosh, and in 2015 they shifted to a digester in Middleton.
During what became a lengthy pilot period for the composting program, the city discovered that "biodegradable" bags are different than "compostable" ones. They also uncovered a need for a sorting mechanism to remove plastic bags, a $120,000 expense the city approved in 2014 but never bought.
Instead, as of 2016, city-collected organic waste from about 1,000 homes goes to a facility in Caledonia, 40 miles away. Environmentally, the cost of all this transportation means such composting isn't carbon neutral.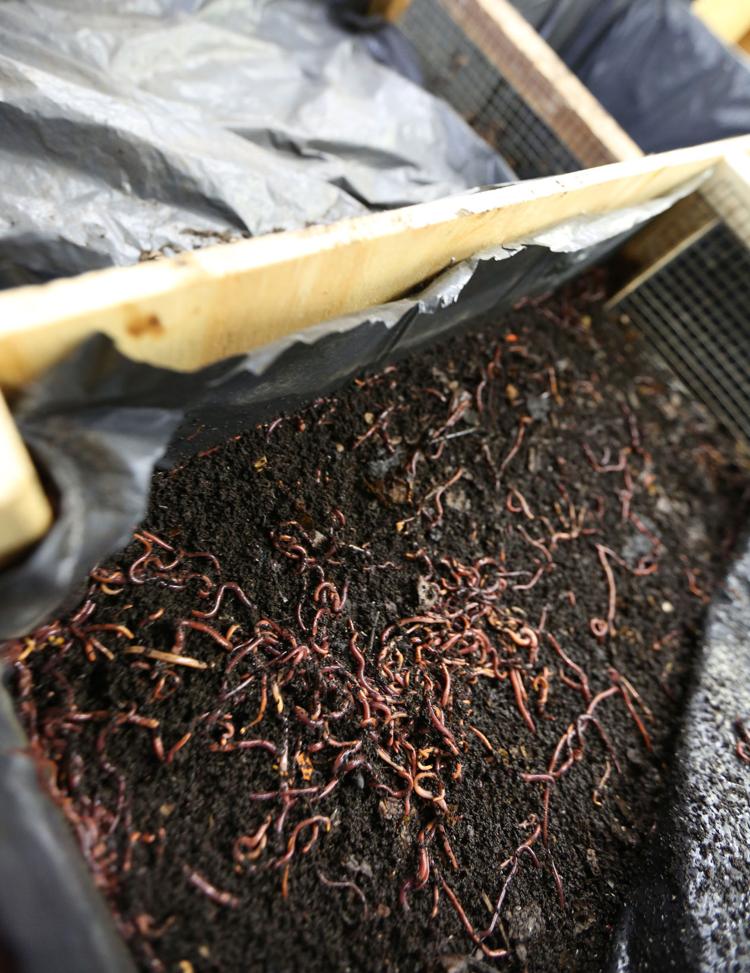 Finding $20 million for a biodigester for the city was a dream of former recycling manager George Dreckmann. But despite repeated promises, a digester isn't something Madison has made a budget priority.
Johnson is concerned about where a digester might go. Trucks cost $200,000 each, and the city would have to staff routes around the city unless a private company wanted to cut the city a deal.
Still, Johnson hopes to add a Monday route for compost collection by the end of the year on the city's east side. He didn't want to say where — given the program's history, he's understandably wary about making too many promises.
"We're trying to do the right thing here," Johnson said. "We promised more early and we're not living up to those promises. It's disappointing for us. If we're inching forward, it's better than going backwards.
"I'm willing to be happy with incremental improvements. It's still progress."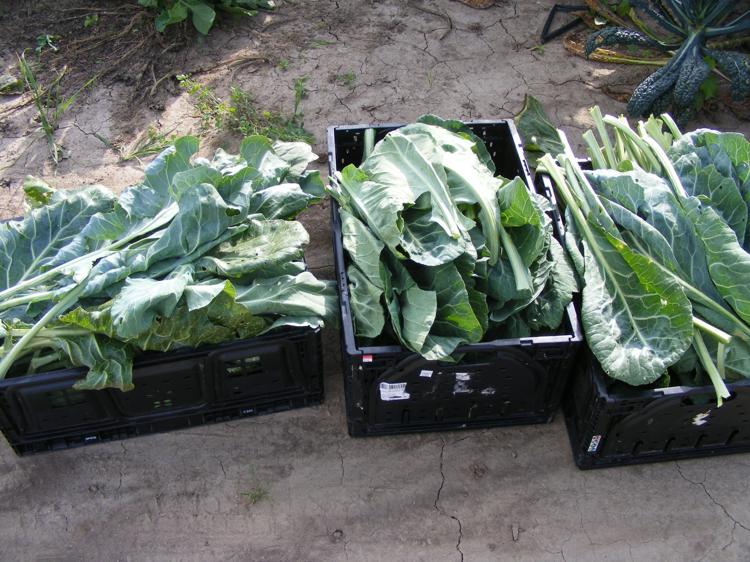 Homely harvest
Farms aren't the biggest problem area for food waste — that would be the home, where Americans toss about a quarter of the food we buy. But food waste starts on the farm, with overproduction and unbecoming produce too blemished to be chosen by shoppers. ReFED estimates 16 percent of food waste happens in the fields.
In southern Wisconsin, some farms have partnerships with Second Harvest, which serves 16 counties. When Second Harvest or Community Action Coalition gets a call from a farm, they can sometimes send out volunteer gleaners to pick extra produce from the field.
Eric Elderbrock of Elderberry Hill Farm works with Healthy Food for All. He likes when farmers' markets have gleaners, people who come at the end of a market to pick up unsold or unlovely produce.
"I'm fortunate," Elderbrock said. "With the market and different restaurants, I have enough outlets, so usually if I have extra I have someone excited to take it.
"There are so many farms around here that there is the potential for having a better system for getting extra food to folks."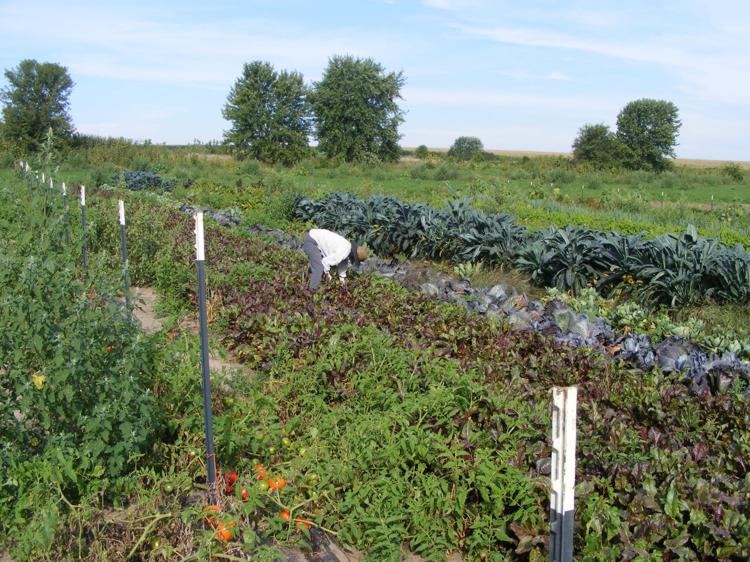 Using sweet potatoes, apples and mustard greens that overwhelm farmers or don't look pretty enough to sell at a farmers' market is part of Ugly Apple's business model.
Laurel Burleson started her food cart in November 2016 by going against the conventional wisdom that the best chefs use only the best produce. Burleson makes frittatas, pancakes and mini-apple fritters that she sells for breakfast.
"What is best needs to be redefined," she said. "The scratched beets I get that were grown in Wisconsin ... it isn't how aesthetically beautiful they are. The time and the care that were put into growing it, and I can get it from the market here, that's gotta beat the stuff that's coming from California."
Burleson said some customers have asked if by "ugly" she means "rotten."
"I'm not serving you garbage," she said. "It's a tricky thing with the name. There's a point where things can't be saved and that's why I have a compost heap."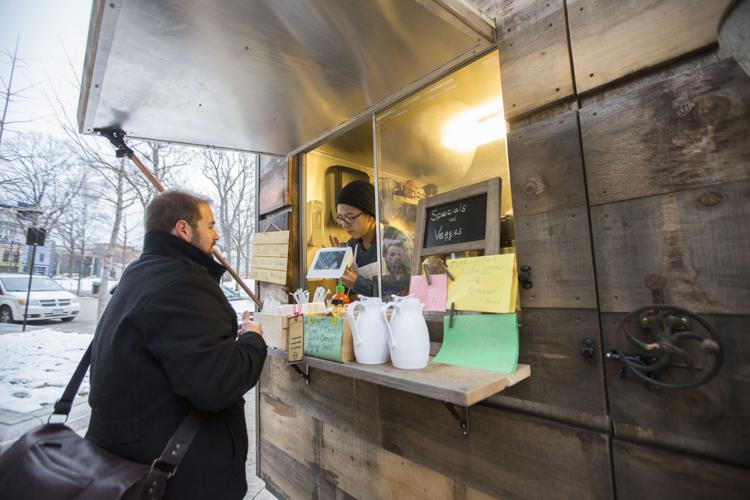 Chef's table scraps
The second largest problem area for food waste is "consumer-facing businesses." Restaurants and grocery stores, grouped together, account for 40 percent of wasted food.
Celebrity chefs like Dan Barber have made noise for several years around this issue, and Madison area chefs aren't new to it either. Dave Heide at Liliana's in Fitchburg makes soup using veggie leftovers like leek tops; Madison Sourdough Company, Underground Butcher, Fair Oaks Diner and Plaza Tavern send scraps to compost.
On March 7 as part of Chef Week, L'Etoile hosted a "Meat & Three" Southern-inspired casual dinner. For $25 each, diners could try dishes from five local chefs using things like bacon fat and potato skins that would usually be thrown away.
Harvest chef Matt Schieble used scraps of agnolotti pasta and ends of Anabasque, a sheep milk cheese, for a "mac and cheese" side dish.
Schieble sautéed thinly sliced beef heart and served it with dressing infused with leek tops. He also made a chiffonade of parsley stems and used shrimp shells to make an intense bisque-like sauce for grilled shrimp skewers.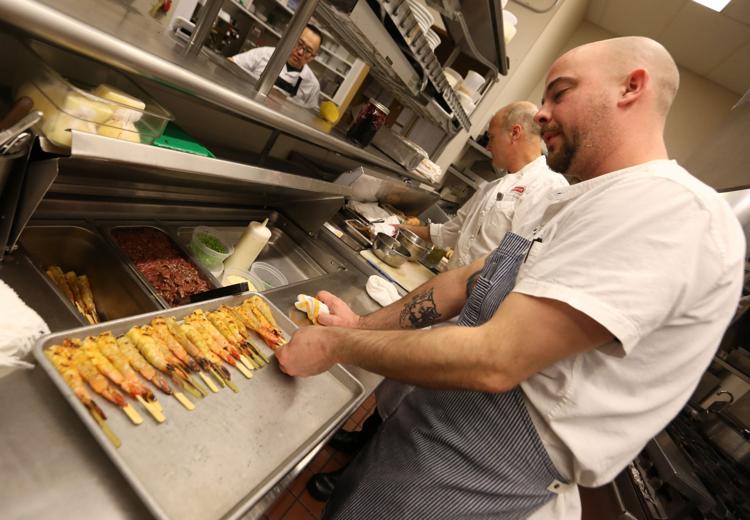 For a fine dining chef, the challenge is more in presentation than flavor.
"It always has to look beautiful," Schieble said. "It's easy to make high-end ingredients taste good and look good. Undesirables, scraps — to make those look and taste amazing is a true challenge."
Anecdotally, many more Madison restaurants would like to compost than do. Though the Wisconsin Restaurant Association had no specific data, a National Restaurant Association survey from January 2014 polled 1,000 U.S. restaurants about sustainability efforts. Twenty-two percent of those polled, including fast food restaurants, donated to food pantries. Seventeen percent composted food waste.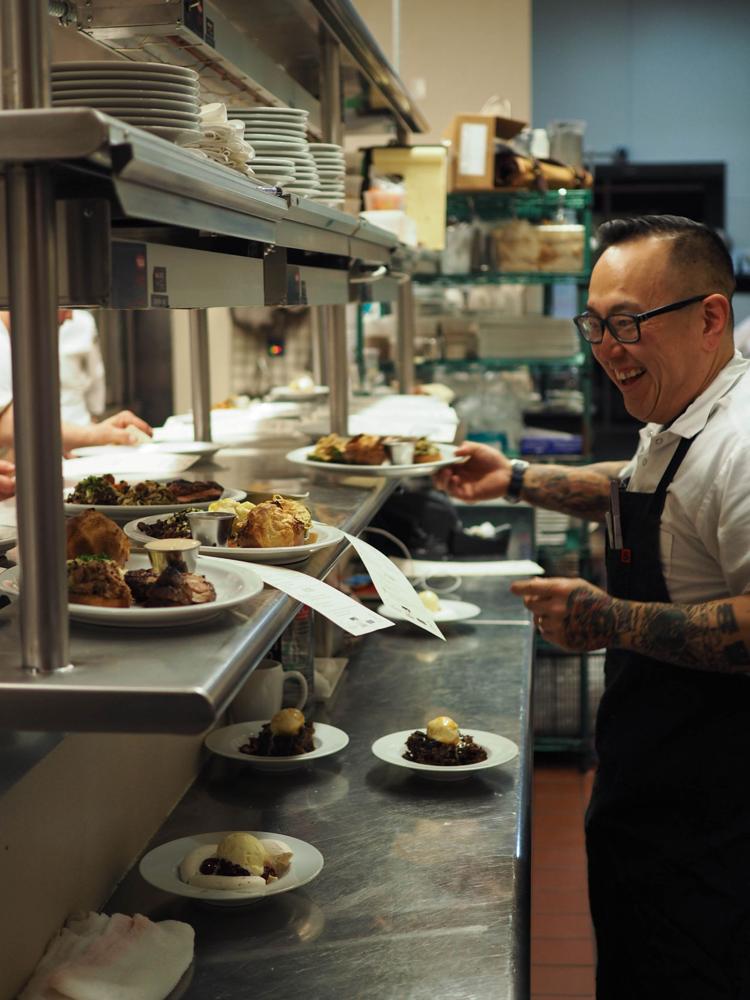 Sardine composts during the warmer months, though chef and owner Phillip Hurley wants to figure out how to use scraps first.
"That's part of running a good business — you can't have too much waste," Hurley said. "To rethink what food waste is should be the question. To think, well, cores of cabbage, is that something you want? Certainly it's edible, now can you find a way to do it? Can you pickle it, stew it?"
Hurley and John Gadau, also a chef/owner, pushed themselves for the "Meat & Three" event, making jam out of cores of lettuce, frisee and Belgian endive, rillettes and salmon mousse from rib-eye and salmon trimmings respectively, and a "pon haus," or scrapple, using pig's head stewed with scraps of onion, carrot peel and celery stalks.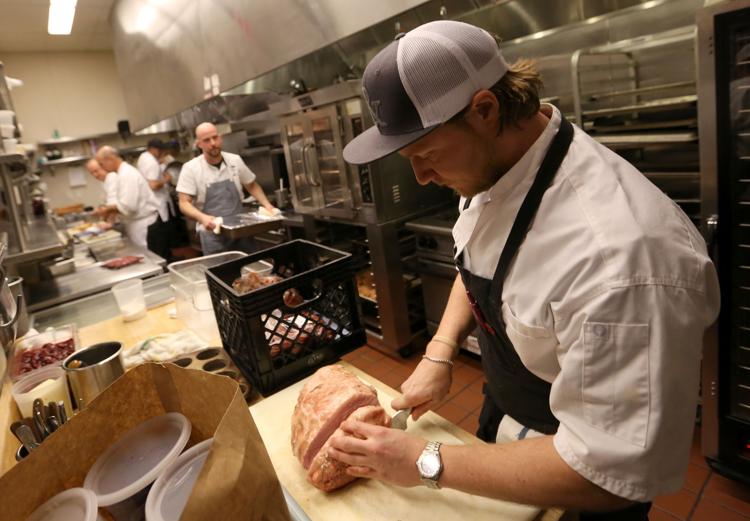 "We keep thinking of more ways to use the food we have," Hurley said. "Does it go into the garbage or compost, or do we save it and make something beautiful out of it? It can be done."
L'Etoile chef and co-owner Tory Miller would like to see systemic change to help more restaurants utilize their food waste.
He looked into getting a small digester for Graze and L'Etoile, but it was cost-prohibitive. What he'd like to see is citywide compost pickup, preferably at night, for restaurants. Just add another bin.
"It's making people be more thoughtful," Miller said. "It's like with recycling, when it was introduced people were like, aw, I've got this extra bin, I've got to separate stuff, it's too hard.
"Now it would be the same, except with food waste."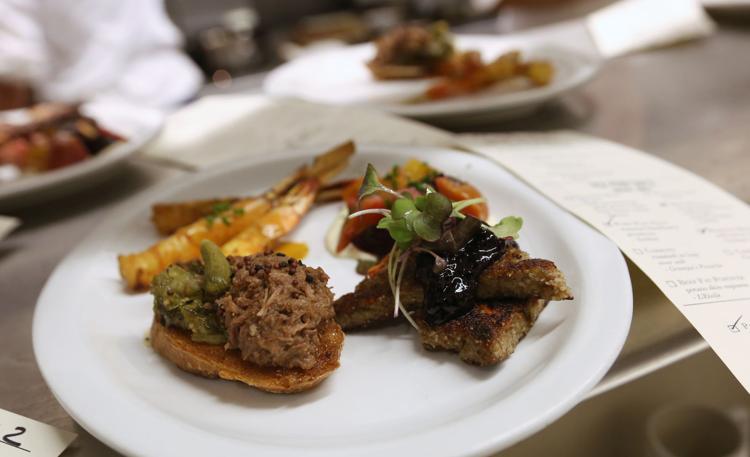 Stocked shelves
At the grocery store, trouble with food waste comes down to a few key problems.
Consumers don't like dented or misshapen produce. Shoppers are confused by labels, the "sell bys" and "best bys" that give little information about whether the food is still safe.
And when customers go nuts for yogurt, it makes sense from the business side to overstock it. Conventional wisdom tells stores that consumers want to see abundance (even if that means some of the avocados will be older).
"Walk into a grocery store at midnight and look at the shelves," said Healthy Food for All's Brockel. "See them bursting full of produce. Psychologically we tend to think more positive feelings about what's available if it's full and lush versus a couple stalks of Swiss chard, a few potatoes."
Andrew Hoeft is the creator of a Madison-based software program called Date Check Pro that helps grocery stores track expiration dates. He referred to a grocer's "planned waste."
"If they've got items that sell like hotcakes, they're not going to plan to just have enough on the shelf," said Hoeft, an entrepreneur who got his start working at Festival Foods. "If it sells really high and runs out of stock, you're losing a lot of your business by not having it."
In response, Hoeft said, a grocery store may deliberately overstock something in case there's an uptick in demand.
"There's an opportunity for them to have waste, at some level, all the time," he said.
Grocers are looking to address that waste. In mid-February, the Food Marketing Institute and the Grocery Manufacturer's Association issued new guidelines for food labels, to take effect by summer 2018.
Highly perishable food would have a "use by" date. Things like soup, rice and cereal that last longer would offer a "best if used by" deadline, indicating that it may not taste as fresh but it's still fine to eat.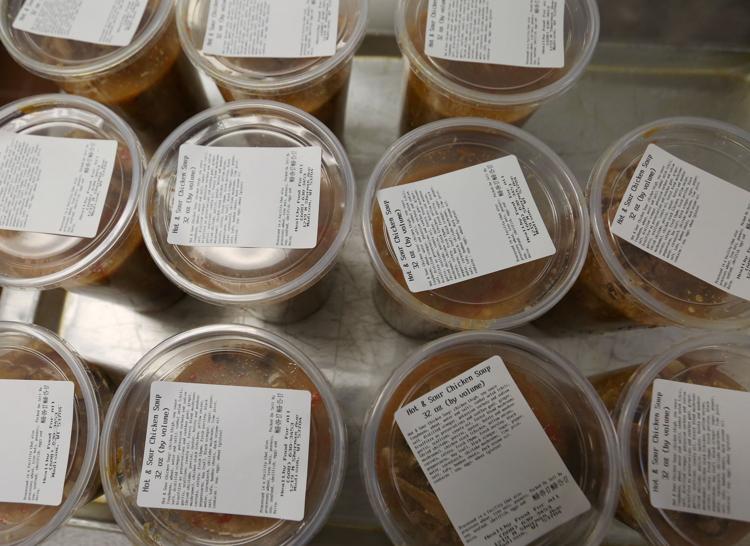 Hoeft also noted new tax benefits for grocery stores that donate excess food to pantries. The PATH Act (Protecting Americans from Tax Hikes) passed in late 2015 offers deductions on donated food but requires grocery stores to track it in a new way. Stores must keep track of donated items' cost versus retail price, rather than by pounds of food.
"We're working on helping them with that, automating some of that," Hoeft said. "We're hoping to see a switch to higher and higher volumes of food being donated.
"It's safe to donate it and there's a benefit to donating it — you're helping your community, the shoppers in your store and the people they know."
One of Hoeft's clients is Metcalfe's Market at Hilldale, where Kevin and Tim Metcalfe have deployed shelf talkers with discount coupons throughout the store to let shoppers know when something is about to expire.
Before the program started in 2016, 40 percent of food would have been pulled from shelves to be donated, composted with Purple Cow Organics or thrown away. According to Kevin Metcalfe, several of their stores have seen a "significant uptick" in purchasing of soon-to-expire items.
"We don't want product going into your fridge that will expire in a few days," said Metcalfe, the company's chief operating officer. "When a date becomes within a certain range, we pull it."
Metcalfe's, like many groceries, has a standing relationship with Second Harvest Food Bank and MOMS, Middleton Outreach Ministry.
"They are in our store daily picking up bakery goods or cakes, whatever might be within that expiration date," Metcalfe said.
Hoeft's program, also called Stop Waste Together, is designed in part to save Metcalfe's money before food is lost to donations. The grocery's other sustainability efforts, like sending food scraps to Purple Cow Organics to compost and renewable energy, aren't free.
"We pay to be good stewards, to minimize what would normally go into the landfill," Metcalfe said.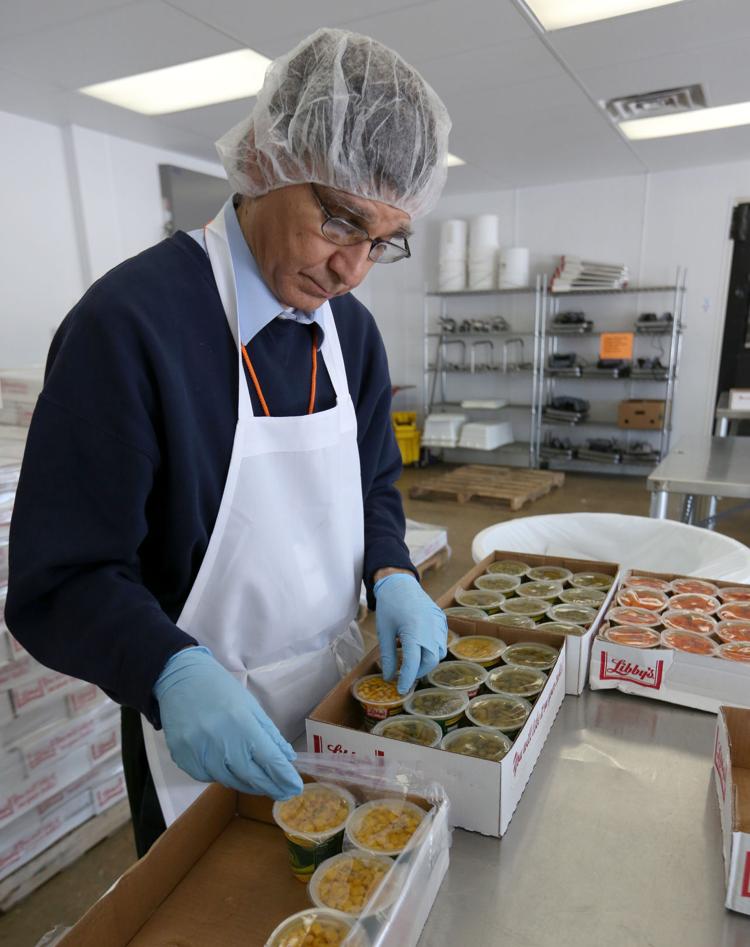 Preservation station
When food makes its way from the farm, garden, grocery store or food hall to the doors of a food pantry, the first order of business is stopping that ticking "edible" clock.
If they can refrigerate it, freeze it, repackage it or preserve it quickly enough, food pantries can pass on the abundance. Challenges here are cold storage space and manpower.
A recent expansion at Second Harvest Food Bank off Pflaum Road on Madison's east side tripled the food hub's total freezer space. With 4,800 square feet of new cold storage, Second Harvest went from being able to hold 1.2 million pounds of food to 1.7 million pounds.
Suddenly, the food bank could handle shipments that food resource manager Danielle Lawson would have had to reject previously. Within a few weeks of finishing the freezer, Second Harvest was able to take two truckloads of chicken weighing about 42,000 pounds each.  
"When something is offered to us as a donation, I don't have to say 'I'm sorry, we don't have room for it,'" Lawson said. "That's giving us more access to really fresh, healthy nutritious foods."
Another recent innovation is direct partnerships between individual donors and pantries. For example, First United Methodist Church makes a pick up at the Kwik Trip on Monroe Street. Goodman Community Center and the River Food Pantry both pick up at the Willy Street Co-op's north side location. The East Madison Community Center picks up at Aldi on Lien Road and Kwik Trip on American Parkway.
"Instead of picking up the produce ourselves, bringing it back here and sorting through it, we facilitate a relationship and they pick up directly," said Lawson. "We're cutting down the number of days before food gets to a client's table."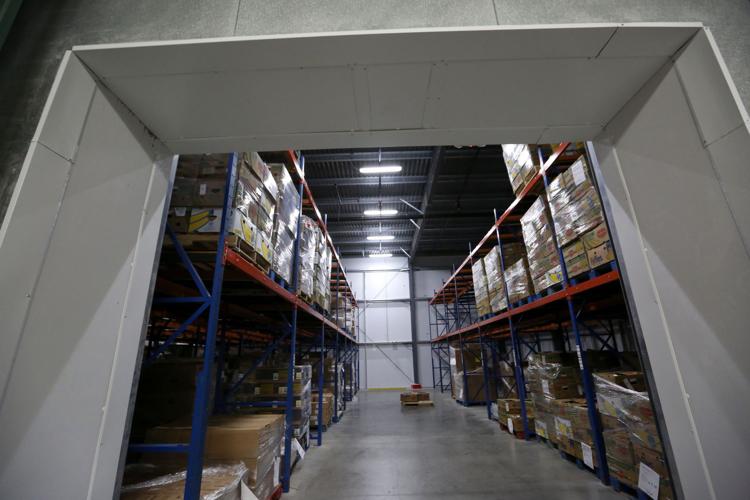 At Goodman Community Center, food pantry coordinator Jon Lica is particularly proud of the preservation program.
"For four straight summers, we've preserved over 3,000 pounds of produce with community volunteers and Seed to Table students," Lica said, "through canning, dehydrating and freezing fresh produce.
"Then we pass it on in the food pantry during the winter months, when we don't have that abundance of produce that comes in the summer and fall."
Lica would like to see a more streamlined process for both transportation and storage of donated food. Right now, for example, it may not be worth the time to send someone around to a dozen restaurants, collecting a few pounds of food from each one.
"If there was a better connected network to get volunteers and suppliers and pantries all on the same page that would make a large difference," Lica said.
For now, recovery is piecemeal. About 15 UW-Madison students participate in a local chapter of the Food Recovery Network, launched more than a year ago after students noticed cafeteria leftovers being shoveled into the trash.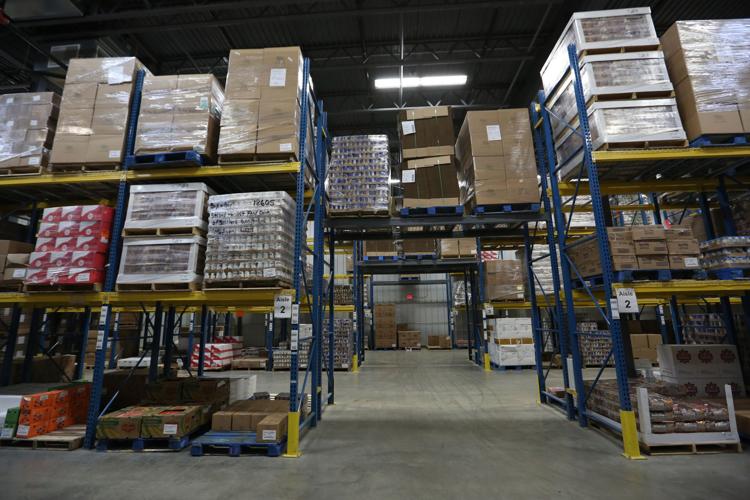 Now, once a week, a few students pick up food from Gordon Avenue Market on West Dayton Street and walk it the few blocks to Bayview Community Center. One semester someone had a car, but these days if there's a lot of food they just borrow a rolling cart.
"Last year we had a recovery with 120 pounds," said junior Josh Baumgartner, who with three friends got this chapter of the Recovery Network rolling in early 2016. "Right now it's a super simple process. Last week we were able to make it work with just two volunteers."
Baumgartner said existing food donations to Bayview were baked goods from places like Panera Bread Company, which meant a lot of pastries. Entrée meals from Gordon, like lasagna and produce from the fruit and salad bar, offered "more satisfying meals."
What the Food Recovery Network needs now are more dedicated volunteers and an established system.
"We want to have a good universal process I can pass down to underclassmen," Baumgartner said. "There is a substantial need within the community. Our priority right now is allowing this to be something that can continue."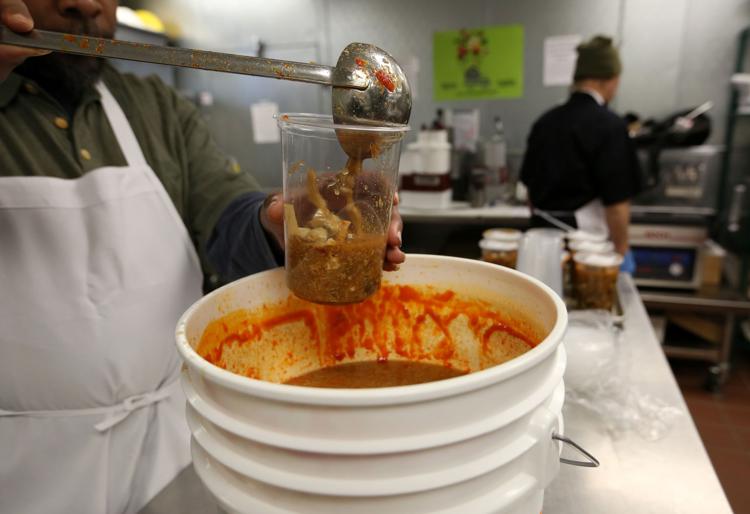 Elsewhere on campus, students from F.H. King Students for Sustainable Agriculture have been biking food waste that can't be recovered from several downtown drop sites since 2010.
From mid-April through early October, Full Cycle Freight makes weekly pickups of food waste at 10 drop sites, including Sardine, Marigold Kitchen, Espresso Royale and a residence at 512 E. Johnson St.
Urban agriculture manager Dane McKittrick manages seven to nine interns and coordinates drop sites. He also maintains the cargo bikes Full Cycle uses to get 300 pounds of food scraps out to a community garden at Eagle Heights.
"Expansion would be great, to maybe get more restaurants involved," said McKittrick. "We're intern-limited now. Students who stay for the summer and would want to bike like that are hard to find. And we can't really pay them so that's difficult.
"If we had as many interns as I would like, we could get more restaurants and apartment complexes on board," McKittrick said. "The end goal is to reduce food waste in Madison on the Isthmus."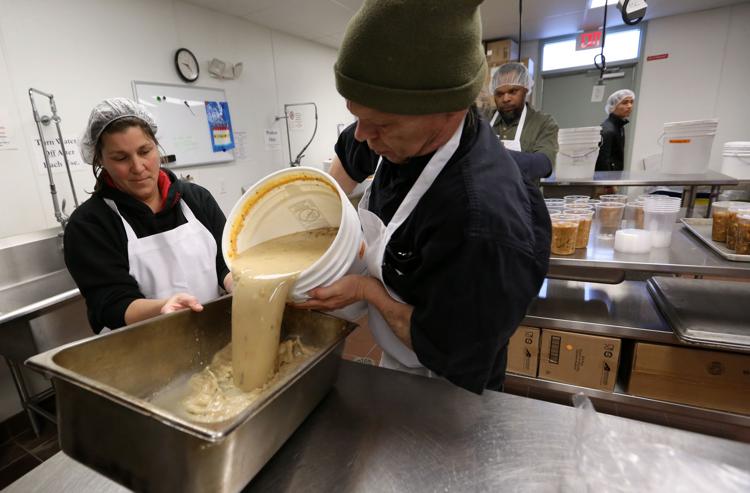 Black gold
For now, a compost pile, whether in a private backyard, a community garden or trucked by the city of Madison to Caledonia, presents the most viable option for inedible or spoiled food waste produced at home.
Bartlett Holmes had been composting for years, but he didn't think of turning it into a business until about five years ago. When he started Rooted Curbside Compost, he was a stay-at-home dad and his son had started going to pre-K for half the day.
"I picked up compost for a couple businesses because I had huge gardens," said Holmes, who lives in Mazomanie. "Someone heard about it and said, 'Geez, I'd pay if someone picked up my compost.' It's been slowly growing ever since."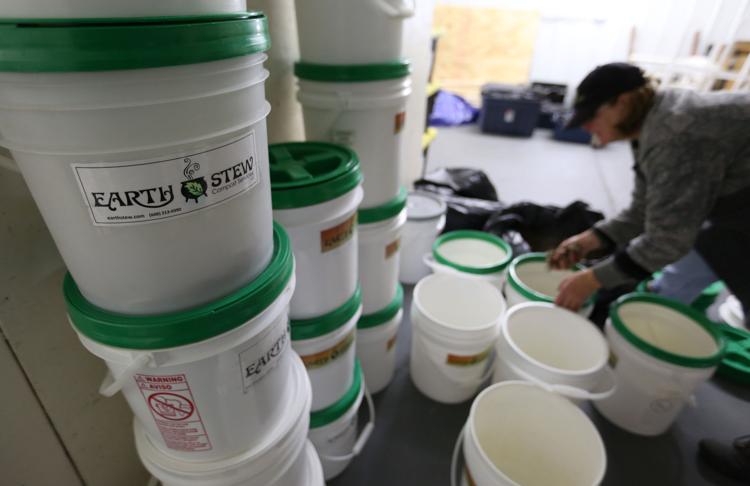 Holmes picks up food waste from some 50 homes and a few other locations, including an elementary school in Middleton, the dining hall at Edgewood College and a UW Credit Union branch on University Avenue. Pickup of five gallon buckets costs $6 a week.  
"I'm picking up probably 1,000 pounds on a Thursday," Holmes said. 
Local permaculturist Joanne Tooley had a similar idea. Earth Stew Compost Services, started by Tooley in 2013, takes food waste through two steps — compost piles on farms north of Madison and bins of worms in a facility in Waunakee.
"The goal is to get people to realize that their food waste is actually a potential resource," Tooley said. "If they divert it and compost it, it's one of the few natural resources we have."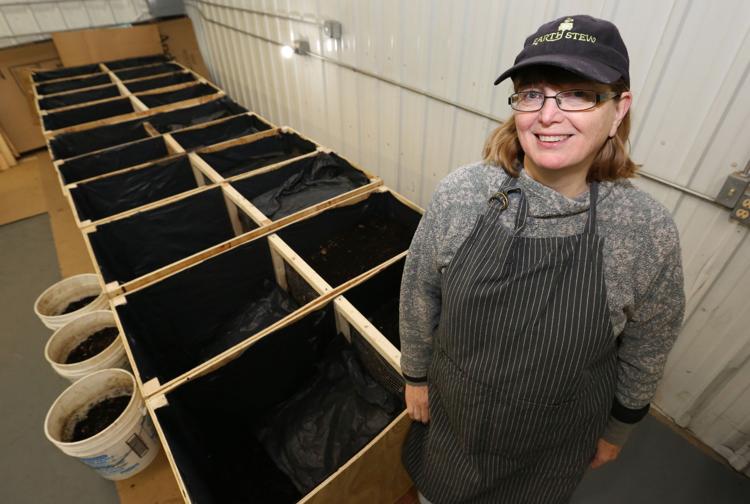 Tooley, too, works with about 50 residents and several small businesses. Her clients include Madison Sourdough, the Willy Street Co-op's east, west and office locations and the Department of Natural Resources on the west side.
Earth Stew charges $34 per month for weekly pickup, $21 for every other week or $15 for once a month pick up of a four- to five-gallon bucket.
"A lot of people, when they start, they clean out their refrigerator because they feel guilty about throwing it in the landfill," Tooley said. "The buckets are heavy the first couple weeks, but it levels out."
By the end of April, Tooley offers the nutrient-rich fertilizer her worms have produced back to clients for their gardens and sells to shoppers at farmers' markets.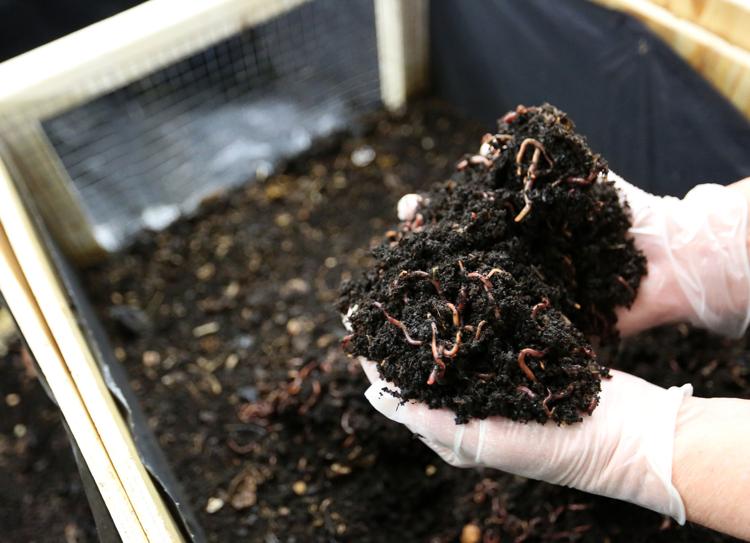 Waste not, want not
From food pantries to composters to city officials, those involved in limiting food waste agree on one thing: consumers need education. Families should plan better, shop more often and be realistic about what they have time for.
The bottom line is that Americans buy too much food and then throw it away, and that's a problem for everyone.
"Often when people buy (food) it doesn't matter if they don't use it all, they just toss it," said Andy Czerkas, co-founder of the River Food Pantry on Madison's north side. "That's different for people who shop at food pantries.
"They do care about what gets tossed. If you're low income or in poverty, you will get food that fills your bellies and most of that is prepared food. Produce is really expensive and so, of course, is meat. Those are things that often get short-changed in tight budgets."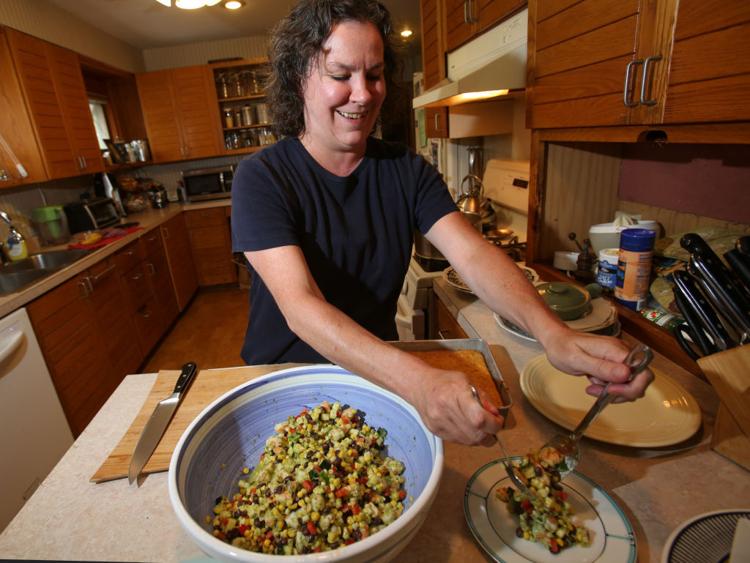 Ben Becker teaches a class at the Willy Street Co-op on how to eat healthy on a budget. He hears similar things.
"One of the primary strategies that we recommend is to buy what you need," Becker said. "If you're buying large produce, 'Do I need a whole head of cabbage for the recipe I'm planning to make or does it make sense to buy a half or quarter of the head?'
"Our produce staff will cut up cabbage and a number of other produce items for you."
When the community supported agriculture-themed recipe service Local Thyme started in 2012, its slogan was "ending veggie guilt one box at a time."
Founder Pat Mulvey encourages CSA members to make a list of what's most perishable (lettuces, fruit) to least (root vegetables, onions) and put that on the fridge.
"One of the major motivating reasons people quit CSA is they feel terrible about wasting the vegetables," Mulvey said. "There's ways to not waste them and it does involve cooking.
"You have to be willing to put the effort in, but if you do that you don't have to eat all of it right away."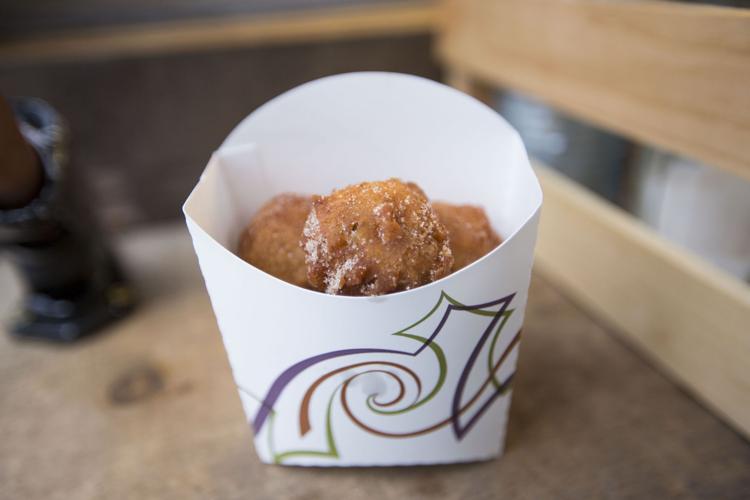 In demos and one-on-one cooking classes, Mulvey emphasizes planning, either before going to the store or immediately when coming home.
"Figure out, 'Gee, I'm not going to get around to those pork chops so I should wrap them and put them in the freezer,'" Mulvey said. "Winging it is where people get into trouble, especially if you're inexperienced and don't know how many pounds of spinach you can eat in a week."
For his part, Brockel and the Healthy Food For All team are going to keep packing and shipping, hoping to keep one more gallon of soup from the landfill. It's overwhelming, he knows.
"If we all do something about it," Brockel said, "if we all just become a little more conscious of what we're doing with our purchasing, with our menu planning, our expectations when we go to a restaurant or a grocery store?
"We can make a difference."