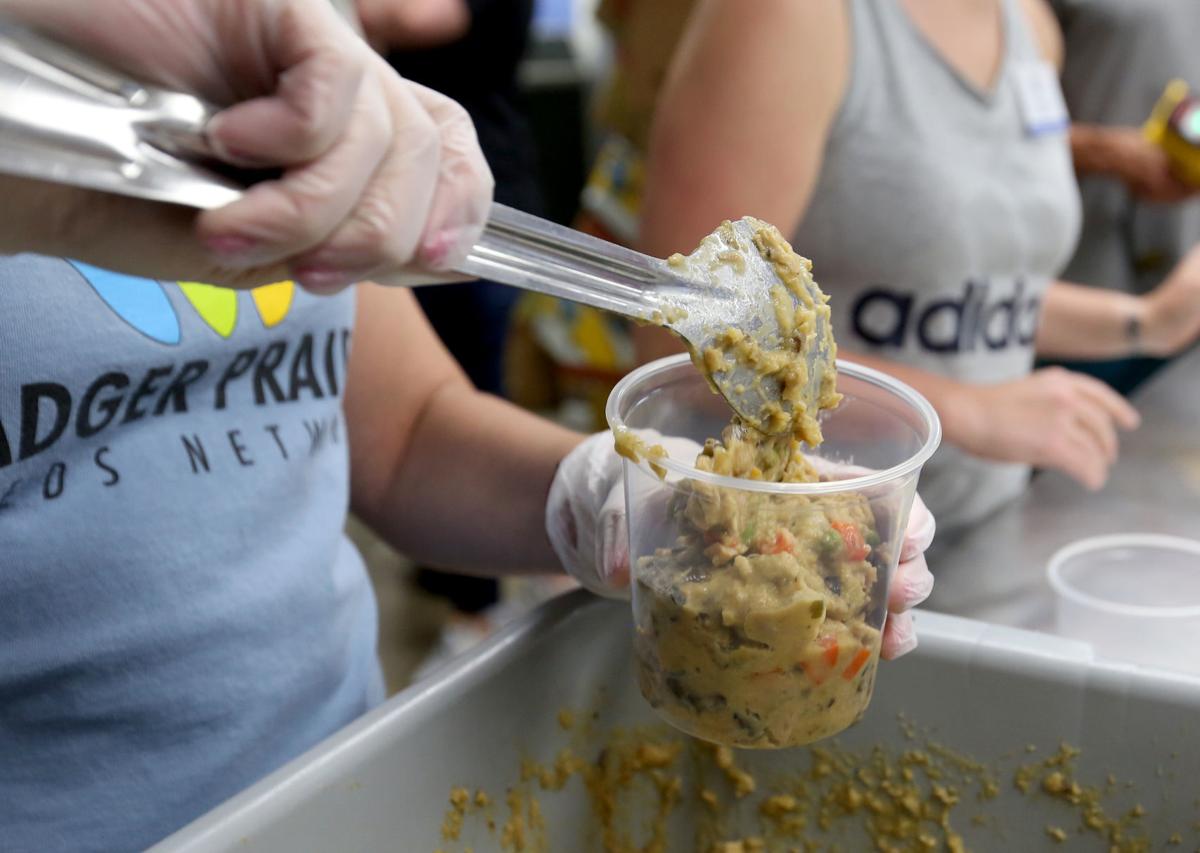 The job looked simple enough. Scoop soup from a big white bucket into smaller plastic cartons. Pop on a lid, heat-seal each one. Slap on a label. Easy! I reached for the stack of cartons.
"Ah, don't touch the inside," said Barb Walker, grabbing a container out of my hands. She threw it in the trash.
Shoot. I gestured an apology —
"Don't touch your face! You'll have to wash your hands again."
Cleanliness is a point of pride for Badger Prairie Needs Network (BPNN) in Verona. Every Wednesday, a dozen volunteers pull on hairnets and plastic gloves to move vats of soup and thousands of pounds of nuts through a repackaging assembly line.
This is Kitchen to Table: Wisconsin Food Recovery Network. It takes bulk food from big donors and turns it into grab-and-go items for food pantries, and it takes many hands to make it move. To see the process up close, I figured two of those hands should be mine. 
"We try to get it out as quickly as we can," said BPNN executive director Marcia Kasieta. "Having a network with partners that can do all the pieces ... that's fantastic. You get a system together where everybody's leveraging their own strengths, their own resources. You can make it happen for next to nothing."
Formerly known as the Verona Area Needs Network, Badger Prairie Needs Network once served only the Verona School District in South Madison, Fitchburg and Verona. After a study on rural hunger two years ago revealed an unmet need, BPNN expanded to serve all or part of six school districts.
Kasieta is among 750 volunteers, from church groups and Eagle Scouts to active retirees, who keep the pantry running. Nearly two dozen volunteers come through orientation every month.
To keep the shelves stocked, BPNN helpers pick up bagels at Einstein Brothers and cakes at Hy-Vee. With a total budget of $85,000, they purchase bulk paper products on Amazon and buy detergent at the Dollar Store. In 2018, Kasieta said the BPNN food pantry distributed about 612,000 pounds of food, or 450,000 meals.
What makes Badger Prairie special is its commercial kitchen. This changed the game for the nonprofit when it moved to 1200 E. Verona Ave. in August 2015.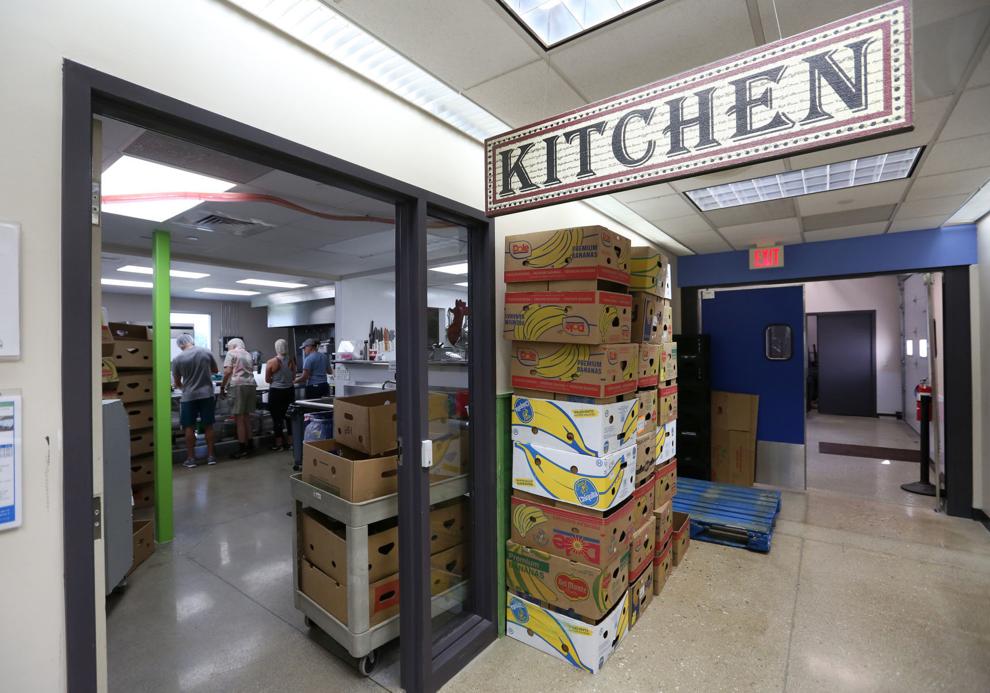 Starting three years ago, volunteers repackaged soups from Epic Systems, moving them from buckets to smaller, microwavable containers that could be quickly frozen. Those soups went out to several food pantries, including Badger Prairie's own.
When BPNN launched Kitchen to Table six months ago, it added UW Health Clinics and Hospital and CUNA Mutual Group as major partners. The Verona Festival Foods, set to open in the fall, will be another donor, Kasieta said.
Other food recovery partners include Second Harvest Foodbank, Community Action Coalition and Middleton Outreach Ministry (MOM). MOM recently brought a big order of bulk bacon to BPNN.
"We're one of the few sites that can safely repackage, because we've got the setup," Kasieta said. "More and more people are bringing us bulk and then we repackage it. We don't charge. And MOM said we got to keep half the bacon, which our patrons love."
Kitchen to Table, Kasieta said, fits with how people really eat.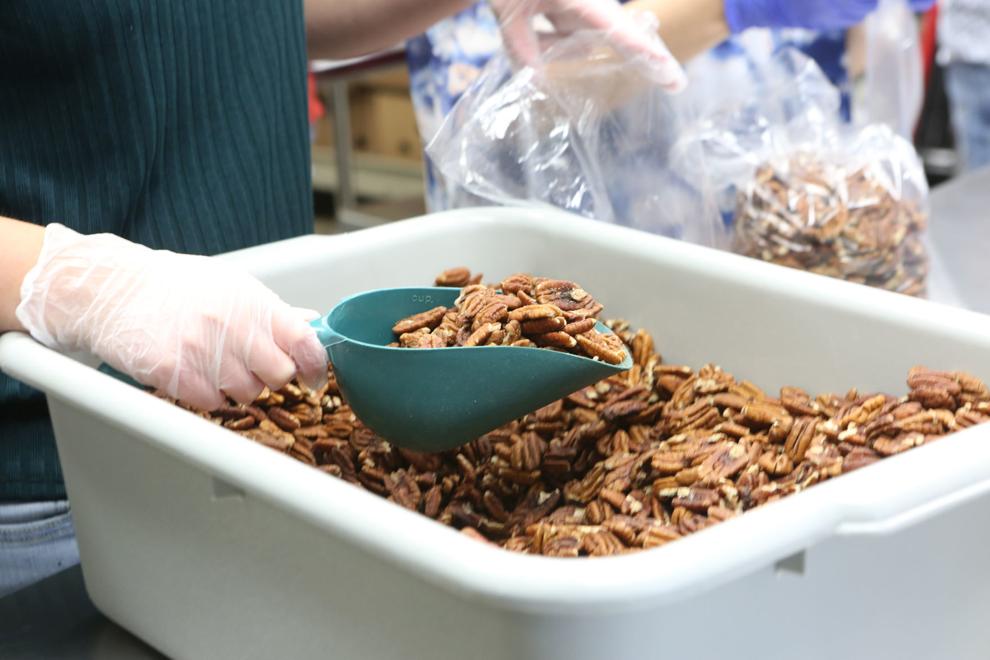 "65 percent of our working-age adult patrons are working at least one job," she said. "They've got kids, most likely. They're getting home after a long day, one or two jobs. Now try to put a nutritious meal on the table and have the energy to read to your child or to let them be in sports ... all the things that are the fabric of the family."
That's what makes Kitchen to Table effective. Moving through the kitchen's repeatedly sanitized metal tables on any given week will be vacuum-packed roasted chicken pieces, powdered spices like cumin or pumpkin spice blend, candy fruit slices and roasted mixed nuts. The team can repackage sugar and flour, baked goods and bread, "anything that can fit in a family size container."
"About the only thing we won't do is vacuum seal raw fish," Kasieta said. That's "too risky for us."
On a recent Wednesday, I pulled my hair up into an old bandanna, having searched the house for a baseball cap without success. Barb Walker, a retired nurse and frequent volunteer at the pantry, watched as I washed my hands (two rounds of "Happy Birthday" in very little warm water — the soap's the important thing).
Walker found her way to BPNN through a community meal, held twice a month for patrons and community members. Her favorite spot to work is "whatever is busy."
"This is a nice thing for me," said Walker, whose husband passed away last year. "I've gotten involved and know where stuff is. Tomorrow I'll be on the other side doing produce."
On this warm evening, our team was packaging soups: pea and ham, Italian sausage and orzo, chicken and mushroom, beef vegetable stew. We also had 1,500 pounds of pecan halves, given to Community Action Coalition by a donor in Waukesha County. At $10/pound, it was a mint in nuts.
Andy Zielke, who Kasieta referred to as "the captain," cut a flap like a doggy door out of the side of a 6-foot-tall cardboard box containing $15,000 worth of nuts. When he opened the flap, pecans flowed out into bus tubs.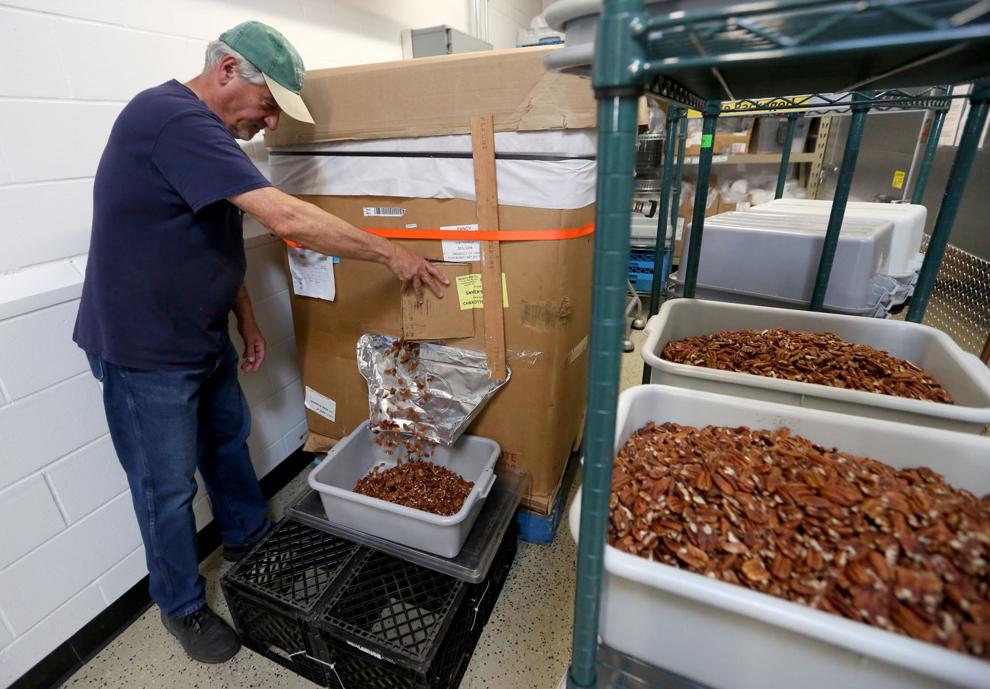 "Something was not quite perfect for their packaging purposes, but they are delicious and fresh," Kasieta said. As we bagged, I surreptitiously popped a pecan in my mouth. She was right.
I grabbed a spot at the table next to Kaylyn Geiger, 27, from Fitchburg. Geiger started volunteering at the pantry in March, serving out court-ordered community service after a DUI. She probably wouldn't have found her way to the pantry otherwise, but she's found that she likes it.
On some shifts, Geiger stocks produce in the pantry coolers, removing a couple bad strawberries from an otherwise good package and portioning fresh veggies. She's also been a host, walking through the pantry with visiting families.
Across the table from us, Kellie Covert, a stay at home mom from Verona, has been volunteering off and on with the pantry for about five years. Covert's oldest daughter was 2 when she house-sat for some snowbirds and took over their pickup route of bread from local groceries.
Covert said volunteering at the pantry was "what I knew to do." It was something she could do with two young kids, now 3 and 7, who've both been to the pantry many times.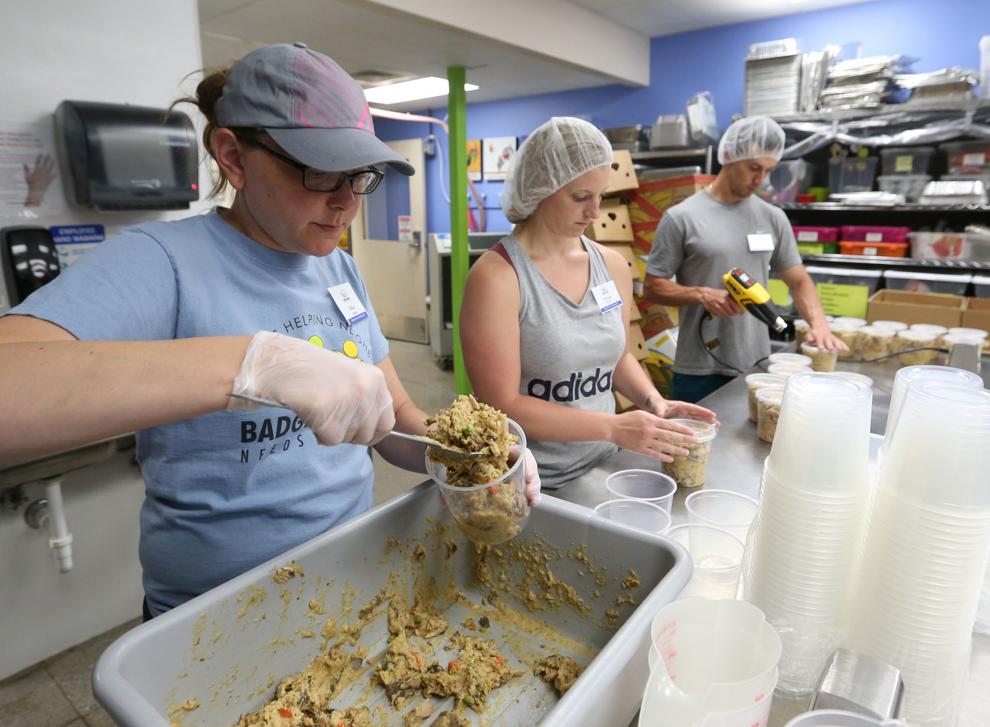 "I would be here every day if I could," she said. She started the Birthday Club for BPNN patrons' kids, from babies to teens.
As we work, I realize why this shift often fills up. Singing along to Billy Joel and Crosby, Stills and Nash (quietly, in a way that is not at all annoying) makes scooping pounds of pecans less monotonous. I only grab the wrong bags once. I wash my hands many times. I wear gloves and try not to touch things.
My fellow volunteers don't sweat the details. A young couple, Morgan Pien and Alex Schauff, found their way to BPNN though Blackhawk Church, a pantry partner that recently gave money for a cooler in the take-what-you-need hallway.
Pien is a nurse in St. Mary's pediatric ward. Schauff is handy with the hot air gun that seals the soups. They live in Stoughton and they're getting married in October. As a table, we discuss our favorite nuts and collectively decide that the 2019 song of the summer is "Old Town Road."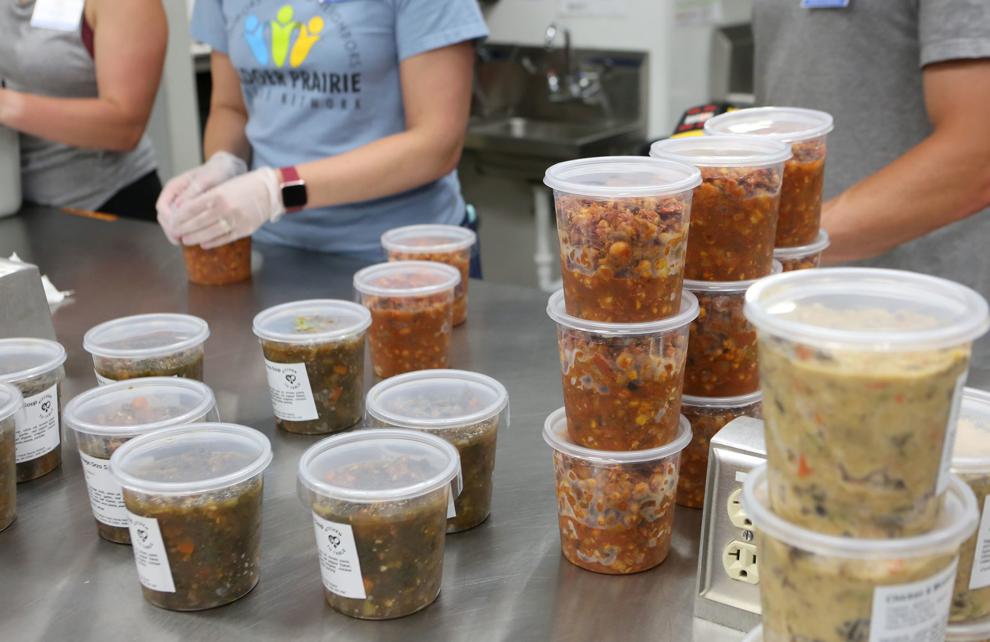 Though the work seems easy, Kitchen to Table is doing the most complicated work of food recovery. Most potentially wasted food already has to wrestle with issues of transportation, timing and cold storage. This part, packaging and processing, is another wrinkle.
"This prepared food could go to waste, right?" Kasieta said. "It's time-sensitive. It's temperature-sensitive. We have to get it in safely, packaged and frozen and out. It's a challenge. And not only are you dealing with the health of people who are going to eat it, but the risk to our donors of something going wrong with their food, that is a trust issue that we don't take for granted.
"They give us their food and donate it, understanding we're going to treat it safely and get it to the people they want it to go to."
Kasieta would like to see programs like this launch all over the state. She's trying to make Kitchen to Table a model that can be replicated all over the state of Wisconsin.
"Very few are going to jump in, unless you create a template," Kasieta said. "You could plant this program in Green Bay, where they have Lambeau Field food services. Sun Prairie could put this up there and (work with) American Family Insurance. Any place there's a large donor, a large commercial food service operation ... you could plant it all over the place."