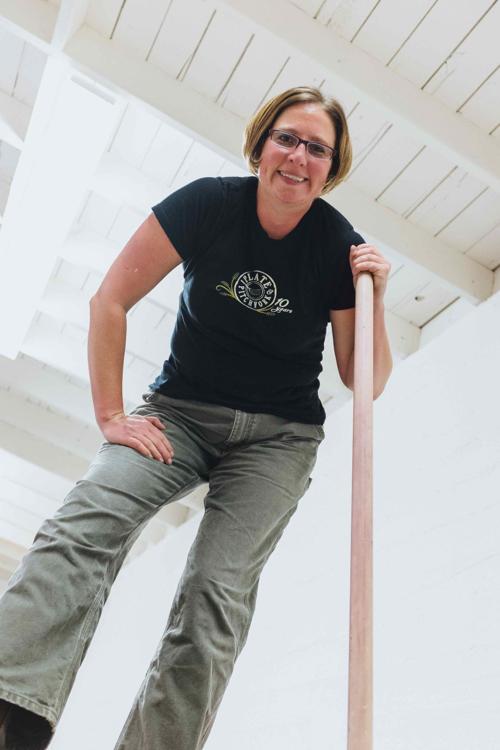 Hubatch is a University of Wisconsin-Madison graduate and Sheboygan native, and when she moved, she knew very little about Oregon wine. 
"When I left, the chance of me finding a bottle of Oregon wine in Madison was not super great," Hubatch said. "There was not a ton of Oregon wine making it to Wisconsin 15 years ago, and if it was, it wasn't small boutique producers like myself."
In 2009, Hubatch founded Helioterra Wines. This, her flagship project, produces about 3,000 cases a year of pinot noir, pinot blanc, syrah, rosé of pinot noir and mourvédre.
She's based in the Willamette Valley and sources most of her grapes from there, but Hubatch does buy some grapes from Washington. She likes to work with unusual-for-Oregon grapes, like mourvedre, a Rhone variety; melon de Bourgogne, the grape found in muscadet; and arneis, an Italian white.
Hubatch's budget-friendly line of wines, called Whoa Nelly!, sends between 4,000 and 5,000 cases of under-$20 chardonnay, cabernet sauvignon and pinot noir into the world each year.
Hubatch is also part of the Guild Winemakers cooperative, which produces an aromatic white pinot gris-based blend and a Rhone-style red blend every year. These may be found at Barriques, the Hy-Vee on Whitney Way, and Steve's on University, which currently has the Guild red and the Helioterra rosé of pinot noir. 
In addition to those three labels, Hubatch is working to get Alter Ego Cider, a small batch hard cider company, off the ground in Oregon and Washington. With luck, Wisconsin will see Alter Ego's apple "Brute" and pomegranate/blueberry ciders in the next few years. She's looking for a Wisconsin distributor. 
"Putting them all together on an Oregon wine scale, I'd probably be considered a small- to mid-size instead of just a teeny winery," Hubatch said. "The thing about Oregon is, most of the wine doesn't leave the state. Few of us are giant producers."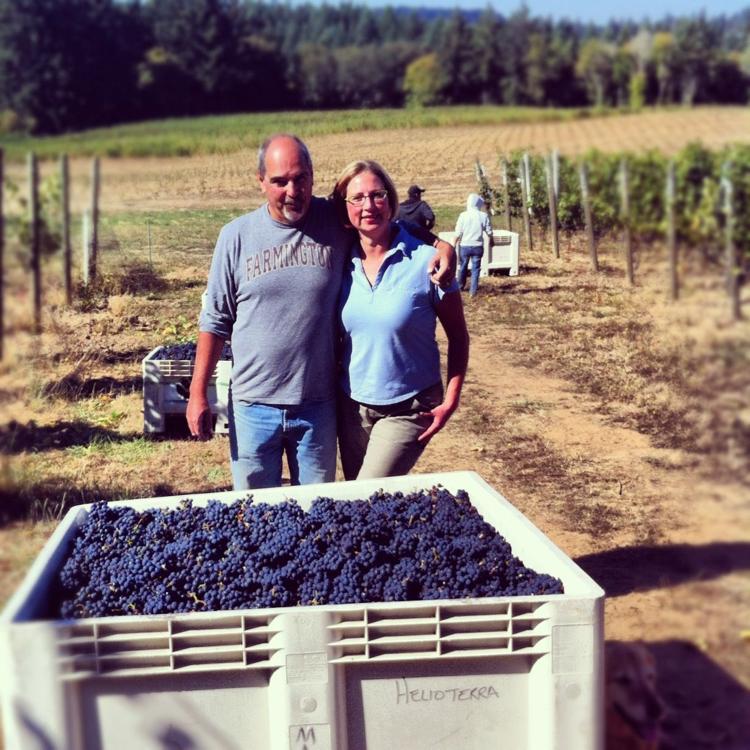 Hubatch's wine journey started in spring of 2000, when to support her bold new west coast life at an environmental nonprofit she picked up several part-time jobs. One was at Tualatin Estate Winery, which was later purchased by Willamette Valley Vineyards.
Hubatch had always been interested in cooking, but what she could learn about wine had been restricted by her location and a limited budget. At Tualatin, that started to change.
"My exposure to Oregon pinot was limited, next to none," Hubatch said. "Getting this job in the tasting room was a massive eye-opener, and it opened the door to the entire industry for me."
During and after her time at Tualatin, Hubatch set about getting a winemaking education at Chemeketa Community College in Salem, Oregon.
She worked behind the scenes at wineries like Adelsheim Vineyard, Joe Dobbes Family Estate (where she helped launch the affordable Wine By Joe label, easily found in Madison) and Apolloni Vineyards.
"I was a nerd," Hubatch said. "I was soaking off labels and making wine journals, trying to figure out what it was that I liked and why I was liking it.
"I also had an older friend who was my wine mentor, and I was able to share a lot of his cellar. Everybody needs one of those."
Hubatch, who works with clients to make wine in addition to her own labels, is best known for her mineral-driven white wines.
In Portland Monthly in 2013, Cole Danehower wrote, "Hubatch's strongest point is her white wines — especially the pinot blanc. Her pinot noirs are quite good, but the mourvèdre is one of the best in the Northwest."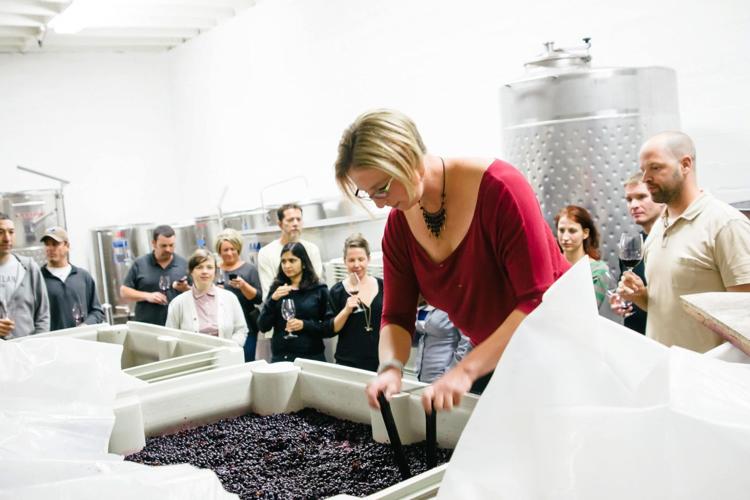 A review of the current vintage, the 2014 Willamette Valley Pinot Blanc from Helioterra, in Oregon Wine Press noted that "it begins with green grass, floral notes and lemon on the nose followed by a myriad of fruit on the palate: green apple, lime and pineapple." At the Harvest dinner, the '14 pinot blanc is set to be paired with a trio of oysters with accents of lime, lychee and pear.  
The 2014 Helioterra Ribbon Ridge Redmond Vineyard Arneis comes from one of only two arneis vineyards in the Willamette Valley. It has notes of "jasmine and orange blossoms and a juicy palate that offers lemon custard pie, kiwi and papaya," according to the Helioterra tasting notes.
"There's many ways you can be creative," Hubatch said. "That's one of the cool things going on in Oregon. We've been making amazing pinot noir for 50 years now.
"But a lot of the younger winemakers are trying some of the more unusual varieties, or taking old varieties and doing them with new techniques ... using amphora (ceramic pots) or doing skin-contact whites, just trying to put their stamp on something."
But each time Hubatch comes back to her home state, she notices that tastes evolving.
"I would expect more people to say, 'Hey, do you have anything sweeter?'" Hubatch said. "But my distributor does a good job of finding retailers and restaurants that are a good match for my wines. Those places know I make acid-driven, dry wines.
"I come back to Madison and I look around and I'm so impressed with the farm-to-fork restaurants going in that are seeing a lot of success," she added. "That to me indicates a greater sophistication in both food and wine, people wanting to know where the food is coming from and where it's grown."