The table was prepped and ready with 17 vigorously shaken eggnogs, festive mugs, some ginger cookies and Oreos (for cleansing the palate).
I put out a pitcher of water and ladles. Then my coworkers set to tasting, and I realized what I'd forgotten.
"Yucky!" my editor exclaimed, making a face. "We should have a thing to dump them into if we don't like it. Is there a spittoon?"
Eggnog is a divisive drink around the holidays, almost as much as pumpkin spice. While one side advocates pouring all the eggnog down the drain, the other dumps it in their daily coffee and drenches French toast with it.
This year, we set out to sort the good eggs from the bad with the Cap Times' first recorded eggnog tasting. I made four homemade versions as controls, then went to six Madison grocery stores and bought 13 premade eggnogs.
We tasted one nog each made from coconuts, flax seed and almonds ("fake nog," my dairyland colleagues declared). Three were organic, three were made in Wisconsin and one was low fat.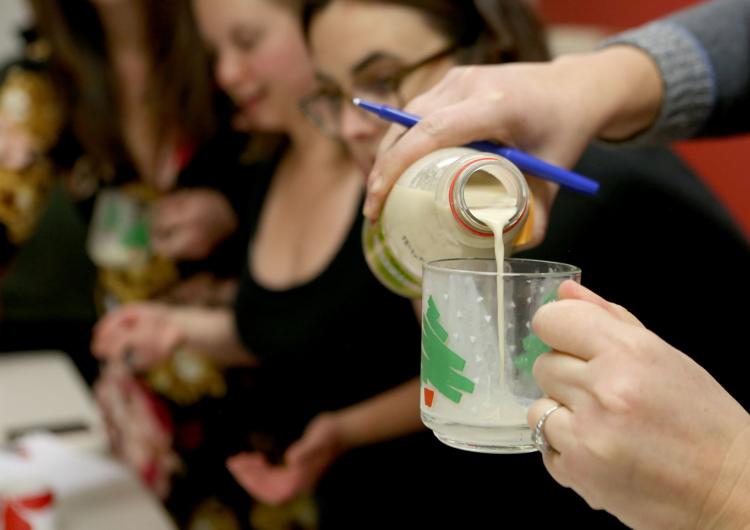 Eggnog is essentially liquid ice cream with nutmeg and cinnamon. Add brandy, rum or bourbon (or all three), and what's not to love? Turns out, when it comes to premade eggnog, a lot. What's dreamy and creamy for one person is watery and cloying to another.
A quick note: I have indicated where I bought each nog and for how much, but I saw brands like Organic Valley and Sassy Cow at more than one local grocery. For the widest selection, hit up Metcalfe's or Hy-Vee.
Top Choice: Oberweis Dairy Egg Nog, $4.99 at Hy-Vee
During my pre-tasting research, I saw one fan call this indulgent nog "the nectar of the gods." My coworkers agreed. It was buttery and smooth, compared favorably to "frosting" and "melted ice cream." Rich and delicious, it's like an ice cream drink you didn't have to put in a blender.  
Second choice: Kalona SuperNatural Classic Organic Eggnog, $4.99 at the Willy Street Co-op
This dark beige "hippie eggnog," as one person called it, had flavors of maple syrup and toasted pecans, with a texture on the medium-thin side. Some thought the nutmeg was dusty or overpowering, and while a few people found it "surprisingly nice," others actively disliked it ("dump it," "terrible taste, ugh!"). "It's like they strained real eggnog," one coworker said.
Third choice: Sassy Cow Creamery Egg Nog, $3.59 at Metcalfe's Sentry
The dividing lines were bold on this one, but enough people (including me) stumped for local favorite Sassy Cow that it edged its way toward the top. Several liked the flavors of cinnamon and what one taster called its "perfect weight." "Thick, creamy, not too sweet," one taster wrote. Others disagreed — "a musty cornucopia of spices ... I expected better," "liquid candy," "fake bubblegum at the dentist." "Someone forgot an ingredient." If this is your favorite, I also found it at Woodman's for $3.19.
Our favorite non-dairy nog: So Delicious Coconut Milk Holiday Nog, $2.99 at Trader Joe's
This coconut-based, nog-adjacent product made us think fondly of holiday tiki drinks, pineapple upside down cake and Thai food. It benefitted greatly from a slug of Plantation Barbados 5-year-old rum ($19.99 at Woodman's East).
To be transparent about our process, the coconut nog didn't have very robust competition among its non-dairy counterparts. Tasters found the Trader Joe's Almond Nog ($2.99) "gross," watery," "cloying" and "bland" ("almonds deserve better," one person wrote).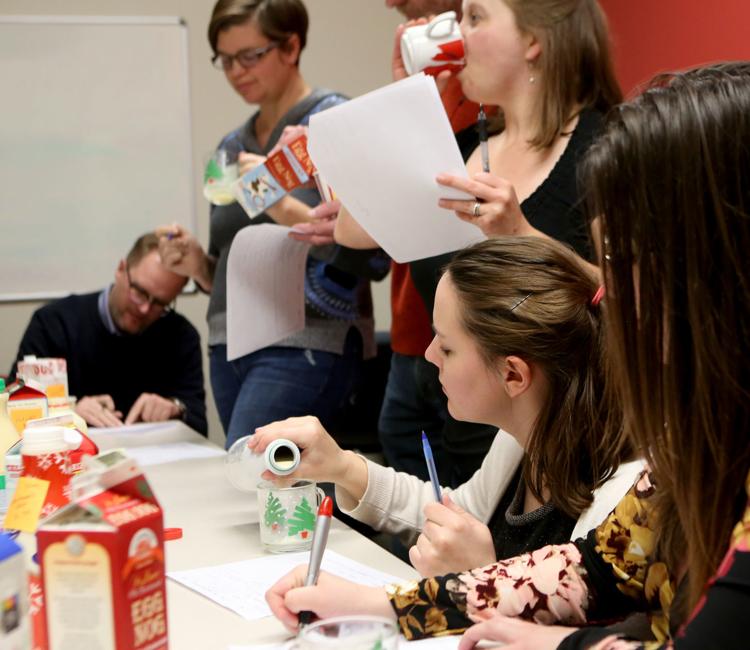 Good Karma's flax seed "nog" ($2.29 at Woodman's East) had a nearly identical ingredient list to its regular flax "milk" and was universally despised. "Plasticky," one person wrote. "Felt like bad karma!" another person wrote. "Almost spit it out ... dear god, why?!" "It is an abomination to call this nog and it should be banished forever." The kindest comment: "I feel virtuous and unsatisfied."
Best bargain nog: Dean's Egg Nog, $1.99 at Woodman's East
Before we started this tasting, my favorite comment about this workhorse nog was, "I'm 90 percent sure Dean's Egg Nog only exists to be diluted with alcohol," written by top eggnog source Abraham Williams on the very real rating site eggnog.reviews. Back in the newsroom people liked the Dean's, describing it as a "nice basic value nog" with "great creaminess" and light fruity flavors. "Inoffensive," one person wrote. "Pretty standard."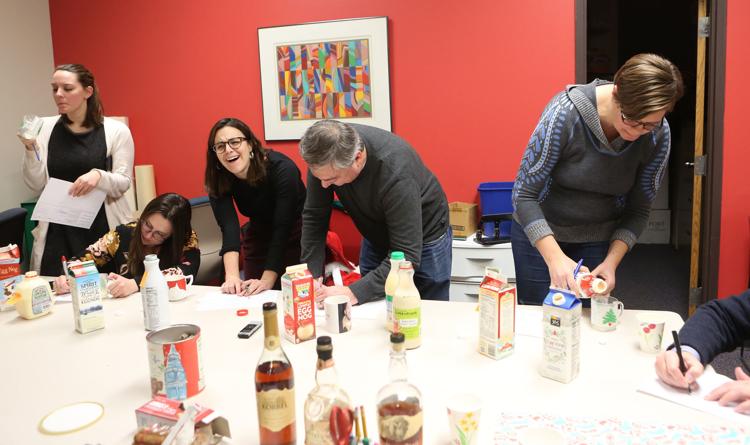 Middle of the pack: Organic Valley Eggnog, $4.99 at Metcalfe's; Trader Joe's Premium Egg Nog, $2.99 at Trader Joe's; Lamers Dairy Eggnog, $3.59 at Hy-Vee; Horizon Organic Lowfat Eggnog, $4.75 at Metcalfe's
Several tasters were all-in for Organic Valley's "nutmeggy," "smooth," "subtle" eggnog, even though the texture was on the thinner side. Some liked the flavor but not the texture, and one colleague found it oddly peppery.
Trader Joe's branded nog (also available "light") was deemed "fine" by several folks. Lightly tropical with a thinner consistency than most, tasting notes ranged from "nondescript" to "bland" and "basic nog."
Lamers Dairy in Appleton made a more positively reviewed eggnog, described by one colleague as "spicy and mellow." Some tasters called it "perfectly balanced and creamy" and a "good old fashioned eggnog," while others wrote, "the additives are bumming me out," "boring, thin" and "unimpressive."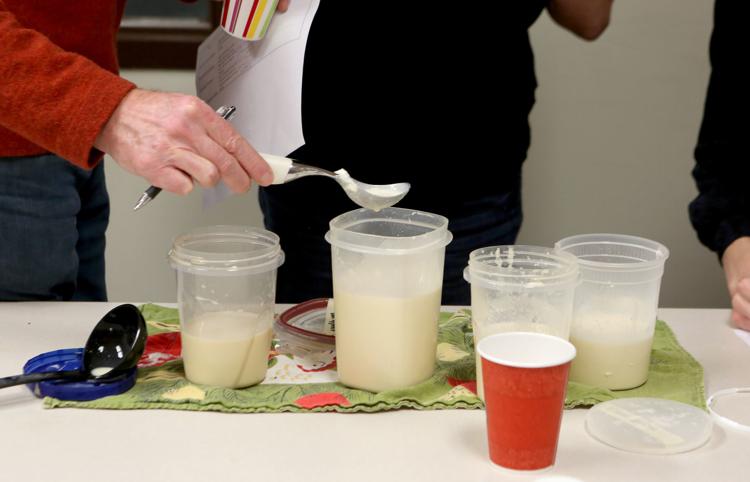 The general consensus about the one lowfat eggnog in the mix was that it punched above its weight class, so I'll stick it here in the middle instead of the bottom. It reminded me of skim milk with sugar shaken into it, but my colleagues were more generous: "sweet and smooth," they said, and "banana ice cream."
Say no to the nog: 365 Traditional Egg Nog, $3.29 at Whole Foods; C.F. Burger Creamery Old Fashioned Egg Nog, $3.99 at Metcalfe's
My coworkers hurled their strongest indictments at Whole Foods' "gloopy" house brand. This nog was chock full of unidentifiable baking spices, making one coworker compare it to "pumpkin spice left with mothballs on the shelf for years." "Fake tasting," one person wrote, "too much cinnamon."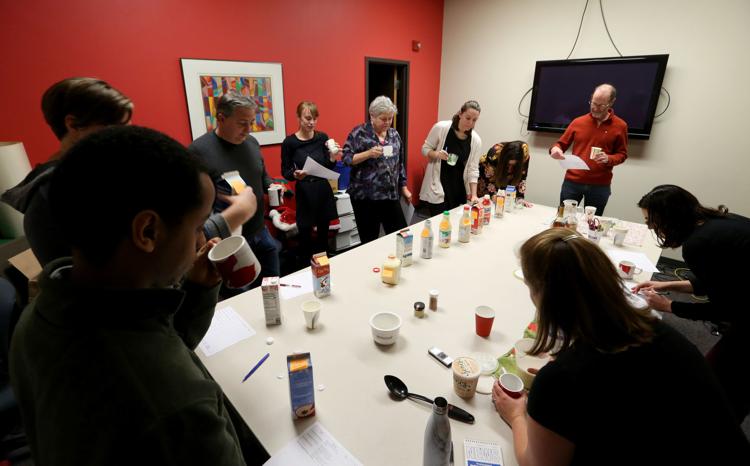 C.F. Burger makes a whole line of eggnogs, with caramel, custard-style and light variations. It had one real fan, who called it "mellow, sweet and smooth," but several reviews were less enthusiastic.
"This is a big nog," one coworker wrote, as others describes a heavy sweetness and a chemical, artificial edge. "Cough syrup," one person wrote. "Too sweet, too viscous," another said.
I made four homemade eggnogs, one with a blender, the rest with a stand mixer, all of them spiked. The winner, and also the nog that took the longest to make in terms of chilling time, was Amiel Stanek's 2013 recipe for the "ultimate eggnog" in Bon Appetit, which the magazine went on to adapt for coconut, almond and soy.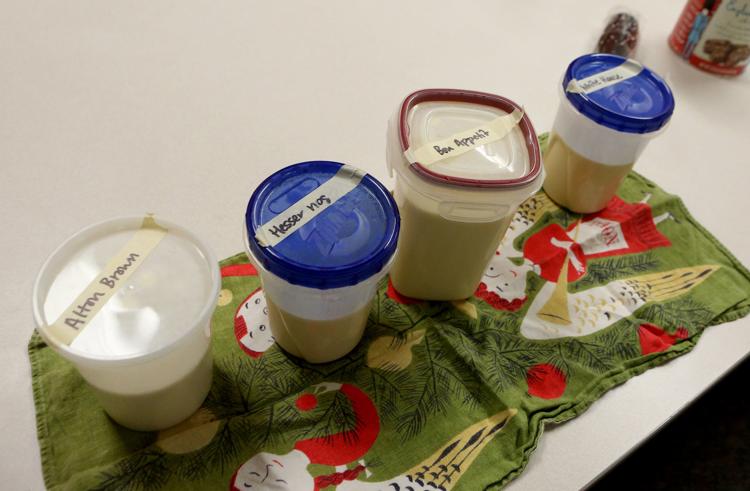 The BA version had "a good booze/nog balance," made with Plantation 5-year aged rum. "Creamy, smooth, delicious," one taster wrote. "Love! Smooth, not overpowering," another person wrote. "This is the ideal nog."
Amanda Hesser's 2003 recipe in The New York Times called for "hello, bourbon!" as one colleague wrote, adding that it "really punches you in the mouth." That spike was just right for some tasters, too boozy for others. I liked that the powdered sugar dissolved quickly, and as someone who loves a Manhattan in the cold months, I was a fan of this one.
Alton Brown's recipe on the Food Network (not the aged one, that's a whole other thing) also indicated bourbon, but it wasn't complex enough for most of our tasters. "Starts sweet and full, but too much cream and not enough complexity," one person wrote. "Nice, smooth ... a promising start," others said.  
Because several of my colleagues spend their lives tracking every move of our political leaders, we finished with the White House Eggnog, the booziest of boozy eggnogs traced vaguely to somewhere in the Reagan administration.
This is the nog to make if nobody's going to work the next morning. You'll need brandy, bourbon and rum on hand, and it's the easiest recipe – you don't have to whip the egg whites back in, it's yolks only.
This one could be even better if you have a couple days to age it in the fridge. (That time plus alcohol kills off salmonella, which we were at pretty low risk for anyway.) Just for fun, I added a scoop of Jeni's boozy eggnog ice cream to mine. I highly endorse this method.
"I feel warm and happy," one of my coworkers wrote. "Sweet, spicy, complex. Just right."