Death's Door Spirits, the 13-year-old Middleton-based maker of gin and vodka distributed around the world, has declared bankruptcy.
CEO Brian Ellison filed for Chapter 11 on behalf of Death's Door Distillery, LLC the day before Thanksgiving. The company has ended an eight-year relationship with Serrallés USA, which made the initial investment to build Death's Door's 25,000-square-foot distillery in a Middleton industrial park in 2012.
The bankruptcy filing says Death's Door has $5.2 million in liabilities, including a debt to Serrallés of $3.6 million. As of February 2018, Death's Door listed assets of $3.4 million.
The company could go up for public auction as soon as Dec. 19. Ellison identified one potential Chicago-based buyer, CDF, among those that may bid on the company. Death's Door has six employees. Some others have already been let go or left for other jobs.
"Through this process, it's going to be sold intact," Ellison said. "There will be no selling of tanks or barrels of whiskey."
News of the bankruptcy did not come as a complete shock to locals in the industry, some of whom have heard whispers of financial problems at the distillery for months. It's likely more surprising for loyal drinkers of the popular gin who've seen Death's Door praised in national magazines and stocked in bars thousands of miles from home.
"I am sad to see anybody go out of business, and particularly a local company," said Fred Swanson, a co-founder of the domestic spirits event Distill America and a national brand ambassador for Dancing Goat Distillery in Cambridge. "I feel bad for the folks that work there and folks that have lost their jobs. They have talent in that company."
The craft spirits industry, Swanson said, "might be starting to mature, with growing pains, consolidation and reorganization." Distillery Trail, an industry publication, reported that American craft distilleries have grown from less than 100 in 2005, when Death's Door started, to more than 1,800 now.
"This is not a broken brand, it's a strong brand," said Ellison on Friday. "You talk to anybody, they're like, 'Oh my god, Death's Door! I see you everywhere.' But it has a cracked foundation. We have to get out ... our relationships are forcing us to find a hard reset."
Brian Vandewalle, Leah Caplan and Ellison founded Death's Door Spirits as part of a relationship with Washington Island farmers in Door County, from which the brand takes its name.
Death's Door began its life at a contract distiller in Cedar Rapids, Iowa, using red winter wheat and juniper from Washington Island. Death's Door vodka came first in 2005, followed by gin two years later. These two remain its biggest sellers.
Production shifted to Yahara Bay Distillery in Fitchburg in 2007, then to the new distillery in 2012. Duane Bredeson owns the distillery building at 2220 Eagle Drive, for which rent is $11,000 a month. (Bredeson said the company has kept current on its rent.)
The profile of the spirits and their Door County connections quickly rose, with spotlights in Maxim, Country Living, the New York Times and Popular Science, among others. The company became best known for its gin, which now represents about 65 percent of sales.
Vodka is 20 percent of sales, with white whiskey, Wondermint liqueur and Kringle Cream making up the rest. Kringle Cream, a sweet liqueur recently purchased by Ellison's partner and Death's Door marketing director Margaret Ebeling, once sold 19,000 cases in a year, Ellison said. This year it might sell 3,000.
Ellison believes that though Death's Door grew quickly, it wasn't fast enough, and possibly not in the right places. Capacity of the distillery could get up to 200,000 cases, yet this year, Ellison predicts it will have sold 26,000. The highest it ever got was 34,000 cases.
Death's Door's relationship with Serrallés, Puerto Rican-based makers of Don Q rum, gave Death's Door's distribution in markets all over the country.
"It was fantastic to have lots of boots on the ground," Ellison told one writer. "Serrallés is like a big brother, making sure that, as a small spirits company, we're not pushed around by distributors."
Yet not long after the distillery was built, the partnership began to fall apart. Ellison felt the brand wasn't a big enough priority for sales reps who focused more on rum than on Death's Door's flagship gin. Death's Door ran up their marketing tab, he said, but sales didn't follow.
Roberto Serrallés, vice president of business development for Destileria Serrallés, denied that the brand wasn't a priority. For the last four years, he said, Death's Door had been unable to pay its distribution fees, even though Serrallés charged "half the going rate nationally, because we were participants in the brand and wanted it to grow."
"Their inability to produce positive cash flow caused them to stop paying the distribution fee," Serrallés said. "The company that sells your product, you pay them for the services. If you sell a case of Death's Door in California, there's a fee that goes with every box. Four years ago, they stopped paying that."
More craft distillers entered the market, increasing competition. Ellison didn't want to run Death's Door as "a lifestyle company," a glorified hobby. It needed to be selling more. 
"We outran our coverage. We didn't grow fast enough to keep up with marketing spin," Ellison said. "We did a lot of investment with Serrallés in a lot of states all at once to grow the different markets, but states that were priorities for them were not necessarily priorities for us."
Ellison said that in 2016, Serrallés told him it didn't want to invest any more money into the Death's Door brand. Still, the larger company contracted with Death's Door to make hundreds of gallons of whiskey, which Serrallés USA picked up several months ago to take to a warehouse in Minnesota.
Roberto Serrallés did not say what label that whiskey will be released under. The spirits are still young and need more time in barrel, he said.
According to Serrallés, the larger company did not consider buying Death's Door. 
"It's not that we lost interest in the brand. They didn't have enough money to invest," Serrallés said. "We tried to work many things out and it became, look, after four years, we're not going to be able to distribute you anymore."
There are no hard feelings, he said. 
"These are capital intensive businesses, spirits," Serrallés added. "There's a lot of equipment. You have to buy bottles and glass, there's marketing.
"Many, many startups in the spirits space are not cash-flow positive in the first few years of their existence."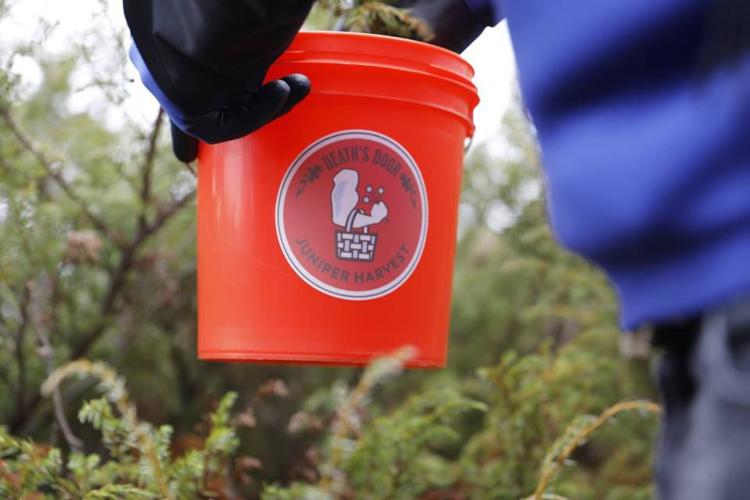 Meanwhile, Death's Door's mythos began to fray slightly at the edges. Journalists continued to repeat the origin story, but Death's Door hasn't used Washington Island wheat for years. 2014 was a bad year, Ellison said. The 2015 crop rotted before they could use it.
Death's Door has focused instead on bringing bartenders up to the island for a weekend every fall to pick some of the juniper berries used in the gin.
"We should have spent more time and energy on local, bolstering ourselves as a Midwest brand," Ellison said. "Wisconsin should have been a bigger priority for us. We ended up spending more time in California, New York, Florida and Texas than we were able to spend in our own home state. We do as much sales in Illinois as we do in the UK."
Ellison also expressed regret at not having a retail presence in the greater Madison area. Death's Door doesn't have a true tasting room. It's not a destination.
"We don't have a direct consumer component," he said. "If we would have had a space in downtown Madison or Middleton that was more consumer-friendly ... we should have had a stronger Wisconsin presence. For a brand that purports to be local, we didn't have enough people in our hometown that knew we were from here."
Ellison has spent months looking into investment partners and potential buyers. Ultimately, Chapter 11 was the best choice to wipe the slate clean. 
There's a chance, with the public auction, that CDF won't end up owning the company after this December. Ellison has made peace with that, and with the idea that he may not be a part of Death's Door's future.
"I've feel like I've shown that this can be successful," Ellison said. "It wasn't successful by a lot of metrics, but I think it was really successful by lots of other metrics.
"I'm willing to work with someone who's totally re-energized, inspired to come back and make Death's Door the brand it should be."