The email arrived 18 hours before dinner was to begin.
"Good evening culinary adventurers!" it began. "We are excited to offer you a scrumptious vegetarian dining experience. Are you ready for your instructions?"
Vignette Dining Club coyly describes itself as a "culinary speakeasy," held in a private location shared only with ticket holders. It's the kind of clandestine dinner one might find in a larger city, hosted in someone's apartment or backyard.
What sets Vignette apart from Madison's other culinary pop-ups is its longevity — it has been around, in one form or another, for six years. Vignette also has a semi-permanent home, in a space designed for entertaining. Most others have no space at all, moving from bar to bar or advertising that night's options on Instagram.
"Brian and I have always thrown dinner parties," said Mark, who asked that their last names not be used. "We're used to entertaining. We kind of wanted to see what would happen if we worked on our own and built it organically.
"Now people are coming over and paying to hang out at our house."
At Vignette, a long table seats 24 in a three-season room with a killer view of summer sunsets. In a well-stocked open kitchen, Mark is the chef while his husband Brian clears plates, fills water glasses and pours wine that guests have carried in. Rigby, their charming poodle mix, is the club's "doorman and OSHA rep." That's the whole team.
Underground dinner clubs like Vignette aren't entirely legal, hence Mark's request for anonymity. For adventurous diners, that's part of the fun. The aura of mystery gives the experience extra sizzle.
"I feel like there's some exclusivity in it," said Andrew Kitslaar, a diner from Monona. He came to the June vegetarian dinner at Vignette with his wife, Laura, and two other friends.
"It creates the sense that you're experiencing something like nothing else before," Kitslaar said. "There is a waiting list, but you're able to get in, and it's not just the popular thing to do. I don't see them marketing anywhere. It's word of mouth."
Pop-up dining is not new, but it has slowly grown in popularity along with the sharing economy that gave birth to Uber and Airbnb. The style, content and price point of events varies widely, falling somewhere between a dinner party with friends and a full-on restaurant. Often pop-ups have ties to legit food businesses if they are not licensed themselves.
A couple years ago, Travel and Leisure did a slide show featuring 10 secret dining clubs, including Supper Underground in Austin, Clandestino Suppers in Chicago and Cook Here and Now in San Francisco. Journalist Jenn Garbee got the idea for her book, "Secret Suppers" (Sasquatch Books, 2010), after writing about the trend for the Los Angeles Times in 2006.
"They are all completely different," Garbee told the Times. "Some are grungy, some are professional chefs, some are home cooks, some are who knows what. That's what I like best about them."
Madison's underground food scene is small and loosely connected. One local bar invites a rotating roster of chefs to make tacos, pierogi and pizza in its small kitchen. A local entrepreneur rustles up a following on Instagram with pictures of jerk chicken tacos and caramel apple cheesecake. Diners can order their "Caribbean soul food" by text.
Opening a brick and mortar restaurant is cost prohibitive for most people. All the equipment needs to be commercial grade, from the sinks and utensil washing to the right kind of refrigerator. An oven hood can cost more than $10,000 to purchase and install. 
Some pop-ups work through established kitchens. Underground Food Collective got its start years ago catering illegally, popping up "pre-industrial pig dinners" in Brooklyn. It now hosts hand-pulled noodle pop-ups and other events at The Heights, a café on the near west, and Underground Butcher.
"I think pop-ups have become more legit now," said Jonny Hunter, who co-founded Underground. "Most people work through regulated kitchens."
Madison and Dane County's licensing laws are complicated, but essentially if a food business is serving food to the general public, that business needs a license. There are different rules around catering, private chefs who work in people's homes, nonprofits and special events, but "we would never license a home for preparing food," said Bonnie Koenig, an environmental health services supervisor with Public Health Madison and Dane County. 
In Wisconsin, home cooks are allowed to sell limited amounts (less than $5,000/year in profits) of certain canned things at farmers' markets under a law nicknamed the "pickle bill." Bakers earned similar rights in 2017. Those laws don't apply to pop-ups.
Last fall, California was the first state to make it technically legal to publicly sell dinners made in a home kitchen. Counties have to opt-in to the law; so far only Riverside County has. On July 9, the website LAist wrote that the first home cook to make use of the law passed her health inspection.
None of this is an option for Mark and Brian at Vignette. Starting a business in Wisconsin is easier than it would have been in Illinois, Mark said. But though he had worked as a culinary instructor and pastry chef, he didn't feel well-connected enough when they moved to Madison to ask established restaurateurs for space.
"When we came here, there weren't many places you can do this kind of stuff, and I didn't know many chefs," he said. "I wasn't going to be like, 'Hey, can I use your restaurant? You don't know who I am!'
"I've always been the kind of person, if I can't get somebody to do it, I'll do it myself."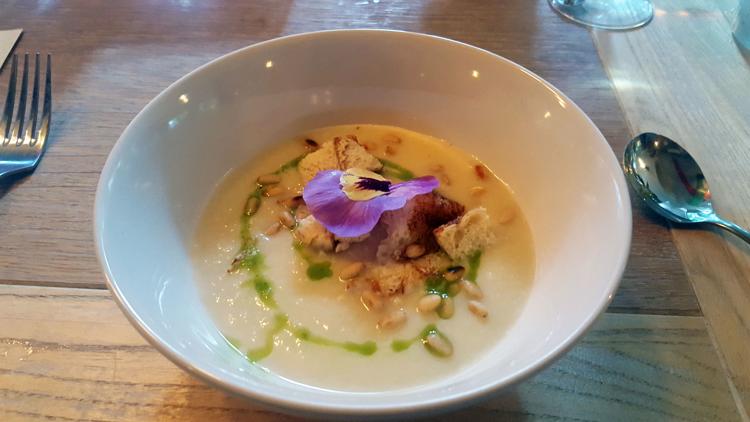 Vignette started in 2013 as a transient project. Mark and Brian hosted dinners in church basements, friend's homes and jewelry stores, hauling in food as well as lamps and table decorations.
"Wherever we could find a space to cook, we would do a dinner," Mark said. "We were schlepping things for two years. We called ourselves the Vignette Schlepping Club."
Four years ago, they found the space they're in today. The first two years, Mark asked himself, "if I make the food, will the people eat it?"
"It was word of mouth, friends telling friends," Mark said. "Eventually, we had a group of all strangers. It was a lot of work, very trial and error. Neither of us is in a position where we can quit our job and focus on this full time."
Slowly, Vignette grew its email list from 300 to 1,000. Now it hosts a mix of private parties, fundraisers and small, ticketed prix fixe dinners. They're already booking events for December, and they've learned a lot about their limitations. 
"We tried doing four events in a week and we were like, 'Holy crap, we can't do that right now,'" Mark said. He wants to keep the vibe relaxed, so "people feel like they're hanging out, having a party in someone else's house." 
Mark's intent has always been to use their work at Vignette as a way to find investors. In August, he plans to give up one of his jobs to focus more on the club. He's been looking for a restaurant space to take Vignette fully legit. 
"We're not a restaurant," Mark said. But "we're slowly seeing that there's business potential in what we're doing. If we were to focus more on it full-time and get our ducks in a row, I can make a living doing this. I won't have to have three jobs."
On a rainy Monday night in June, Vignette hosted the first of this summer's Meatless Monday dinners, a four-course prix fixe ($48) of turnip leek soup, lentils with asparagus and radishes, and beet panna cotta with caramelized fennel and. To start, Mark made a rhubarb cake pop.
The event drew a mix of newbies and repeat customers, very few of whom were vegetarian.  
"I feel like I was invited to some fancy, old fashioned party," said Sarah Wagner, who came with her husband, Danyon, on Tiffany Scheller's invitation. "I love the community-style table. Nobody has their cell phones, everyone's just talking and getting a chance to know each other.
"Like you don't know who you're going to sit by, but you know they're going to be interesting."
That instant camaraderie was part of the draw for Scheller. She first heard about the club from her hairdresser and went with her husband to a fish dinner. She loves that Brian remembers faces, and who's drinking what wine. 
 

 

 

View this post on Instagram
"Every time I wonder, is everyone going to be as social as the last time we were here?" Scheller said. She gestured to her seatmate. "You guys had never been and immediately you're like, 'Hey, I'm so and so, let's talk.' There's no wall here. With first timers, it just happens."
Vignette has largely stayed out of the press. But they do have an active Instagram, styled like a series of art pieces. They recently offered a dinner as a benefit for a local Rotary Club. 
The couple had the Madison Magazine story framed and mounted it on the wall, but they're still media shy. Mark doesn't want Vignette to get too big before they can handle it. 
"I want to keep it quiet, low key, fringe," said Mark. "I don't want to shake things up too much."
For now, people tend to hear about Vignette from friends and acquaintances. Jon and Sara Giacalone, a young couple from the near west side of Madison, were back at Vignette for the third time for the vegetarian dinner. They'd heard about Vignette originally through other friends, and in June, they brought the Kitslaars.
"It's an intimate dining experience," said Sara Giacalone.
"Rigby! Rigby's a big draw," said Jon. 
What differentiates Vignette Dining Club from places like nook, the prix fixe restaurant on Atwood, is the underground experience, Andrew Kitslaar said. 
"It's unique," he said. "They're inviting you to be part of their life."