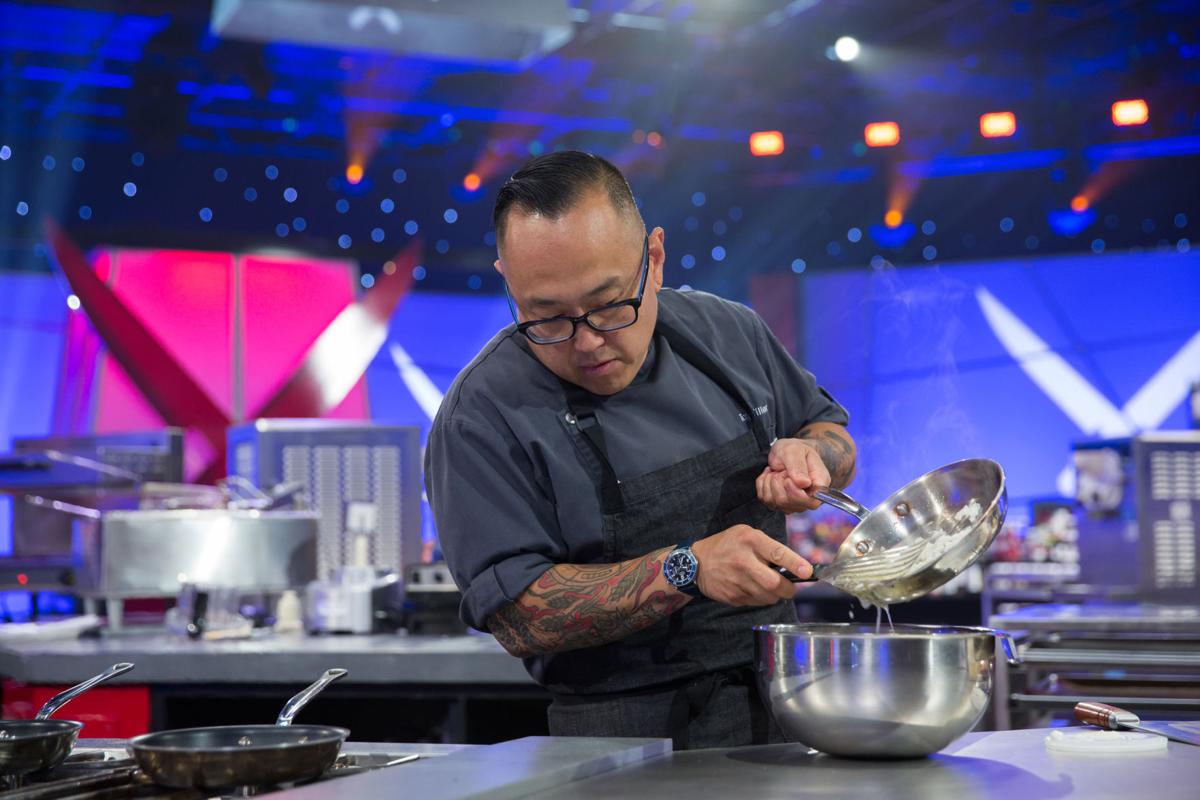 On the night chef Tory Miller won "Iron Chef Showdown," the bandaged cheddar got almost as big a cheer as chef Miller himself.
Miller, chef and co-owner of L'Etoile, Graze, Sujeo and Estrellon, beat resident "Iron Chef" Bobby Flay on the Food Network Wednesday night with a bison spring roll, a riff on Vietnamese pho and bibimbap that might have looked familiar to anyone who's tried the dish at Graze.
At the watch party at Estrellon, Miller's Spanish-themed restaurant downtown, Willi Lehner's Bleu Mont bandaged cheddar got big cheers from the residents of Packer nation. Miller grated the cheese over a ddeokbokki gnocchi — basically an Italian dish reinterpreted with stir-fried, gelatinous Korean rice sticks.
As Miller told the judges, "In Wisconsin, we put cheese on everything."
"I was very specific in my sourcing for that part," Miller said to an assembled crowd of industry and media types after his win. He was similarly proud of his team: "I brought the heavy hitters, for sure."
Miller's win was filmed more than six months ago, and it took longer than expected to air. After scheduling Miller's episode for mid-December (when a similar, rowdier party gathered at Estrellon), the Food Network delayed Miller's "all American meat battle" for a month in order to edit out judge John Besh.
Miller viewed silently editing Besh out as "a missed opportunity" for the Food Network.
"I was disappointed," he said. "I thought it was a lost opportunity to really make a statement."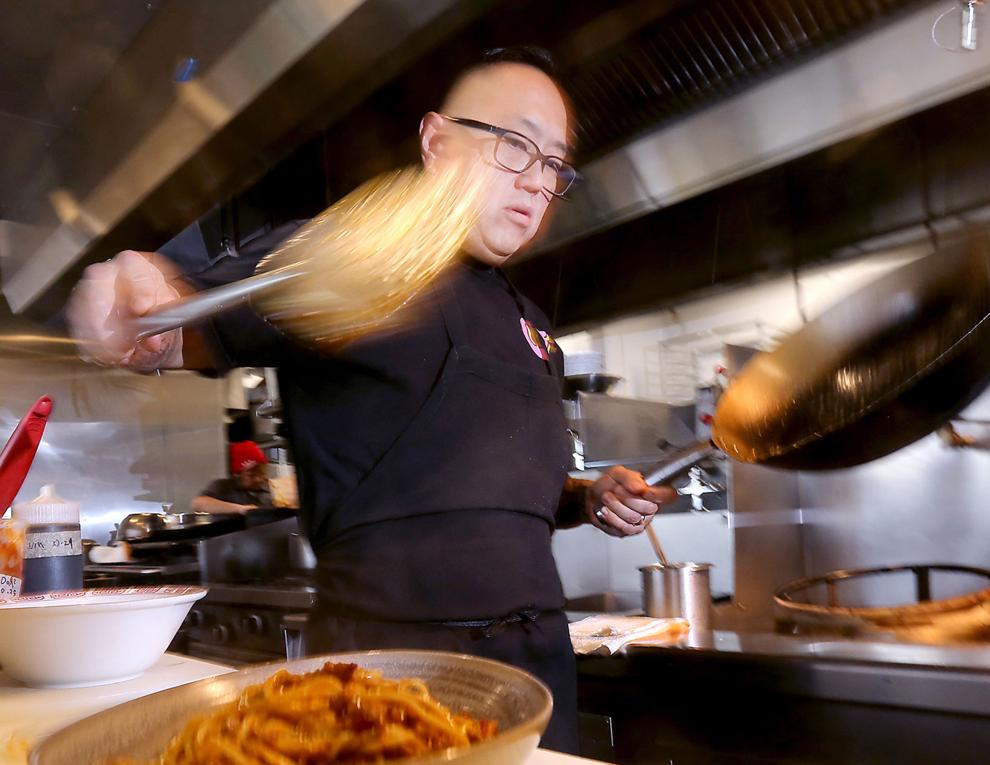 But finally on Wednesday, a bar full of current and former employees, friends and family — including Miller's young son, Miles — got to watch Madison's own compete against a chef from Chicago and Iron Chef Bobby Flay himself.
Miller competed first against Jenner Tomaska of Next in Chicago in a potato battle. Tomaska made potatoes three ways with halibut, but Miller's well-cooked, well-seasoned hashbrown beat the "raw" acid in Tomaska's dish. 
"It's like visiting Epcot when you're drunk," quipped host Alton Brown when he saw Miller combining Japanese mushrooms and Mexican chorizo. But despite Miller's "hideously" undercooked egg (parts of the white were still raw), Brown gave the victory to Miller.
"I knew that if we could get to the second part and I could work with my team that we would win," Miller said Wednesday.
For the second half of the show, Miller went up against Flay, one of Iron Chef's "monsters of the culinary world," as Miller put it. "That dude doesn't lose."
"Iron Chef" chairman Mark Dacascos announced that the theme ingredient was bison, and both teams set to work. When Flay began incorporating Korean ingredients into a rib-eye, the Estrellon crowd boo'd. Onscreen, Miller kept moving, even as his juicer began to shake and leak onto the table.
"I'm loving bison right now," Miller told the camera early in the challenge. "Ask me again in 20 minutes."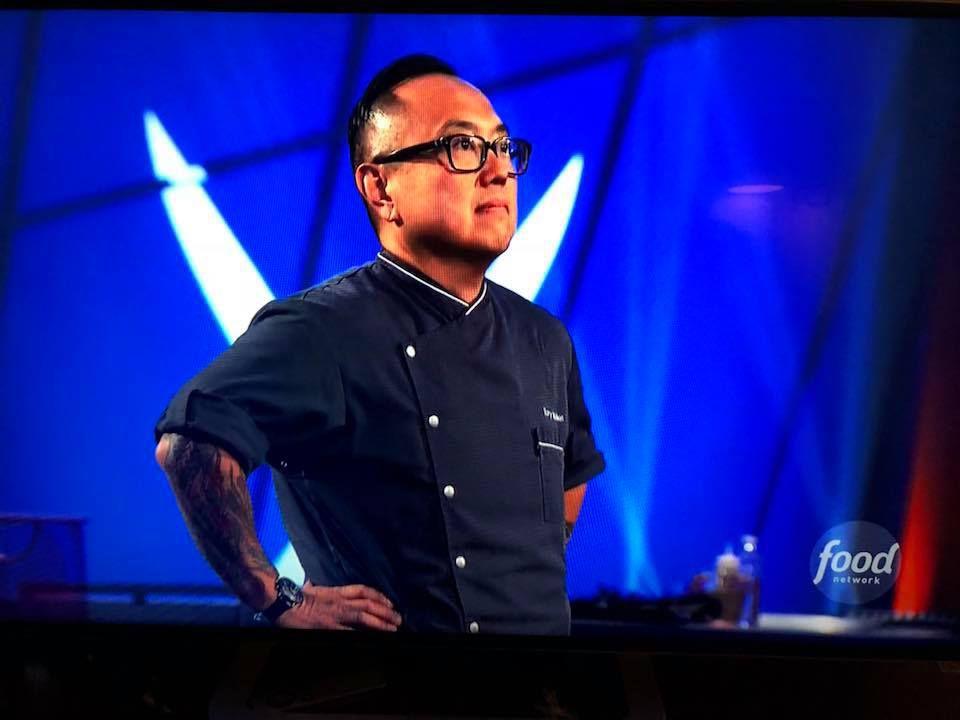 Aided by former Estrellon executive sous chef Desiree Nudd and L'Etoile executive sous Itaru Nagano, Miller set out to "make it yummy." Brown observed Miller and Nagano "engaging in the unspoken language of the kitchen," which got a laugh from the industry folks in the room. 
For the edited judging, "Giada at Home" host Giada De Laurentiis found Miller's bison laab "spectacular" and loved his bison bulgogi bibimbap. But she objected to the number of noodles in the pho dish. (Brown, for his part, "got down and nasty with it.")
"I do like the bison balls," De Laurentiis. "I find them extremely flavorful and I like the texture of them. The broth I adore. I would have a big bowl of this broth."
"I ain't got no troubles down here at all," Brown said, slurping happily.
"I'm feeling super cheffy right now," Miller said after his judging was done. 
Flay incorporated bison into a burger, preparing a glazed (but mealy, per De Laurentiis) rib-eye with a Korean style slaw and a bison bolognese with fresh fettuccine.
"I love the idea of bison because it's such an American product," said Flay. "I think of it as beef with less fat in it. I wanted to approach this like a canvas for bigger flavors."
Folks who came out for this second "Iron Chef" watch party were more subdued than the first group in mid-December, when one attendee quipped the competition was "better than 'The Bachelor.'"
Those who came out, though, were enthusiastic.
"He is the most famous person I know," said Trish Ghaboussi, who worked with Miller during her college days at a pub in Stevens Point. "When you look at someone who has come out of nowhere Wisconsin kick ass and take names ... I'm proud that I know him. I'm happy I can support him and watch him do this."
"Tory's not just cooking, he's performing," said L'Etoile/ Graze partner Dianne Christensen. 
Melody Krolnik, a former employee of Miller's, came to watch the show with her mom, Denise Krolnik, and friend Denae Brown.
"I always followed him," Melody Krolnik said before the show began. "I wasn't shocked when I heard that he was going to be on 'Iron Chef.'
"I know he's going to win. Why would we have this big party if he was going to lose?"
Happily for everyone there, Miller did win. He won bragging rights, and he got a taste of reality TV. This Sunday, he, Nudd, Nagano and the team at L'Etoile will recreate the meal at a ticketed event ($125/person).
"It was really rad to represent us, our city, our state, everything we do," Miller said Wednesday night. "And make super-Asiany food for really fancy people. I'm glad they finally showed it.
"I get to say I beat Bobby Flay. If ('Iron Chef') 'Gauntlet' calls I would definitely do it."
Onscreen, Brown gave another bump to the cheese.
"I think bandaged cheddar is the new parm," he said. "Long live bandaged cheddar."