The city of Madison and Dane County are working together to get residents to think differently about food waste. Or, as advocates prefer to call it, "wasted food."
"I try to stay away from 'food waste' because to me it's not wasted until it's in the trash," said Chris Brockel, founder of Healthy Food for All and manager of FEED Kitchens on Madison's north side. "I'm careful when talking to farmers. It's not food waste when it's sitting in a field. It's excess production."
Several initiatives around wasted food in the Madison/Dane County area have seen recent progress. Last fall, a trio of University of Wisconsin-Madison undergrads and a communications coordinator at FairShare CSA Coalition created a food waste recovery guide on behalf of the city and county, now available as a spiral-bound print copy and online at UW-Extension. Magnets that say "Got food waste?" with a picture of an apple core include a short link to the guide.
"The idea for the magnets is that they go out with health inspectors," Brockel said. "My goal was to get them in every food service establishment in Dane County. Everyone's got plenty of stainless steel that they'll stick to."
The guide includes tips about how to prevent food waste at home ("Put a paper list or whiteboard on your fridge to keep track of its contents"), shop smarter ("Make a list and buy only what you need") and throw less away by keeping an eye on your trash ("Next time, buy a smaller quantity").  
The front of the guide show the EPA's food recovery hierarchy. First, try to reduce the volume of surplus food. Then work down through feeding hungry people, feeding animals, diverting food (like cooking oil) to fuel and energy-producing digesters, composting and finally, using the landfill. Recent news reports indicate that the Dane County landfill will be full in 15 years at the current rate. 
"If we can keep a quarter of that stuff out, that's great, if we're not looking to take over farm land to use for a landfill," said city recycling coordinator Bryan Johnson. "I'd hate to waste that resource to build a place to bury things we don't want anymore."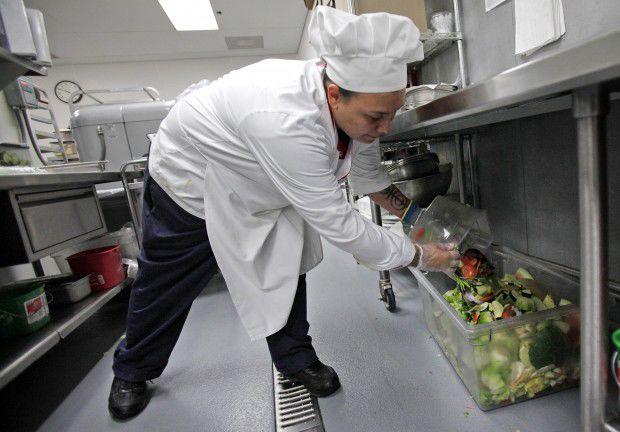 Food scraps, Johnson said, made up about 20 to 25 percent of the 44,000 tons of trash that went to Madison's landfill last year. In early April, the EPA announced a $39,000 grant to Madison to evaluate an anaerobic digester program that would divert those scraps and turn them into energy. Anaerobic digestion, like composting, breaks down organic materials like food waste, scraps and manure and harnesses the methane they produce.
"They can capture that gas, clean it up and inject it into the pipeline to get fuel credits," Johnson said. "Selling that gas as renewable natural gas instead of making electricity — that's lucrative."
The city scrapped its composting pilot program last year amid problems both on the user end and the receiving end. People were confused about what should go in the compost bins, and digesters were too far away. Trucking scraps four hours round trip in a diesel truck didn't make sense to Johnson.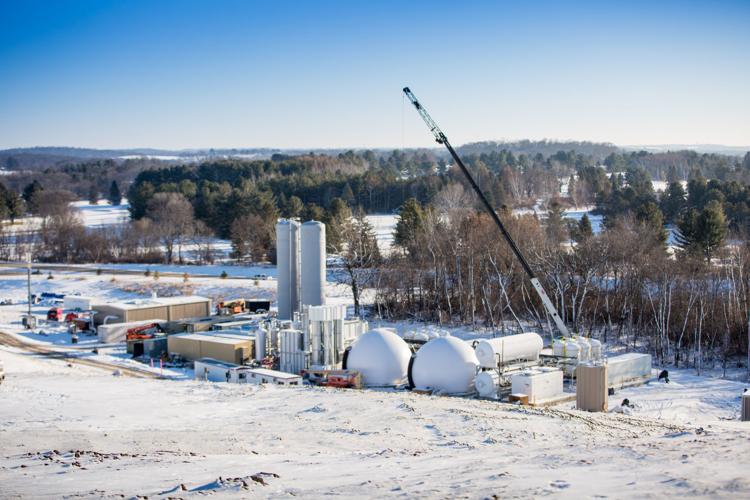 "We couldn't get people to stop doing the wrong thing," said Johnson. "We started off too broad and then we tried to accept too much, do too much. We tried to compost it all, and we couldn't steer the train back."
This summer the city is going to try again, starting in July in a to-be-determined neighborhood of single family homes on the far west side. This time, they're calling it "food scrap recycling" instead of organics. The bins will clearly say "food scraps only."
Instead of using the big blue trucks with their mechanical arms, staff will have to hop off the trucks and look in the bins before they haul them to a liquid digester in Middleton. If there are compostable forks, bamboo chopsticks, organic linens, butter wrappers or other contaminants among the peels and eggshells, they'll slap a sticker on the bin and refuse to take it.
The city's trash and recycling pick up does not service every home or restaurant, but with a digester that has a 40,000 ton-per-year capacity, for example, the city could think regionally about food waste. It might loop in scraps from restaurants, the future public market and Garver Feed Mill, all "big food waste generators," Johnson said. 
"The digester could be home for that material, if the financials make sense," he said.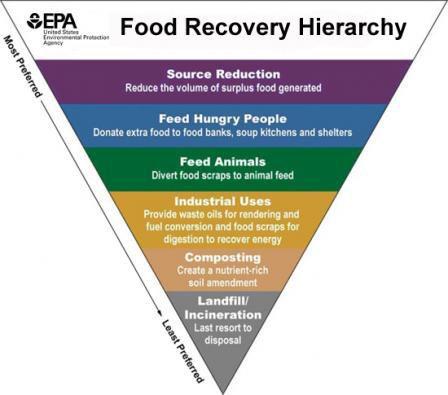 Copies of the new food recovery guide were in ample supply at an event in late March called Food Waste Policy & Practice: Challenging the Norm, organized by the city and the nonprofit WasteCap Resource Solutions.
Events for the day included a panel about food waste policy for businesses and a discussion about large-scale composting and industrial uses, on which Johnson was a panelist. A third panel about food insecurity involved Community Action Coalition's Lindsey Karls, Metcalfe's director of operations Kevin Metcalfe and restaurateur Dave Heide.
"Food waste is so tough!" Heide said. "Those two words in particular — people picture what they throw out in their home fridge. I promise you that's not what we're cooking with. There will be no soupy asparagus or black bananas!"
Metcalfe noted that of the wasted food going into the system, about 10 percent comes from grocery stores. Metcalfe's tries to address that with composting through a business called Purple Cow and redirecting food for internal, prepared uses. Misshapen green peppers might not sell out of the bin, but they're perfectly good in a deli-made pasta salad.
"We need partners to distribute the wasted food in our organization, so we rely heavily on organizations to understand food insecurities. They're the experts," Mectalfe said. His grocery, he said, works with Middleton Outreach Ministry, the Boys and Girls Club and the farm-to-school focused nonprofit REAP, among others.
"Part of the grocery business is that shrink is a necessary evil," Metcalfe said. "To create sales you have to overproduce. No one wants the last piece of bread or the last doughnut."
At Healthy Food for All, Brockel said his team redirected 70,000 pounds of potentially wasted food to pantries in 2018. That number was down from the previous year but for a good reason. Epic Systems, one of the places where Healthy Food picks up fruit salads and soups, has started to "triage their own excess food before its donated, looking at what's leftover and assessing how that can be used internally," Brockel said.
Brockel was encouraged by the enthusiasm at the March summit. He's hoping that pile of fridge magnets will help spread the word and change a few minds about what to throw in the trash.
"Of the many issues in the world we face, this is a solvable one," Brockel said. "It just requires us to be a little more thoughtful."