First, there was CBD in the cocktail.
Made from dragonfruit, coconut, lime, ginger and muddled mint, this non-alcoholic "potion" tasted like a tropical ginger ale and glowed the magenta hue of Elle Woods' faux fur. The CBD, added in water-soluble liquid form, was tasteless.
The second course, a salad of dandelion greens and sweet salanova lettuce, brought more CBD in an apple cider vinaigrette. By the time we got to shiitake mushrooms marinated with CBD oil and served with burdock root broth, my head felt woozy, like I'd just downed a third glass of wine.
Lauren Montelbano, the chef of Surya Café inside Perennial Yoga in Fitchburg, wanted her first official CBD dinner to bliss everyone out on Wisconsin's newly legal extract. Cannabidiol, or CBD, comes from hemp and is used medicinally for stress, anxiety and chronic pain.
It can also make you sleepy.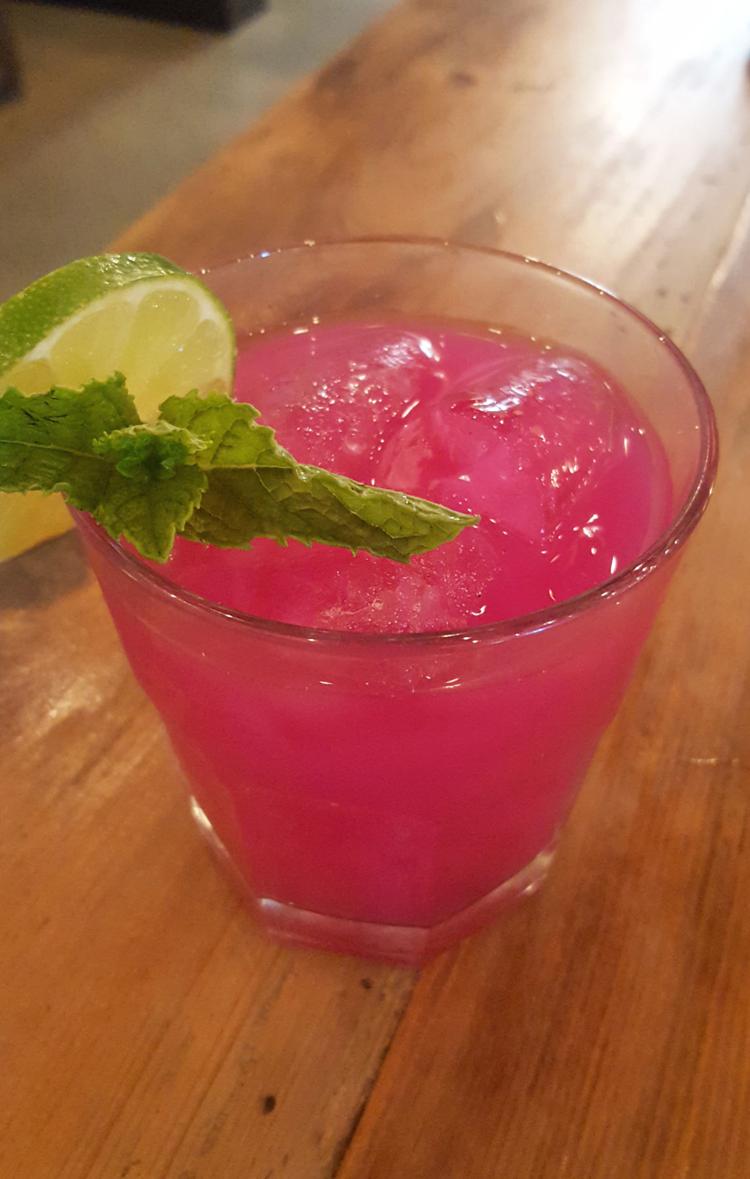 "I'll be curious to see how everybody feels afterwards," Montelbano said a few days before the dinner. "I'll want to take your temperature, see how everybody's doing, so I learn more about proper dosing. Your tolerance, your age and your weight are the three biggest things."
Given the growing availability of CBD in beer, coffee, smoothies and soft serve ice cream, there's no way this was the first CBD dinner in the Madison area. We may not have CBD burgers yet, but it's just a matter of time. In a national poll of 650 chefs conducted by the National Restaurant Association, CBD-infused drinks and CBD in food were named the top two trends for 2019.
Locally, Montelbano may be the first chef to go this far with it, at least publicly. At her mid-June event, every dish from the hot pink punch to the cerulean blue butterfly pea flower mousse contained some CBD.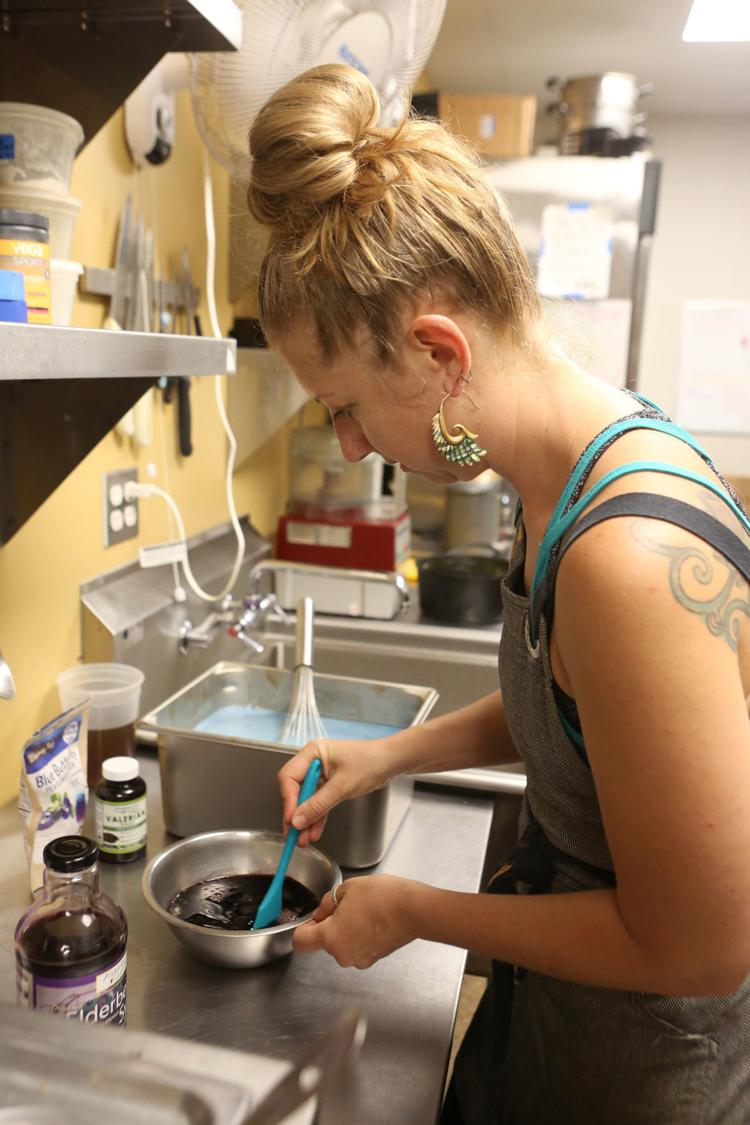 She got the idea after Surya started carrying CBD-infused products from The Healthy Place, formerly known as Apple Wellness. The Healthy Place has four stores in Dane County, in Fitchburg, Sun Prairie, Middleton and west Madison. (It changed its name because too many people were calling in with broken iPhones and trying to drop off laptops.)
"I thought it would be fun, for the launch of us starting to carry CBD, to have a dinner to celebrate it," Montelbano said.
In April, Healthy Place owner Tim O'Brien and his team hosted "It's Hemp, It's Fine," a CBD expo at the Monona Terrace. O'Brien was on hand during the dinner to give a sales pitch for CBD.
"Two years ago I was against CBD," he said. "I thought it was marijuana, I thought it was going to get people high. Then I started to learn about its power and benefit, and I got behind it pretty quick."
This first CBD dinner was a quiet one, a small group of mostly friends and family. Montelbano knew that some of the diners would have experience with CBD, but she kept the dosage "really light" in each course, in part because there were five courses and in part because tolerance varies. If you have too much CBD, the most likely effects will be gastrointestinal distress and tiredness.
"Because you're paying for a CBD dinner, I do want you to be at the higher end of the scale," she said. "But also, if I know you don't have experience, I'm going to let everybody know, 'Hey, let me know how you're feeling.'"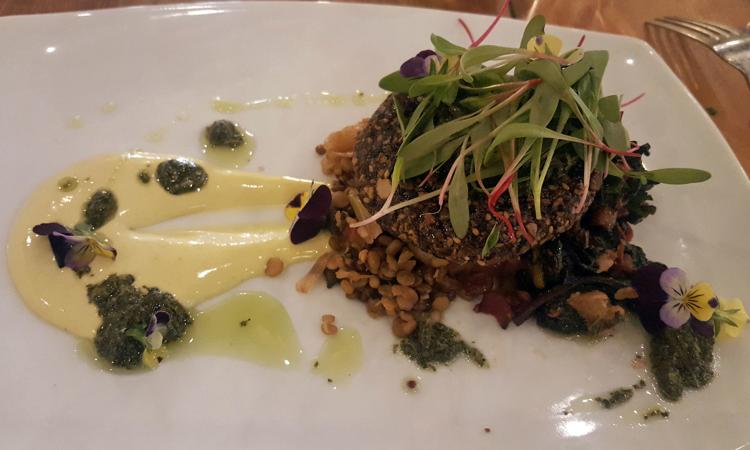 Montelbano prepped each course with her partner, Kyle Julius, who's also a chef. They incorporated other medicinal ingredients like burdock ("to boost the immune system") and ginseng ("to improve memory") and mushrooms, a motley mix of Lion's mane, shiitake and button mushrooms, among others.  
The most substantial course was a purple potato croquette with lentils, hemp hearts, roasted radishes and roasted garlic. Montelbano incorporated CBD into a pesto made with stinging nettles from Keewaydin Farms. Complementing the dish with both acid and richness was a vegan aioli in which aquafaba, or the liquid in canned chickpeas, took the place of eggs.
The final dish was the almond milk and butterfly pea flower mousse, a "blue goo" as Montelbano affectionately called it, drizzled in CBD-infused elderberry and maple syrup. As owner Megan Rose, who was moonlighting as a server, set it on our tables, a woman behind me murmured, "I feel like I'm in the future."
In the wake of the 2018 Farm Bill that made hemp no longer illegal, CBD is riding a wave. Montelbano is a member of both the Madison Area Chefs Network and the Culinary Ladies Collective, and she has been talking to her colleagues about CBD as another ingredient in their culinary pantry.  
"It's gotten a lot of other chefs interested in CBD as well," she said. "I've had conversations with other chefs about doing CBD in cocktails. I'm hoping through my experience that I can teach people."