2017 in Madison was, as predicted, the year of the taco.
Downtown saw the opening of Canteen, a casual new Food Fight concept in the former Nostrano space, and bright, buzzy BelAir Cantina, a California-hip restaurant out of Milwaukee. Versions of elote, Mexican street corn, cropped up on menus everywhere.
It was a year of comfort food and of slowly pushing the boundaries of what most Madisonians are used to.
As part of my exploration of the city's latest spots, I cracked crab legs, gnawed on goat bones and slurped oysters. I visited 70-year-old institutions and discovered a new way to roll up ice cream. I learned how to make pourover coffee and reported on a new culinary training program designed to funnel more cooks into Madison kitchens.
There were some notable closures this year, among them artisan bakery Dough Baby, Mermaid Café (now under new ownership as MintMark), the cocktail bar Opus Lounge on King Street, Jim's Meat Market and Las Islas Del Mar.
The King Street location of Cuco's had a short run, and El Sabor de Puebla moved from Willy to East Johnson Street.
In 2016, I wondered if Double S BBQ was making the best smoked sausage and brisket in Madison. In 2017 the brick and mortar spot on Monroe Street closed.
Weekend breakfast spot Sophia's officially closed earlier this year. A few weeks ago, Jennifer Mans moved humble pies into the space at 831 E. Johnson. Angkor Wat, a Park Street restaurant with a few Cambodian dishes, reopened as the Chinese restaurant Chili King.
The Graduate hotel rebranded its inconsistent Madison Blind restaurant as the summer camp themed Camp Trippalindee, complete with s'mores. Anointed One, a new soul food restaurant, opened on the west side.
Fitzgerald's, a Middleton supper club, closed after 30 years. OSS Madison was a favorite among gamers but closed in mid-November (the food cart may yet revive the concept). City records indicate the OSS spot at 910 Regent St. may soon become Sweet Home Wisconsin, a "Wisconsin sports and food themed restaurant with a strong Chicago twist."
Some highly anticipated restaurants, like flashy Eno Vino at the AC Hotel, proved to be more about style than substance. Judging from this year's reviews, I'm tempted to say the small plates/ tapas concept may just not work here.
Bring on the shareable boards, contemporary diners like Ogden's North Street and street food from all cultures, and let's leave the elderflower liqueur to the ages. 
These were some of my best food memories of 2017:
Jan. 16 "Porter, a new cafe in an old depot, signals things to come on West Wash"
Grampa's Pizzeria owner Gilbert Altschul runs this coffee shop in what could eventually be the home of his taqueria, Bandit, and a public market near campus. The café makes fantastic grab-and-go sandwiches (bocadillos) on seeded baguette with giardiniera and Underground meats, as well as great coffee and a breakfast sandwich to get messy for.
Feb. 22 "Cupcakes and community flourish at new Bloom Bake Shop Café"         
I assigned this feature to a colleague, but I spent plenty of time doing my own research at Annemarie Maitri's sweet new café on Monroe Street. An outpost of the Middleton location, this Bloom brought all the lovely cupcakes, doughnuts and biscuits to the near west, plus savory treats like a black pepper biscuit with ham, melted cheddar and peach preserves.
March 1 "Love is spicy, love is strong at west side Indian spot Haldi Masala"
After this review was done, I still day-dreamed about the comforting dosas and rich, aromatic lamb rogan josh at this tiny west side Indian spot. Of all the places I visited this year, this may have been the friendliest, with a warmth that came not only from rice dishes and karaikudi veg curry but also the wonderful owners, Tarsinder Kaur and Raja Selvaraju.
March 13 "Casetta Kitchen and Counter has sandwich ideals"
In the 10 months since this charming Italian-ish breakfast and lunch spot opened in the former Bluephies Downtown Deli location I have been singing its praise to everyone I know. I love the eggplant sandwich. I love the pasta e fagioli soup. I love hearing James Juedes nerd out about wine at Thursday night tastings.
Casetta is busiest at lunch but they also do special dinners on Fridays — four courses for $40 is the best deal in town right now — and casual take-home evening meals. For my birthday, Tommy Gering made a massive porchetta and roasted veg with bagna cauda aioli and it was one of my very favorite things of 2017. Get here.
March 22 "Watching Madison's waste line: Keeping food from the landfill one leek at a time"
Of all the stories I wrote this year, this was probably the most important. Americans waste about 40 percent of the food we produce, a daunting number that affects everything from the environment to food security.
For this story, I spoke with some of the Madisonians who are looking to change that: Chris Brockel at Healthy Food for All, chefs who compost, worm farmers like Joanne Tooley, and entrepreneurs like Laurel Burleson, who uses unwanted produce for her Ugly Apple food cart.
Aug. 2 "Best fish forward: Sustainable fish is fresher, better and easier to find than ever"
For a state that loves its Friday night fish fry, Wisconsinites can have a strange relationship to fish, expressing skepticism about sushi and worry about the tuna's trip from international oceans to Madison tables. For this story, I talked with Wisconsin fishermen about how to make whitefish "sexy." We discovered salmon shipped direct from Juneau to the kitchens at Promega, and explored what the "farm to table" concept looks like applied to a product sourced thousands of miles away.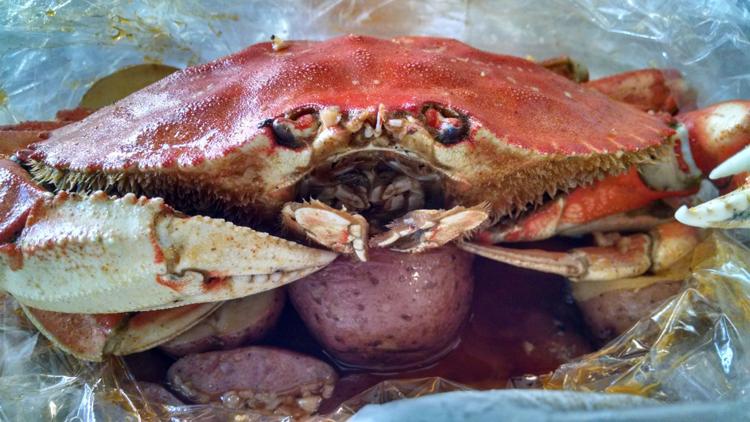 Sept. 12 "Bag a crab at Mad Seafood Boiler"
This restaurant, run by Nikki Yuan, chef Tony Chen and Zheng Xi, had a bit of an identity crisis when it opened, changing its name from Mad Boiling Crab to reflect the breadth of its seafood-focused, shellfish-by-the-pound menu. But the best thing here is still whole boiled crabs, slicked with butter, fragrant with sliced garlic, spicy with red pepper flakes and finished with a spritz of lemon.
Nov. 1 The Corner Table: Cooking kosher with Jason Kierce at Adamah Neighborhood Table
After a few test runs, my food and drink podcast The Corner Table launched in January 2017. I talked to a lot of cool people, like architect Jake Morrison who makes restaurants sound good, event planner/curator Bethany Jurewicz about combining food and art, and cookbook author/photographer Mary Dougherty on her new book, "Lake Superior Flavors."
In this episode from November, Hillel chef Jason Kierce talked about how learning to cook kosher Jewish food has been like marriage. "I make a mistake and they let me know," he said. "I learn to fix it and keep going."
Dec. 19 "Middleton beer hall Longtable lets the sun shine in"
I'm on the record as a wine drinker first and always, but this new indoor beer hall from Brasserie V owners Matt and Andrea Van Nest won me over right away. With communal tables (more of these, please!) and big shareable boards, this lively lunch and dinner spot feels contemporary and smart.