Omotenashi is a Japanese word that means, according to my neighbor Erina Oistad, "entertaining guests wholeheartedly through table setting, food, desserts, conversation." She learned it as a child in Japan watching her mother and grandmother entertain dinner guests many times in this way.
In keeping with the tradition of omotenashi, Erina recently invited her guests Kyoko Rohde, Miyako Suzuki, Linda Watson and myself into her Madison home for lunch and a Japanese tea ceremony with an honest, pure and welcoming spirit.
Small bowls of white and pink pickled radish were part of the elegantly appointed table set for five. Kyoko brought koya, soft and slippery squares of tofu soaked in dashi, a Japanese broth of water, kombu (kelp) and bonito flakes. To the broth, she added a little bit of soy sauce and adorned the tofu with four petite, bright green steamed asparagus spears cut in half. The koya was also set upon the table.
Etched glassware sparkled beneath a large white globe chandelier that made me think of a chic paper lantern. Bright red glossy placemats held white tea cups on top of black saucers. Yellow porcelain chopstick holders with pairs of wooden chopsticks rested next to gray and white cloth napkins rolled and held with silver napkin rings.
As her guests stood in the dining room, settling in from the cold outside and discussing the recent snowfall, Erina, in a white tunic, her long black hair loose, was in the kitchen, finishing a pot of vegetable and pork belly soup and making chicken at the stove. She appeared calm and organized, pausing occasionally to reach down and pet Truman, one of her two small dogs who came in to check on her.
She brought the soup in individual Japanese bowls with lids to the table, bidding us to sit and begin eating without her. As she walked back into the kitchen to plate the teriyaki, Erina excitedly announced she had something very special to share following lunch.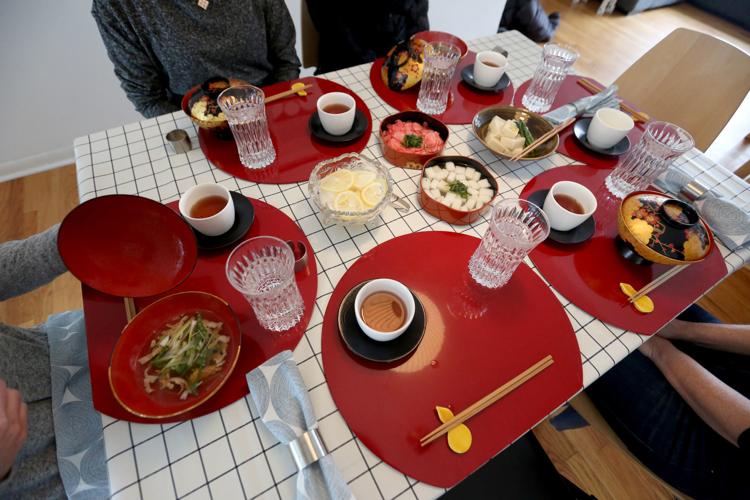 We lifted the lids, releasing a warm and gentle steam while uncovering delicious and delicate ingredients. We gathered with our chopsticks succulent bits of pork belly along with perfect julienned pieces of carrot, daikon radish, burdock, green onion and snow pea.
The teriyaki featured tender bite-sized pieces of chicken breast in a perfectly balanced salty-sweet caramelized sauce on top of rice. Erina also included eggs, first cooked crepe-style, then sliced into ribbons, along with nori (seaweed) carefully placed on top.
Erina poured cups of hojicha, a roasted green tea from Japan. Because the roasting process removes much of the caffeine and tannins, it was a gentle accompaniment for the meal.
Next it was time for the tea ceremony and Erina's surprise. Erina poured a second type of green tea into our cups, this one also from Japan, and then disappeared for a moment. She returned with a variety with different size boxes, each one exquisitely wrapped in colorful paper and ribbons.
Kyoko unwrapped each box, folding the paper before lifting the lid. I couldn't wait to see what was inside. It was higashi--delicate sugar and rice flour confections in shapes and colors to celebrate the season arrived recently from Japan. The gifts had been sent from Erina's mother, Okiko Osuga, just for our tea ceremony.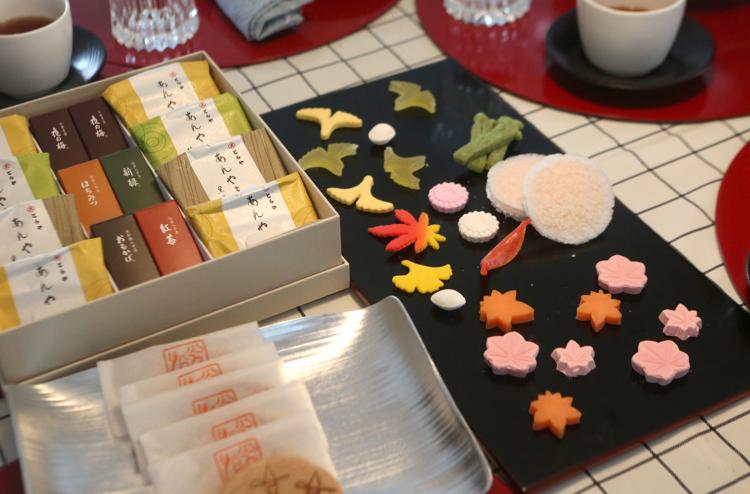 I learned higashi is an important part of the Japanese tea ceremony to be enjoyed alongside a cup of tea, serving as a contrast to the tea's bitterness. Each box revealed candy in shapes of maple leaves, curled "falling" leaves as if they were sailing to the ground, gingko leaves--all in vibrant colors--orange, pink, yellow, green, red.
Kyoko explained that honoring the seasons is very important to the Japanese and that in spring, for example, these boxes might include the shapes of flowers, cherry blossoms and perhaps, plums made with the same ingredients.
Colorful paper wrapping with Japanese lettering held little tea cakes--some black sesame, some that vibrant green grass flavor of matcha tea, and a short, plump, oblong cake made with sweet potato.
I didn't know which to choose first. I wanted to taste it all--every whimsical shape, every beautiful color. I chose a pickled plum confection that was party-pink with white, dried foam-like flakes. It tasted pleasantly salty. I craved another bite, and then another.
And then the conversation really got started. Linda, a friend Erina had met at Macha Tea Company in Madison, and I volleyed questions to Kyoko, Miyako, and Erina about growing up in Japan, their first impressions of America and Japanese food. There was talk about the Instant Pot, a pressure and multi-cooker kitchen appliance. Kyoko really wants one. Erina uses hers to pressure cook pork belly.
There was Japanese and English conversation blending together at the table. We wanted to know where in Madison the ladies find the ingredients that bring them closest to the tastes of their childhood. The vote was unanimous--Oriental Food Mart on South Park St.
We discussed the smaller portion sizes of Japanese food compared to American fare, and the care that goes into the aesthetic of every dish, the mindfulness of presentation. Linda and I learned that despite eating fish often when they lived in Japan, they don't eat much of it here in the states. Erina said it's expensive and doesn't taste good. Kyoko will eat salmon on occasion.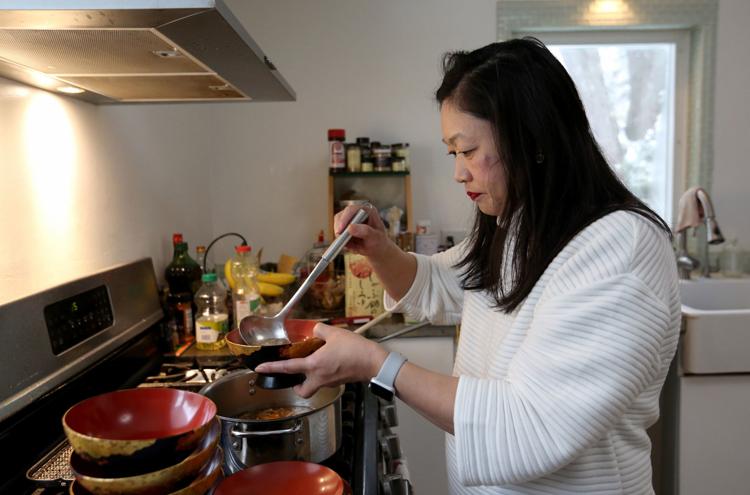 Miyako, originally from a suburb of Tokyo has been in the states 17 years now and has three children--all born here. Looking out Erina's living room window at all the snow, she said it snows one or two times a year back home and that where she's from, no one shovels because there's no place in the city to put the snow. There's no "green belt," she explained.
Kyoko left the southern region of Japan just outside of Hiroshima and came to Madison with her American husband. That was 30 years ago. It was the first time she experienced a significant snowfall and was surprised by how heavy the snow was. She remembers it was so deep--above her waist. She had never shoveled before. Now she has a shoveling service.
She was animated when she spoke, using her arms and her hands for emphasis; closing her eyes to recall the names of things. She described her delight when as a child in Japan she would, on rare occasions, see snow flurries floating in the air, disappearing before they would hit the ground. Then she asked if we could all get back to talking about the Instant Pot.
Erina grew up in Shibuya, one of 23 wards in downtown Tokyo, and has been in Madison for 23 years. She graduated from UW-Madison with a degree in wildlife ecology and got a job as a staff writer in New York City, "but 9/11 happened and I got scared so I came back to Madison."
Erina said she is happiest "feeding people with my food" and cooks every day for her husband, Chad Oistad and two children, Magnus, 12 and Koi, 14.
Erina's mother is a good cook and she wished she could be with us that day perhaps preparing one of Erina's fondest childhood meals, a hearty soup of miso or dashi broth with "lots of vegetables."
This past summer, Erina and Koi got the chance to return to Japan where they visited family and friends. Her most memorable meal was at the home of her uncle, Yosuke Tajima, who lives in a lush green neighborhood near the University of Tokyo. In true Japanese hospitality, he had an elaborate meal of sushi catered in honor of their visit.
Erina was shown omotenashi in every home she visited. She brought that spirit home to share with her friends in Madison.