The Family Table is a series of personal essays by food writer Kathy Brozyna in which she explores the culinary lives of her Madison area neighbors. This is the third installment.
Until they moved, the Blum family were my neighbors for four years. Barak and Hadas Blum, along with their children Yishai, 12 and Ayelet, 10, are originally from Israel. They moved to Madison from Boston where Barak, a scientist, completed his postdoctoral training.
During those years, my kids and theirs played together for hours in our fenceless backyards. At the first snowfall of the season and every one after that, the children raced to pull on their boots and scurry out the back door, "like mice" Hadas once said, ready to build frozen forts. In the endless hours of summer, they would catch and study caterpillars by day and watch bats swoop in the evening sky.
Sometimes, when my husband and I called our children to supper, we could see the Blums outside on their deck preparing a light meal. Barak worked the charcoal grill while Hadas and the kids picked vegetables from their garden. We were on our own separate decks but it felt like a community. We were ready to share whatever we had, keeping an eye out for each other's children.
One late afternoon in early fall as I was putting my garden to bed for the season, Barak and Yishai walked across the lawn to say hello. Barak noticed the sage still growing wildly in the cool weather. He told me a story about how when he was a young man, he worked a job in construction and drove a truck full of workers to various job sites.
Some of these workers were Palestinian. They invited him to drink sage tea with them, a taste memory he hasn't forgotten. Even now, he enjoys a cup whenever he can.
Hadas and Barak grew up together on a kibbutz, a rural farming settlement in the Western Galilee region of Israel, north of Haifa. Three miles from the Mediterranean Sea, it is a hilly landscape that includes gentle bays and magnificent scenery. There, as a teenager, Barak and his friends would spear dive for fish in Achziv, an ancient site along the coast.
Both Hadas and Barak's parents still live on the kibbutz, in a communal living space where children reside together in a separate house, not with their parents. Even then, Hadas remembers thinking the living arrangement was strange.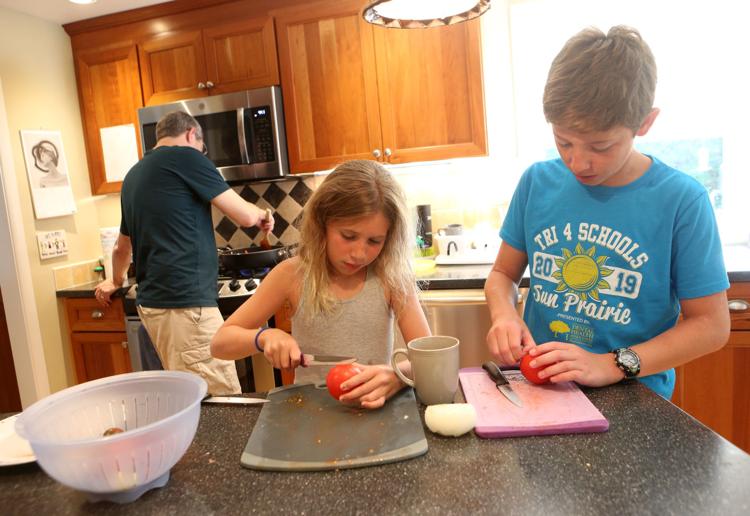 Yishai and Ayelet were born in Jerusalem, and the family moved to the United States 10 years ago. Hadas now works from home for an Israeli academic publisher. Barak is an assistant professor in cell and regenerative biology at the University of Wisconsin-Madison.
In June of this year, the Blums, who'd been renting the house next door, bought their first home and invited me over for dinner. It was to be their first home-cooked meal at their new address. That evening I learned how to make shakshuka, a one-pan dish of eggs cooked in a sauce of tomato, peppers and herbs, served with an Israeli salad.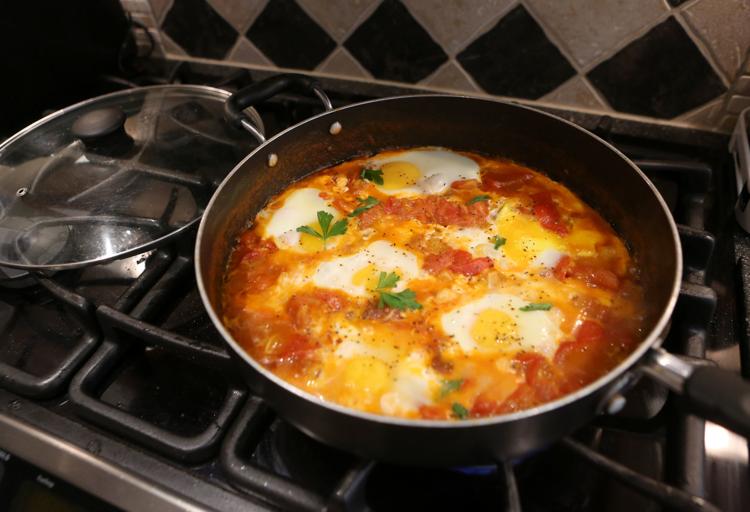 Shakshuka, Barak told me, means to "mix up" or "shake." Its origins can be traced back to northern Africa. In Israel, the hearty and comforting dish is enjoyed mostly for breakfast. Since the climate is warm most of the year, dinners typically include fresh salads, cheeses, bread, eggs, fish and octopus, with a heavier meal at lunch time.
Flanked by Yishai and Ayelet, Barak set a pot of water to simmer on the stove. He gently sliced X's in the bottoms of fresh tomatoes and dropped them into the pot for a few minutes to loosen the skins.
"Get tired tomatoes," Barak said. "They're more juicy."
After the tomatoes came out of the water, he removed the stems, peeled them and chopped them roughly.
"See this butt?" he said, pointing to the tomato stem. The kids giggled. "Get rid of it."
The more varieties of tomatoes in the dish, the better, he said, even cherry tomatoes that can be a bit "sour." He sliced a large red bell pepper, added "four to five good cloves of garlic" and chopped onions, which is a "contentious" choice for some.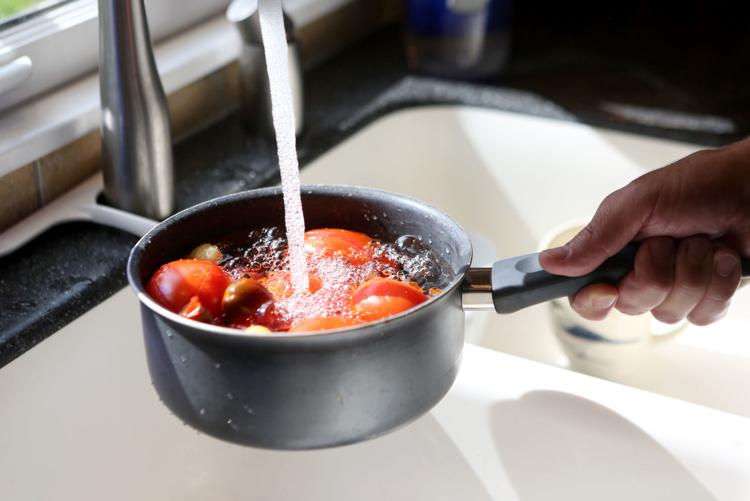 "Some people put it in and some do not," Barak said. "I do; and my way is the best way." He smiled.
The ingredients came together in a pan on top of the stove, filling the kitchen with a wonderful aroma. Hadas does most of the cooking during the week and Barak likes to do "the fancy stuff." The kids like it when he does — Ayelet, smelling the rich flavors of the shakshuka reducing, said that sweet, garlicky scent is "what happens when he finally cooks." She put the accent on "finally."
When the sauce had thickened, Barak cracked the eggs one at a time and gently let each one spill out of its shell, careful not to break a single yolk. How many eggs? Barak decides "by feeling."
This reminded Hadas of a story about her grandmother, Franca. A less than confident cook, Franca questioned a recipe in which her mother, Trudy (Hadas' great-grandmother) had written down "salt and pepper according to how you feel." Franca, dismayed, replied, "I don't have those feelings."
Barak and Hadas are both second generation Israeli, and their families are mostly of German heritage. ("Actually, we should be cooking German food," Hadas said.) Hadas' great-grandparents lived in Germany and moved to Italy after World War I. Franca was born there and lived there until she was 17 years old, when the family crossed the border to Switzerland in 1943. She immigrated to Israel two years later.
Today, Franca is 93. She's spent more than 70 years in Israel but still prefers to read in Italian, Hadas said.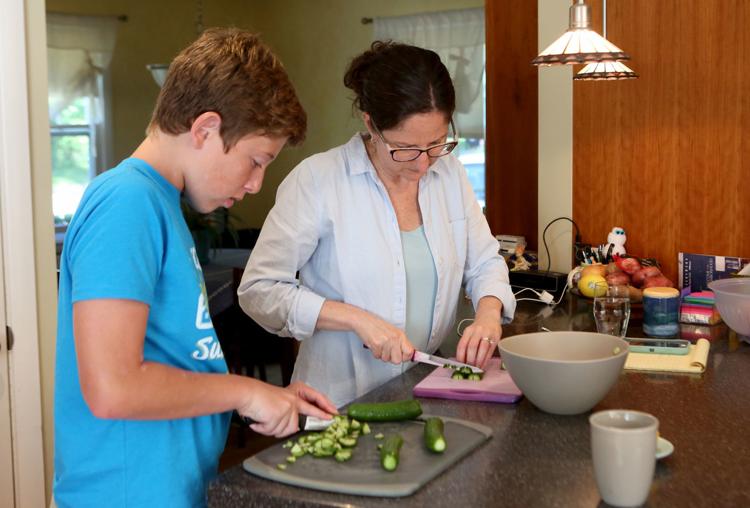 While the shakshuka finished cooking on the stove, Hadas asked Yishai and me to start the Israeli salad. We finely diced cucumber and tomato and Hadas added fresh chopped parsley, lemon juice and olive oil.
I'd brought Barak a bouquet of fresh sage from my garden, hoping he would teach me how to make tea. Yishai went into the backyard to pluck some fresh mint leaves. Into mugs went the mint along with the sage leaves and a little sugar. Barak poured hot water from the kettle over the leaves, letting the tea infuse until dinner was ready.
At last it was time to take our seats, and Barak brought the steaming pan with its colorful contents to the table. We drank the warm, herbaceous tea and ate the shakshuka by pushing a torn piece of Hadas' homemade challah bread down into the soft-boiled egg and the sauce. We wiped our plates clean.
"It tastes even better the next day," Barak said.
The temperature in the house was rising, so we went out to the garden to take a walk among the herbs and tall sunflowers. "I have never lived somewhere where the garden was fenced in," Barak said. "This is the first time."
I said my goodbyes and prepared to go. On my way out, I saw Barak and Yishai on their screened porch peering into a tall glass jar, where a caterpillar munched away on some leaves. I thought about how quickly Yishai and Ayelet found a little friend in their new garden, and how glad I was they'd put their own roots down here in Madison.