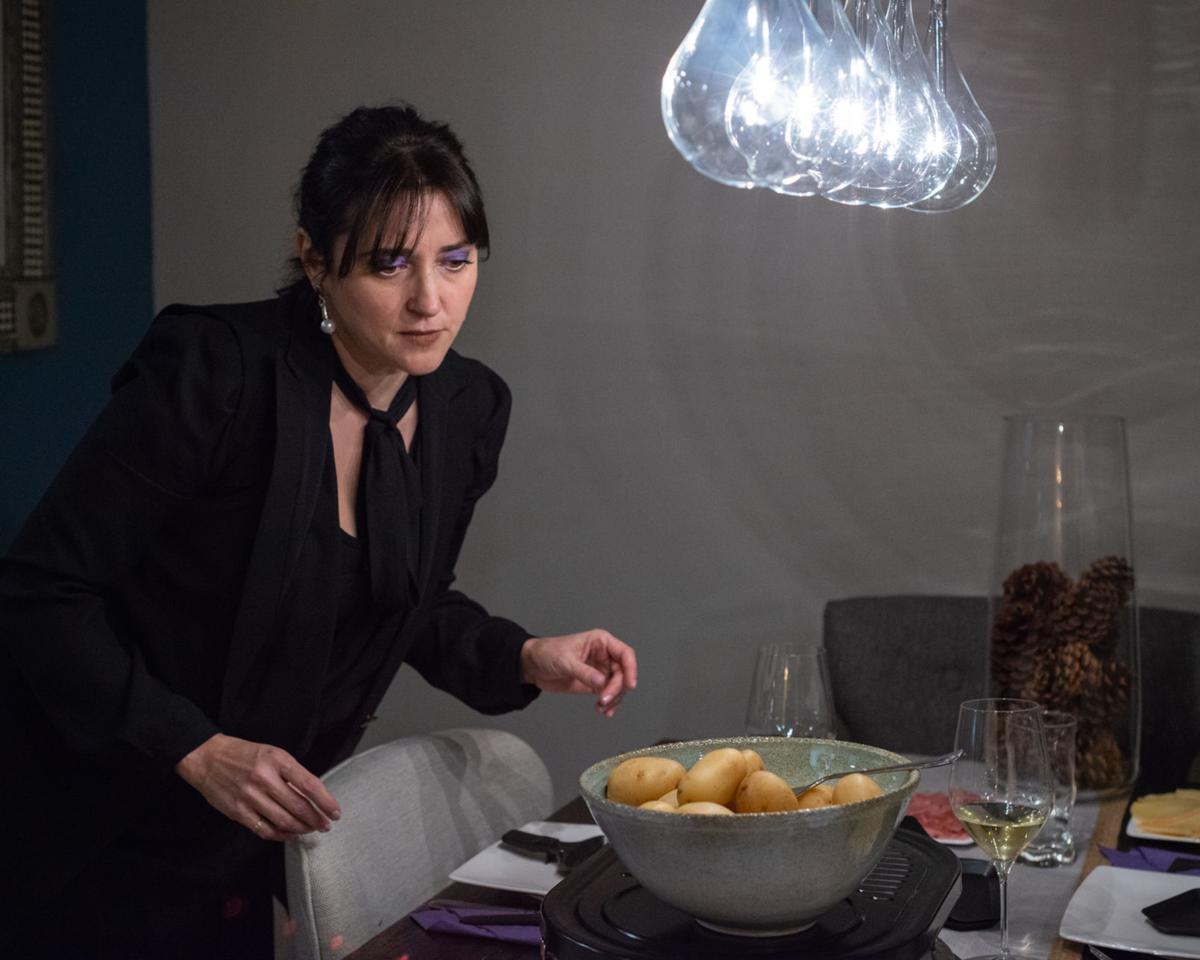 The Family Table is a series of personal essays by food writer Kathy Brozyna in which she explores the culinary lives of her Madison-area neighbors. This is the sixth installment.
It was a mild evening in January, after the holiday marathon of shopping, decorating and carb-loading came at last to an abrupt finish. To celebrate, Marie Cerrajero, a long-time friend of mine, and her fiancé Cory Moore invited me to their home for a relaxing raclette dinner inspired by Marie's French childhood.
"Ninety percent of people in France have the raclette machine," says Marie. "It's a common household item, as common as Americans owning a waffle maker."
Raclette is meant to be melted at the table. It has the spirit of a fondue party, where each guest skewers a bite-sized piece of bread, meat or vegetable and dips it into a hot pot of melty cheese. A raclette dinner is festive and congenial in the same way.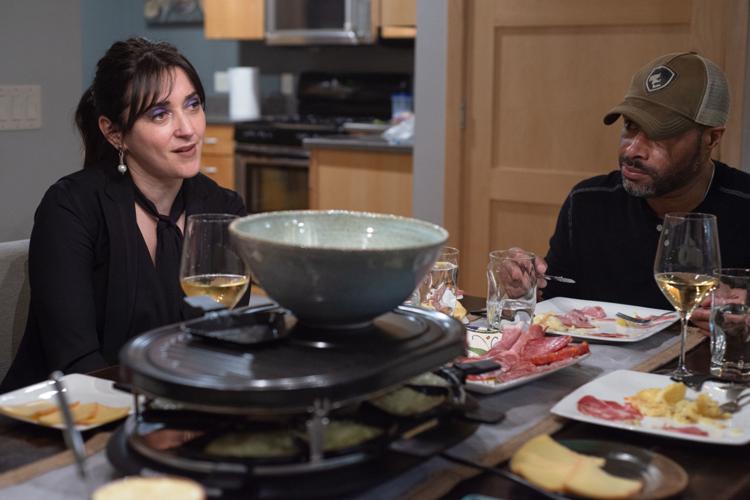 To prepare our dinner, Marie placed an electric raclette grill on the table to warm up individual serving trays set beneath heating coils. Buttery yellow raclette is sweet and nutty in flavor, with a slightly fruity aroma and a funky-tasting rind. 
It's served with a variety of cured meats, each rolled onto a platter while petite potatoes simmer on the stove. Pickled onions and cornichons (little French pickles) lend the meal brightness, as does a bottle of chilled chardonnay. 
At our dinner, Marie and Cory served jamón ibérico, a cured ham from the black Iberian pig that ranges free in the woods of Spain and Portugal. The pig's diet of wild acorns infuses the supple meat with a rich, nutty flavor. Cory, a potter whose artwork is displayed throughout their home, used a large knife to carefully slice the meat paper-thin off the leg, which was mounted and held in a wooden stand.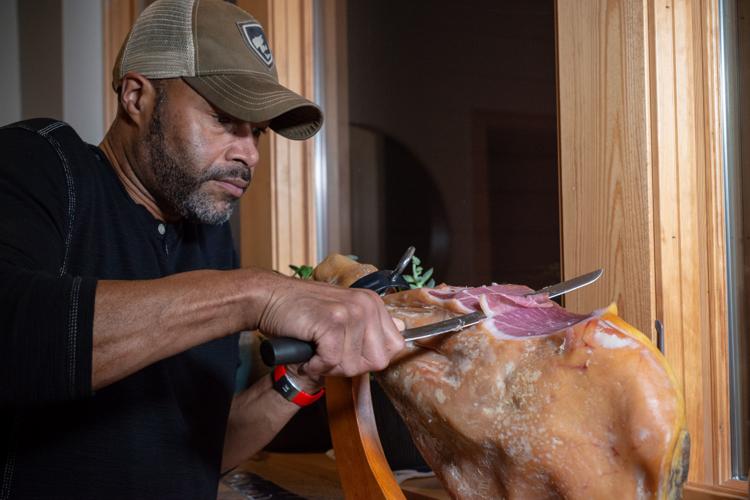 Marie's family often enjoys raclette with serrano ham, jamón ibérico and Spanish-style dried chorizo. Of her raclette dinners, Marie said, "Ours is a little bit more Spanish."
Although Marie came to Wisconsin from France, she considers herself "100% Spanish" because her parents were born and raised in Spain. Eladio and Feliciana Cerrajero moved to France in their 20s to escape the dictatorship of Francisco Franco. 
"During Franco, pretty much everybody moved to France or someplace else because there were no jobs at all," Marie said. 
Marie was born in Troyes and spent her childhood in Champfleury (translated "field of flowers"), a small, medieval village just outside Reims, where her family moved when she was 15. Reims is a royal coronation site, the heart of the Champagne region and the place where the Germans officially surrendered in 1945, ending World War II in Europe.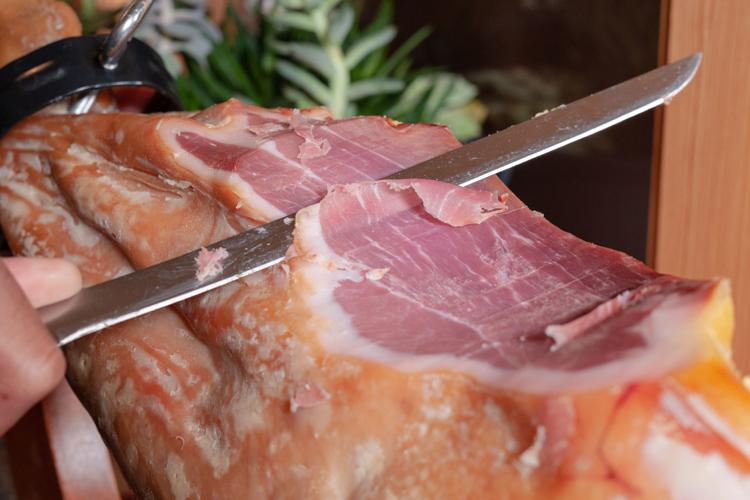 Growing up, Marie spoke French and her parents replied in Spanish. They're comfortable in both languages. 
"We still do that," Marie said. "My first language is French. I speak it better than I speak Spanish." 
Marie described Reims as about the size of Madison. Most of her family still lives there, and every couple of years she and Cory visit at Christmas.
When they get a chance to visit in the summer, it's at the family's vacation home in Villasrubias, a small village in the Salamanca high plains region of western Spain, about 60 miles from the Portugese border. Marie's mother had a home built on a piece of land left to her by Marie's grandfather, Miguel Cerrajero. 
"It's very quiet, except in summer when the families who emigrated to other countries return to their parents' villages," Marie said. 
Marie's father passed away almost 16 years ago. But at least 20 family members, among them Marie's sisters and nephews, continue to summer there among the olive groves, red soil and dramatic rock formations. And no matter where Marie's family gathers, "the way we eat is more French," Marie said. 
"We get baguettes every day, eat French cheeses, use butter and cream when we cook. Usually 15 to 17 people sit around the table eating a three-hour-long meal," she added. "There is lots of food, wine and laughs. Everybody in my family likes to cook and is really good at it."
Raclette grills come in different sizes. The one at our dinner held eight individual trays with handles, with the top warming a bowl of potatoes. With the heat the grill gave off, sitting around the table was a cozy experience, most welcome on a chilly evening. 
When it was time to eat, each guest placed a slice of raclette onto their tray and slipped it beneath the grill. It took a few moments for the first piece of cheese to bubble and hiss, but soon guests were using a small, slightly curved knife to slip the cheese off the tray in one smooth motion. Melted cheese slowly fell onto the steaming potatoes and meat. 
I can only describe that first experience as ecstatic. The taste was at once salty, sweet, nutty and briny. It took only one pass to get the hang of the process. As we refilled our trays with more cheese, the meal and conversation opened up at a leisurely pace.
Marie now owns Le Spa on Madison's west side. Over the evening's last sips of wine, I asked her why she left France. 
"Just for fun," she said. "I wanted to travel and learn English, so I came to the states for a year. After spending six months in Madison, I fell in love with the town and the people."
Stay up-to-date on what's happening
Receive the latest in local entertainment news in your inbox weekly!