The Family Table is a series of personal essays by food writer Kathy Brozyna in which she explores the culinary lives of her Madison area neighbors. This is the second installment.
Helen Sarakinos grew up in a Greek family, the daughter of a trained chef. Recently she told me the following story.
"This past Christmas, I went to visit my father in Montreal," she said. "He's in his mid-80s now and succumbing to dementia. I spent a week with him, and I was cooking, and he came into the kitchen and asked if he could help clean a half dozen or so onions.
"I said, 'OK.' He grabbed a paring knife."
Helen paused, allowing me to feel the weight she'd felt in that moment, the love and respect a grown daughter has for her mentally declining father and the leap of faith it took to allow him to execute this potentially harmful task.
"There are moments he doesn't know who I am," she said, "or will try and put peanut butter in his tea. But he grabbed that paring knife, cleaned the onions and then proceeded to dice them with the precision of a chef. In a minute he had diced six onions perfectly."
Helen was speaking of Papou (the Greek word for grandfather). Along with her husband, Jake Vander Zanden, Helen has two children, Kerkyra, 9 (Kyra for short) and Milo, 12. Last month on the Friday before Greek Orthodox Easter, I went to their home on Madison's east side to help Helen, Jake and the kids cook and share in a traditional Lenten supper.
The 41 days leading up to Greek Orthodox Easter is considered a holy time of year by Greeks throughout the world. The purpose of this time is to fast from dairy, the meat of any animal with red blood, fish with backbones and the excessive use of olive oil, in an effort to cleanse the body and spirit in preparation for the Resurrection.  
That day we made fava, a spread typically made with split peas and onion. Having just run out of peas, Helen used mung dahl instead, simmering it on the stove. There was a bowl of already prepared chtapodi xidato, octopus stewed in vinegar, wine and its own juices, then cooled with fresh-squeezed lemon juice, more vinegar, salt and garlic.
Boiled beets with their green tops were keeping warm in the oven along with cooked and peeled potatoes. The scent of garlic filled the air.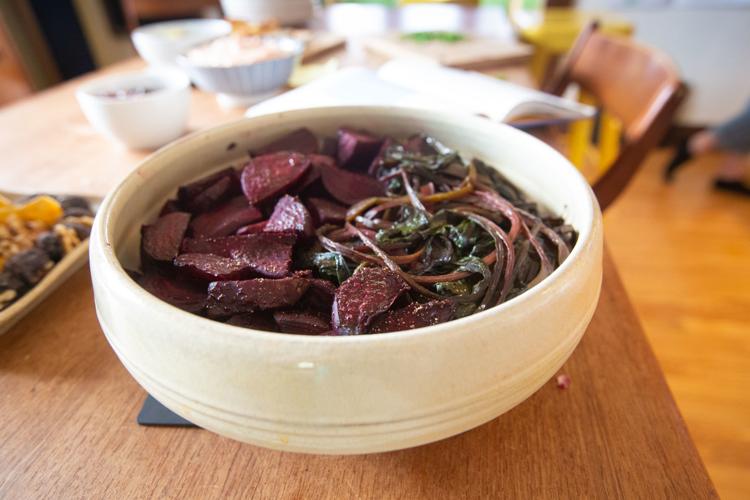 We set to work making taramosalata, a cod fish roe spread. Into a food processor went the tarama (cod roe), an imported specialty which Helen ordered online, cooked potatoes, cubes of crusty ciabatta bread, shallot, olive oil and fresh-squeezed lemon juice.
Out came a smooth and thick, bright pink, somewhat salty, but not at all fishy-tasting puree. I dipped torn pieces of the ciabatta into it while asking more about Papou and Helen's mother, who her children call Yia Yia, the Greek name for grandmother.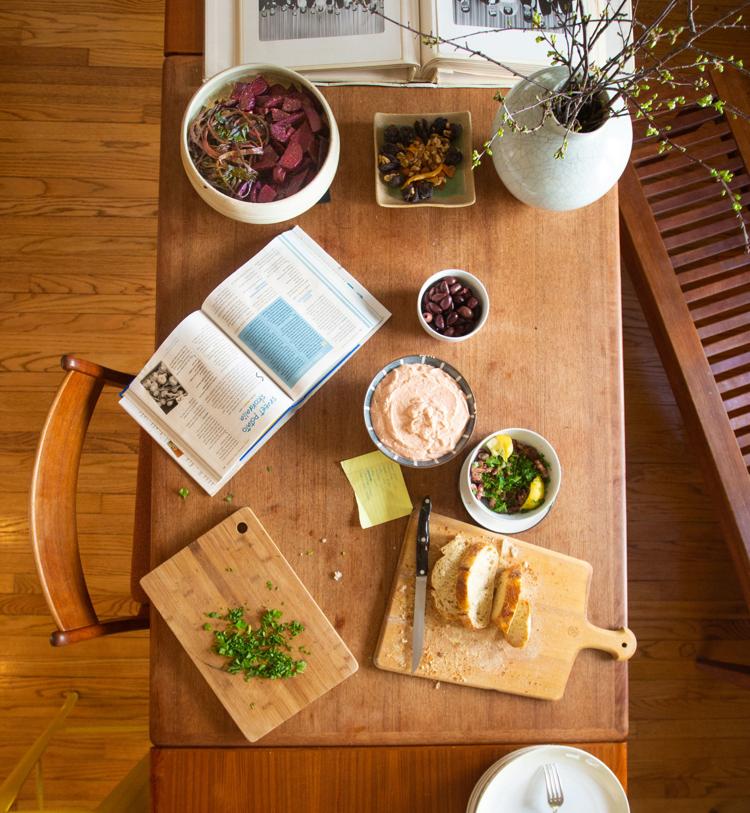 Both of Helen's parents were born in Greece, but in very different landscapes. Papou was from the small, northern island of Corfu while Yia Yia grew up in an isolated village in the mountains of Olympia on the Peloponnese peninsula.
Papou left Greece as an adolescent, joining the Merchant Marine. He and the rest of his crew abandoned ship, leaving their tyrannical captain one New Year's Eve in Montreal.
"My dad was an illegal immigrant in Montreal," said Helen.
He met her mother, whom Helen described as "fair and gray-eyed," in a boarding house in Montreal. She was smuggled out of Greece against her parents' will by her siblings, who felt she could reach great intellectual potential if only she could get to North America. They bought her a boat ticket and sent her off alone to find a better life.
Helen brought the photo album of her parents' wedding to the kitchen table, and I stopped to look. There was her mother in a full white gown and veil, her father in a black tuxedo, surrounded by people in mostly black evening wear.
When her parents decided to marry, "there was nothing romantic about it," Helen said. "They decided they would make a very solid pairing."
She imagined her parents saying to each other, "You are responsible. You have a good head on your shoulders. We should make a life together."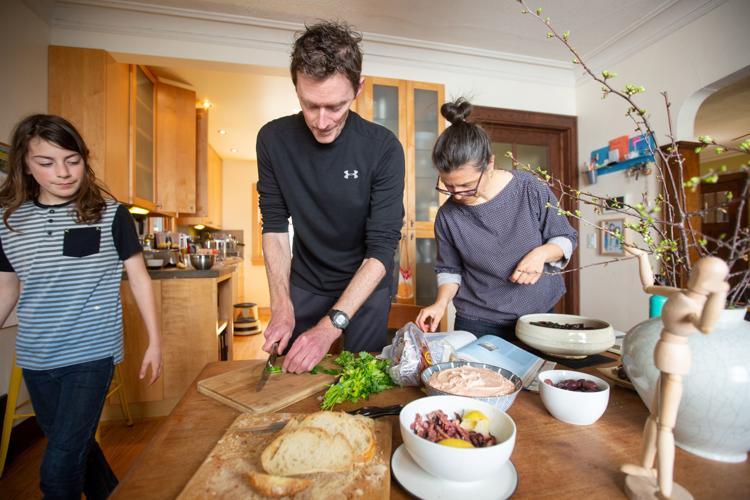 Papou became a high-end hotel chef with a love of French cuisine. For a time, he owned a restaurant staffed by his family. Helen and her siblings were raised exclusively on Greek food at home. Her favorite was pastitsio, a baked pasta dish with ground beef and a nutmeg and cinnamon-infused bechamel sauce. They ate lobster and oysters, shrimp scampi and lemon sole, a nod to her father's coastal upbringing.
"As a child, could you imagine, I complained about it!" said Helen.
Helen remembers her parents yelling at each other in disagreement over the food they prepared in the kitchen.
"That's just what they did," she said. "He was coastal cuisine; she was mountain-peasant food."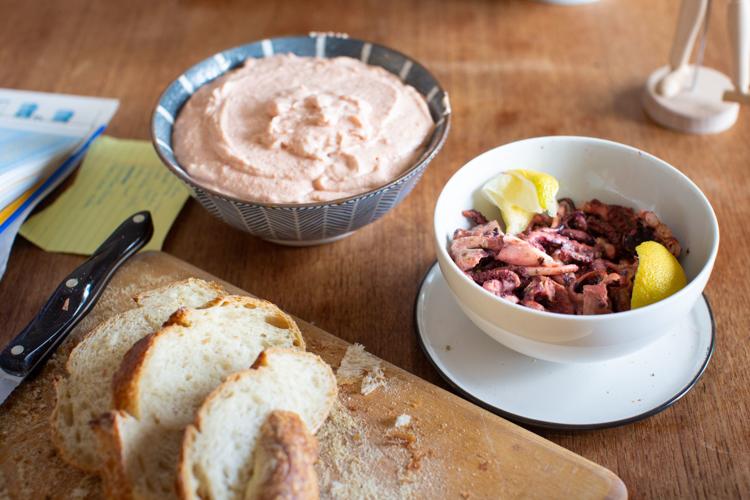 Jake joined us in the kitchen in time to receive instructions from Helen to pull the beets out of the oven for the skordalia, a potent spread of garlic, potato, bread, almonds and olive oil that traditionally accompany the beets. Helen then enlisted the help of Milo, who was walking past the kitchen, in separating 15 cloves of garlic.
"If anyone gets too close, they become part of the process," she said.
As the skordalia whirred in the food processor, Jake and the kids brought plates of salted cucumber slices, bowls of kalamata olives, slices of ciabatta and figs stuffed with walnuts to the table.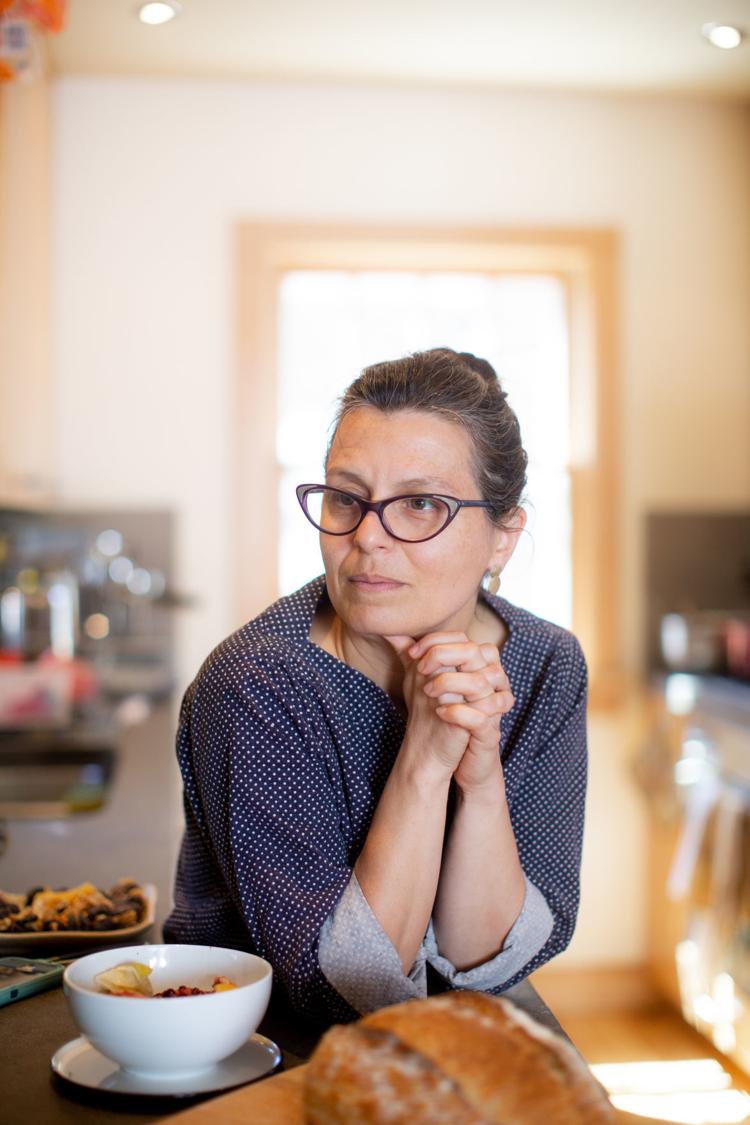 Olive oil is an important staple in Helen's house and a significant part of her culture. Back at her father's homestead in Corfu, there was a stone press in the basement where they pressed the olives from their land to make the family's olive oil.
"They opened these two big doors and there were these two stone wheels," Helen explained. "They bridled up a donkey to spin the top wheel to grind."
When her father returned to Corfu after he'd retired, he would collect olives and bring them to the press and make his own oil, Helen said.
"These trees have been in our family for hundreds of years. These trees are ancient."
At the table, Jake chopped fennel fronds and parsley to scatter over the octopus. When Helen and Jake married, Helen said, her father gave the new groom a dowry.
"He got a wife and 17 liters of olive oil!" she said.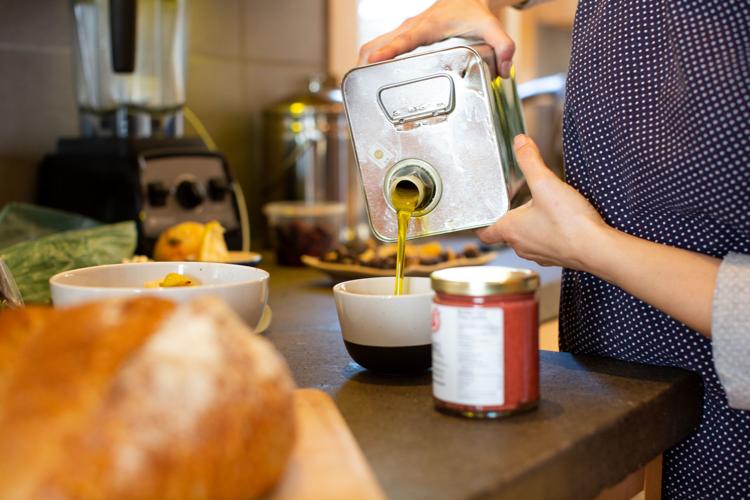 Helen enjoyed preparing her cuisine for a visitor, but she said she might not have made this particular Lenten meal without the excuse to "pull out the old recipes and ingredients."
"We were not deeply religious," she said. "Religion was a cultural construct for us. It was a way to tie you to this culture you had left behind in Greece. As kids, we went to church only a few times a year, but we went to Greek school every Saturday."
As Jake excused himself to take a work call, Kyra, Milo and I took seats at the table. Helen brought out a tin of halvah, a sesame paste, cocoa powder and sugar confection. She has a love/hate relationship with the Lenten dessert.
"It's only kind of delicious," she said. "I don't miss it when it's gone, but it's so ubiquitous, classic, I had to order it. I don't get so excited about it, but I could not imagine not having it at the table."
Halvah was the only pastry her family was allowed during Lent, since the other Greek pastries were made with eggs and butter. This one was packaged differently.
"I've never gotten it in a tin before, I have no idea how to get it out," she said. "We would get it from a bakery where they break off a chunk. Then you just slice it."
In the end she stabbed at it, spilling chunks and cocoa-flecked dust onto a plate.
"I don't know," Helen said, looking at it again. "Maybe I'll like it more now."
Milo took a taste.
"It's interesting," he said, and paused. "I think it's good."
"Can I have a try?" Kyra said. "Are we eating your old dessert?"
"It's not an old dessert," Helen said. "But it's one I used to have a lot as a kid during Easter."
She shrugged. "Nobody ever wanted it."  
"It's sandy," Milo said.
"No double-dipping your spoon in the tin," Helen warned.
I couldn't help but notice how eager her children seemed to try new foods.
"Milo has always been about the food and Kyra about the loud, Greek company," Helen said.
Helen's mother passed away when Helen was in her twenties. She thought her mom would be pretty happy with the Lenten celebration. Papou might be slightly more critical.
"He'd be very excited but would probably give me some what-for about the octopus," Helen said. "I overcooked it in the pan. Instead of grilling it, I ended up doing it quick-pickled. There's so many ways to eat octopus for us."
She encouraged me to add a smattering of pickled onions on top of the fava, "because it's very plain — comfortingly so."
Jake joined us at the table, took a spoonful of the skordalia and winced from the great amount of uncooked garlic. ("Holy Cow!" he said.)
"My parents used to make this for dinner the nights of my high school dances," Helen said, "and then send me off with this breath. I'd think, 'I don't understand, nobody asked me to dance.' I can't believe I was a senior when I finally figured out what they were doing."
"Would you do that to me?" Kyra asked.
"Never," said Jake.
"Maybe," said Helen.
Papou would be proud.