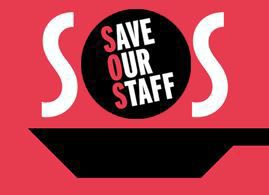 Restaurant people are helpers, the kind you go to when you need to feed volunteers or get a sponsor for your Little League team. So what happens when they need help?
This week on The Corner Table, Cap Times food editor Lindsay Christians and co-host Chris Lay talk with Teresa Pullara-Ouabel of Bunky's Catering and Kelly Hopkins of Kessenich's, whose "SOS" (Save Our Staff) GoFundMe campaign has raised over $40,000 to help restaurant workers pay their bills.
Also on the show: How restaurants are feeding hospital staff and first responders, plus some of our favorite quarantine comfort foods. 
Put that mask on and give a listen!
The Corner Table is a biweekly podcast about all things food and drink in Madison. Subscribe on Spotify, Stitcher or Apple Podcasts and rate us if you like it. Follow us on Facebook and on Twitter at @TotesChris and @LindsayC608. 
For more Cap Times podcasts, check out opinion editor Jessie Opoien's Wedge Issues, where she talks with local politicians and other movers and shakers in state government. Natalie Yahr and Abby Becker collaborate on a fun local issues podcast, Madsplainers. And Corner Table co-host Chris Lay talks movies on ... Just to be Nominated. 
The Corner Table drops every other week on Thursday mornings. Cheers! 
Stay up-to-date on what's happening
Receive the latest in local entertainment news in your inbox weekly!