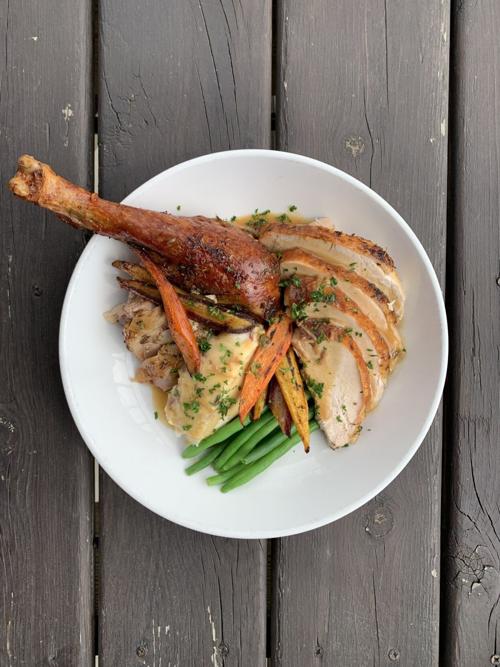 For many families, Thanksgiving dinner this year will be smaller than usual. Perhaps take it as a chance to do something nontraditional, if you're feeding a smaller crowd. (In my house, we're either roasting a rabbit or a duck.)
But don't feel pressure to cook. Many restaurants and catering companies are offering Thanksgiving meals for takeout next week. The list below is not comprehensive — if you have a favorite go-to restaurant for special occasions or family events, check in with them. All independent restaurants could use the extra support this year.
Not into juggling pots this year? Chef Ethan Kaercher's catering company lays out an entire Thanksgiving dinner on two sheet pans. Each meal kit costs $100, serves four to six people, and includes step-by-step instructions. The vegetarian/vegan option costs $85. Add an apple, pecan or pumpkin pie for $20. Order by Nov. 19.
This shared kitchen on the east side lets you support a bunch of local businesses at once. Savi Café & Catering is making the turkey. The Ugly Apple Café is doing the sweet potatoes. There are mashed potatoes from Melly Mells Soul Food, green bean casserole from Slide Gourmet Potato Chips, cheesy rolls form Just Bakery and more. $60 for two, $110 for four. Order by Nov. 22; pick Nov. 24-25 (delivery also available).
Plant-based caterer Just Veggiez is taking care of the vegan family this Thanksgiving with a big traditional menu, starting with a stuffed "veggiez" roast, moving through cranberry and sage stuffing and marshmallow sweet potatoes, and ending with peach cobbler or banana pudding. Cost is $70 for two or $120 for four, with gluten-free options available. Place orders by Nov. 20.
This near west side café and meal kit purveyor is making Thanksgiving pies, cheesecake, cinnamon rolls and lasagna for pre-order. There's a caramel apple coffee cake, plus all the usual "farm to freezer" options for easy pick-up. Try a beef and lamb shepherd's pie or cranberry bean ham hock soup. Orders placed by Nov. 22 can be picked up the following Wednesday.
Smoked turkeys were already running low at this northside barbecue joint earlier this week, so call soon to pick up a bird (640-5000). Sides from the regular menu include corn bread, mashed potatoes, mac and cheese and potato salad.
Heritage Catering in Fitchburg
A Thanksgiving feast from chef Dan Fox's Heritage Tavern includes the restaurant's signature deviled eggs, roasted garlic and rosemary potatoes, stuffing with chestnuts and Willow Creek Farms Italian sausage, haricots verts (green beans) with candied almonds, and a Dutch apple pie with brown sugar cinnamon crumble. And of course, the turkey: brined/roasted turkey breast, confit thigh, and a cured/smoked turkey leg. (That's not even the whole menu!) Two person minimum; starts at $100. Select "Wed, 11/25, 12-4 p.m." for the Thanksgiving menu to pop up.
Great Dane Pub & Brewing Company
The Great Dane is replacing its popular buffet with a take-and-bake meal. On the menu: oven-roasted turkey and homemade gravy, whipped potatoes, green bean almandine, an herbed cornbread stuffing and more. Choose between apple or pumpkin pie. For $120, the Great Dane estimates it will feed five to six people. Pre-order from any Dane location until Nov. 23 and carry-out on Tuesday or Wednesday.
Get a relatively petite (8-10 lb.) whole smoked turkey, stuffing muffins from the Tailgate Foodie with bacon and wheat beer in them, pumpkin pie from the Norske Nook and a pint of homemade cranberries as part of this local brewery's "very K4 Thanksgiving!" The kit costs $105 and pick up is on Tuesday or Wednesday at the tap room or Wednesday at St. John the Baptist in Waunakee. If local beer is part of your holiday tradition, this is a convenient one-stop curbside shop.
This homestyle French restaurant on Willy Street isn't doing turkey, but you can pick up scalloped potatoes with garlic and gruyere, a praline pecan pie or a beautiful spiral apple tarte tatin. The pumpkin pie is vegan, and there's a chocolate variation on the pecan pie. There will be three pick up days (Nov. 24, 25 and 26).
From a béchamel made with local oyster mushrooms to turkey breast stuffed with sausage, candied yams and a green bean casserole with fried shallots, Cadre is bringing a French flair to the holiday table. All dishes serve at least two, with a $40 minimum. Place your order until Nov. 21.
Dave Heide's Fitchburg Cajun-style restaurant has three options this holiday. Option one: Get a "ready to heat" meal for one to six people ($40-$180) that includes all the fixings — mac and cheese, roasted sweet potatoes, homemade cornbread, tarragon and thyme stuffing, and more. Option two: Cook your own Nami Moon Farms turkey, already brined and spatchocked (backbone removed), plus all the sides ($120-$240). Option three: Pay it forward! Liliana's is donating Thanksgiving dinners to food insecure families.
If you're more of a ham person than a turkey lover, the Wisconsin Union makes a gingersnap mustard-glazed ham as part of its Thanksgiving to-go meals. In addition to the usual bourbon-roasted turkey and familiar sides (mashed sweet potatoes with marshmallows, sage stuffing, cranberry orange relish) there are lots of vegetarian options. On offer this year is a butternut squash lasagna, rainbow carrots, and herbed green beans. Meals start at $14 per person, with a family-size order beginning at $145 for a family of six. Place orders through Nov. 20 and pick up Nov. 25 in Tripp Commons in Memorial Union or curbside at the west entrance to Memorial Union on North Park Street.
Buttered corn and maple bacon Brussels sprouts are among the sides at the Nitty Gritty, which is making takeout dinners starting at $16.99 per person. Place an order by Nov. 21 via Eventbrite for pick-up on Nov. 25 at any of the Gritty's three locations (downtown, Middleton or Sun Prairie). And add a growler of beer while you're at it.
Bloom has all kinds of goodies for a hungry holiday, from sweet potato doughnuts and bacon cheddar biscuits to a hot chocolate and whipped cream layer cake and a pumpkin roulade. Bloom also has gluten-free and vegan celebrants in mind, with pies, cakes, doughnuts and cookies made without eggs, dairy or wheat. Order by Nov. 21.