Moments before Madison Sourdough head baker Andrew Hutchison slid two cast iron pans full of bread into his 450-degree commercial oven, he paused. There was a glint in his eye as he edged through a small group of students, hunting for a spray bottle. 
"I want to try something," he said.
Quickly, he used a tiny double-edged razor to score a round mound of dough with a cross. To a second test loaf, he gave a series of slashes. Then he spritzed the first loaf with extra water. 
Steam, Hutchison explained, gives bread a pleasing crispy texture and lubricates the loaf's exterior. This allows the crust to rise to its maximum potential instead of hardening in the first few minutes of the bake.
Unlike most home ovens, Madison Sourdough's process already involves steam. Hutchison was curious about what might happen if he added a little more. Would that make the crust even better?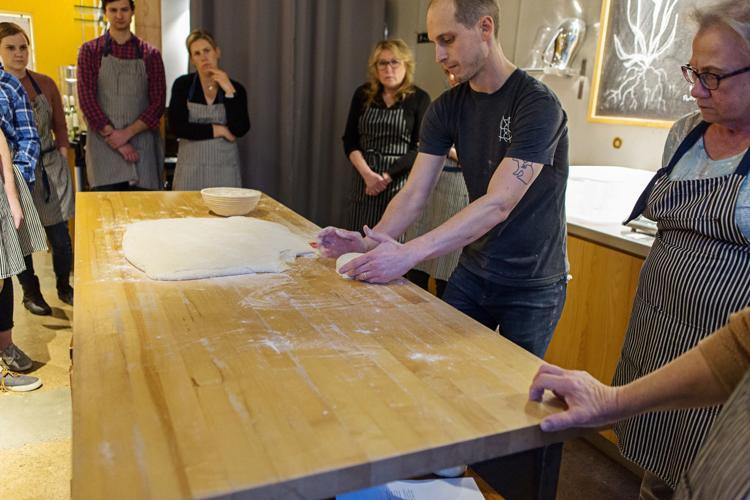 Now the sole owner of Madison Sourdough Company on Williamson Street, Hutchison is a self-proclaimed perfectionist and a constant adjuster. The sourdough classes he's been teaching off and on for three years always sell out, yet they're still a work in progress. Hutchison tweaks his curriculum just like he would a new bread recipe. 
When it comes to a hands-on, three-hour Introduction to Sourdough class, what he omits can be as important as what he includes. He doesn't want to go too far into the complexities of bread science if people aren't ready for it. 
"My goal is to have as few questions as possible," he said. "That tells me I'm delivering the information right."
On a recent Sunday afternoon, class started with a primer on the key ingredients in bread — flour, water, salt and yeast — and a demonstration from Hutchison on how to combine ripened starter with those component parts to start a bread dough. He demonstrated folding using his hands instead of a mechanical mixer, and illustrated the importance of a good digital scale and an instant-read thermometer.
Then the class got interactive. Apron-clad students each took a plug of Madison Sourdough's 30-plus year old starter, added water and flour and began to work with it. Hutchison teaches a method called "slap and fold." 
"Your bread is only ever going to be as good as your sourdough starter is healthy and vigorous," he said.
To help students remember, he used a social analogy, comparing the microbes in the starter to a "happy city."
"When a starter is fully ripened, you have a whole community of microorganisms that are really happy," Hutchison said. "When you take 50 grams out and add it to 100 grams of flour, it's sort of like taking a city and making a rural community for a little while. Then, as the yeast and bacteria consume sugars, they start rapidly reproducing."
Hutchison and his assistant, Tyson Foshay, outlined how to how to store a starter (in the fridge), when to feed it (every two weeks, minimum) and how to keep it alive (regular care).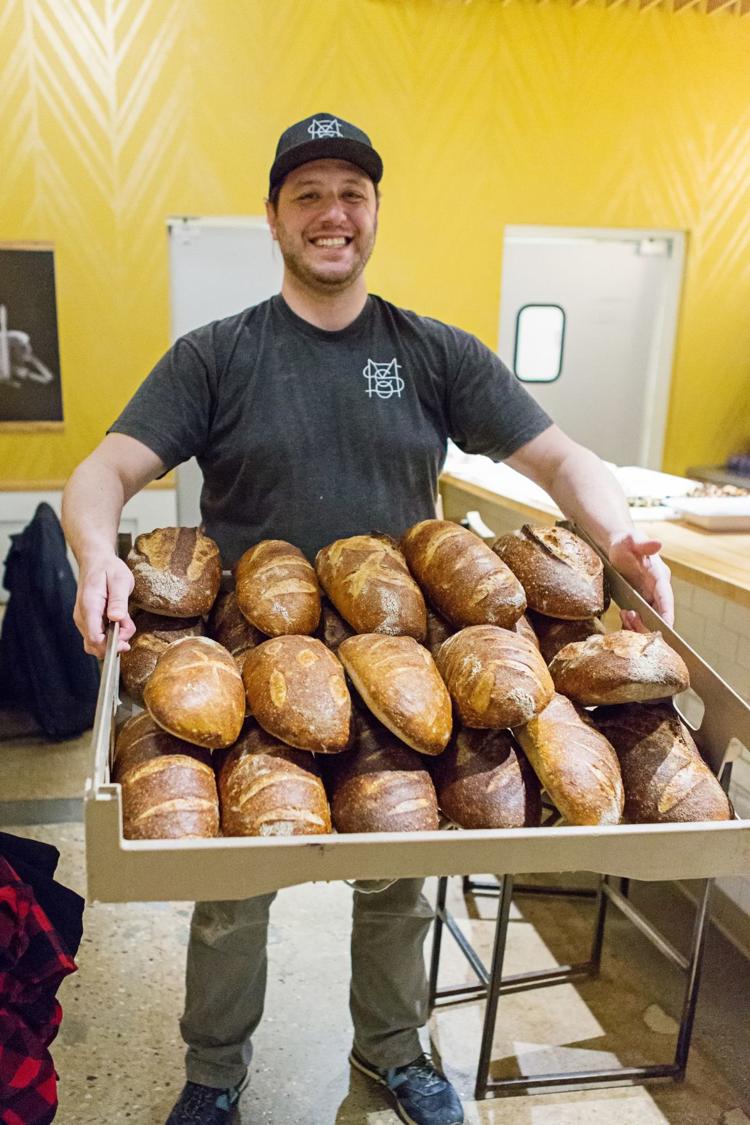 "As a baker, it's our responsibility to provide the food to that microbial community," Hutchison said. "So yeah, let's not kill it!"
Attendees at the classes were a mix of curious newbies, hobbyists and serious bakers. At previous classes, serious students pull Hutchison aside to ask more detailed questions while their classmates slap and fold.
Some have even offered at-home hacks, like using parchment paper to more easily transfer a risen, carefully scored pre-baked loaf. Hutchison adds those to future lessons.
The breads students work on and the recipe they get, involving King Arthur brand bread flour, is simpler than what Madison Sourdough uses for its bakery and wholesale accounts. Hutchison wants to give students the best chance of replicating it consistently at home in their Dutch oven ceramic bakers.
Hutchison figures maybe 25% of the folks who come to sourdough classes are going to become dedicated DIY-bread bakers. Most of them just want to appreciate the process. 
"A lot of people want to be creative and work with their hands, but they also want some order," Hutchison said. "Cooking is highly scientific, but it's never really taught that way."
Toward the end of class, students gathered around pizzas made with sourdough crust. Hutchison empowers home bakers, but he likely won't lose any customers.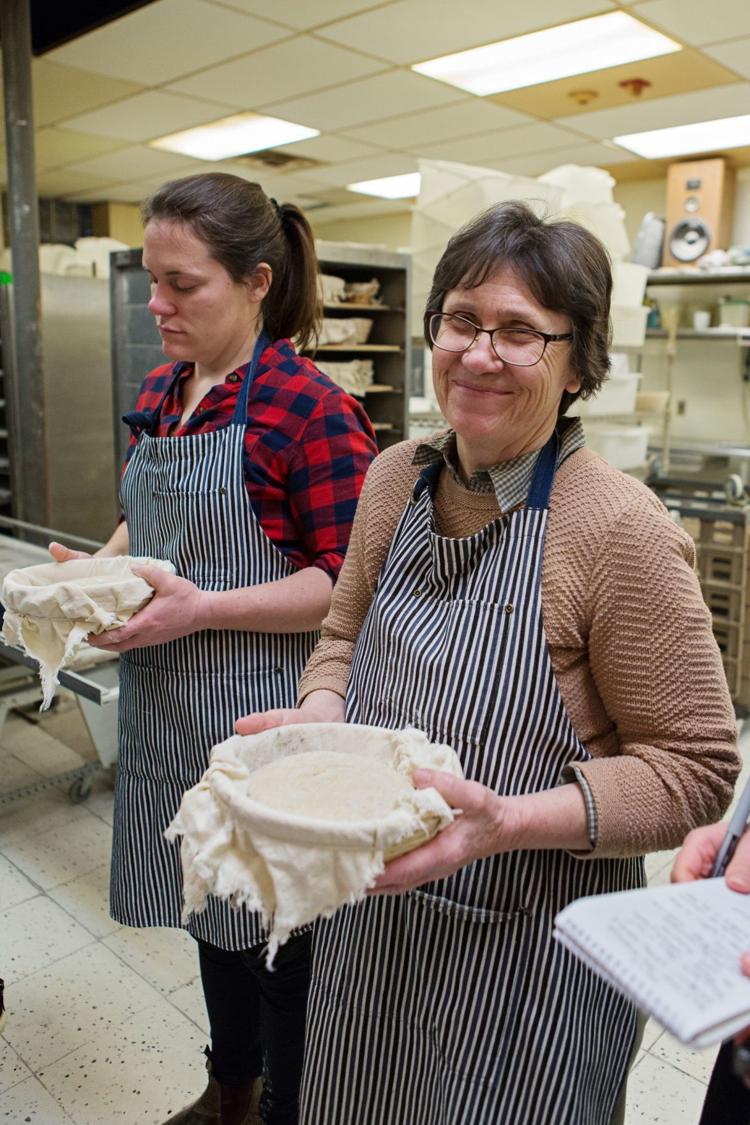 "It's much more of an art and science than I imagined," said Terry Ursin, who drove in from DeForest. "I'll probably give it a whirl at home but I don't know ... I think I'll just pop down here and buy myself a loaf or two."
Chris Lueck and his fiancée, Sarah Rozanski, had been trying to get into a class for a year.
"Sourdough's fun and a little different," said Lueck, who often bakes at home. "It's nice to learn a skill and there aren't that many cooking classes in Madison. It's cool to make something a lot of people aren't doing anymore."
Lueck was excited to compare the new starter he just made with the one he'd been working with, also from Madison Sourdough.
"The starter I have I got from a class (Rozanski's) sister took here a year-ish ago," Lueck said. "Now I'm curious to compare. What does this taste like versus the one I've been screwing up for the last year?"
"He can learn more and I can eat more!" Rozanski said with a grin.
Madison Sourdough's classes are profitable; overhead is low and Hutchison does most of the labor himself. Mainly, though, he likes teaching. On Sunday, he seemed energized as he demonstrated how to fold, turn and scrape khaki-colored dough into neat boules (round loaves). 
"I don't think anyone's like 'Oh, I'm going to save money by making bread,'" Hutchison said. "They get to see the bakery, hear me talk passionately about bread and make it as accessible as possible.
"I say a lot, if you screw it up, don't worry about it. It's just bread."
Stay up-to-date on what's happening
Receive the latest in local entertainment news in your inbox weekly!