These days, Maggie Musgrave puts her anxiety, uncertainty and gratitude in a box. A pizza box.
Musgrave's husband, Andrew Pfaff, is an anesthesiologist at the University of Wisconsin-Madison's University Hospital. His group of doctors is the "airway team," responsible for intubating patients and keeping them breathing during surgery.
On normal shifts, his is a complex, stressful job. In the midst of a global pandemic, it's worse.
"Two and half weeks ago, he started coming home and telling me how scary it was in the hospital, how they had to start rationing personal protective equipment (PPE)," Musgrave said. "He was talking about morale at the hospital too, and how low it was getting."
Musgrave, who works remotely for an investment management firm, wanted to do something for the team. On March 19, she started a GoFundMe fundraiser: "Stay home! Send pizza!" She aimed to raise $850 for a substantial order of Ian's Pizza.
"The airway team was so happy, so thrilled to get the pizza," she said. "They sent (the GoFundMe link) to friends, and friends of friends.
"Suddenly I'm sitting here looking at thousands of dollars and hearing from healthcare workers across the UW Hospital. I knew I had to keep going."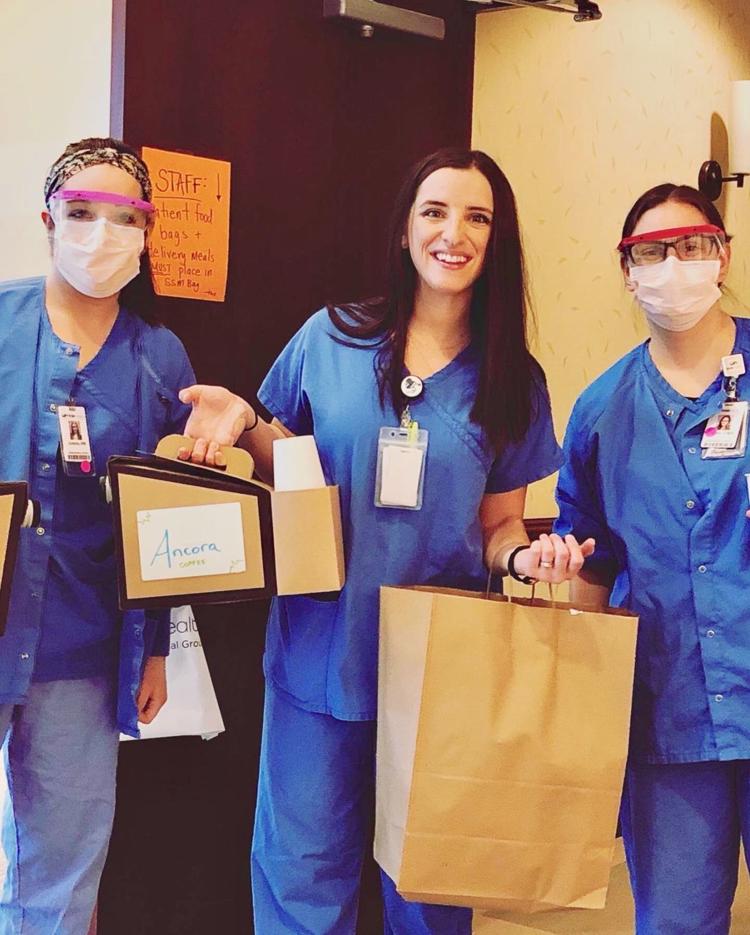 As of April 3, Musgrave had raised more than $9,000. She funneled the cash to Ian's, which sent pepperoni, mac and cheese and veggie pies to the UW ICU team, a Dean Health COVID-19 testing facility and clinic, UW Urgent Care and the VA Hospital. The staffers were thrilled.
"I'm highly anxious right now," Musgrave said. "The ability to have a tangible expression of my gratitude to not only my husband but all the healthcare workers out there is a great way for me to manage my anxiety. It's not just pizza I'm sending, but my gratitude."
Musgrave's is among several local efforts to help the helpers — doctors, nurses and support staff, police and fire departments, post office workers and city clerks.
In Madison, on March 29, Blue Plate Catering launched its "Feed the Frontlines" initiative. They expected to surpass 2,000 meals delivered within the first week. On April 2, Food Fight Restaurant Group introduced breakfast and lunch care packages, boxes of tacos and sandwiches designed for groups of 10.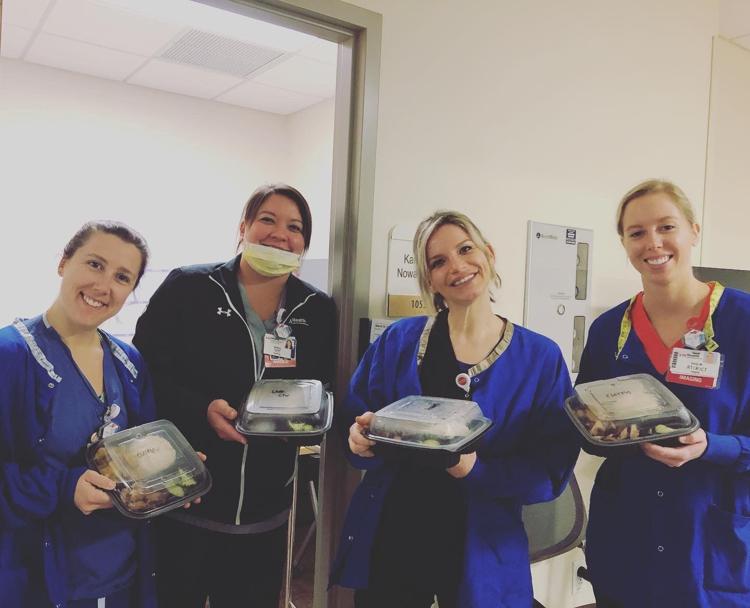 As her campaign gained steam, Musgrave teamed up with Erin Bork at Exact Sciences. Bork used to work in cardiology at St. Mary's Hospital and has maintained strong healthcare connections.  
"I'm no longer helping patients directly. I'm stuck in my house," Bork said. "I was like, OK, I can use my Instagram and help businesses and healthcare workers."
Bork, who started with Ian's Pizza deliveries too, promoted her idea through @608drinks and started a Venmo account (venmo.com/COVID-Support). She reached out to food businesses and soon heard back from Ancora Coffee, Crescendo Espresso Bar + Music Café, Soho Gourmet Cuisines in Fitchburg and Parthenon Gyros. Bierock on Sherman Avenue sent gift cards to doctors at UW. She's heard that a Subway location wants to donate some 400 sandwiches.
"When I get my contacts at the hospital, if it's going to feed a lot of people ... we'll do a pizza delivery because that can feed more workers," Bork said. "If it's a smaller department, 15-50 people, we'll do coffee and pastries or Soho meals, everyone's been raving about them. Parthenon, everyone loves their sandwiches. They put together their own healthcare menu."
On March 29, on Instagram, she posted an update: 122 Ian's pizzas, 40 pastries and coffee, 20 Soho meals, and 615 workers supported.
Every drop-off has its own set of logistics. Pizza delivery drivers cannot go into urgent care and hospital buildings. They need a contact to call ahead of time and a scheduled drop-off point. No more than eight to 10 people can have the pizza at a time.
"We have specific delivery instructions," Bork said. "We make sure the driver knows they have to stay outside, put the food down and someone comes to come pick it up."
All of this coordinating of donations and drop-offs is akin to a part-time job on top of the work Musgrave and Bork already do from home. Bork said she spends one to two hours a day, plus four to six hours on weekends, contacting people and businesses and promoting the effort.
"I'm actually happy because I need to stay busy," Bork said. "This has filled up my time after work. At night and on the weekends I have something to focus my time and energy on, which has been really nice."
On Friday, Blue Plate Catering made a meal drop-off to another set of essential workers: employees in the city clerk's office, mailing out absentee ballots in advance of Wisconsin's spring primary.
"It's just showing appreciation for folks whose essential jobs require them to sacrifice, that we see them, that we appreciate and love them," said David Porto, a co-owner and director of sales for the 28-year-old catering company. "It rapidly evolved over the course of the first five days."
Just in that first week, Blue Plate delivered to the Fitchburg, Verona, Middleton and Cross Plains police and fire departments, Association Physicians of Madison and twice to St. Mary's Hospital. By Friday, April 3, almost all of the following week was booked up with large orders, more than 1,000 individually packaged meals total. 
"Today we sent out a cherry maple pork loin with wild rice and green beans," Porto said. "We did a brandied chicken breast and an apricot basil chicken. We've done pot roast, spaghetti and meatballs. We're going to do lasagna next week. We've done herb-roasted chicken, stuffed peppers for a vegetarian option.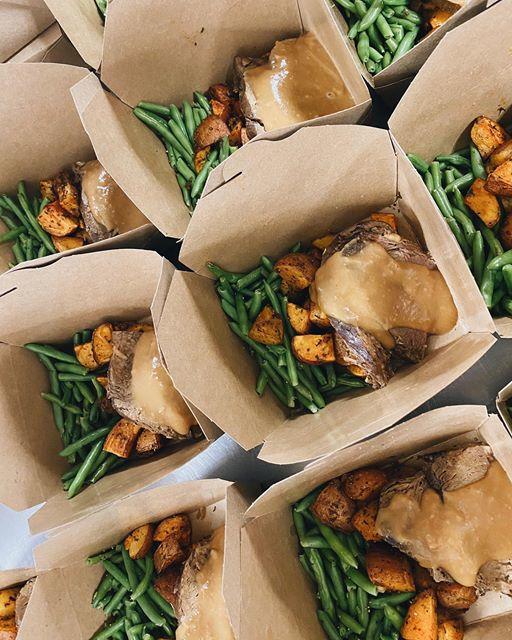 "Just good, good meals. Not like a burger and fries, but something that will hold well and is good quality."
An added benefit to initiatives like these is it allows companies like Blue Plate to re-hire some of the staff they've lost. Blue Plate went from a staff of 30 full-time employees to four. They're planning to bring back five more.
"We're not mandating anyone to come back to work but a lot of people in food service, they do it because they love it," Porto said. "They want to come back to work and help with things."
That's a major benefit for Food Fight Restaurant Group, too, according to event director Lisa Loup.
On April 2, Food Fight announced its own push to feed essential workers, from those in healthcare to grocery clerks and post office workers. Feed the Frontline care packages start at $95 for breakfast, $115 for lunch, and provide meals for 10 people.
"Everything is individually wrapped and packaged, it's not buffet style," Loup said.
They'll source from one of 15 Food Fight restaurants that are still open: Avenue Club, Bar Corallini, Bassett Street Brunch Club, Canteen, Cento, Craftsman Table & Tap, DLUX, Everly, Hubbard Avenue Diner, Luigi's, Market Street Diner, Monty's Blue Plate Diner, Miko Poke and Tex Tubb's Taco Palace.  
"Our main hope is, of course, twofold," Loup said. First, "that we're giving back to the community and people have an outlet for their donations to feed the frontline workers, caregivers committing their time to keeping this country afloat without time to prepare meals or who can't go to the grocery stores.
"And also keep our doors open and our employees clocking in."
In mid-March, Food Fight furloughed some 750 employees. It's "heartbreaking," Loup said, and awful for morale. Making these care packages is "not about making a profit, it's about telling key employees we value them."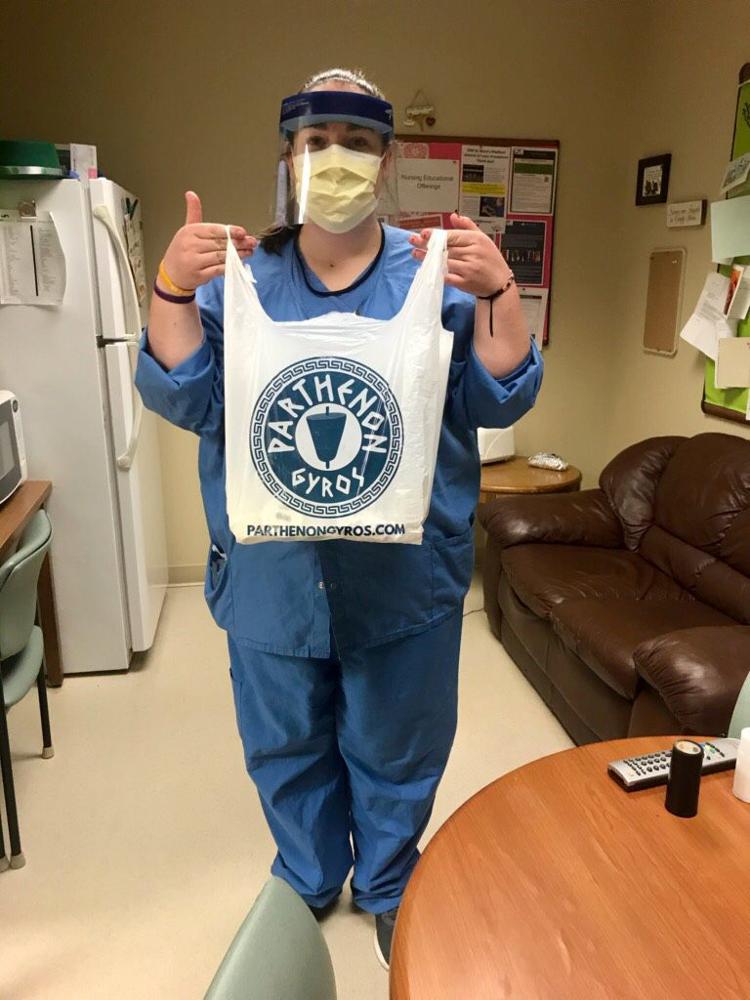 With any crisis response, there's potential for fraud. Blue Plate Catering wants to turn its mission into a nonprofit. By working through an established portal, Musgrave benefits from GoFundMe's fraud prevention policies. Bork said she's been keeping "good track of expenses" and monetary transactions, but if she could go back, she'd have done a GoFundMe too.
"A little more than half the donations I've gotten are people that know me personally or through Instagram," Bork said. "But there's been a large chunk that have come from people I don't know, who see random stuff on Instagram, health care workers who are appreciative and want it to keep happening."
Getting pizza delivery tells the nurses and doctors that their community is thinking of them. It's a treat, Bork said. It brightens their spirits. Feedback has been overwhelmingly positive.
"They call me and Maggie the 'pizza fairies,'" Bork said. She has heard from folks working in the hospitals who told her, "We chose to go into healthcare because we wanted to help people. We knew things like this could happen. Knowing the community has our backs means everything to us."
Bork grew up outside Madison (she currently lives in Deerfield). The experience of these past few weeks has changed her whole feeling about the capital city.
"Seeing all the support people have given to healthcare workers, it makes me love this city so much more," she said. "People have come together."
Concerned about COVID-19?
Sign up now to get the most recent coronavirus headlines and other important local and national news sent to your email inbox daily.