When Jack Sosnowski was a kid in Madison in the early 1990s, he remembers the area around the Capitol Square feeling like "a ghost town."
"Crandall's and L'Etoile were pretty much all that was here," Sosnowski recalled. "Now it's become a destination — like a town square, the center of attention.
"It's almost a mini Restaurant Row."
In the past few years, Brocach Irish Pub, Harvest, the Old Fashioned and L'Etoile have been joined on the Square by a new crop of restaurants and cafés, from Nostrano and Rare Steakhouse to Colectivo Coffee House and Gooseberry on the Square.
Even more should open this year. Hamilton's on the Square is set to take the place of the Blue Marlin. Tavernakaya plans to open near Walgreens this summer; the folks at Merchant are designing a new pizzeria for the old Isthmus building, and Graft will be a wine bar with small plates, on track to open by mid-July on North Carroll Street.
"When we were looking at locations, we thought, the Square is definitely the place to be," Sosnowski said of Rare Steakhouse, which he co-owns. "Obviously the view doesn't hurt.
"It's great to see the Square become a destination."
Rare, the first restaurant to offer valet parking on the Square, replaced a branch of AnchorBank, a pet store called Tabby & Jack's and an Indian restaurant. Sosnowski said his team, which owns several other downtown restaurants, was in discussion with the building's owner before there was even a "for lease" sign on the door.
"We're really in a renaissance downtown with all the apartments and people moving in," Sosnowski said.
New restaurants have taken the place of salons, printers, candy shops and clothing boutiques. While this adds to Madison's growing reputation as a foodie town, it has also given rise to renewed hand-wringing about the loss of retail.
Most concerned are city officials looking for a good business mix, owners of some existing restaurants and the few remaining retail shops.
When, they ask, will the Square reach a saturation point, with more tables to fill than people to fill them?
"We see spaces that used to be retail turning into restaurants," said Susan Hendrix, who has owned Sunprint Café since 2007. "Having a lot of different options is great. There's a lot of food carts, too.
"We're starting to wonder whether there's enough hungry people to go around ... to have enough customers for everyone.
"And I don't know if the cream rises to the top."
Stop and shop
The death knell of the Capitol Square as a shopping district has been ringing for decades.

In a 1995 Cap Times column by Rob Zaleski, E.W. Parker Jewelers owner John Parker Hendrickson, Jr., waxed poetic about the good old days in the '60s, when folks came downtown to shop at Manchester's, JC Penney and The Hub.
"We think the Square can come back again," Hendrickson told Zaleski.
A lack of parking, he insisted, drove shoppers away. When he closed the shop in 2003, he blamed developers with "no consideration for the small, independent merchant." Shopping on the internet is also a frequently cited factor.
The building at 9 E. Main St., which also housed the Badger Candy Kitchen, is now Brocach Irish Pub.
Mike Verveer, alder for District 4, was first elected in 1995 to represent the downtown. He, too, used the phrase "ghost town" to describe the state of the Square at the time.
"Much of the retail had come and gone," Verveer said. "Of the viable retail that was on the Square, there wasn't anything that was open at night.
"Fast forward two decades and the landscape has completely changed. To me it's an embarrassment of riches trying to decide where to eat."
There were early pioneers, like when Chris Berge, Henry Doane and Jack Williams opened The Blue Marlin at 101 N. Hamilton St. in 1990. Over the next decade, 10 upscale restaurants followed; of those, only the Tornado Steakhouse remains.
After a moderate boom in retail in 2008, the trickle of new restaurants started to gain momentum. In early 2010, Food Fight opened The Coopers Tavern at 20 W. Mifflin St.; in October of that year, Tim and Elizabeth Dahl opened their Italian spot, Nostrano, at 111 S. Hamilton St.
Also in 2010, the relocation of L'Etoile and the opening of Graze at 1 S. Pinckney St. left an opening for The Old Fashioned, 23 N. Pinckney St., to expand.
The growth in restaurants "has been very drastic I think, and quick, surprisingly so," said Hendrix, who moved Sunprint from the U.S. Bank building on the Square to 10 W. Mifflin St. in 2012.
"I didn't expect to have almost every empty spot on the Square turn into a restaurant sometime in the next year. It's pretty amazing," she said.
On the menu
This year's bumper crop of new restaurants will offer limited variety in cuisine and aim for a similar clientele: busy professionals, grabbing a quick lunch or a cocktail after work.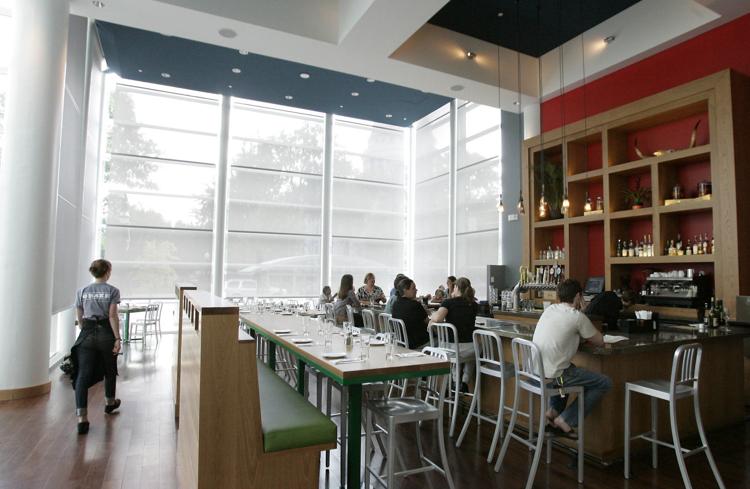 When David Sramek and his wife, Denien, opened Gooseberry in the U.S. Bank Building this spring, their breakfast-and-lunch-only café immediately tapped into the hurried pace of the Square.
"We were told people want to be in and out," said David Sramek, who with his wife also owns Heritage Bakery and Café at 4674 Cottage Grove Road and four delis inside Dean Clinics.
With an eye on budget-conscious office workers, Sramek eschews farm to table sourcing and time-consuming preparations. He has noticed that composed salads are quick to go on the large salad bar, and that online ordering has started to pick up.
"Whatever restaurant molds itself into what people around them want is going to do the best," he said. "The amount of people downtown is the biggest draw.
"You can do different types of food," like a tuna Nicoise salad with haricots verts and fingerling potatoes or a Wisconsin take on a cheesesteak, "and still have a customer base," Sramek said.
The storefront at 27 E. Main St. between Walgreens and Park Bank has been vacant since the Block 89 building was built, in part because of the bus shelter a few yards away.
Brad Binkowski, an owner of Urban Land Interests, said ULI had opportunities to rent it out, but waited for theright tenant.
That would be Food Fight Restaurant Group and Michael Ding, now the sole owner of Umami Ramen and Dumpling Bar, 923 Williamson St.
By fall, Ding hopes to open Tavernakaya, a blend of a Japanese pub (izakaya) and Wisconsin tavern. It's in the midst of a buildout that would include sliding glass doors to open the space to the street.
"With all these buildings going up, we know there's going to be a lot more people living downtown," said Ding, who lives on the Square himself. "That's going to increase density.
"Downtown Madison is reinventing itself. Everyone sees there's opportunity."
Ding described Tavernakaya's menu as encompassing "street food," like skewers (yakitori and kushiyaki), fried things (karage and Korean-style double fried wings) and wok-fried dishes. Expect to see three cup chicken, salt and pepper squid, and token nods to ramen and dumplings for Umami lovers.
"My family, when we want to go out and get something to eat, it's easy for us to just walk outside," said Ding. "But what we noticed was a lot of the offerings were similar in terms of bar and pub food.
"We wanted to keep that atmosphere but introduce different types of food and drink."
A few blocks away, an alumnus of the Free House Pub in Middleton is looking to reinvent one of the Square's early restaurant trendsetters, The Blue Marlin, 101 N. Hamilton St.
The Marlin is set to close on June 30 after 29 years. New owner Josh Kregness said that while "nothing is official," his plan is to turn it into Hamilton's on the Square by Aug. 1.
"It's going to be a small place," Kregness said, describing "upscale pub food" during the lunch hour and contemporary American "casual fine dining" at night.
The Square offers "a great atmosphere for a lot of different people, a lot of kinds of food, kind of right in the middle of everything," Kregness said. "I think you can get too much of a good thing, but ... if you do a good job, customers will follow."
One of the most ambitious restaurant projects coming to the Square is Graft, 18 N. Carroll St.
Husband-and-wife team Lucas Henning and Erin Bemis are opening the restaurant with Sam McDaniel, who worked with Henning at C-House, a Marcus Samuelsson restaurant in Chicago that closed in 2013.
They all have young children, McDaniel said, as well as connections to Wisconsin. When the former Atticus clothing shop and J. Taylor's antiques location became available, the trio jumped on it.
"One of the things that makes Madison attractive is a lot of other great restaurants," McDaniel said. "People are into the restaurants here. It's a 'rising tide floats all boats' industry."
Despite its proximity to the Capitol, the name Graft refers not to political bribery but to the grafting of vines or apple branches onto one another, the goal being to "produce a sum greater than the parts."
The menu will focus on small plates and wine pairings, because "it offers the most exciting options for dining," McDaniel said.
"When we go out we want to order everything on the menu," he said. "We don't want one entrée each."
Graft, which would seat 135 people and include an 18-seat bar, is on track to open by mid-July.
Further down the road, the 8,000 square-foot former Isthmus building at 101 King St. is being transformed by the owners of Merchant, Patrick Sweeney and Joshua Berkson, into a pizzeria and bar called Lucille.
It will likely take the better part of a year to finish the buildout, which includes a lower level kitchen and lounge, a wood-fired pizza oven and two additional floors of seating.
Lucille, framed as a "soulful sister restaurant" to Merchant and "a pizzeria wrapped around a bar," is in addition to Sweeney and Berkson's other big project, the King Hotel, a boutique hotel and concert venue that would also include food and drink of various kinds.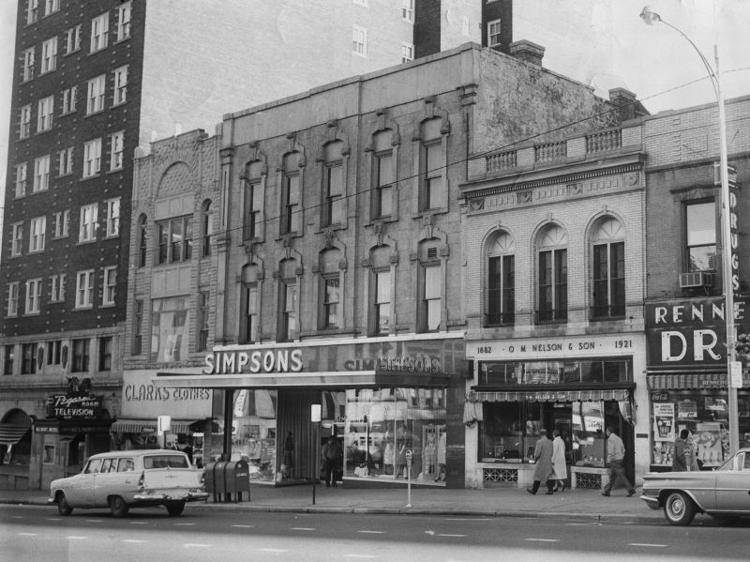 "I love the Square, I love this area," Berkson said. "There's a nice coffee culture, wonderful places to dine. I'm happy with the way things are progressing."
"The demand is not meeting supply right now," Sweeney added. "There are two-hour waits at places that are performing at a high level. There is still a demand for what we're doing."
Berkson and Sweeney cited the growing tech community, including companies like Epic Systems and Zendesk, with fueling growth of restaurants like theirs.
"The city has positioned itself really well as a center for entrepreneurship and innovation," Berkson said. "We're seeing that customer really driving our business and our neighborhood. The Cap Square is certainly where the action is."
Full bellies
And yet, as the restaurant scene grows, some have expressed concerns about the corresponding loss of non-service retail.
During his earlier terms as mayor, Mayor Paul Soglin decried the lack of activity after sundown in the downtown area. Though that's no longer the case, now Soglin believes the Square is over-saturated with liquor licenses.
He's proposed placing a moratorium on such licenses in certain parts of downtown, and charging more for city-owned sidewalk café space.
"We've lost so much retail over the last 10 years that we're in danger of encountering a cascading effect where the remaining retail will disappear," Soglin said.
Instead of more restaurants and services, like banks and salons, Soglin wants to see more "hardware stores, clothing stores, gift shops." It sounds much like the Square looked decades ago.
"It's certainly viable to have an entertainment district downtown," Soglin said. "But perhaps what we ought to do is get it focused on the King Street side of the Square.
"Otherwise I don't know why we wasted millions of dollars on the State Street Mall and Capitol Concourse to turn it into a Midwest version of Bourbon Street."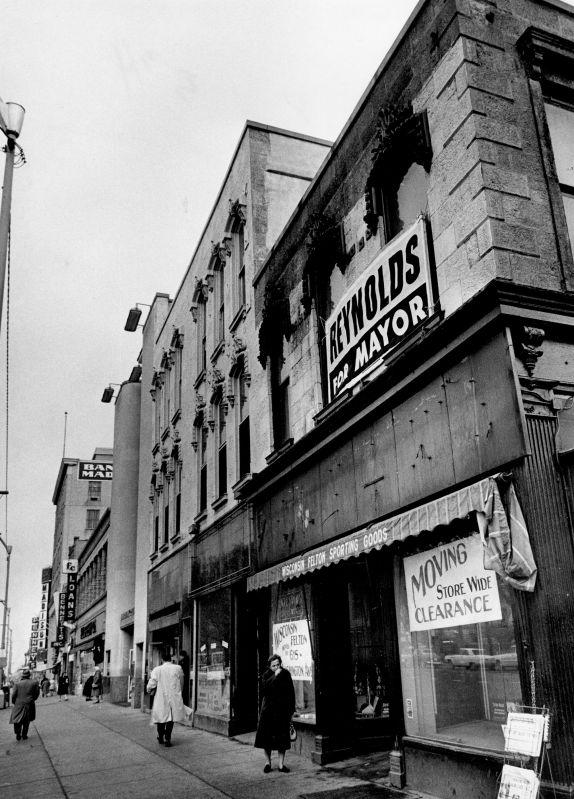 Last winter, the City Council approved a new study of the downtown business mix.
The goal, according to the resolution, is to consider physical design, public events, the affordability of rent and transportation issues, among other things, and to evaluate the retail/restaurant/service mix downtown.
A study by the Madison Central Business Improvement District (BID) released earlier this year showed a mix of 40 percent food and drink, 35 percent service and 25 percent retail in the downtown area, including State Street and the University of Wisconsin-Madison campus.
A longer term look at the area showed restaurants on an upswing at least since 2007 (33 percent), with retail trending down. Service businesses, like banks, realtors, salons and gyms, remained steady.
"People eat out much more often," said Mary Carbine, executive director of BID. "It's been a slow and steady trend. We see the market responding."
Restaurants, Carbine said, offer "a necessary mix to help keep a retail area healthy."
"You need reasons for people to come out, come down, walk around and be together," she said.
Binkowski, who with Urban Land Interests owns and manages a large portion of the Square's buildings, agrees with the mayor that retail is key to an economically healthy downtown.
But he disagrees on how to go about getting it.
"I don't think you can legislate what kind of use you can impose," Binkowski said, "and override market dynamics.
"We have stores downtown that struggle," he said. "They don't see increasing sales in spite of having great product. Maybe it's because of the internet, maybe it's because people aren't coming downtown to buy clothing."
Binkowski would love to see a flower shop return to downtown, or a high quality deli to complement food-centric retail like Fromagination, 12 S. Carroll St., and Square Wine Company, 5 N. Pinckney St.
But, he said, the market must be the driving force — in this case, young professionals and baby boomers with disposable income.
"Right now the opportunity is ... lots of people who want to eat and drink and come downtown," Binkowski said.
Urban Land's next big project is at 25 W. Main St., replacing the building that houses AnchorBank with, among other things, 40,000 square feet of retail and restaurant space.
ULI hopes to break ground in August on two years of construction. Binkowski called it "the biggest addition of retail space to downtown since the '50s."
"When you look at the changing demographics and changing lifestyles, you can create a terrific environment that attracts all kinds of things," Binkowski said. "One of the predominant uses downtown will be restaurants and bars."
Ald. Verveer has been monitoring the growth of such restaurants in his district with interest. While he agrees with the mayor that it's critical for downtown to have a "healthy" mix of retail and restaurants, he's also thrilled at the excited entrepreneurs he's gotten to meet.
And he doesn't support a crackdown on liquor licenses, either.
"I would prefer to have a coffee shop or restaurant in a vacant retail space than have a long-standing vacancy," Verveer said. "There are a lot of very eager, excited, talented people, many of them chefs themselves.
"There's a lot to be said for the explosion of restaurants downtown," he added. "It brings people downtown who might not otherwise come downtown, they make an event of it.
"They wouldn't come but for the tremendous plethora of restaurant options that we have on the Capitol Square and beyond."