Feeling overwhelmed by holiday leftovers? Epic Systems' kitchens know how that feels year-round.
Tasked with feeding some 6,500 people every weekday in Epic's enormous corporate cafeterias — King's Cross, one of the newest, can serve 3,000 — Epic executive chef Eric Rupert and his team know they'll usually make too much.
Epic's overage hovers around 3.8 percent. In recent years, the news has been full of stories about growing food waste, 15 percent of which came from restaurants in 2012.
Rupert feels pretty good about Epic's number. 
"We have menus that are different every day," said Rupert. "It'd be one thing if we were serving the same thing in all the venues, and knew exactly how many people were going to be here each day.
"We don't want to run out. Ideally we run out of everything right at 2 p.m. when lunch ends."
When that doesn't happen, some leftovers go to Epic's late night food program, which serves 60-120 people each day who work after 7 p.m.
The rest, though, could go into a landfill. That's when organizations like Dane County's Community Action Coalition (CAC) and the new grassroots organization Healthy Food for All step in, rerouting the food from Epic's kitchens to food pantries and community centers.
On several occasions in December, a team of Healthy Food for All volunteers led by Chris Brockel, Joe Mingle and Mark Thomas received 35 five-gallon buckets of soup to repackage into quart-size containers, making them easy to pick up from food pantry shelves.
"We'll have five or six different soups a week," said Brockel, Healthy Food's executive director. "It's been two months and there's almost no repeats. We did cheesy chicken tomato noodle soup, hot and spicy pork soup, potato leek soup, garlic soup, cream of mushroom soup, Provencal vegetable."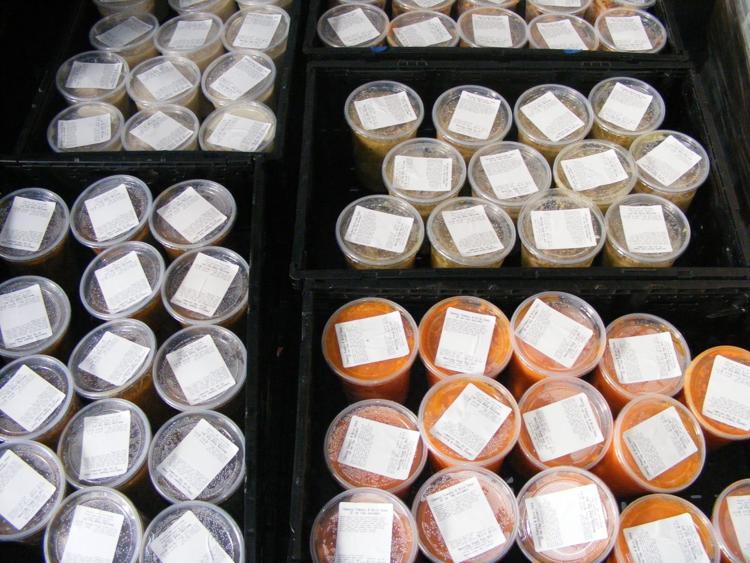 Healthy Food for All is not yet an independent nonprofit, accepting donations through the Center for Community Stewardship. Brockel, Mingle and Thomas founded it in late 2014 as a way to bring more local, non-commodity food into food pantries.
It is currently based out of FEED Kitchens on the north side, though the founders are looking for more storage space.
Healthy Food for All is an extension of what Community Action Coalition has been doing with Epic for the past decade. Brockel used to be food and gardens manager there and remembers the gaps in the system — sometimes, he said, food simply transferred from Epic dumpsters to CAC dumpsters.
"Stuff just wasn't moving," Brockel said. CAC didn't have the facilities to repackage large pans' worth of food.
Meanwhile, Epic was having its own growing pains with food waste.
The Epic kitchen "might send maybe five to eight five-gallon tubs of soup or stew to CAC in a week," Brockel said, "but they were producing more excess food than what they were sending to CAC. ... (They were) still throwing stuff away."
No one wanted this quality, locally produced food (all "from scratch," Rupert was quick to emphasize) going into landfills.
"Every year we get a lot better at it," Rupert said. "But early on they were overwhelmed with the amount of product we had available. For large events, we're feeding 10,000 to 12,000 people."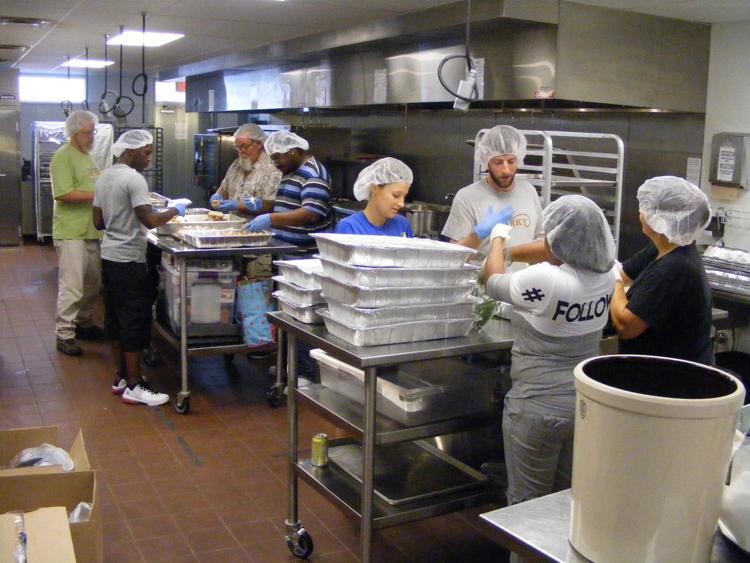 Healthy Food for All's collaboration with Epic started during the 2015 Users Group Meeting (known to insiders as the "UGM"), a three day event in early September that draws an additional 9,000 people to the Verona campus.
Healthy Food was already processing fresh produce from local farms and community gardens for use in food pantries. But it took some nudging from Bill Warner, a co-owner of Snug Haven Farm in Belleville, to convince Brockel to take on food waste from the UGM.
This was no small project. In addition to a substantial crew of volunteers, Healthy Food needed access to a commercial kitchen, which they found at FEED. Epic had to provide nutritional information, because of allergy concerns.
And from the time Brockel and his team picked up thousands of pounds of food from Epic, the clock was ticking. Prepared food must be used within seven days if it's refrigerated, longer if it's frozen.
"We only picked stuff we knew we could be successful with — soups, balsamic green bean salad, steamed green beans that were probably ready for the salad but weren't used, fresh cut broccoli, pasta salads," Brockel said.
"The neatest thing was to be able to take 300 quart containers of fresh cut fruit on the Friday before Labor Day weekend to St. Vinnie's food pantry and say, 'Hey! Every visitor to your food pantry in the next few days gets fruit for their Labor Day weekend picnic.'"
That was meant to be a one-off event. Then, a few months later, chef Derek Grunewald called from Epic and asked if Brockel could take what CAC couldn't process. Now, Community Action Coalition picks up food both for its own food pantry network and for Healthy Food for All to process.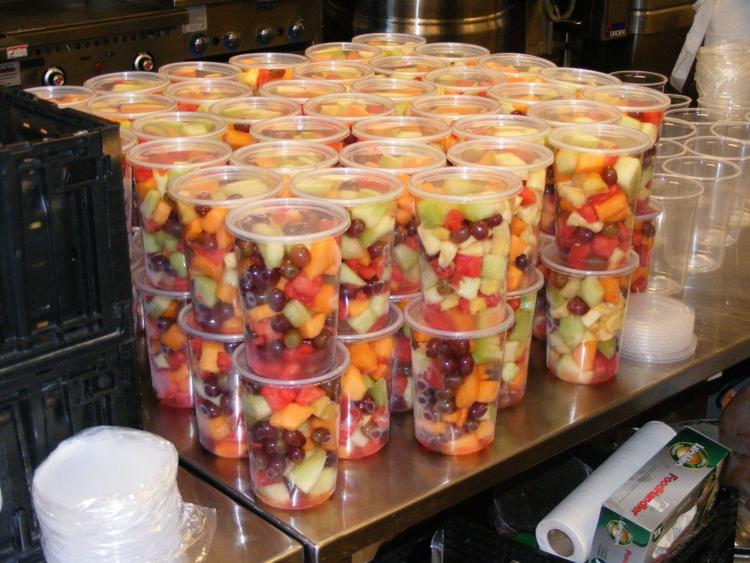 For Rupert, this is a win-win.
"Occasionally we have cookies and bars that will be left, we really like sending those," Rupert said. "It's a cool thing to get a Jacques Torres chocolate chip cookie, or a brownie, or a dessert.
"It adds sweetness to one's life!"
Healthy Food for All just received several grants that will help it expand in 2016. Volunteers come from the city's Department of Corrections and vocational rehabilitation programs to sort and repackage food. The organization could use more gleaners (harvesters who go out to farms and gardens), produce cleaners and drivers.
Beyond volunteers, cooler space is the main challenge with expanding a prepared food waste program like this to local restaurants, even big ones like the Great Dane Pub.  
"We're always crammed for space, regardless of size," said Rupert. "Cooler space is at a premium; freezer space is always at a premium."
Brockel echoed this concern. He has talked with Badger Prairie Needs Network in Verona and keeps hearing suggestions of "Oscar Mayer!"
"Every restaurant in the world has capacity issues with their freezer and cooler storage," Brockel said. "It can be replicated if people are agreeable to holding it at least some time.
"If they produce something over the weekend but we can't work with it 'til Wednesday, can they hold it for a couple days?"
Rupert has faith that the dedicated, hard-working people in his industry are up to the challenge.
"Everyone's very service oriented," Rupert said. "We want to take care of people, feed people; the intention is good. But you know how crazy restaurant service can be.
"Could they have people that are trained go into the restaurants on a day at a particular time and help the process along? Could Food Fight ... dedicate some resources to coming up with systems? That's the biggest thing, really, systematizing it so it works for everybody."
Editor's note: An earlier version of this story incorrectly described Chris Brockel's position at Dane County's Community Action Coalition. He was the food and gardens manager.