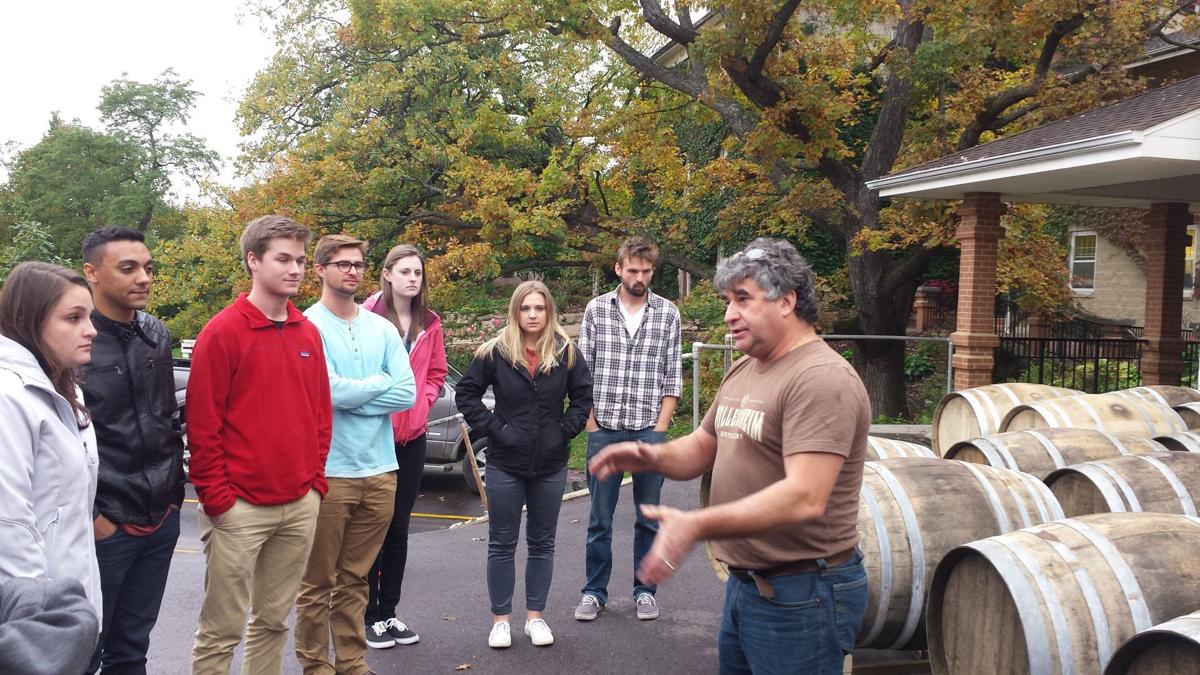 Most college students try wine for the first time while they're in school. Now at University of Wisconsin-Madison they can learn to make wine, too, from the cold-hardy grapes the state grows best.
In fall of 2016, UW launched a wine science class taught by Nick Smith, an associate outreach specialist in the Department of Food Science. Students from the food science department, horticulture and engineering learn about fermentation, aging in oak and blending with the help of Wollersheim Winery & Distillery owner/winemaker Philippe Coquard.
"The class filled up pretty quickly," said Smith. "We make small batches of wine here on campus to illustrate different concepts. We brought down white wine from Wollersheim to do warm versus cold ferment, grapes from the West Madison Agricultural Research Station.
"We do skin contact trials, five different fermentations ... juice analysis in the lab."
Students also brew beer — Inaugural Red, an amber ale made in collaboration with Wisconsin Brewing Company, was released in May 2015, and S'Wheat Caroline came out this year.
The university has already released its first wine, 2015 Red Fusion, made by Wollersheim's Coquard and available at Union South's Prairie Fire cafe for $7 a glass/ $28 a bottle.
Smith anticipates releasing a 2016 white blend in early spring and a red blend next fall, both made from donated Wisconsin grapes.  
For the first wine, student participation was ad hoc. A handful of food science students went up to Wollersheim's estate in Prairie du Sac in fall 2015 to pick grapes, and some stayed to watch crush and inoculation with yeast, which kickstarts fermentation.
Four other students designed the wine packaging and label on their own time, outside of class.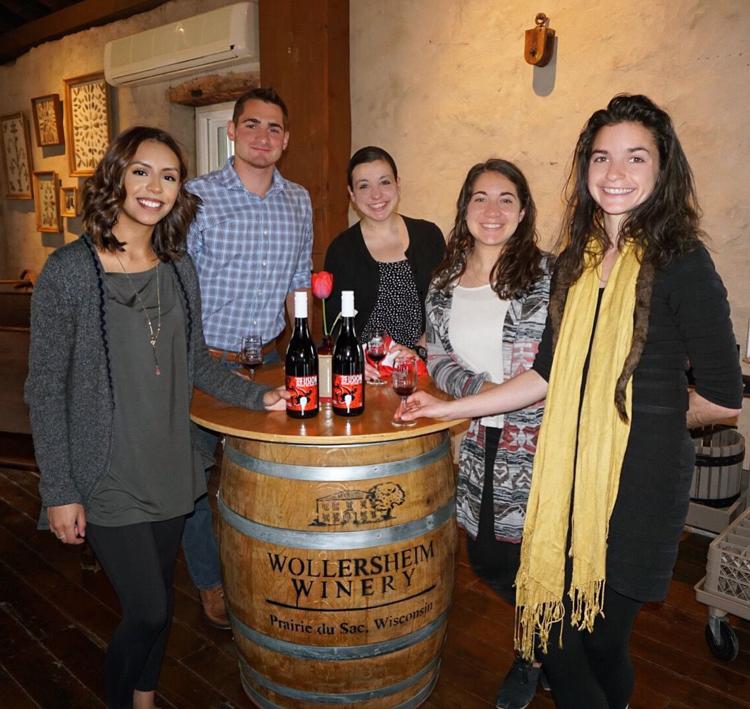 "That was the extent of student involvement last year," Smith said.
This fall, Smith introduced an official one credit class held Wednesday afternoons. Students follow the winemaking process from harvest to aging and eventually, bottling.
Most of their work happens in the classroom while Coquard handles actual wine production. There are two field trips to Wollersheim, one early in the semester and one later, for tasting.
"The students learn science in the class and see the practice up at Wollersheim," Smith said. "Part of the challenge is how we integrate the students into this project. It's challenging when it's a commercially made product we can't produce on campus."
The 2015 Red Fusion was made from 43 percent Marechal Foch, 29 percent Frontenac, 16 percent St. Croix and 12 percent Marquette. The first release was 225 cases of wine, available for purchase both at Wollersheim and at Union South's café, Prairie Fire.
"It has a good acidity to it, as you would imagine from any Wisconsin red," Smith said. "It's a bit sharper than anything you'd get out of California, but it's not super high acid either. The tannins are pretty mild."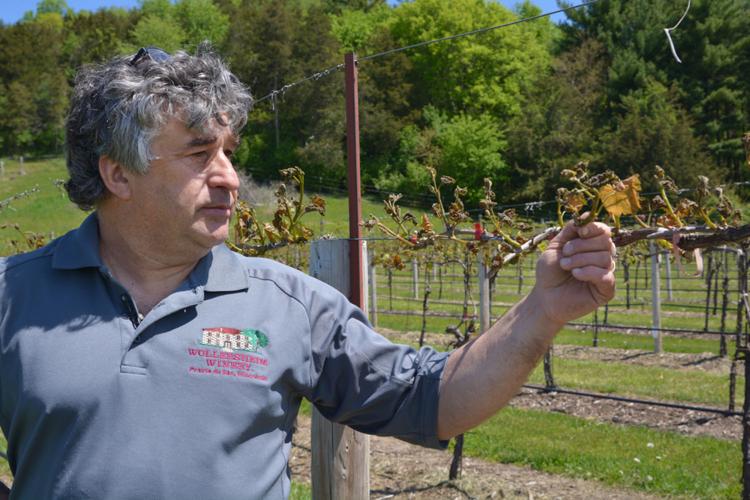 The blend is determined by what grapes growers donate to the program, which is a model that presents some challenges. This year, a spring frost cost Wisconsin wineries a huge number of grapes.
Wollersheim reported in May that it lost 75 percent of its red grapes and 25 percent of white, the worst the winery had seen in 32 years. Meg Jones, writing for the Milwaukee Journal-Sentinel, said "it looked like someone had walked down the vineyard's rows wielding a blowtorch" turning the nascent grapes "darkened, curled, lifeless."
Smith allowed that it wasn't the easiest time to go around asking for grape donations.
"It's been a very wet year," Smith said. "There've been quality issues. We were getting a lot of our fruit from western Wisconsin, which was getting flooded.
"Everybody's crop yields were down even further than expected with the frost."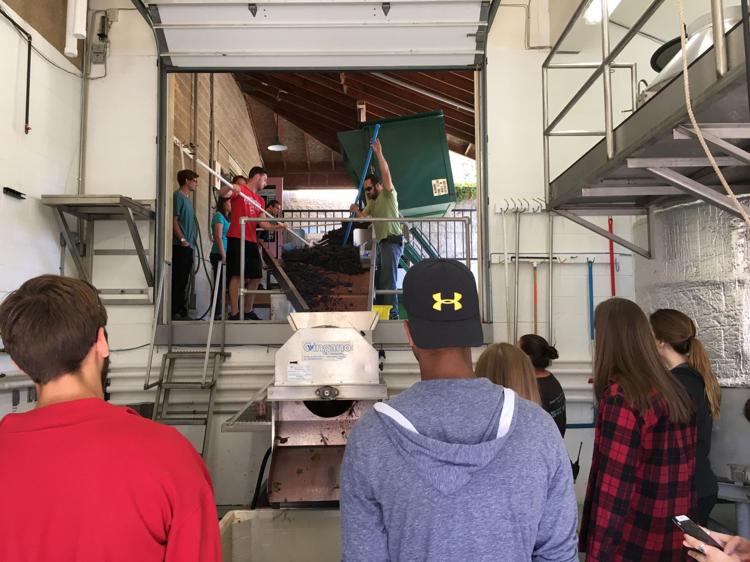 Based on what they could get in 2016, the white blend includes Frontenac Gris from Danzinger Vineyards. Wollersheim donated St. Pepin, La Crosse and Edelweiss grapes. La Crescent, a cold-hardy hybrid, came from the West Madison Agricultural Research Station.
The red is primarily Frontenac with a small amount of Marquette, both cold-hardy hybrid grapes. That will be going into barrels soon, a combination of new and neutral oak, mostly, Smith hopes, from Wisconsin trees.
Smith expects they'll end up with 815 gallons, or 340 cases, of the white blend and 420 gallons (175 cases) of the red.
Comm arts and graphic design students are finalizing the label design now, as well as other elements of a marketing campaign. The wine science class itself concludes with a "sensory section" in the last part of the semester that focuses on "taste and aroma recognition," Smith said.  
"We'll probably do a little tasting day, run through some flights and taste different styles ... to get an idea of the diversity of wines out there," Smith said.
"They'll go up at the end of the semester to Wollersheim one more time, so they'll be able to taste a variety of his wines. But to cover the broad spectrum of possibilities, we'll go outside the state for that." 
Share your opinion on this topic by sending a letter to the editor to tctvoice@madison.com. Include your full name, hometown and phone number. Your name and town will be published. The phone number is for verification purposes only. Please keep your letter to 250 words or less.
Stay up-to-date on what's happening
Receive the latest in local entertainment news in your inbox weekly!