MIDDLETON — When Nicki Prestigiacomo's high school friends come back home to visit, they can't believe what their small suburb looks like now.
"They're like 'Whoa, what happened to Middleton? It got so Gucci,'" said Prestigiacomo. "I think it's great. I'm excited about everything, all the little shops."
With the opening of the new Middleton Center Development nearby on Hubbard Avenue adding to several boutiques and locally owned restaurants, downtown Middleton has been adding reasons to keep folks in town.
On Nov. 13, Prestigiacomo opened a little shop of her own. Grape Water Wine Bar, with clean design, cozy couches and old movies like "Roman Holiday" playing on a TV above the bar, shares the block with Louisianne's Etc. and Villa Dolce.
On Grape Water's front window at 7466 Hubbard Ave., a sign reads "unsnobbing the wine bar one glass at a time."
"To me, drinking wine is a lifestyle," Prestigiacomo said. "I think it's just fun. You don't have to sit there and be all snooty about it.
"I know what I like. It's fun to sit around and chat with people and drink wine and that's what I wanted to create here."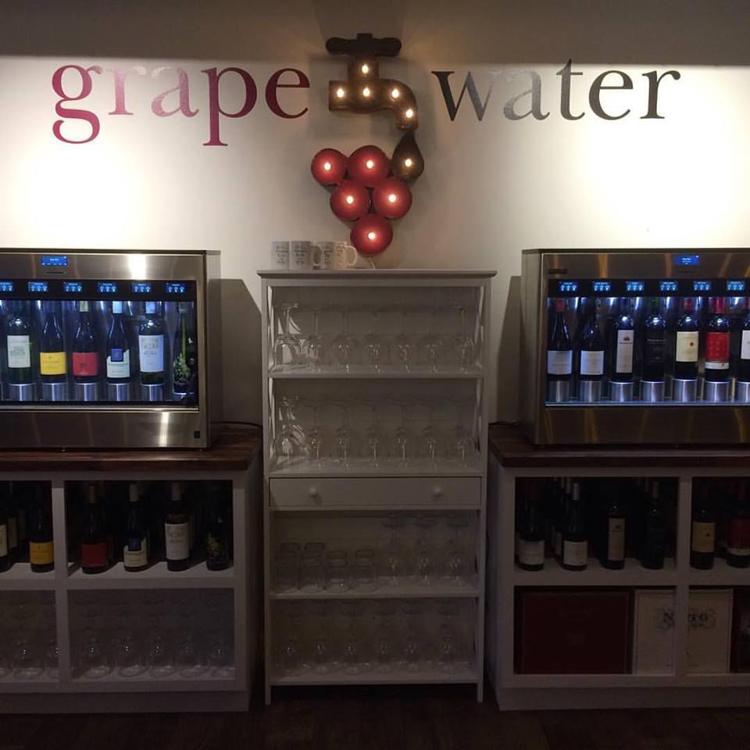 Taking a cue from Toot + Kate's, a wine bar she admires in Verona, Prestigiacomo installed two Enomatic wine dispensers serving half glass tastes, full five-ounce pours and large pours of seven and a half ounces.
The dispensers take a scan card and squirt wine through little spigots. The machines use tubes to keep wine longer after its been opened, and the self serve style allows for minimal staffing.
Still relatively new to the Madison area, Enomatic machines can lack the one-on-one exchange with a knowledgeable wine server. But they offer cost efficiency, accommodating very large or rare wine selections and inconsistent diner patterns. They show up frequently in airports.
"They also have them in hotels," Prestigiacomo said. "My employee who just left said she saw one in a hotel, where your hotel key card fits into the wine bar. I'm like, well that's genius."
At Grape Water, one machine for white (kept at 46 degrees Fahrenheit) and one for red wines (at room temperature is stocked with wines from Middleton-based Frank Liquor.
The focus is on familiar varietals, and 10 of the 16 wines are new world: California chardonnay, cabernet sauvignon and pinot noir; New Zealand sauvignon blanc; malbec from Argentina. By the glass prices range from $5 for a citrusy Chateau la Graveiere white Bordeaux (a blend of sauvignon blanc, semillon and muscadelle) to $10.50 for a 5-ounce pour of the 2014 Roth Cabernet Sauvignon from Alexander Valley.
Prestigiacomo said that so far, people have been stopping in mostly before or after dinner. Small pours are most popular, and the wines may change every three months. She hopes to add small food items soon, like a cheese plate. For now there's free popcorn.
"My wine rep is awesome," she said. "She knows her stuff and has been really helpful. (Frank's) portfolio is really large — maybe more local wines in the future? We try to have a mix."
Prestigiacomo set up the shop on off hours from her full-time job in IT at UW Health. She has a long history in Middleton, and her daughter was recently a fifth generation graduate of Middleton High School.
"I got nothing but great feedback that this area needed something like this," she said. "Middleton is still a little community, but we have the advantages of Madison. With all the little shops, it's going to be a good thing."