Walker Fanning makes cider that's "a little bit crazy."
"People get obsessed with single varietals, but there's more flavors when you blend the apples together," said Fanning, 23. "It's not all one note. It adds all these different characteristics."
On Dec. 12, Fanning will officially launch Hidden Cave Cidery at a party at Cask & Ale in downtown Madison. The party is set to feature his main three herbal ciders, as well as a cider made with Cascade hops and a "mystery flavor" he'll reveal that day.
At Hidden Cave, housed within and financially supported by Old Sugar Distillery on East Main Street, Fanning sources still, fresh-pressed cider blends from Ski Hi Fruit Farm in Baraboo, Kickapoo Orchard in Gays Mills and Apple Barn's orchard in Elkhorn.
He then ferments the juice into cider and adds herbal, floral flavors, like juniper, rose and hibiscus, plus some honey for sweetness. Hidden Cave's semi-dry ciders are currently available only in kegs, though Fanning is already imagining designs for cans.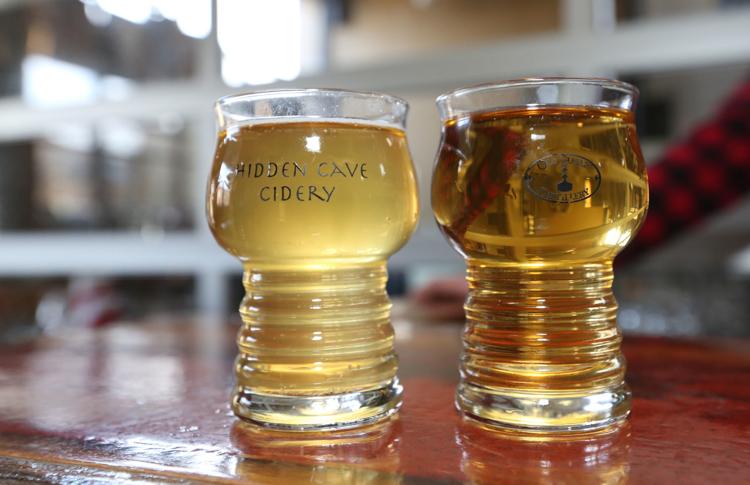 The ciders are already in limited rotation. Cask & Ale has stocked Hidden Cave's rose hip rosemary cider. Dexter's Pub brought in the hibiscus juniper cider, created to mimic the flavors of gin. His ciders have been on tap at HopCat and Sardine, he said.
Graze has expressed interest in the lemongrass lavender cider Fanning just dropped off for Frank Beverage Group to circulate around local bars.
"Where do you get a lemongrass lavender cider? You can't get it from somebody else," said Fanning. "That's what people want. The days of apple cinnamon cider are not going to last much longer. You need to do something cool, that sells itself."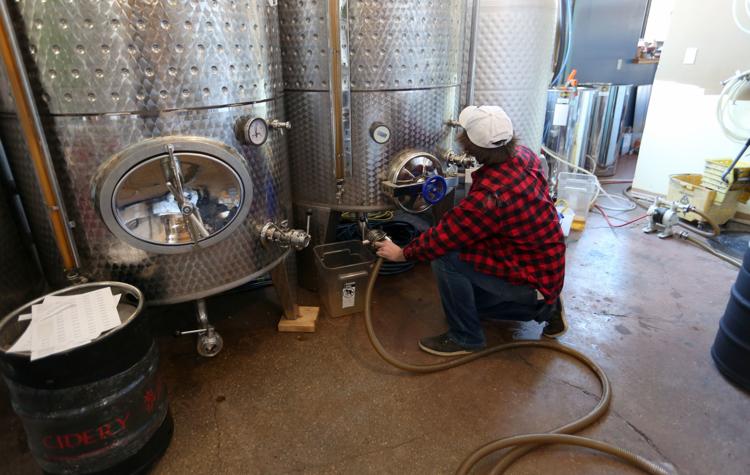 Fanning is a graduate of Middleton High School and the University of Wisconsin-Madison, where he finished a degree in agronomy.  
"Fruit was more interesting than corn to me, and I wanted to do something with a shelf life," said Fanning. "Farming has a lot of seasonal work, and I didn't want to work at Macy's during the winter when I can't get on the farm."
He found his way into making cider by working as an orchard manager at Cider House of Wisconsin in McFarland. The owner there, Fanning said, "really wanted to produce English style hard cider, not this national sweet stuff that you find on the market.
"The first thing I drank was a completely dry cider right out of the fermenter," Fanning said. "I thought cider tasted like Angry Orchard or Red Apple Ale. That was my first glimpse at what cider was."
Fanning met Nathan Greenawalt, the owner of Old Sugar Distillery, at a meeting of local beverage makers. He took a job in the tasting room, where Greenawalt had a cider on tap. Fanning added rose hips and rosemary "and we sold five gallons in one day."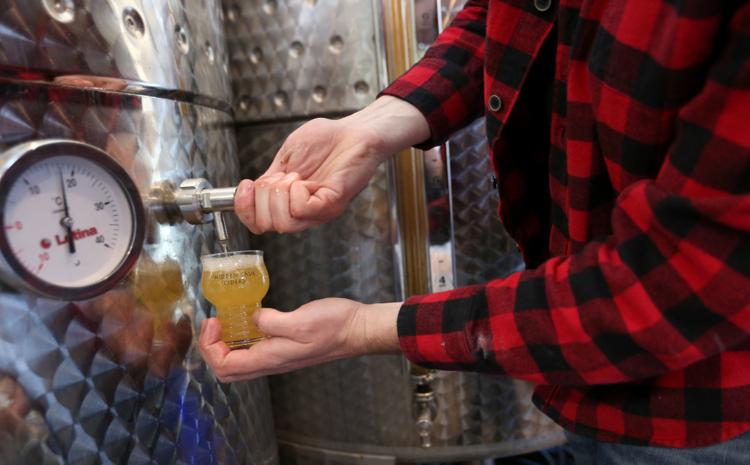 Hidden Cave will work only with Wisconsin apples, Fanning said, but it's not a bespoke blend. Each apple in the base cider adds different characteristics.
"I have Haralson apples in there, which are kind of an all-purpose apple," he said. "I have Macintosh, which is vinous so it gives a wine-like quality. It's honeyed. There's Cortland, that's where I'm going to get those sharper notes. And then the Jonamac, sweet and sharp."
The only apple no cider maker wants to work with, Fanning said, is Red Delicious, the ubiquitous yet bland lunchbox staple.
Fanning has been delighted at how easy it's been to scale up his fledgling business using Greenawalt's brite tanks and more streamlined methods. The Wine and Hop Shop has been important to his growth, as well as herbal advice from Linda Conroy at Monnwise Herbs and the staff at Community Pharmacy.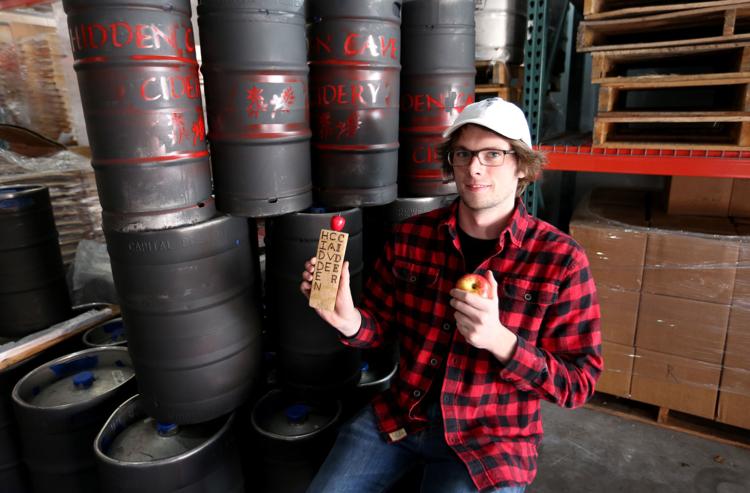 Fanning likes being one of the newest cider makers in town, joining Mershon's Cidery in Stoughton, Brix Cider in Barneveld, Restoration Cider Co. in Madison and The Cider Farm, a Mineral Point orchard and cider/apple brandy maker about to open Madison's first cider-centric tasting room.
"You can't ask for too much. I would never ask Restoration where they get their apples," Fanning said. "But no one's going to be mean to you. The only reason they'd be upset is if you're not putting out good cider."
Fanning hopes his flavor profiles will set him apart.
"What I really like is for my flavors to come out very simple," Fanning said. "It's right from the farm, and I'm doing as little as I can. Right off the farm, you can smell the apples, taste the tartness.  
"If you experiment with (cider), it's really fun. It's not that hard and you can built a lot of flavors out of it."