Just in time for summer sipping, local brewers are experimenting with a fruity, tropical style of India Pale Ale first popularized in New England.
Known as New England IPA, Northeast IPA or simply NEIPA (pronounced "neepa"), this beer pulls out the softer, juicier flavors that hops release when added later in the brewing process. This is in contrast to West Coast IPA, which gets its aggressively bitter, piney taste from earlier hopping.
Poured in a glass, a New England IPA looks like dusky orange juice. Or, in one poetic description, like "sunshine through fog." In a column last fall, Isthmus beer writer Kyle Nabilcy noted these hazy beers are often referred to as "milkshake IPAs."
Until this year, Wisconsinites had to travel to taste a New England IPA. Small-operation breweries with limited distribution, like Trillium Brewing Company and Tree House Brewing Company in Massachusetts and The Alchemist and Lawson's Finest Liquids in Vermont, were the first to popularize this hazy style within the past two or three years.
Now we're getting them here.
"This is like the next generation of IPA," Levi Funk said. He and business partner Isaac Showaki started their Waunakee-based brewing company Untitled Art in late 2016.
Untitled Art's first release, Juicy, fell under the umbrella of the New England IPA style, as does its most recent release, Hazy (about $14.99 for a four-pack of 12-oz. bottles). Another, Creamsicle, is planned for later this year.
"We're trying to bring examples of beers that exist elsewhere in the nation to Wisconsin," Funk said.
The response to Juicy was encouraging, Funk added.
"Other breweries saw the response we got and were emboldened to try it."
Len Skar, beer buyer for Jenifer Street Market, is aware of two Wisconsin-made New England IPAs currently available in addition to Untitled Art's Hazy.
The Brewing Projekt's Dare Mighty Things IPA (about $9.49 for four 16-oz cans) out of Eau Claire and Pearl Street Brewery's Rump Shaker IPA (about $10.69 for six 12-oz. bottles) out of La Crosse both hit the market within the past month.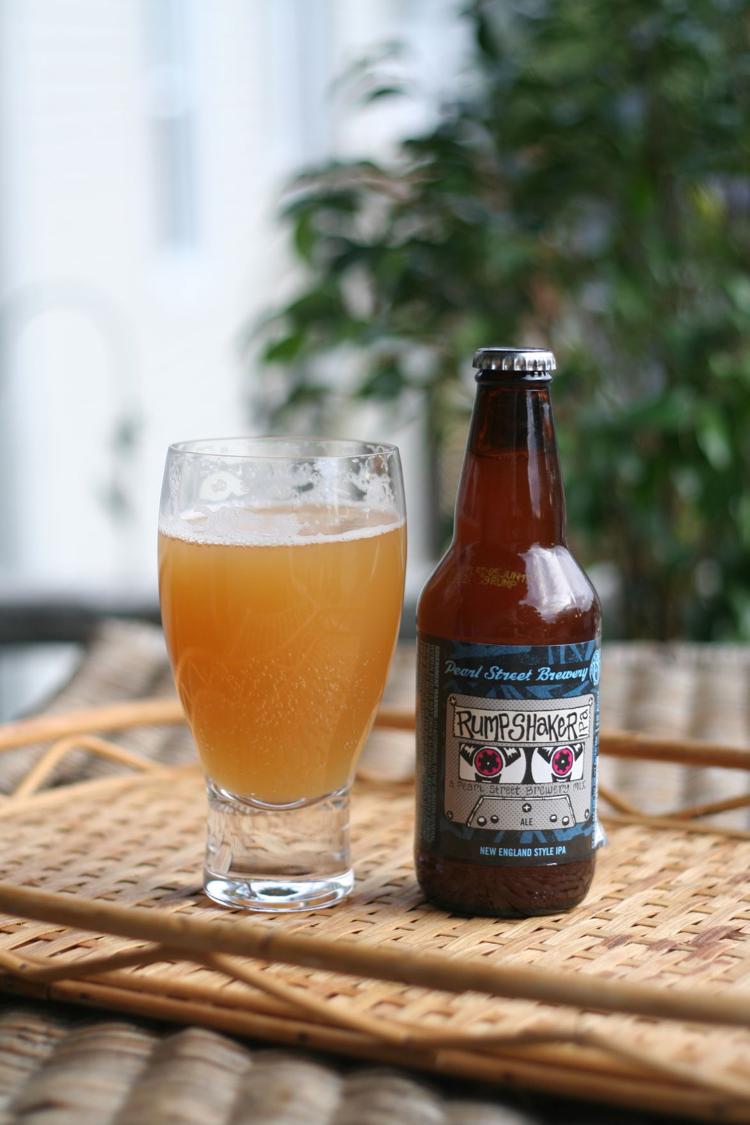 "To me, it's the next big thing," Skar said.
Another New England IPA brewed in Wisconsin, O'So Brewing Company's Hop Debacle, was released in March and sold out quickly.
The NEIPA's signature haziness, a byproduct of yeast reactions and lingering hops, can catch the uninitiated off guard and even be downright off-putting, a sign of dirty tap lines or beer gone bad.
Brandon Dorman, co-owner of BarleyPop Tap and Shop on Atwood Avenue, recalled the time he and his business partner, Jason Hadjik, ordered glasses of Hop Debacle this spring over lunch at a bar in Madison.
The waitress set down the beers, then paused. "Oh, there must be something wrong with this. Let me take these back," she said. "Oh, no," they assured her. It's supposed to be that hazy.
Dorman has tried the original New England IPAs and said Wisconsin brewers are "getting close" to doing the style justice, "about an 8 or 9 out of 10."
The differentiating factor is bitterness. The very best versions of the style manage to extract big, fruity flavor out of the hops with virtually no lingering bitterness, he said.
The Wisconsin thirst for New England IPAs is growing. When O'So's Hop Debacle came into BarleyPop this spring, "people scooped it off the shelves," Dorman said.
He's also had at least three homebrewers in recent months bring him bottles of their own New England IPAs to sample.
Zak Holmes, who brews in his garage on the north side of Madison and is a member of the Sun Prairie Wort Hogs Homebrew Club, has already tried his hand at a New England IPA. He and a friend used three types of hops and a Belgian strain of yeast that produces a slightly tart beer with mango and pineapple characteristics.
"We added very little hops for bittering," Holmes said. The result "tasted wonderful."
"I drank it up as fast as I could, within a month," he said. "You definitely want to get New England IPAs fresh," within a week or two is ideal.
In a few weeks, 3 Sheeps Brewing Company out of Sheboygan will release its spin on a New England IPA, Fresh Coast. Skar at Jenifer Street Market expects to get it in by early July.
Grant Pauly, 3 Sheeps founder and brewmaster, has been developing Fresh Coast since the winter. It will have all the signatures of a NEIPA: hazy, tropical fruit flavors and lots of late-stage hopping.
"For a long time, consumers wanted IPAs to be more bitter and more bitter and more bitter," Pauly said. "Now we've come full circle."
Brewers are discovering the full flavor and aroma power in hops, like passion fruit, mango and papaya.
"I don't think people realize what hops can do," Pauly said. "It's a lot of fun on our end."
Pauly's inspiration for Fresh Coast came from a trip out east last summer. New England IPAs were all he drank for a week.
"I came back and I could not get a single one in Wisconsin," Pauly said.
This year will be different.
"Come summertime, this is all I plan on drinking."