The secret to making it through the winter with less booze in your glass (but without getting bored) may be hanging out on the door of your refrigerator right now.
Maybe you got some fresh fruit jam as a Christmas gift, made by a friend from wild blackberries on Madison's west side. Maybe you bought fresh raspberry jelly at a holiday market or grabbed a jar of Quince & Apple apple cranberry preserves from a school sale.
Inside that little jar is fruit and sugar, also known as the building blocks for an easy, tasty nonalcoholic cocktail. Add a few sprigs of fresh herbs, a splash of vinegar for acidity and some sparkling water and you'll never miss the gin.
"We drink alcohol to feel the effects, but also because it's a celebration-type thing," said Amy Huo, chef/owner of the Locavore Mobile Kitchen food cart in Eau Claire. "It makes you feel like you're doing something special if you put in things you don't normally use or have to find them. It helps with people trying to stay away from alcohol."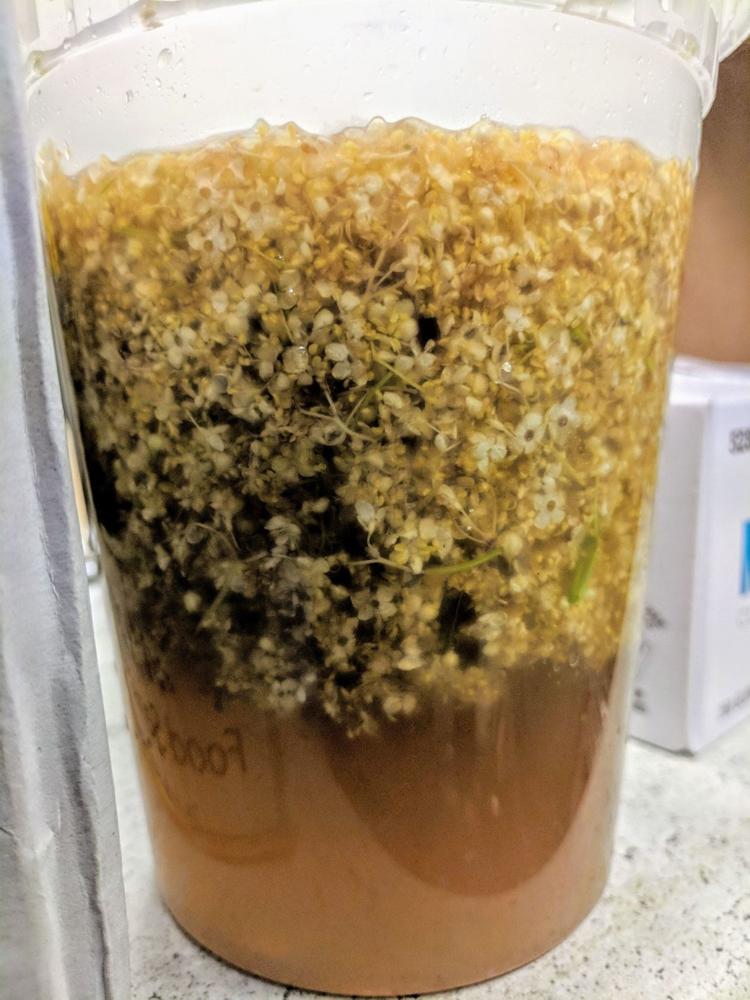 Huo began developing nonalcoholic variations of cocktails this past summer at a weeknight concert series in Phoenix Park in downtown Eau Claire. Non-alcoholic options were mostly commercial sodas, she said. People wanted something more interesting, with less (fake) sugar.
"A lot of my friends are not drinking as much these days," Huo said. "They said it would be nice to have something that, one, if we want to add booze to it we can, but also that's locally made because nobody else in town does that. It was a natural thing during the summer to do something with the berries."
Huo developed a series of nonalcoholic cocktails using fruit, tea, vinegar and seltzer. She made a blueberry elderflower cocktail, steeping the flowers in syrup. She made another with strawberry, rhubarb and raspberry. She used rose petals and tea blends and hops grown by her husband. And of course, she found inspiration in jam jars.
"If you have homemade preserves, add a little maple syrup and really good bitters, if you're not going straight teetotal," Huo said. "Put fresh herbs with preserved fruit. That's the best combination."
For making nonalcoholic cocktails at home, Huo stressed the importance of tasting as you go and keeping in mind the sweetness of various fruits. Rhubarb will require more sugar than strawberries, for example, to balance the final drink.
"If you're going to do frozen berries in the bag, add herbs to it to give it more interesting flavor," Huo said. "Vinegar is underused. You can put it in shrubs. It makes it interesting if you put it in before you cook it down. It helps to balance all the flavors."
One of Huo's cocktails started with a French-style crab apple jam. Huo added orange juice and Corazón bitters from Bittercube in Milwaukee, a bitters with "coffee, chocolate and hot pepper flavors."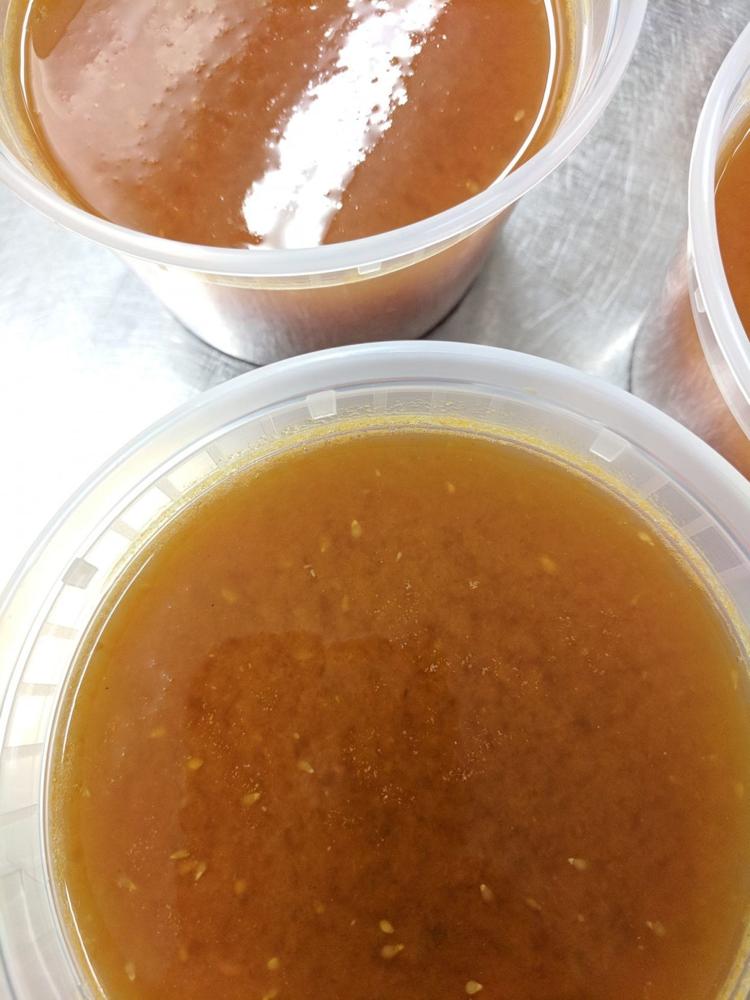 After giving the preserves and orange juice a good shake to keep the jam from being too chunky, she added cinnamon and simple syrup.  
"It sounds weird, but it was really good," Huo said. "We put it over ice and topped it with seltzer."
Huo used soda water instead of tonic to control the level of sugar in the final drinks. Other variations Huo came up with were a strawberry chamomile cocktail and a strawberry rhubarb cocktail with rose petals. She got the petals from her in-laws, but they are readily available at Asian markets. 
"I use dried roses in a lot of fruit stuff, because I think they impart a more subtle flavor than rosewater," Huo said.
For her Tiger Tea cocktail, Huo started with a Sacred Blossom Farm herbal blend of tulsi (holy basil), ginseng, lemongrass, elderberries, ginkgo, elderflower, thyme and safflower.
First Huo oversteeped the tea, letting it extract for 10 minutes or so — long enough to get lots of flavor but not so much that it would taste vegetal or grassy. Then she strained off the leaves and reduced it by half. An addition of cane sugar made a simple tea syrup.
"You have to stick to one kind of herb and one kind of tea and one kind of acid, even if you're using lemon or orange or another kind of citrus," she said.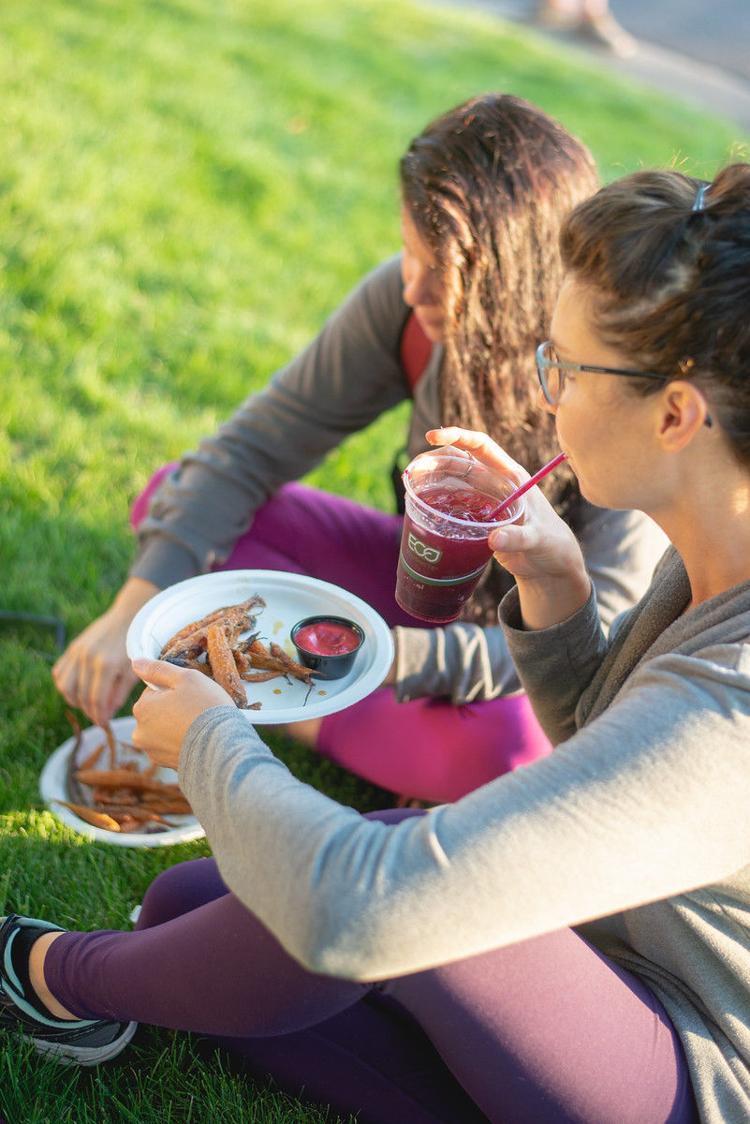 The challenge with nonalcoholic drinks is keeping the flavor profiles interesting for those who might be craving the juniper and botanicals in gin or a pucker-y sour beer. The latter inspired Huo's Hopped Cranberry cocktail.
"My husband grows a lot of hops," she said. "I wanted to recreate a lambic or sour."
Huo combined the hops themselves and pieces of hop pollen with cranberries and sugar, "everything in the pot together" with a small amount of water "to make sure the hops get the flavor in there."
"It was sour, a little bitter, kind of hoppy," Huo said. "It almost tasted effervescent with the hops, like the Szechuan peppercorn when it makes your tongue go numb. It turned out pretty nice. It was a good replacement for having a sour."
For Huo, having nonalcoholic cocktail options is connected to mindfulness, a priority for many as the new year begins.
"If you know what you're putting in your body, if you know the farmer who grew your strawberries ... you don't need to add alcohol to that," she said. "You have a connection to the place you live. You put something in your body that exists where you are. It's important to have a connection to the earth."
It's also about feeling good in a different way than a beer buzz.  
"People want to feel good about themselves," she said. "It's nice to be able to make something for yourself and feel good about what you're eating and drinking."