Kim Seeman likes her eggs over medium, but at Gordon Dining Hall, she'll cook them any way you want.
Seeman, 60, began work at University Dining at the University of Wisconsin-Madison in 1989. She started as a cook in the old Gordon Commons building on Dayton Street and when that building was replaced with the current Gordon Dining and Event Center in 2012, she moved there.
"I've been on the same block for almost 30 years," Seeman said. "I started out as a cook, and then after that it was the production assistant, which is what they call us chefs."
Her daily routine hasn't changed much since 1989, either. Seeman hits the snooze button on her alarm clock at 3:45 a.m. every morning — "I gotta snooze, I'm not one to get up and get going" — before rolling out of bed at quarter after four. Then, she makes the half hour commute from her home in Evansville to Madison.  
The 5:30 a.m. to 2 p.m. shift begins with prep. She gets breakfast meat ready to go for the breakfast line. The team makes breakfast sandwiches. Scrambled eggs, lunch prep, "we'll get that going, too," Seeman said. 
She initially took the job at the university for health benefits and vacation time, since she had just had her son. Seeman said she stayed because she enjoys the work.
"I'm one of these that doesn't like change," she said. "To job hop all the time, it's just not in my DNA."
Seeman said her goal is to bring "a little smile" to the faces of the hundreds of UW-Madison students she serves each day.
"After almost 30 years, the highlight of my day is being able to say good morning to everyone who is standing there just waking up," Seeman said. "Even if they've had a rough night or rough morning and they come in for their omelette at 11 o'clock in the morning, you gotta smile, you gotta say, 'Hi, how's it going?' So at least, if they are having a bad day, it's like 'OK, it's good.'"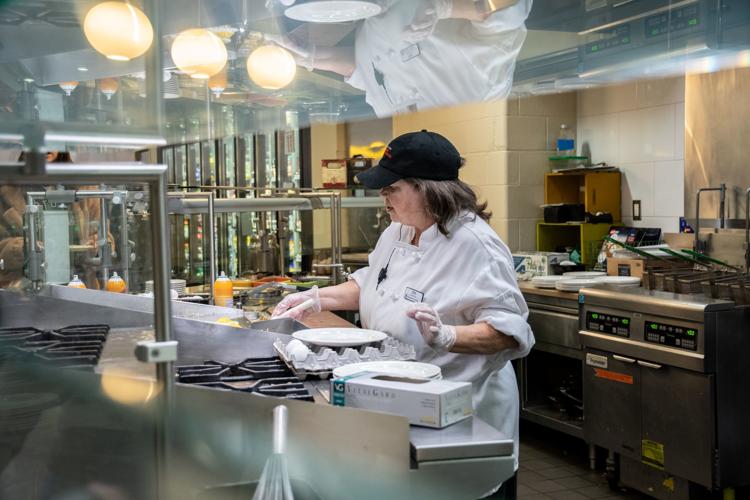 Growing up on a 120-acre farm between Edgerton and Evansville, Seeman's family raised cattle, chickens and ducks, as well as harvested everything from hay to tobacco. Seeman was the second oldest of six children and learned to cook at an early age.
Meals on the farm consisted of what Seeman called "our meat and potatoes." Her father slaughtered the cows, her grandma plucked the chickens and ducks and Seeman did the cooking.
"The boys didn't do a whole lot. And my two little sisters, because they were the youngest of us six, they did little stuff," she said. "You didn't have a whole lot of time where you didn't have something to do."
After graduating from high school, Seeman studied accounting for a year at Blackhawk Technical College in Janesville before cooking for inmates at the Rock County Sheriff's Department and serving as a line cook at a Perkins restaurant near her house. Seeman still works at Perkins on her two days off each week from Gordon.
"It's not like I need to, but that's my rainy-day fund," she said. "If something goes wrong with my house or the car, I've got that backup money."
She used to be a line cook, but she now works in prep. When Perkins redid the cooking line in the restaurant, they made the counters too high for her. She's only about five feet tall.
"You can only reach so high," Seeman said. "When you gotta stand on your tippy toes to butter toast, it's time to get off the line."
As one of University Housing's most experienced employees, Seeman has become a leader in UW-Madison's central dining hall. Seeman cooks an average of 900 eggs every weekend on a 3-by-3 foot flat top grill. While she cooks, she teaches student workers how to prepare the different types of eggs and answers their questions.
Seeman is the only chef at the breakfast station, so "I try to know everything that's going on," she said. 
Seeman trained her coworker Karen Smith when Smith joined University Dining nearly 16 years ago. Smith said Seeman is "a very good leader" who is "all about business."
"If there are certain things I don't know, I ask her to help me out," Smith said. When "the kids would like to know what's in the food and everything, I go right to Kim."
After serving UW-Madison students for what will be 30 years in November, Seeman plans to retire on Jan. 3, 2020. It's her son's birthday.
She is looking forward to sleeping in — "not having to get up until maybe six" — and cooking for herself, something she doesn't feel like doing when she gets home from work. She likes to experiment with casseroles and tweak recipes she grew up eating on her family farm, which was sold about 25 years ago.
"It's given me something to look forward to for the last year and a half, two years," she said.
Smith said she will miss having Seeman next to her every day.
"It's going to be really hard to see her leave." Smith said. "I know that I will cry because I'm so used to her being right there."