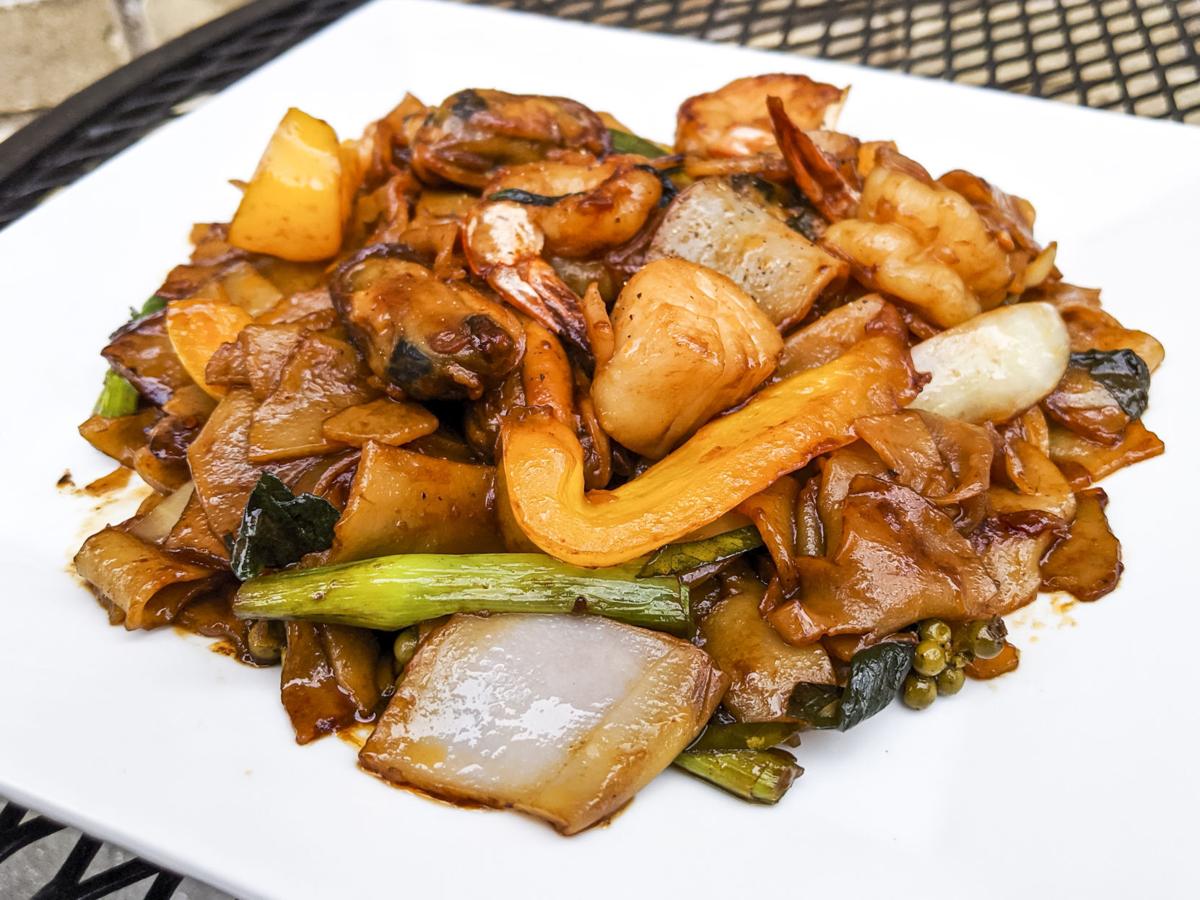 Thirty or so miles from Madison and some 8,000 miles from Thailand, YumYum Thai Kitchen in Columbus draws diners from all around south central Wisconsin for chef/owner Minnie Hager's food. 
Hager grew up in her parents' restaurant in Thailand, which fostered a lifelong love of cooking and caring for people through food. She came to the U.S. to work in her aunt's Thai restaurant in Charlottesville, Virginia, and when that restaurant closed, she began working with friends at Monsoon Siam, also in Charlottesville. She eventually moved to the Madison location of that restaurant. 
When she married husband Dan, Minnie left the restaurant but did not stop cooking Thai food. Alongside her day job in food service at UW Hospital, Minnie began to grow a following for her cooking, eventually selling meals to friends, coworkers and Thai students at the University of Wisconsin-Madison. Every Sunday for about three years, the couple delivered meals around the city.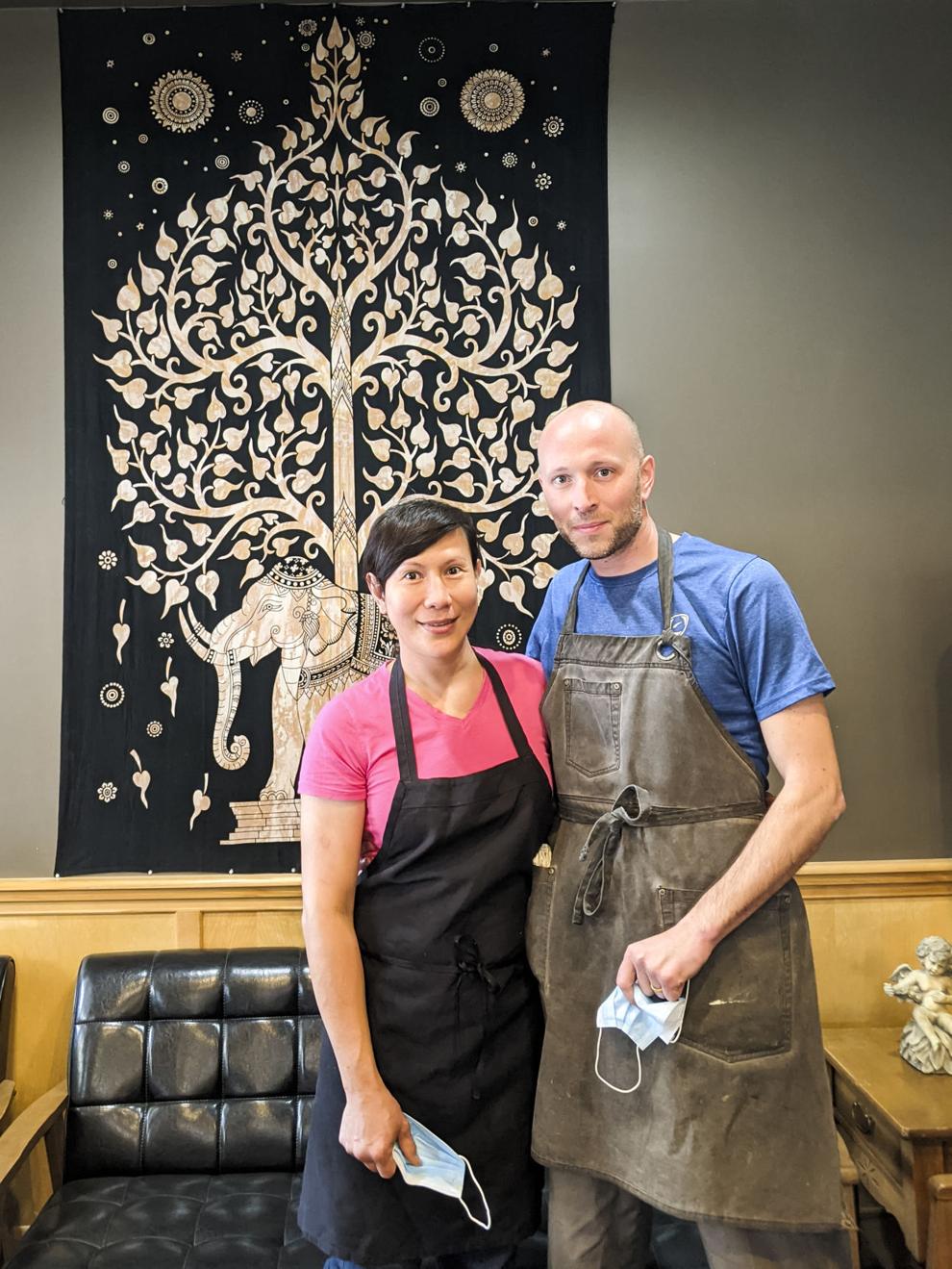 "We knew (based on) the support we were receiving from the people we were selling to on Sundays that Minnie's food was something special," Dan said. "And we could build around that." 
When the Hagers bought a home and settled in Columbus in 2017, it felt like the right place and time to realize Minnie's dream. 
Hager infuses her dishes with flavors and dishes unique to her upbringing in Ranong, Thailand on the north end of the Malay Peninsula. Much of YumYum's menu is able to be customized, making it vegetarian or gluten free, and each entree can be scaled for heat from 0 to 5. 
Ranong is located on a peninsula about 60 miles wide, with the Adaman Sea on one side and the Gulf of Thailand on the other. Minnie likens her home to Madison's Isthmus, and focuses her menu on seafood. 
YumYum's seafood drunken noodles ($13.99) feature a hefty serving of mussels, scallops and shrimp alongside wide rice noodles. On top, she mounds fresh Thai basil and crunchy veggies, like peppers, scallions and bamboo shoots, as well as aromatic peppercorns and makrut lime laves.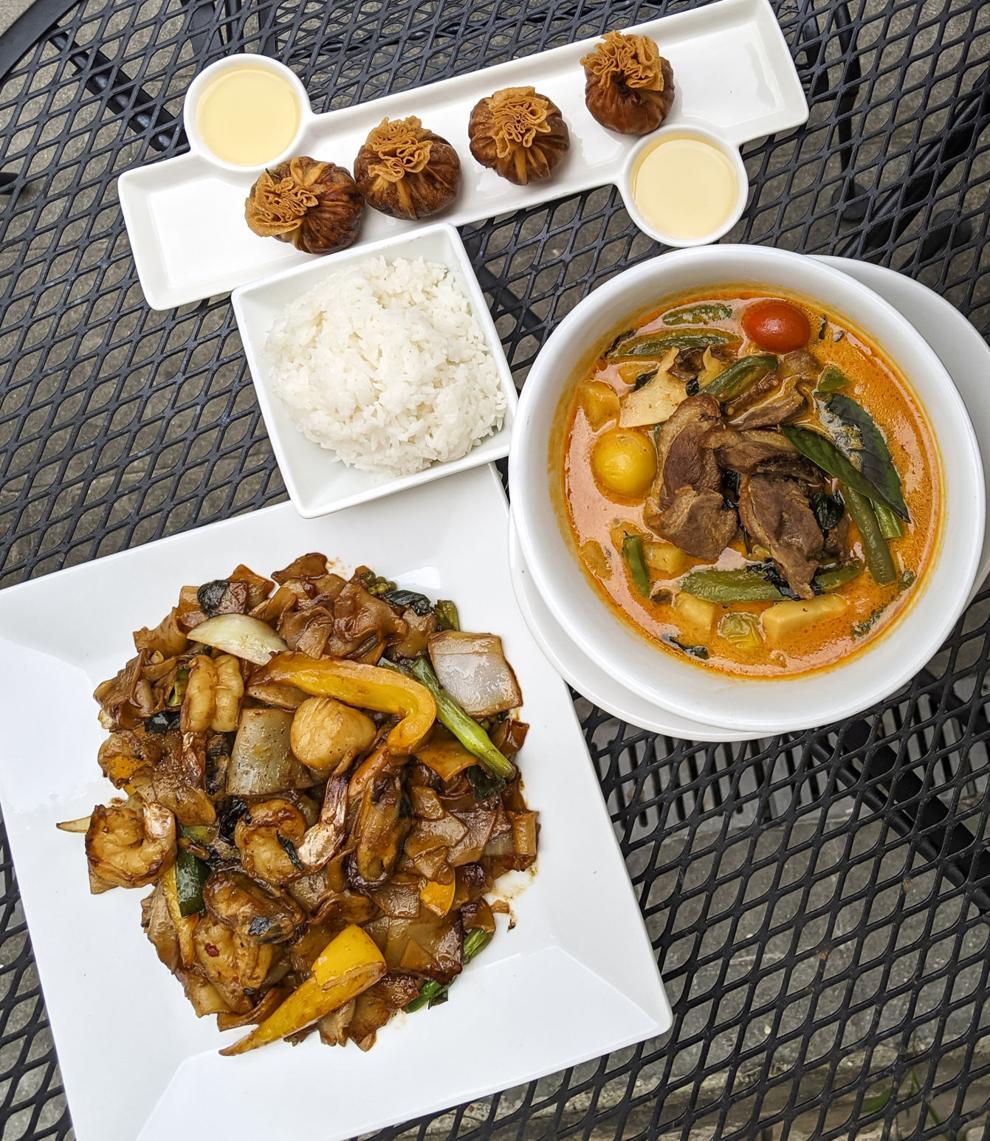 Translating Thai dishes to rural Wisconsin can be challenging, and Thai basil is one of the hardest things to source. The Hagers travel to Madison at least once a week to visit Asian grocers and suppliers. There's also what Minnie refers to as "my secret ingredient," the spices and dried herbs that give her dishes the distinctive taste of Ranong. When she travels to Thailand, she dedicates an extra bag to restocking her supply. 
There are six different curries on YumYum's menu offering a range of flavor bases. The duck curry($16.99) balances sweet and savory, marrying the coconut base, sweet bell peppers and pineapple with rich pieces of roasted duck. The heat was subtle when it came, and lingered on the back of the tongue
Working through the pandemic has brought challenges and difficulties, but the Hagers are making plans for the future. One of those plans is a food truck they hope to have on the road by late July. Minnie's cooking brings customers from as far away as Beaver Dam, Baraboo, Watertown and Waterloo.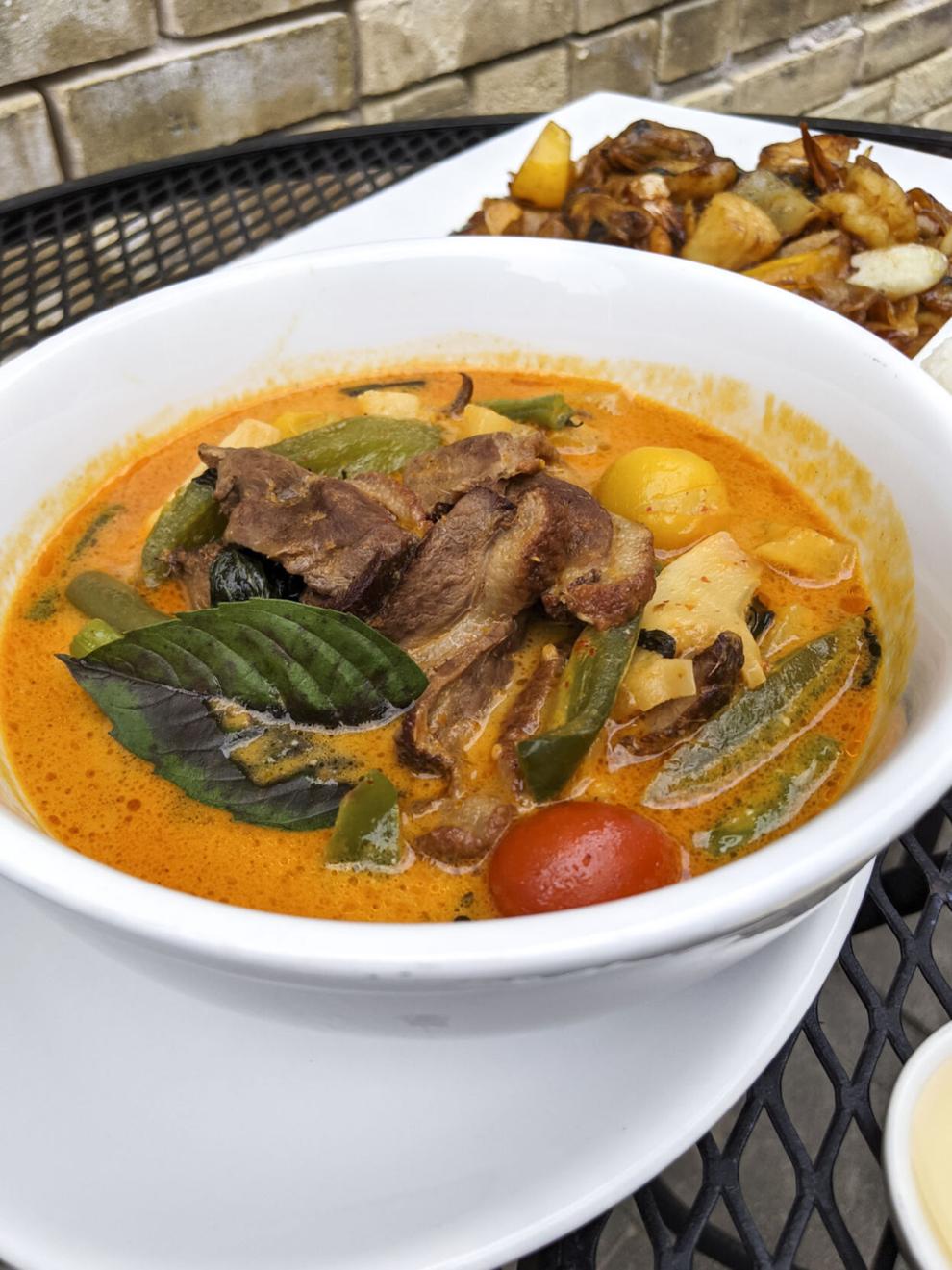 While folks have been willing to make the drive, the Hagers hope a food truck will be a way to bring YumYum to their regular customers while growing a wider fanbase. Their plan is to have regular scheduled visits to individual towns while also appearing at county fairs and other events. (Follow @minnehousemade on Facebook to find them.) 
One item that should be a staple of the food truck are Treasure Bags, currently served as an appetizer ($6.99 for four). These are wontons wrapped around a meatball of marinated shrimp, crab and chicken with onions and cilantro. Minne ties them off at the top and fries them. If your to-go order is traveling any distance, consider snacking on these in the car, as they're best straight when they're crispy and fresh from the fryer. A sweet, tangy, homemade pineapple sauce is served alongside.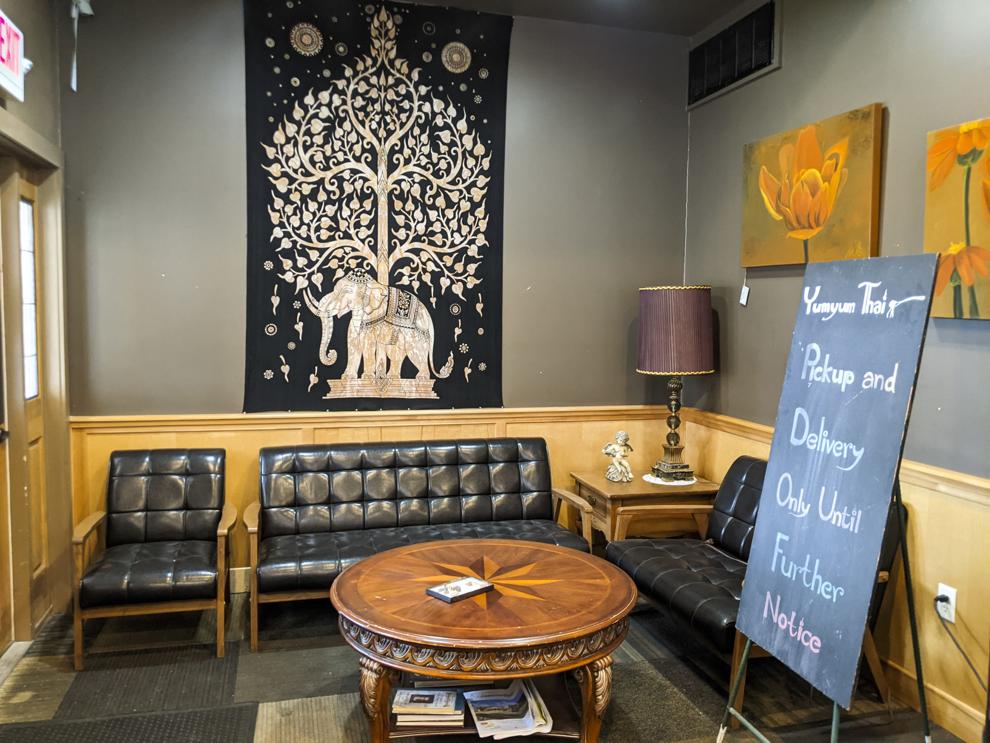 YumYum is still focused mostly on takeout and delivery, but the Hagers are starting to take limited reservations for inside their dining room and on their patio. In a restaurant industry that has been ravaged in the past year, being able to start thinking about what the future might hold feels massive.
"We have really slow days and we have some really busy days, but month over month we've been pretty steady," Dan said. "I try to remind (us) that's something to be grateful for." 
"It has been harder than people realize, during the pandemic, to keep everything going," he added. "We have a good foundation. We have a core group of customers that are keeping us going. It has been a struggle, but I think we're very fortunate compared to where we were a year ago." 
Share your opinion on this topic by sending a letter to the editor to tctvoice@madison.com. Include your full name, hometown and phone number. Your name and town will be published. The phone number is for verification purposes only. Please keep your letter to 250 words or less.