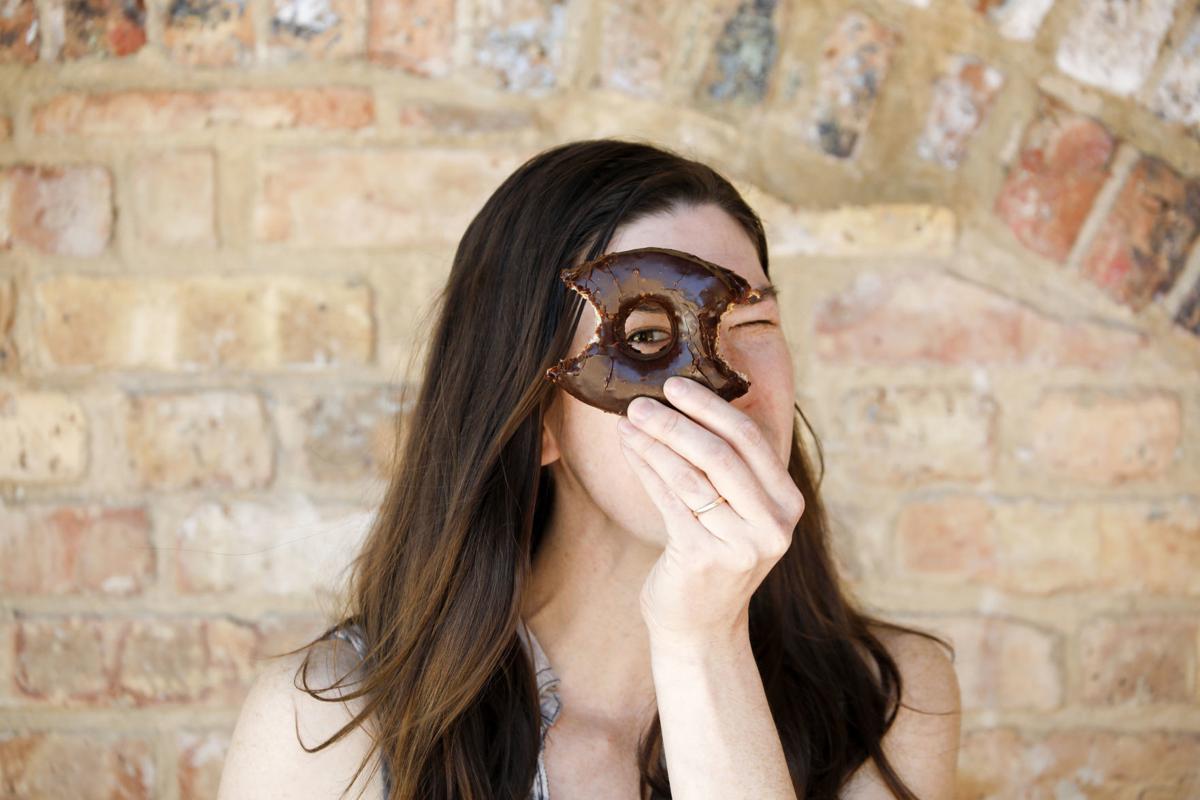 Madisonians' demand for vegan doughnuts is so strong, Shanty Town can't make them fast enough. Though their breakfast treats have only been available in local coffee shops since late 2019, Aaron Mooney, 33, and his wife Caitlin Rockey, 31, are already looking toward building their business on the other side of lockdown. The secret to their success may be in the dough.
"We use a process that's kind of like a sourdough starter, where we take a little bit of leftover dough from the day before and put it back into our new batch," Mooney said. "So we're constantly folding in a little bit of the old dough into the new dough, which gives it a little bit more of that fermented sourdough style, which I think tremendously changes the flavor." 
The result is a doughnut with the sweet, homey smell of freshly baked bread. At first bite, the strong interior structure gives it a good chew. The glazes aren't overly sweet, just flavorful. If you're concerned about the vegan label affecting the taste, there's no need to be — these doughnuts stand up to any doughnuts, vegan or not.
Mooney and Rockey started by delivering one or two dozen doughnuts to coffeeshops like Johnson Public House and Ledger Coffee every weekend. Given their current production constraints, that felt like a huge number of doughnuts. Now, they're up to an unbelievable 15 dozen, and the shops are still wiped out nearly every morning.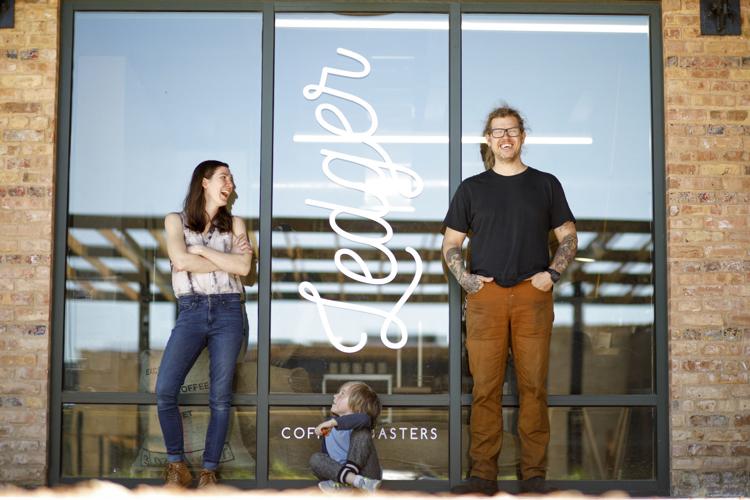 For now, it's just the two of them working in a shared kitchen space on the east side. On top of their business, they both have day jobs and are raising a 5-year-old son. Increasing production is tough, partly because they're committed to getting details right.
They insist on frying doughnuts the same morning as delivery. Mooney says that's the only way to ensure they're as fresh as they can be. They ask their partners to refrain from selling day-olds. 
"We don't sell stale doughnuts," he said. They are also always on the search for new flavors, both classic and inventive.
"There's a lot of doughnut places you see where the draw is how big it is, or how much stuff is piled on top. Caitlin was a pastry chef in Chicago," Mooney said. "Her flavors come out very clean. We try not to overcrowd the doughnuts or make them too complicated."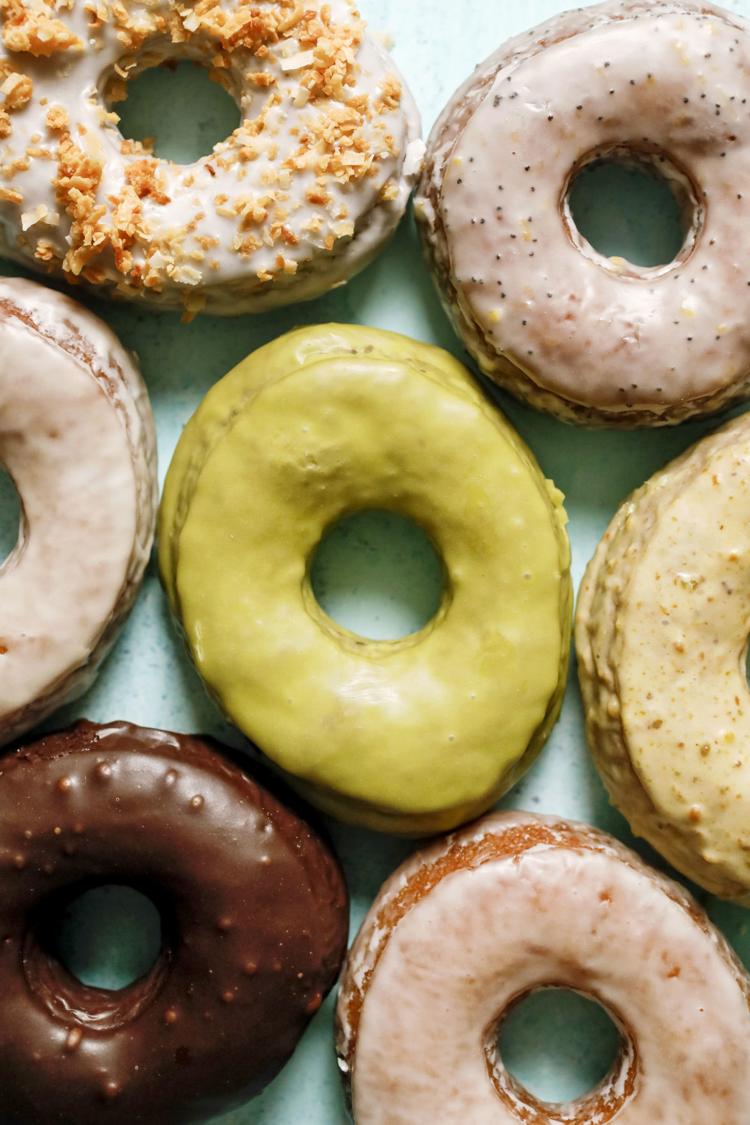 Vanilla and chocolate glazed doughnuts are their standbys. Other flavors rotate in and out every four to six weeks, like blueberry lemon, cinnamon granola and strawberry. Lately they were making a maple candied pecan doughnut and lemon poppy seed. The latter idea, a classic muffin flavor, came from a customer comment on their Instagram. 
Sometimes inspiration for new flavors comes from simply "sitting around the campfire," Mooney said. "The way I look at it, we're compiling a list of flavors for when we have our own place." 
Mooney and Rockey moved to Madison from the Pacific Northwest in 2019. Shanty Town was the name of the small takeout breakfast business they ran out of a shed in Walla Walla, Washington, where they made breakfasts to-go with their own vegan sausage, biscuits and gravy. 
The couple wasn't new to the food community when they arrived. Mooney had an earlier stint as the executive chef at Julep (the Robinia Courtyard restaurant later changed its name to Jardin). After leaving town for a few years, the Midwest called them back, and they knew Madison was their home. Without a storefront here, they needed to start with food that wasn't as hands-on. Doughnuts were a good fit. 
The couple is currently searching for investors to open a brick-and-mortar storefront. They have long-term dreams of opening a vegan diner on the east side of Madison, serving classic American fare without meat.
"We wanted to do something to spread our message and our brand. It's our form of activism ... to support a healthier plant-based diet," Mooney said. "At the end of the day, the biggest challenge would just be finding time to spend on the couch together and enjoy each other's company. We're used to it, though. We've been in this industry a very long time."
Stay up-to-date on what's happening
Receive the latest in local entertainment news in your inbox weekly!