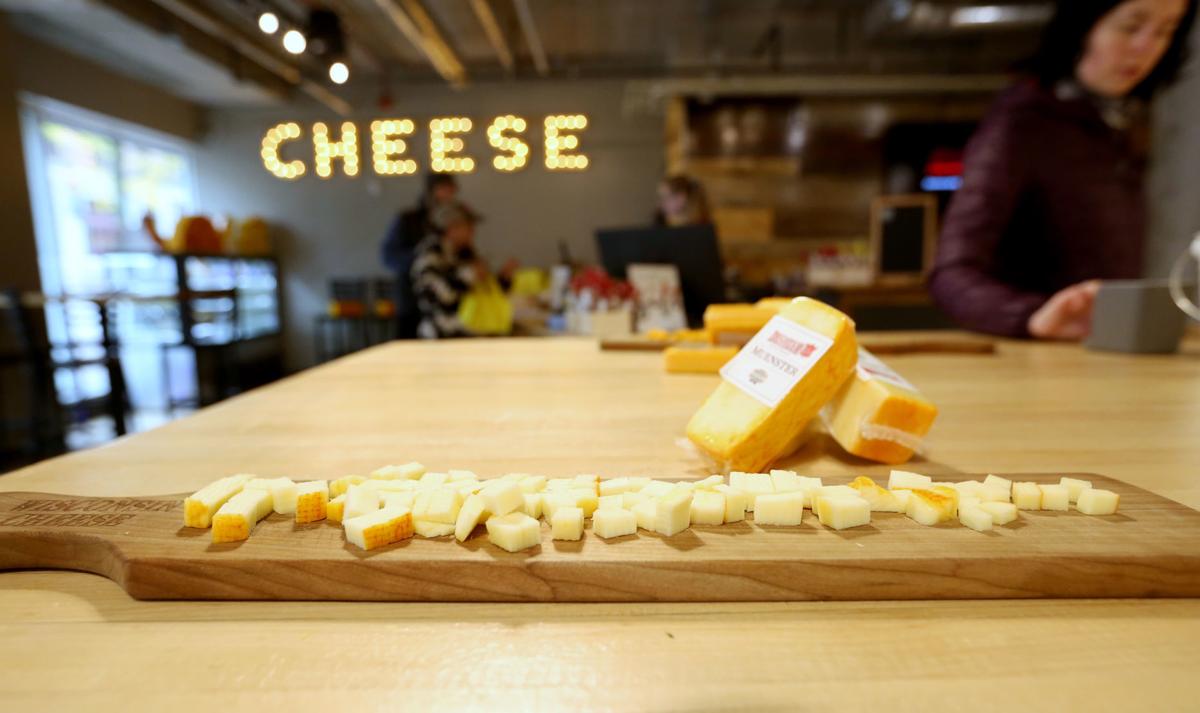 At State Street's newest cheese shop, staffers find themselves asking people the same things over and over.
"We want (customers) to be able to get cheese home," said Jack Daily, Wisconsin Cheese Mart's regional manager. "Our number one question we ask is — "
"'Where are you traveling from?'" Nina Davis, an employee, piped up from behind the cheese counter. "'What time does your flight leave?'"
"No matter what their answer is, cheese can make it to their home, but we like to build confidence," Daily said. "A lot of cheeses can sit out four or five days at room temperature. But no one believes that."
Madison's Wisconsin Cheese Mart opened on July 1 at 119 State St. Though the business has been around for more than eight decades, this is only the second retail location, which started on Old World Third Street in Milwaukee in 1938.
Ken and Melissa McNulty bought the business in 2003 and helped it grow into an online retailer. That now provides the highest percentage of sales, successful enough to allow for calculated retail risks like a new store. The State Street storefront has two big display cases for cheese, butter and sausage. The Milwaukee location has five.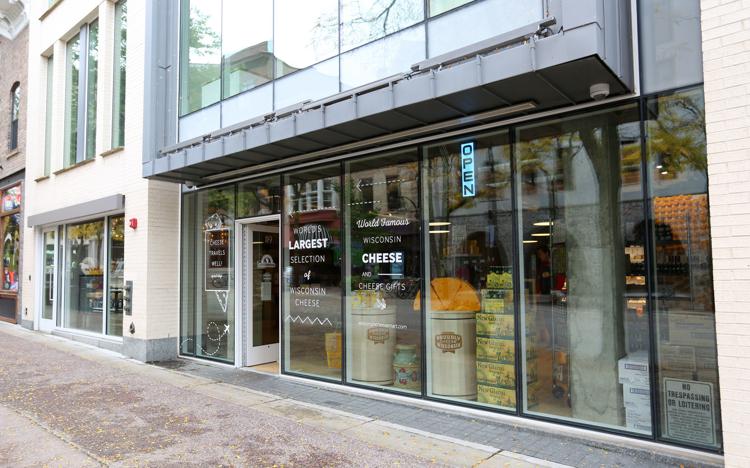 Having a presence in Madison builds visibility for the brand and can test the waters for other locations. Several months before the shop opened, Daily logged foot traffic at 119 State, the former location of Red Elephant Chocolate. (Red Elephant closed its State Street café after three years in spring 2018.)
"I sat in Buck and Badger, and we had a guy sitting at our Milwaukee storefront. We counted everyone who walked by for two hours," Daily said. "The numbers here tripled our Milwaukee store."
Daily and Davis estimated that tourists make up some 75% to 90% of people who stop in, depending on the day. But this is a different tourist crowd than were Davis previously worked, at the Mousehouse Cheesehaus in Windsor.
"Right off the interstate, they got a lot of people who were conceptually unfamiliar with cheese," Davis said. In downtown Madison, she said, "I get excited at how willing people are to go with the aged cheddars. We sample the five year cheddar here. There's no questions asked about the milder cheeses and people take more risks."  
When college students make it up this close to the Capitol, they're "just excited to have access to cheese on a regular basis," Davis said. Locals know what they want. But the Cheese Mart's bread and butter — er, crackers and spreadable cheese — are people from out of town.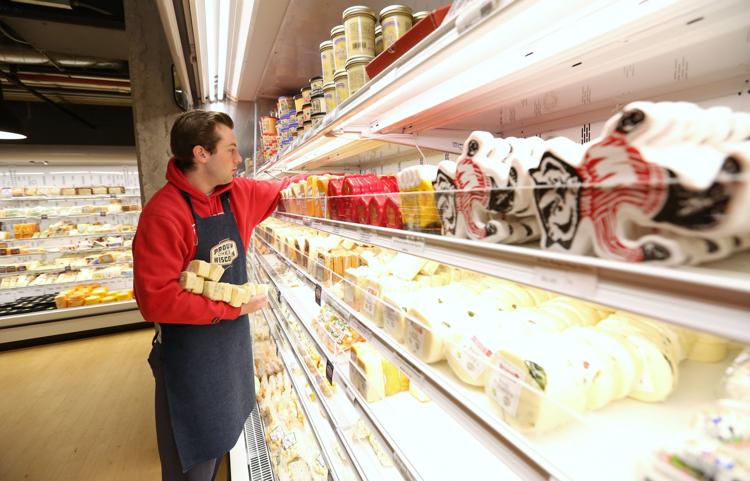 "Depending on how far someone's traveling, they have to decide whether they want the cheese curds, because they're not going to be squeaky in two weeks when you share them with everyone," Davis said.
A few days a week, a minivan from Cedar Grove Cheese or Malcore Foods in Appleton drops off fresh curds, and Daily sometimes drives inventory himself from Milwaukee.
The Wisconsin Cheese Mart is planning some tastings and events, including a cheese pairing with spirits from its neighbor, Vom Fass, on Nov. 12. Daily is working with a panini press and promoting beer on tap for folks who want to linger. 
Nearby on the Square, Fromagination has focused on carefully curated companions to high-end artisan cheese. By contrast, the Cheese Mart has an extensive selection of potted cheeses, as well as mild cheddars dipped in wax and formed in the shape of Bucky Badger, the state of Wisconsin and a miniature Holstein cow.
Flavored cheeses are big here, made with peppercorns and peppers, morel mushrooms and ghost chilis (in a Monterey Jack). A significant portion of inventory is Wisconsin's favorite cheese: cheddar.
There's a cheddar infused with Carolina Reaper chilis. There's smoked cheddar, "mango fire" cheddar, white goat cheddar and raw cheddar. There are cheddars blended with blueberries, cherries, cranberries and apples, and vintage cheddars up to 22 years old ($90 for 8 ounces, "the oldest commercially available cheese in the world," the shop claims).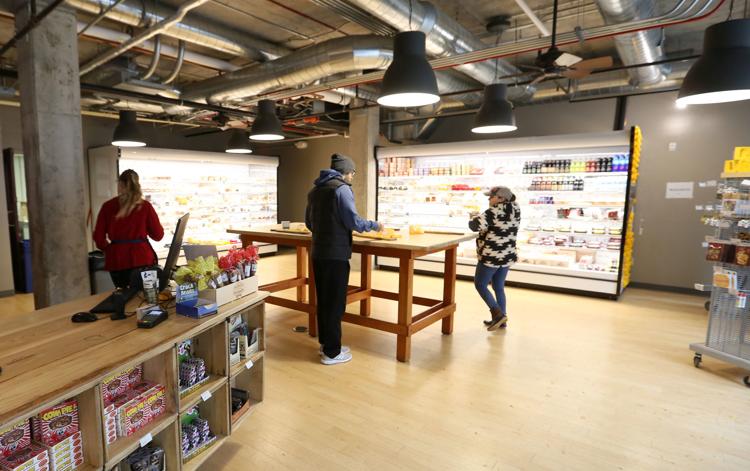 When people ask what to bring back to their families, "I always default to aged yellow cheddar, because that seems to be the Wisconsin go-to," Daily said. "We want to be an accessible cheese store for everyone. We try to have as many cheeses as we can at an affordable price point."
Beer cheeses are popular, Davis said, "because people associate with beer with Wisconsin." Uber Dairy made a three-cheese line just for the Cheese Mart using a milk stout from Milwaukee Brewing Company, a coffee stout from Lakefront Brewing Co. and a nitro rye stout from 3 Sheep's.
Cheese has a strong nostalgia factor for University of Wisconsin-Madison alumni, Badger State natives who find themselves bereft of cheese in Miami or Denver or Toledo. Daily has sent cheese to Wisconsin ex-pats languishing in Southern states where all they've got are "the cheeses you find at Subway," Daily said.
"I used to be the main shipper, and it was really cool reading the messages," Daily said. "People would say, 'I got you this cheese because it tastes like home.' Or they're sending limburger and writing, 'Doesn't this remind you of Grandma?' We're trying to give people that piece of Wisconsin that a lot of people may have left when they left the state. We're trying to provide that sense of home.
"That sounds really cheesy. Ba-dum-ching!"