This fall, Irene Gelfand and Emin Buzhunashvili fulfilled a nine year dream: to open their own Mediterranean-meets-Russian restaurant. Husband and wife are originally from Baku, the capital of Azerbaijan. 
A visit to the Caspian Sea on vacation in 2010 sparked a desire to bring the food of their heritage to their new midwest home, so appropriately, their new restaurant on Gammon Road is named Caspian Grill.  
"No matter how long we haven't been there, it's in our hearts, our traditions and cultures," Gelfand said. "Madison is our home, but Baku is in our heart, and we want to share our heart with Madison."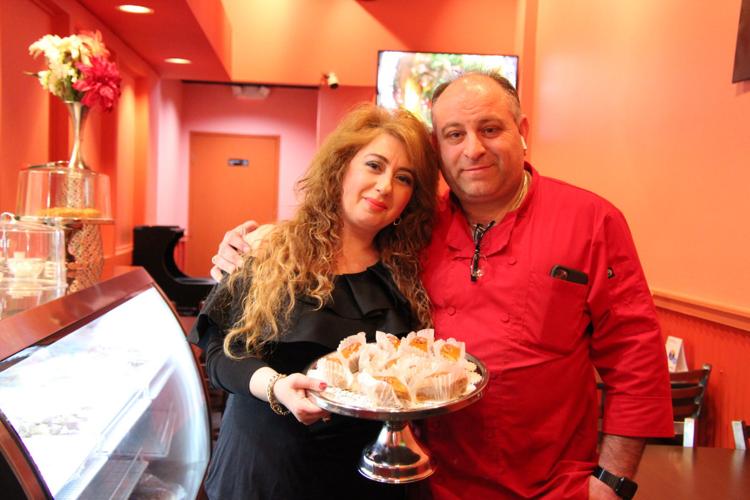 Located off Gammon Road across from Woodman's, Caspian Grill is tucked between Two Sisters Bakery and Chaat Cafe. Though a "Grand Opening" banner still hangs at the front of the building, the restaurant might be easy to miss if it weren't for its richly warm and vibrant orange walls and front desk neon sign blinking the word "specials." 
Caspian is a cozy place, with baklava desserts displayed front and center and lighting dimmed to a comfortable candlelight tone. Smells of fresh-cooked lamb and chicken kabobs waft out from the open kitchen. 
"It's our business, yes, but it's also like a home away from Baku for us," said Gelfand, whose two children often help out with cooking and serving at the restaurant. "It's a family business and we wanted this place to be small and warm and feel like family home to others too."
Gelfand and Buzhunashvili moved to Madison in 1996 to manage Gelfand's father and sister's restaurant, Russian House. The restaurant, no longer in business, seated more than 60 customers. That, Gelfand said, felt too large for their tastes.
"We like to be personal with our customers and know who they are," said Gelfand. "There's a big Russian community in Madison, and it's gotten bigger since we first moved here."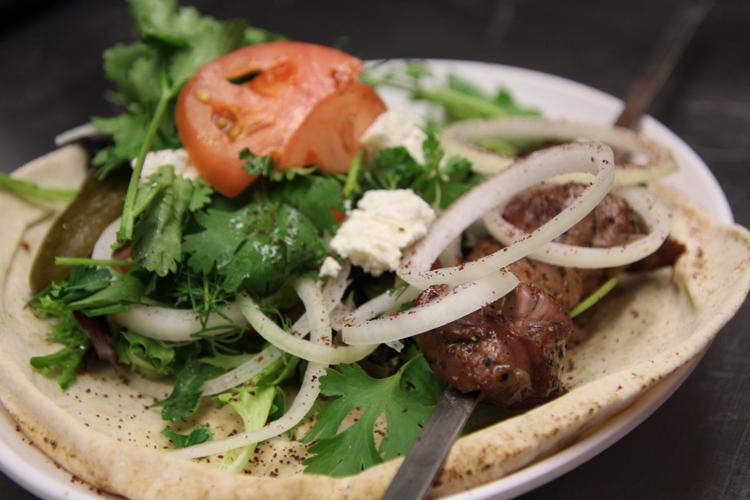 Caspian Grill's specialty is grilled meat, with 13 shish kabob options available from chicken ($5.95) and steak ($7.95) to lamb ($7.95) and grilled beef ($3.50) served atop toasted pita bread and parsley salad. Caspian Grill is also part bakery and that's where the Russian heritage shines through. 
Customer favorites include sweet, cherry-syrup-filled Russian dumplings known as vareniki ($6.95) and Russian crepes, or blinchiki ($2.50), wrapped like a blanket around warm cheese. Gelfand pays homage to Baku cooking with her walnut and pistachio baklava bites ($4.50) as well as a "Saturday special," a four-layer honey cake ($6.95). 
Gelfand is the baker and her husband mans the grill. "I'm happiest when I'm working on the grill," said Buzhunashvili, who serves as head chef.
Among steaks and sizzling salmon ($11.95), Buzhunashvili and Gelfand offer vegetarian kabobs with eggplant, tomatoes and red and yellow bell peppers ($4.95-$5.95). A Russian Salad ($5.95) tosses potatoes, eggs, carrots, dill pickles and sweet peas in mayonnaise. The carrot salad ($5.95) has mayo too, as well as raisins and walnuts.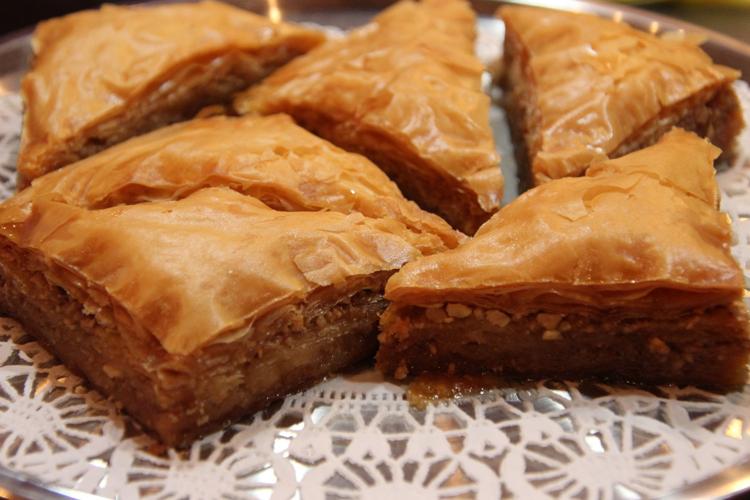 Not only do the couple's children occasionally work at Caspian Grill, it's also where the family shares many of their own meals. 
"We've always kept a family tradition to have family dinner on Saturdays where everyone comes together to eat," said Gelfand, who is also a grandmother to two baby boys. "Now that we have the restaurant, our children will often come have dinner here. I see everybody more than I used to see them before."
At just two months old, Caspian Grill offers delivery for all areas of Madison. Gelfand and Buzhunashvili are "looking forward" to the future of their business and their children. 
"Cooking is part of our culture and tradition," Gelfand said. "And it's better now because we're not just doing it for us. We hope our children will one day take over and continue to share our tradition and culture with others."