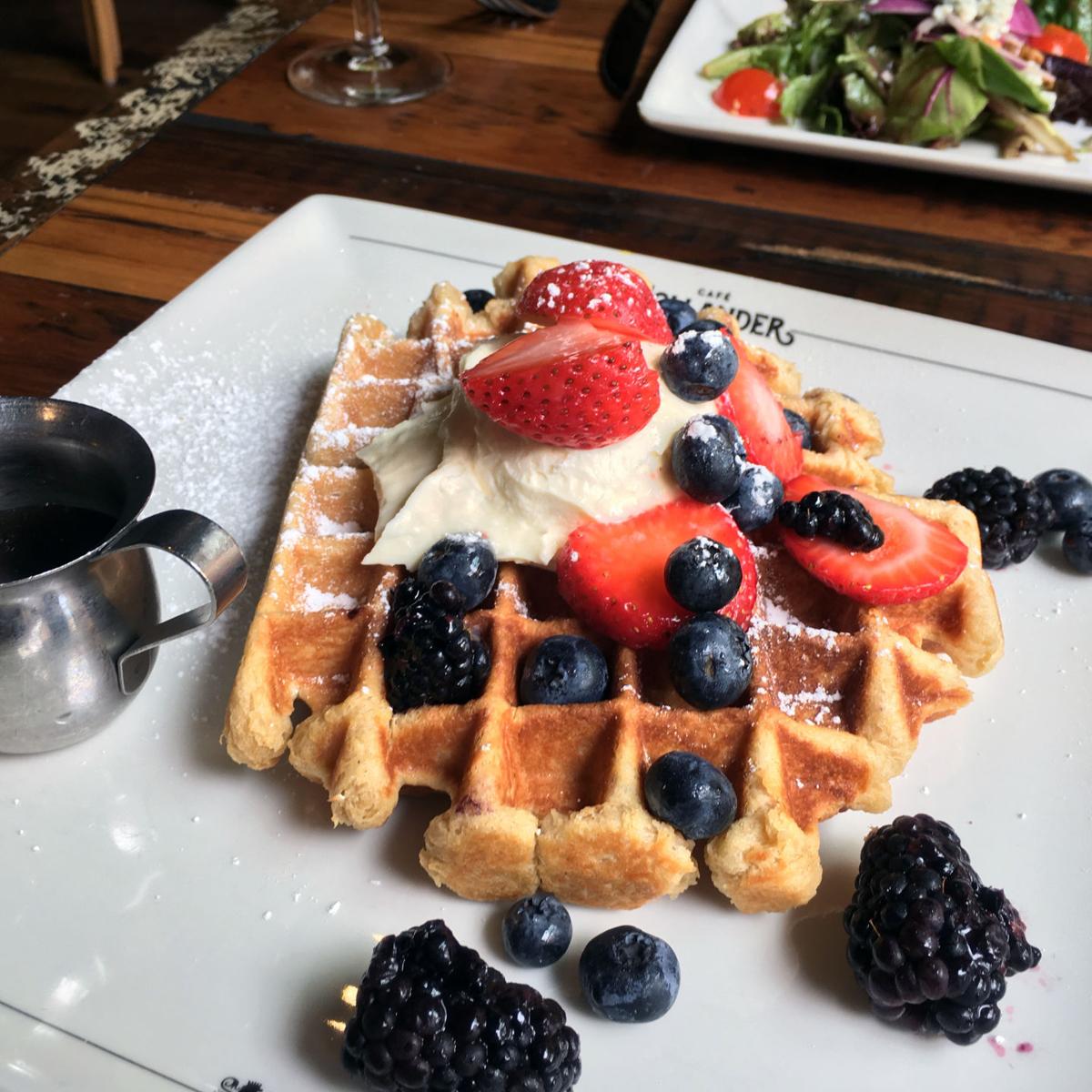 I distinctly remember the first waffle I ordered in a restaurant.
I was about 6 years old at an all-American diner and my young palate was very particular about breakfast: no eggs (too squishy); no pancakes (too spongy); no cereal (too soggy). I ordered a waffle, which I assumed would pop out of a toaster like they did at home.
When my plate arrived at our table I was in awe. With a scoop of butter in the center and blueberry pie filling oozing over the edges of the plate, my waffle was larger than a pizza.
It felt like I ate for hours, but I'd barely made a dent in the enormous golden disk.
Although my tastes have expanded considerably since then, I still love a great waffle. Fortunately in Madison we have many delicious options to choose from.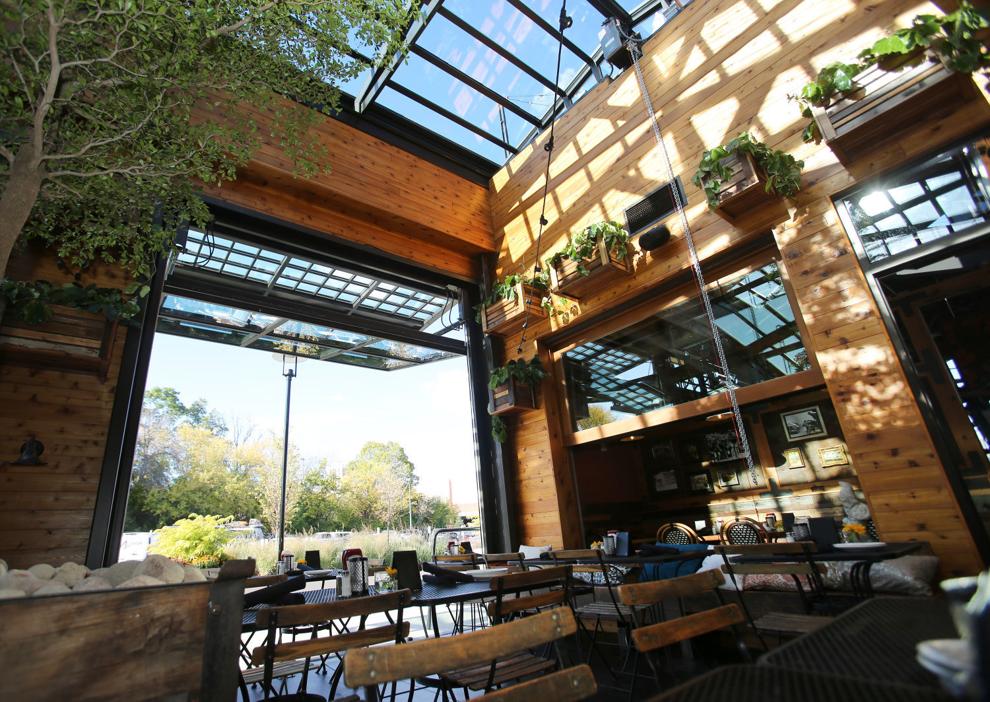 Café Hollander's menu is inspired by the Lowlands region of Europe including Belgium, so addition to "bier and frites," waffles are a required dish on offer. "Liège waffles" are made from a yeast dough (similar to bread) instead of a batter that relies on baking soda to rise. Pearl sugar is also added to the dough.
The result is a waffle that is a little sweeter than the American version, with a bit of caramelization on the crunchy exterior. The kitchen at Café Hollander even uses special liège waffle irons from Belgium to make sure the lovely brunch dish tastes authentic.
Although they are not traditionally served with sweet toppings in Europe, Hollander offers waffles four ways: plain with syrup; topped with crème fraiche, fresh berries and maple syrup; laden with Door County cherries and whipped cream; and a truly decadent version spread with the chocolate hazelnut confection Nutella, along with toasted marshmallows and a maraschino cherry.
I found the fresh berry waffle ($10.95) a delightful choice at brunch — the sturdy pastry had deep pockets for soaking up syrup and the slightly sour crème fraiche added contrast in both taste and texture. Fresh blueberries, strawberries and blackberries were juicy, ripe and full of flavor. All four variations on waffles are available on weekends.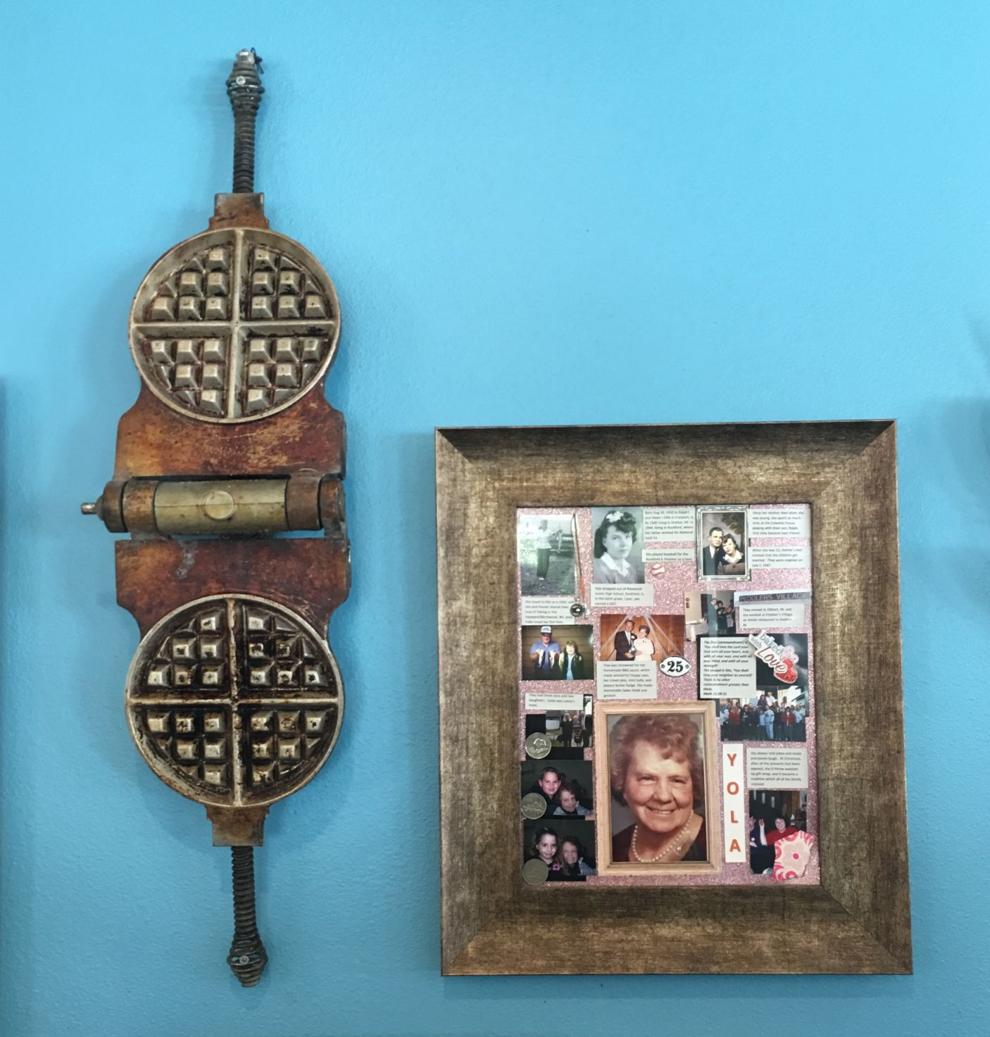 At Yola's Café, owner Lance Ratze says his whole family loves waffles.
"I think it's genetic," he laughed. "As a kid, every time we would go visit Grandma Yola she would have a fresh batch of Belgian waffles waiting for us, no matter what time it was."
Ratze carries on that tradition using a family recipe that includes malt powder, butter and buttermilk, plus some secret ingredients Ratze wouldn't name.
"That's what gives them their distinct taste and their unique texture," he said, "crispy on the outside, warm and perfect on the inside."
Café customers' favorites at Yola's include The Patriot waffle ($7.49) topped with berries and whipped cream. The Nutty Banana waffle ($7.99) is served with banana slices, walnuts, caramel sauce and whipped cream.
Ratze's personal go-to waffle is a gluten free version with fresh strawberries.
"It's hard to make gluten-free items taste good," he said, "but our gluten-free waffle is very popular. And tasty!"
Yola's also offers a Waffle of the Month — a specialty flavor offered for a limited time, that donates a dollar per waffle to charities like REACH-A-Child, Care Net Pregnancy Center of Dane County, Domestic Abuse Intervention Services (DAIS) and Building Bosses.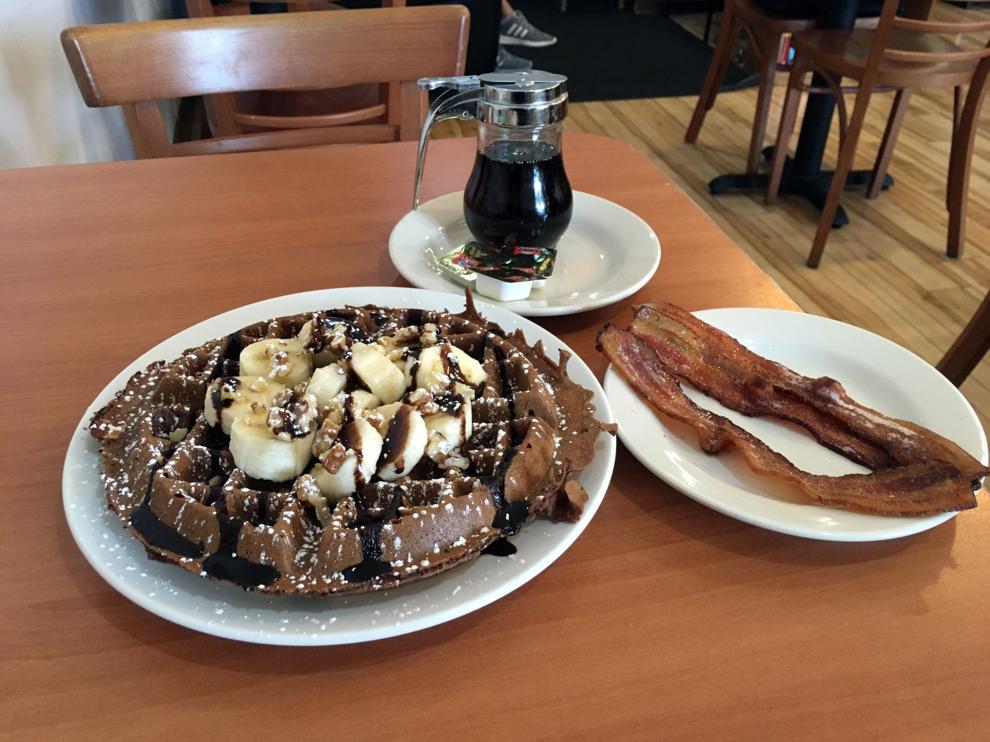 TnT's Coffee & Café, nestled in the L shaped mall north of the Beltline on Old Sauk Road, offers an array of waffles. Owned and operated by Tim Lee and Christina Sutherland since June 2010, the café uses waffles to get creative.
TNT's has 22 waffle variations listed on their menu, including Fat Elvis ($7.99), a chocolate chip waffle with a scoop of peanut butter, banana slices, chocolate drizzle and whipped cream.
Chocolate Overload ($7.99), a chocolate chip waffle topped with Chocolate Shoppe Zanzibar ice cream, chocolate sauce and whipped cream, won an award at Taste of Madison.
A Crème Brulee waffle ($5.99) has white chocolate chips baked in, topped with powdered sugar and caramel sauce. A Door County Cherrywood Bacon version ($6.99) has two slices of bacon added right in the batter.
I tried the Chunky Monkey waffle ($7.99), a light, chocolate waffle studded with chopped walnuts baked in its moist interior. Crunchy on the outside and fluffy on the inside, the waffle was topped with fresh banana slices, a sprinkle of powdered sugar and a few drizzles of chocolate syrup.
Far from the enormous round brownie I had expected, the waffle actually benefited from maple syrup, served on the side, to pull the elements together. A spritz of whipped cream completes this "sundae for breakfast" treat.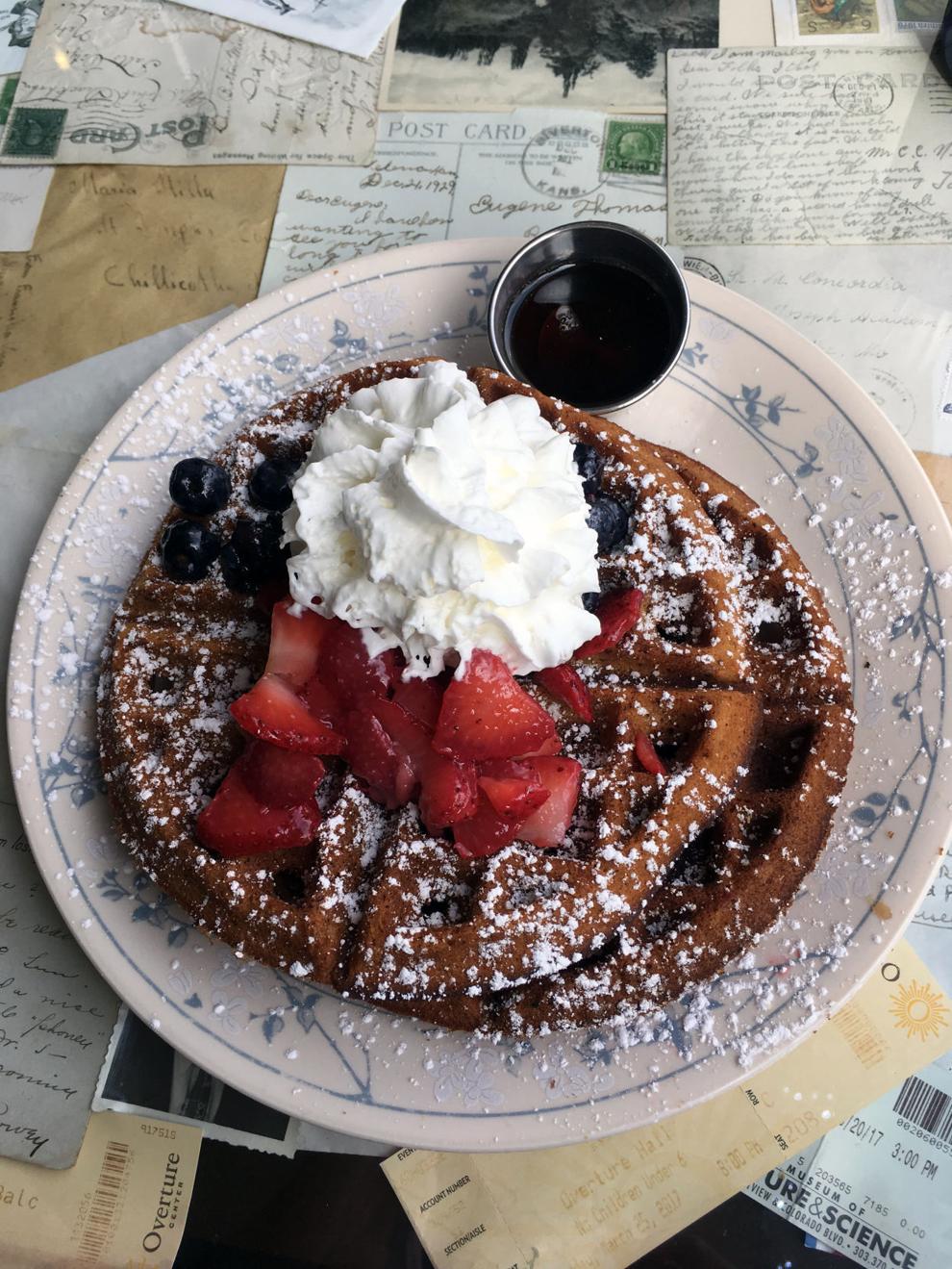 On State Street, the motto for Short Stack Eatery is "Who doesn't love breakfast?" Co-owner Alex Lindenmeyer said Short Stack's waffles are simple and light, built on a buttermilk-based batter "all made from scratch" that Lindenmeyer refused to disclose.
Short Stack's waffles ($10) are stacked two high and served with real Wisconsin maple syrup, fresh blueberries and strawberries, and a dollop of whipped cream.
It hit all the right sweet and crunchy notes, making yet another waffle that left me staring at my plate an hour later, feeling like I hadn't scratched the surface of this delightful dish.
I guess some things never change.