Every day the Caracas Arepas food cart rolls out, Juan Tomás Martínez gets up bright and early to prepare hundreds of corn cakes.
Caracas Arepas, a newcomer on the University of Wisconsin-Madison's Library Mall, may sell from 150 to 300 of this popular Venezuelan lunch every day. Part bun, part sandwich, arepas are a daily staple for Venezuelans, Martínez said.
Personally, he has made thousands, but he hasn't gotten tired of them.
"All the families in Venezuela know how to cook this dish," said Martínez, who runs the cart with his wife, Carla Franco, for owner Luis Dompablo. Dompablo also owns Caracas Empanadas, and the two carts often vend next to one another.
"Families in Venezuela grew up with this kind of food," Martínez said. "It's kind of our bread. We eat arepas every day where we are from."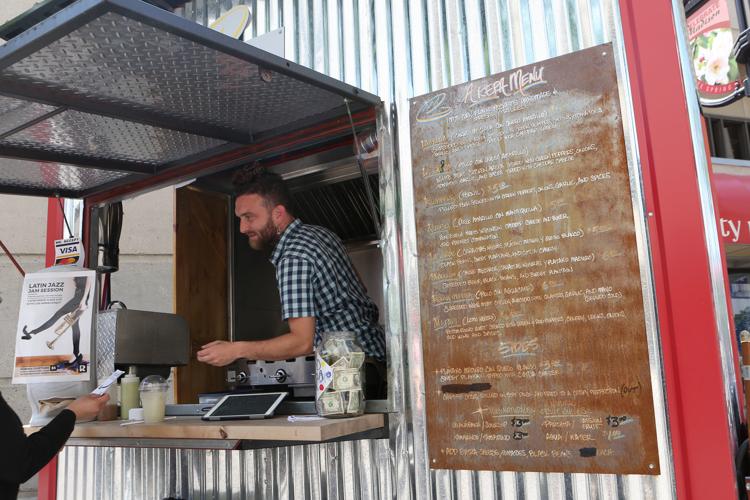 Roughly the size of hamburger buns, arepas are dense, slightly chewy corn cakes made from precooked corn meal — Caracas Arepas uses a brand called Harina P.A.N. — mixed with water and salt.
Unleavened and about a half-inch thick, each arepa gets pressed onto a flattop griddle inside the cart. The cakes are then split in half and stuffed with a variety of things, mostly meat that's been cooked slowly with spices and aromatics like garlic, onions and peppers.
The most traditional arepa on Caracas Arepas' menu is the pabellón ($6), which involves "a little bit of everything we have on the cart," Martínez said. It's a hearty filling: shredded beef (carne mechada), mildly spicy black beans and sweet plantains for a mix of savory and slightly sweet.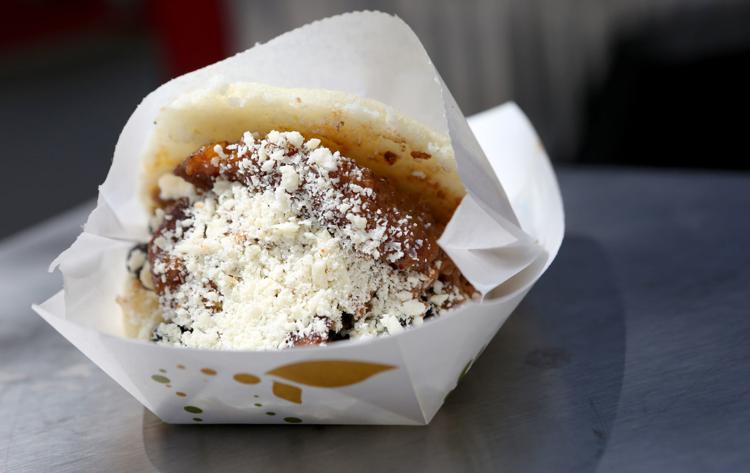 The party-ready rumbera arepa ($5) swaps out beef for pulled pork, a Venezuelan parallel to carnitas without the crunch.
Former Miss World Susana Duijm's arepa has proved to have legs. A lightly mayo-based chicken salad with lime, cilantro and avocado, the reina pepiada is a particularly summery sandwich.
Top it with cheese and this arepa becomes "la sifrina," roughly translated by Martínez to mean "the fancy girl" (or "the snobby one").
The most elaborate arepa, or at least the one that takes the longest to prepare for, is Mi Papi ($6). It's built around asado negro, a "huge" bottom round roast cooked for eight hours.
"It's so much cooking, that dish, you do it once a year," Martínez said.
He rubs the roast with seasonings, then sears it in a caramel made with brown sugar. The slow cook is with wine, tomatoes, onions, red peppers and garlic.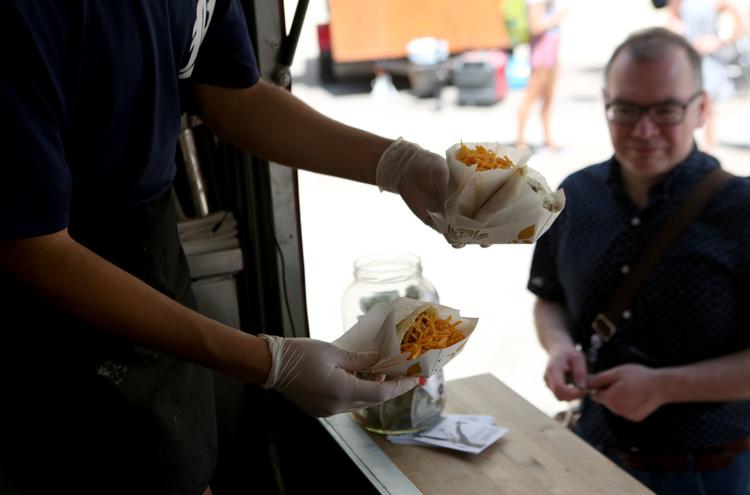 "Each family has their own recipe" for asado negro, Martínez said. Caracas Arepas "serves a mix of the recipe Luis has and my family has. It's different to make for a family in one day versus on a food cart every day."
Caracas Arepas makes a few direct appeals to students wandering by with their backpacks and bikes. Most of the cart's arepas are topped with cheese, either white crumbly cotija or cheddar.
There's a hot sauce Martínez nicknamed "two way," because one experiences the heat both now and later. A creamy, tart tomatillo sauce went beautifully with "la verde" ($5), an arepa with black beans, plantains and cheese.
For the truly timid, the queso arepa ($5), described as "Venezuela meets Wisconsin," is the cart's equivalent of a grilled cheese, just corn cake, cheddar and butter.
Not-too-sweet fruit juices ($3) in passion fruit, tamarind and lightly tropical soursop (guanabana) round out Caracas Arepas' menu. Most folks pick up just one arepa, but Martínez likes to encourage them to try a second.
"I always say you're good with one, but you're better with two," Martínez said.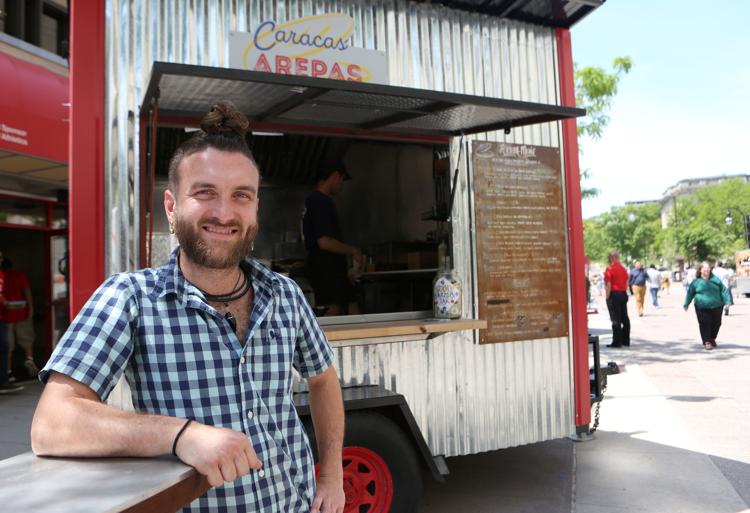 Martínez, a local musician, has worked with Dompablo for several years, even singing in his wedding. Born in Madison but raised in Venezuela, Martínez returned in his late 20s to improve his English and play Latin jazz (his band, Golpe Tierra, performs Afro-Peruvian music around the city).
"At the farmers' market it's been kind of slow," he said. "Nothing compared to Library Mall. All the kids, amazingly ... going to school to learn the language. It's not as foreign as it used to be, and it feels good.
"Many people actually seem bilingual or are trying to be bilingual. Madison has grown to be a really multicultural city."
As Martínez worked the cart on a recent afternoon with Eriel Herrera, a college student from Venezuela, customers would frequently order in Spanish. Some spoke fast and fluidly, others more halting, as though fresh off study abroad.
"Surprisingly for me, there's a lot of people from Madison who also speak Spanish, and they come try a few words with us," Marinez said. "They like to talk with us in Spanish, because they want to practice.
"I always say, we do arepas and we also do Spanish lessons!"