Aichan "Wendy" Weng knows the average American walking into a Sichuan restaurant probably doesn't actually want their food served Sichuan-level spicy.
When Weng opened up her first restaurant, Ichiban on South Park Street, "we always make it very spicy, very traditional, very spicy, very ma," she said, using the Mandarin word for numbing.
"If we always make it too spicy, oh my God, a lot of people don't complain much, but I don't think anyone come back anymore, you know what I mean?" Weng, who is from China's Fujian province, said with a laugh.
Now she's helping out family friend Yingxiong Wu and acting as manager at his new restaurant, Taste of Sichuan at 515 State St., and she's taken her hard-won lessons to heart. While many of the current customers are international students from China and Korea, Weng wants Taste of Sichuan to be accessible to all.
"It's not only for Chinese people," she said. "We need all country people coming in."
That means they won't bombard customers with chili peppers and hua jiao, the infamous Sichuan numbing peppercorn. But they'll up the spice ante upon request, and if customers are willing, Weng wants them to try something new.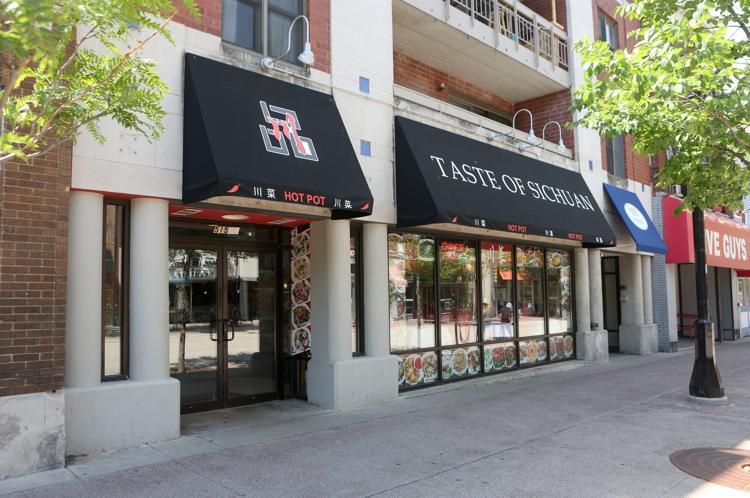 Taste of Sichuan offers an expansive menu of Chinese dishes crafted by its Sichuan chef and prides itself on its hot pot offerings, with over a dozen meat options with dipping sauces a-plenty. True to Weng's desire to cater to all levels of Chinese-food lovers, Taste of Sichuan offers dishes like sesame chicken alongside its popular Pork Blood, Beef Stomach and Soybean Sprout Stew.
Most of the customers right now are Asian students, Weng said, and they feel clearly feel right at home in the restaurant, often ordering without looking at the menu.
But Weng knows that Madisonians may not be quite as comfortable, and the spiciness factor can be just one of multiple hurdles to fully experiencing the restaurant.
The first is getting them to come to the restaurant at all; Madison, and particularly State Street, is bursting with Chinese restaurants. Weng herself owns three: Poke Plus & Teriyaki and Dragon I on State Street, as well as Ichiban.
To confuse the issue, several Chinese restaurants around town have Japanese names. The previous venue in this space, Soga Shabu Shabu, was one example, so it was re-named under the new owner for customer clarity, Weng said.
All these Chinese venues make for stiff competition, but that shouldn't be a problem for customers, Weng said: it gives them more choice. These restaurants might have similar menus, but every chef has their own distinct style, she said. (She added that in terms of competitive advantage, Taste of Sichuan has a free dessert bar featuring cookies and fruit.)
But getting a new diner into the restaurant is no guarantee they'll try any Sichuan fare. Operating a Chinese restaurant in the U.S. isn't necessarily about offering the best dishes your chef can make, Weng said, but what customers will eat.
Customers who have just unwittingly chomped down into one of those numbing hua jiao ask "Why does my tongue feel different?" and she knows many people are "afraid" of eating chicken feet or duck tongue, she said.
Some customers stay in their comfort zone, sticking strictly to the "American Chinese Cuisine" side of the menu to order their General Tso's. But others are willing to stretch when she asks them, "Do you want to try something new today?"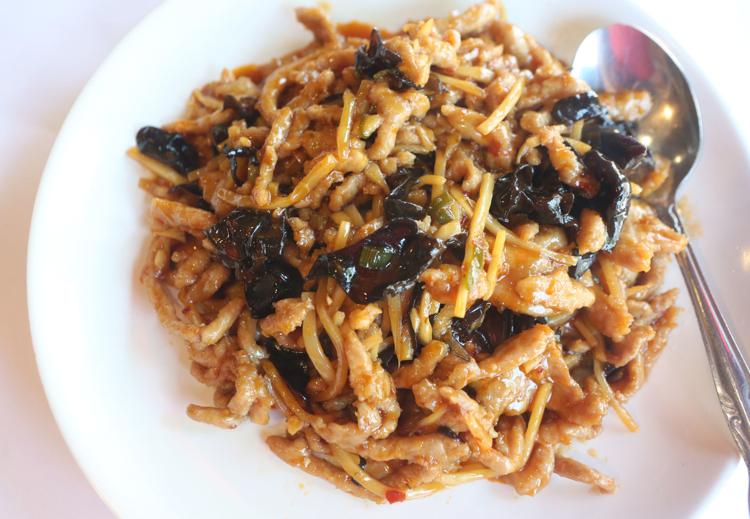 My two cents: definitely try something new.
For instance, try the shredded pork with garlic sauce ($13.95), a favorite when I lived in Sichuan for a year. Known as yuxiang (鱼香 or 魚香 if you're looking to identify it on Mandarin menus), the vinegary sauce made with chili bean paste is everywhere in the province and is particularly tasty in combination with eggplant. Mild and easy for anyone to love, it is the golden retriever of Sichuan sauces.
At Taste of Sichuan, this savory dish was mixed with pork, bamboo shoots and mushrooms, and was big enough for a group to share.
To experience a buzz of spiciness and a little numbing hua jiao, order the dry-braised chicken in hot pot ($13.95). Sometimes called dry pot, it's a fast-fried dish with onions and bell peppers.
In the spirit of "try something new" I also tried the Pork Blood, Beef Stomach & Soybean Sprout Stew. I've had intestine before and it's not my favorite meat, but the chili-loaded broth was a winner. (See, I have practiced what I preach and I am a better person for it.)
To help out the feeling-adventurous-but-also-maybe-a-little-bit-hesitant, Weng suggested the following dishes for Americans.
She suggested dining in-house for your first time at Taste of Sichuan, and I strongly suggest you go with a group, follow the family-style tradition and order a bunch of dishes to share. That means there's more to try!
Shredded pork with garlic sauce ($13.95)
Dry-braised chicken in hot pot ($13.95)
Poached sliced beef in hot chili sauce ($16.95)
Spicy Sichuan fish ($17.99)
Ma Po Tofu ($12.95)
My recommendations. These are the dishes I frequently use to introduce people to Sichuan cuisine:
Any eggplant dish (at Taste of Sichuan, $10.95)
Twice-cooked sliced pork with garlic sauce ($13.95)
Shredded potatoes with spicy and sour sauce ($10.95)
Go forth and try some new Sichuan cuisine.