Eating at Pickle Jar Cafe feels as welcoming and cozy as a friend's house, and not just because the restaurant, formerly home of Layla's Persian Food, is the size of a standard living room.
Walk in and get to know the owner, the titular John Pickle. Pickle's quick to laugh and will let you poke your head into the kitchen to chat with him while he's cooking.
Almost everything on the premises is made from scratch, Pickle says. That impressively tart old-fashioned lemonade? Made from scratch. That habanero peach hot sauce on the table? Scratch. The pickles, biscuits and barbecue? Scratch.
In serving up slices of pie, Pickle's sharing his grandmother's hallowed recipes. And those plates are technically his and wife Jennifer St Cyr's wedding china, also gifted from a grandmother.
All this makes for a homey den to dig into homemade barbecue, burgers and breakfast at the recently opened Pickle Jar Cafe, 141 S. Butler St. The cafe serves breakfast and lunch (breakfast menu items are available all day) and has started offering Friday and Saturday night dinners.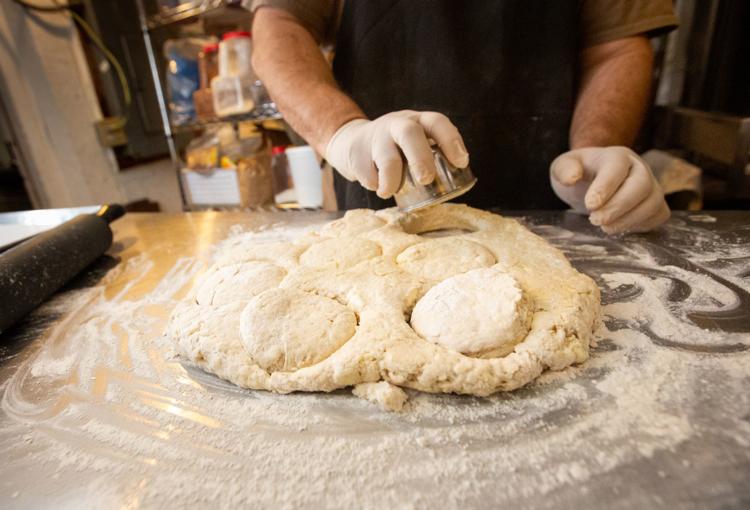 Pickle, who co-owns the restaurant with St Cyr, prioritizes locally-sourced food free from pesticides and hormones. He describes his restaurant style as "New American Southern, and of course we're in Wisconsin, so there's a Wisconsin twist on everything."
What does that mean, exactly?
"It's basically a Southern fusion type of idea. So we have barbecue, but it's far from what we should be known for. We have a little bit of soul food, we have breakfast all day; our biscuits and gravy have become one of our top sellers," he said.
The menu includes whiskey chili, a half-pound burger, omelets and sweet potato hash, and there's plenty of barbecue. Pickle calls the electric smoker (which is in another kitchen because it doesn't fit onsite) "our business plan," because "most of the stuff that we sell literally comes right out of that smoker."
Pickle grew up in Kansas, piquing his interest in Kansas City-style barbecue. But he eventually felt led to explore other barbecue theologies.
The ribs are "basically classic Kansas City style" but with a Texas coffee rub. The smoked chicken is east coast style, and his Bama Brisket is topped with collard greens and an Alabama White mayonnaise-based pepper sauce. The pulled pork, which he makes in a Memphis style, sits in the coffee rub for between four and eight hours, is smoked for almost 22 hours and finished with apple juice.
The pulled pork (available as a sandwich or plate, $11) comes out chewy with crispy ends, and the sweet barbecue sauce is a great partner for the vinegar slaw and impossibly thin pickles.
Pickle taught himself this diverse barbecue menu by being the ideal neighbor: he threw backyard barbecues and researched new styles based on suggestions. Unsurprisingly, this led the neighbors to say, "You should open a restaurant!"
But Pickle and St Cyr couldn't afford to open a restaurant, so they started with a food cart in 2015, also named Pickle Jar. It was fun getting to know repeat customers and explore different areas of the city, but food carts are time-intensive, Pickle said, with lots of set up and take down for only a few hours of vending.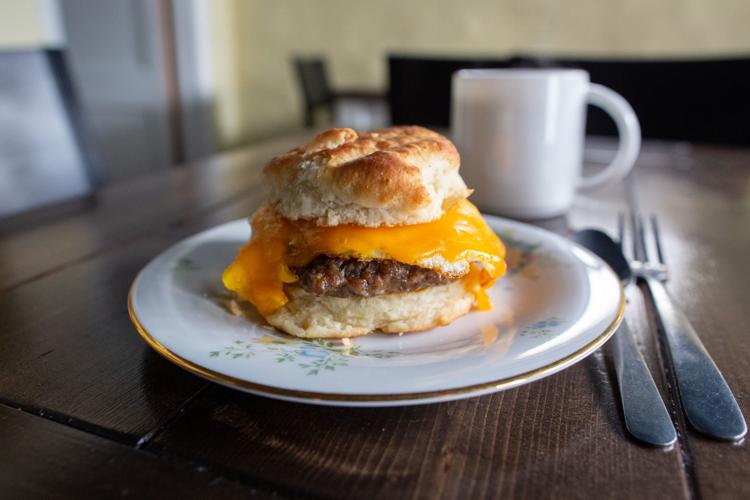 Laila Borokhim, owner of Layla's, convinced Pickle and St Cyr to finally take the plunge and open a restaurant in her old space, Pickle said.
He's pretty sure Borokhim was his first customer. She's a big fan of the egg and cheese biscuit ($4) at Pickle Jar Cafe. Her confidence was well-placed; be sure to add on the satisfyingly spicy homemade sausage ($2).
Before the restaurant, Pickle had worked in positions ranging from cook to manager at places like Olive Garden, Bob Evans, Denny's, Rockhound Brewing, Daisy Cafe & Cupcakery and Monty's Blue Plate Diner.
Pickle said his experience in restaurants taught him that December and January are slow months, so he's not surprised they "haven't been real busy." While restaurants may seem a risky business venture to some, Pickle, who has a fine arts degree and did shows around town with his paintings in the early 2000s, has a different perspective, noting that art galleries aren't always exactly a reliable business.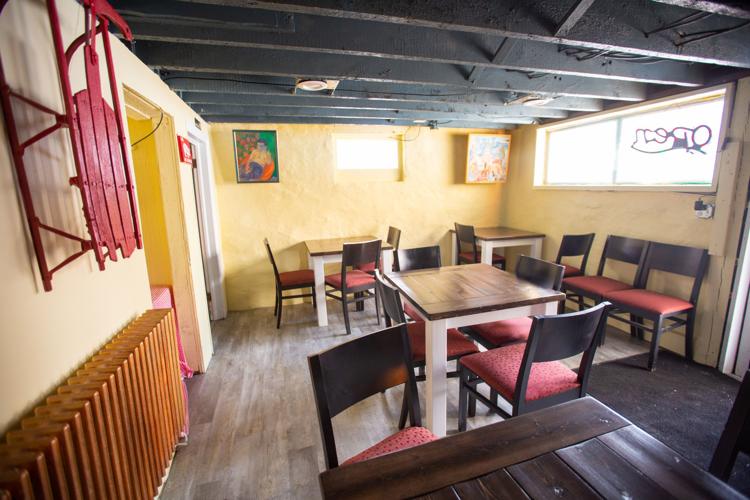 "This is a far more stable decision," he said with a laugh.
Now customers can taste his handiwork.
"Cooking in particular is very art-oriented, I think," Pickle said. "You can do a little adjustment here, and all of a sudden the painting looks different, and it's the same thing when you're making a dish."
Next month, Pickle Jar Cafe will shift hours and offer more dinners. Pickle has applied for a liquor license and hopes it will come in February.